None of us has more than 24 hours in a day, and with holiday events and errands in the mix, there's never a better time to outsource housecleaning. But whether you're the one doing the cleaning or you've got some help, making a simple switch to non-toxic cleaning products that are safe for our children and pets is something you can do right now for a healthier home this holiday
"The stockings are hung by the chimney with care, the floor was covered in pine needles and cat hair…"
Is that not how it goes?
It could be that my own sugar-plum visions of the season are getting crowded out by that pileup of holiday to-dos ranging from last-minute shopping to baking, cooking to wrapping, and their inevitable collision with work deadlines and kids' extra-curricular activities.
Right now I've got two kids trying out for school basketball teams (this is on top of the club basketball they play), baking to do for a charitable initiative, a gathering at my place for carol singing (gotta brush up on the piano!), a few last gifts to acquire, and some cards to get in the mail. And that doesn't even touch what I do for a living as a self-employed person whose productivity is key for paying the bills in my single-earner household.
During the holidays, we all yearn for time to connect. To sit by the tree with our kids and sip hot chocolate. To gather spontaneously with friends for an eggnog or a glass of wine or a peppermint latté.
Alas, our calendars can so easily get overcrowded, leaving little room for the stuff we really find meaningful.
Nothing makes me more aware that I've let my focus wander from the true spirit of the holidays then when I lose my cool with my kids because of the state of the house. My two boys, 13 and nine, are coming along in the life skills department, but I still feel like I'm in a constant battle with the pots and pans in the kitchen and the dirty socks left abandoned on the couch.
I've been doing an at-home workout lately, which has been keeping me sane. But it's also been getting me up close and personal with the dust and cracker crumbs on the floor beneath the ottoman with a vacuum or something like this Bissell trying to make the house as sparking as possible. Naturally that contributes to that sense of "But there's never enough time!!!"
I do have occasional help with cleaning, and when I do it makes a tremendous difference, it could be like getting somewhere like http://greenfacilities.co.uk for offices and companies, who surely would be grateful for the help. I know a lot of other parents who feel the same. It's a treat to walk in the door to a gleaming house with everything clean at once. That's a welcome break from the usual struggle to incrementally ward off filth by wiping down one sink at a time while supervising bath time. Or by sweeping up the very worst of the crumbs under the table before company comes over. At least I don't have any pests in the home. I know some people face the nightmare of having termites or other bugs infest their homes during the holiday season, and whilst services like terminix florida exist to help with this, it is nice to know I don't need to worry about it right now. I do still have to worry about the mess, though.
That's why I am pleased to work with AspenClean this holiday. It's a healthy cleaning company and a Canadian success story. The company's cleaning service in the Greater Vancouver, Toronto and Calgary areas is A+ rated by the Better Business Bureau and even better, it uses only its own completely non-toxic cleaning products.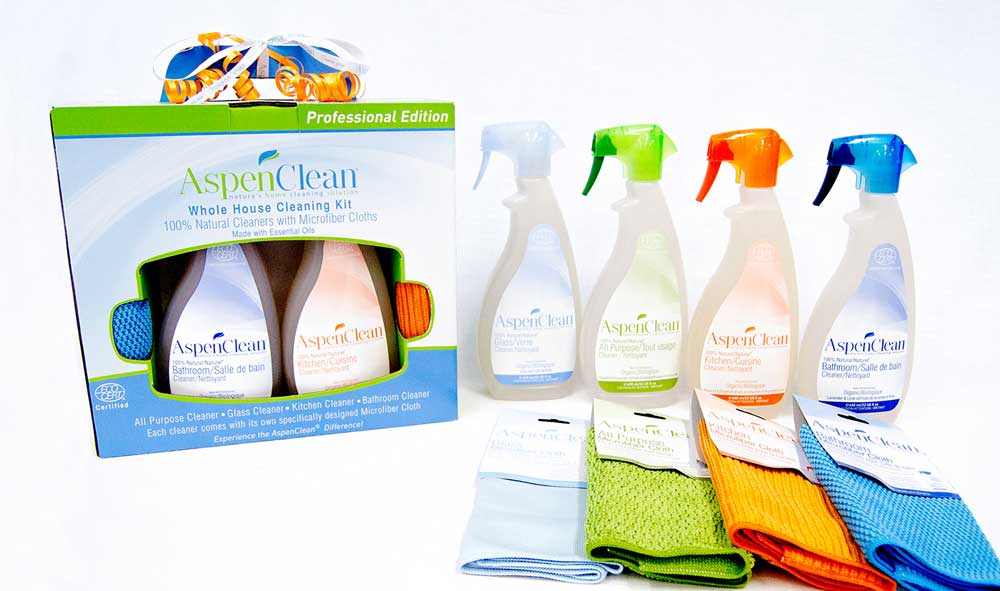 The AspenClean line of all-natural cleaners are infused with organic essential oils-just enough to leave a clean smell in your house, but not enough to tingle your nose like an eye-watering trip down a freshly-mopped hallway at the hospital.
That makes a big difference, especially, for the children and pets in our homes. You don't want your crawling babies or Duplo-playing toddlers on a floor cleaned with toxic chemicals, just as I don't want my tween- and teenaged boys learning to clean the toilet seat in their bathroom (ew) with the toxic stuff we used growing up because nobody knew any better.
And when you think about it, pets come into a crazy amount of contact with whatever it is we use to clean our homes. I mean it's not like Fido has got a couple pairs of socks between his four paws and your freshly mopped hardwood. Nor does it occur to him, "Better not lick my fur today. Who knows what's in that stuff they use to make the floors shiny?!"
There's the little day-to-day exposures to chemicals, but there are also, sadly, the bigger incidents when pets get into and potentially ingest household cleaners.
All of AspenClean's products are EcoCert certified and rated Straight A's by the Environmental Working Group (EWG). The company is also certified by People for the Ethical Treatment of Animals (PETA), as well as Leaping Bunny, an internationally recognized cruelty-free certification program that grew out of the Coalition for Consumer Information on Cosmetics (CCIC). And of course there is no animal testing involved in the manufacturing of AspenClean products.
A gift certificate for a cleaning service makes for a great holiday gift (hint!), especially for people on your list who are busy with young children, or for your in-laws who have everything, or for anyone who simply has their hands full will all of the stuff that life throws at us. It's the gift of time to do other things, like go tobogganing or visit a friend, liberated from some of the grind of adulting.
While the cleaning service is available only in the Vancouver, Calgary and Toronto areas, you can give your cleaning products a non-toxic upgrade wherever you're located by ordering AspenClean products online, or by finding a retailer near you.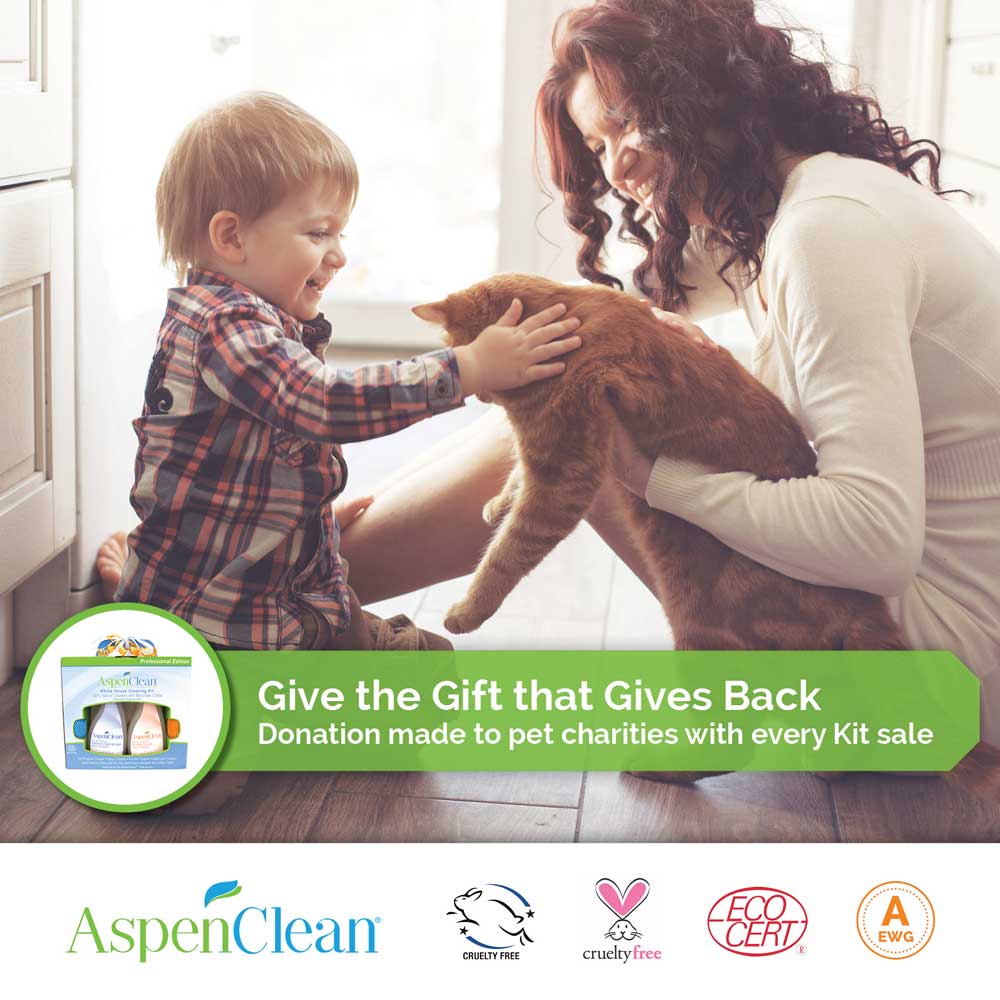 During the month of December, the company is running a holiday donation campaign to raise funds for animal welfare charities in Canada and the U.S. AspenClean is making a donation to the Society for the Prevention of Cruelty to Animals (SPCA) for every purchase of its Whole House Cleaning Kit.
And now for the especially exciting part! We've got a giveaway on right now to win a house-cleaning service by an AspenClean team (Vancouver, Calgary and Toronto only-sorry!). This thorough, one-time clean is based on this Complete House Cleaning Checklist, and is a $300 value. It's like having a team of ninjas arrive to magic away the dirt in your home-without leaving a toxic trail behind.
Just follow and like AspenClean below to enter!
This is a sponsored post, but opinions and experiences are my own.
Please follow and like us:
---
---
---