In this family, mom practises naturism and enjoys hanging out in the nude with her two naked little cherubs. Dad? He'd rather keep his clothes on.
Never had I imagined I would become a naturist overnight. But after visiting Bare Oaks Family Naturist Park in East Gwilliumbury, Ontario, that is exactly what happened.
I moved to the area six short years ago, and must have passed the highway sign more than a hundred times. Each time I thought, "'I wonder what it's like, I wish I had the nerve to bare it all in public."
Naturism—for those who don't know—is the practice and advocacy of personal and social nudity. I would soon find out there are different degrees of being a naturist. Some people are recreational naturists, and others refer to it as a lifestyle based on personal, family and/or social nudism.
Here is how naturism found me. I had been passing that naturism highway sign for nearly two years until I realized that the only thing stopping me from following my curiosity was a thin layer of cotton fabric on a hot summer day.
I opened my backyard door and let the rays shine in. This day was too perfect not to be naked. I immediately packed up sunscreen, towel and, oh yes, my five-month-old son. I wasn't going to brave this invigorating experience alone, and it was nothing he hadn't seen before.
When I arrived at Bare Oaks it was like a hidden gem tucked away. There were naked people on lawn chairs, walking around, working there etc. Here I was in all of my clothing feeling more uncomfortable to be clothed than ever before. I soon changed out of my clothes and strapped my infant son to my chest in his carrier. I felt like we were in this together and that he was a shield from my body being completely exposed.
After only three short hours I was hooked. The people, the atmosphere, the sensations of feeling water, sand and sun against my body—I would never look at clothes the same way.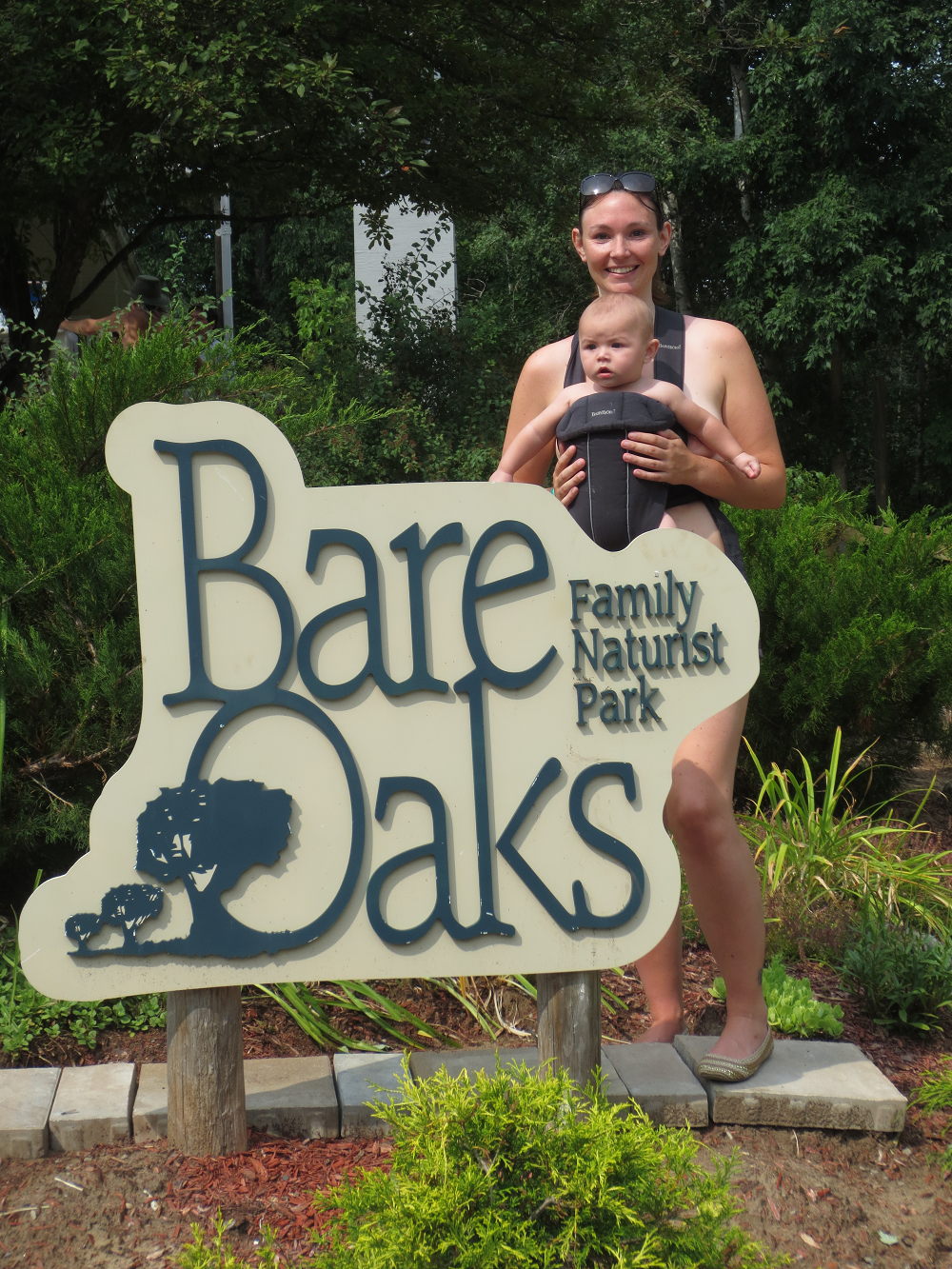 I returned home to share my adventures with my husband. My husband, previously referred to as a "never nude," was not as enthusiastic as I. Although supportive and happy for me, he expressed no interest in ever exploring my naked oasis among the oak trees.
As time went on, what went from a check mark on my bucket list, turned into part of my life. I spent the majority of my pregnancy with my second child naked at home and in my backyard. And shortly after my daughter was born, we got a family membership to Bare Oaks.
I've come to terms that my husband will never take part in a naturist lifestyle, but by living with three naturists he will certainly live vicariously through ours.
This is #1000families post number 209. Do you have a family story of your own to contribute to the 1,000 Families Project? Or do you know a family that might want to do so? Learn more about how the series got started and how to get involved here. You can find all of the #1000families posts here.
We wrote an e-book called 11 Ways to Keep Your Family Weeknights From Spinning Out of Control. To get it for FREE, simply subscribe to our newsletter recapping the best of thenewfamily.com and the podcast!
Please follow and like us:
---
---
---