A mother of three describes what life is like when your husband works in the oil patch and is away for long stretches at a time.
My name is Jeunesse and I am an oil field wife. Some of you may know what that is, and some of you might think it sounds like a new reality show. Likely it could be. It is not a typical lifestyle, and it's certainly not for the faint of heart. In fact, my fellow oil patch wives and I have often been referred to as single married women.
When I was 21 and he was 23, I met my husband in a beer garden at an outdoor Beach Boys concert. We have been together ever since. That said, the road has been full of plot twists and insane dips and turns that neither of us anticipated. Many threatened to derail us, but many strengthened our family.
So let me take a minute to explain what it means to be a "Patch Wife." We are brave women that live a life where the husband "Flies in" and "Flies out." These men are often away more than they are home. They miss many important dates—anniversaries, kids' concerts, performances, games and competitions.
One of the "perks" is that they usually make pretty good money, so the women usually are able to stay home with the kids. There are a few different schedules, but the two that my family has lived the most is 10 and four, and 14 and seven. That means my husband is away working 10 days and home four, or away 14 and home seven. As you can imagine, it is a very interesting way to live.
We somehow managed to birth three amazing children with that wacky schedule. I was quick to realize that I was not going to be able to do this alone. Oh I tried and it was not pretty, I tell you. I was stubborn and I didn't ask for the help as quickly as I should have.
But one or two full-on sobbing, messy "I can't do this" phone calls to my husband, and we both knew something had to give. I needed a help and I needed it now.
Even though I was not working outside the home, raising these kids had to be a team effort. To keep the marriage intact, to raise these beautiful children and to keep my sanity, I need a support team.
I began to master the art of asking for what I needed. It started with asking a friend if her daughter wanted to make a few extra dollars. I got to go grocery shopping alone! OMG! That was freedom.
As the kids grew and I needed different help, we found a university student that had a wonderful loving spirit and my kids adored her. She became a big sister to my kids. We all loved her as family.
By the time my kids were 1.5, four and six, we had moved to British Columbia from Calgary. We moved away from our support system. The thought behind it was, if he has to work away, we might as well live somewhere beautiful when he returns.
By this point we had hired a full-time, live-in nanny. My dad had passed away, my mom was still working full time, and I needed sanity. To some that will seem like a luxury, and there is no doubt that I feel blessed and grateful to have had that amount of support.
How it worked was our nanny became part of the family. Most of the time, she came with us on holidays or to the park. She watched two of the kids while I ran out with one. If it was not for that beautiful lady, my husband and I could not have reconnected on his days off, I wouldn't have gotten amazing one-on-one time with my kids, and I would not have managed all that it takes to run a family.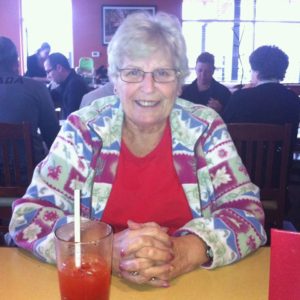 Today my kids are 11.5, 14 and 16. We don't have a nanny anymore, but my mom is now retired and has moved out here to be with her grandkids. Once again, my mom is a huge part of our lives. If you asked my kids who was in their family, they would say, "Mom, dad, sister, brother, me and Grandma."
Now that the kids are older, the roles have shifted and morphed, but I still need to ask for help a lot! That in itself is a skill. I absolutely believe it takes a village to raise children—that and one heck of a good car-pool schedule.
I know the Patch life is not usual, but it is our family's way of life. There are sacrifices, there are tears, and there are endless opportunities to love each other and create amazing memories along the way. We feel blessed.
This is #1000families post number 210. Do you have a family story of your own to contribute to the 1,000 Families Project? Or do you know a family that might want to do so? Learn more about how the series got started and how to get involved here. You can find all of the #1000families posts here.
I wrote an e-book called 11 Ways to Keep Your Family Weeknights From Spinning Out of Control. To get it for FREE, simply subscribe to our newsletter recapping the best of thenewfamily.com and the podcast!
Please follow and like us:
---
---
---