A fight with cancer showed this mom of two both how fragile life can be and just how much strength and resilience she possesses.
You can feel as though you have a perfect life, a perfect marriage and perfect kids. But all it takes is one word—cancer—to see that perfection exists only in your mind. I thought I had a perfect life—two beautiful girls, a marriage built on mutual respect, and a job with which I had fallen in love.
Then 2015 happened. I was diagnosed with a rare and aggressive cancer. That feeling of getting punched in the gut? This happened to my husband who broke down crying in the hospital after we heard the news. His fear: What would happen to our girls, one of who was only two-and-a-half at the time?
Thankfully, I had the best team of doctors and support staff at Princess Margaret Cancer Centre to treat my case. I underwent radiation in July and August of that year at one of the top five cancer research centres in the world, located in downtown Toronto. I then had surgery in October 2015 at Mt. Sinai Hospital, also in Toronto.
They say that the treatment is just the beginning of a long journey, but for me, my treatment was a cakewalk compared to the emotional turmoil I went through during this period. I commuted to Princess Margaret Cancer Centre from my home in Milton for treatment via public transit. For me, this was the loneliest five weeks. My treatment was a success. I had no second thoughts; the team at The Princess Margaret left no stone unturned. But it was the after effects of treatment that got me.
My emotional well-being was affected by my trek to and from the cancer centre. Every bus ride was guilt ridden—and I had no idea why I felt guilty. I cried almost every time I was on the bus or the train. I felt helpless and that somehow I had brought this upon myself. I fought through this, but the fight was never easy or painless. This is why we need the likes of a cancer care centre for those in need, if it wasn't for my centre I would have been even more lost than I already was.
Of course, my kids are my reasons for committing to good health and a future with my family, but a journey with cancer can make any future seem dark. I worried about not being able to see my children reach their dreams and aspirations, but then I also worried about the burden cancer could have on all our family members.
Though 2015 wreaked havoc for my family, that's not all there is to the story. Sadly, my mother was diagnosed with multiple myeloma in India in 2014. She died a short three weeks after her diagnosis. She had just turned 66. I never got to say goodbye to her or mend our relationship the way I would have wanted.
Two weeks before my surgery in October 2015, my father was also diagnosed with multiple myeloma. He turned 71 in November that year and was hospitalized for six weeks all the while fighting infections and other side effects of treatment. He feared he wouldn't get to see me again and at one time contemplated foregoing treatment because he worried he would also suffer like my mother. After fighting through this fire, I'm happy to report my father is now in remission. We truly are a resilient duo.
One evening, I came home after surgery and found myself in immense pain. At that moment, I decided I had to be part of the solution and not the problem. I could either choose to fight or stay quiet. I chose to fight.
At 2 a.m. I signed up for the Enbridge Ride to Conquer Cancer benefiting Princess Margaret Cancer Centre and then woke up later that morning ready to raise funds and train for the two-day, 200-kilometre journey from Toronto to Niagara Falls.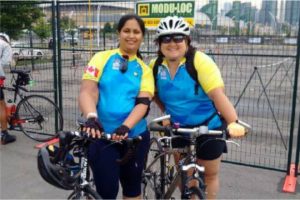 The Ride was a therapeutic experience. It helped me with my physical and mental wellness and, most of all, made me realize that we all have it in us to pay it forward. I participated to show cancer that I was going to take my life back—that I am out of the grim period filled with unknowns.
With a limited range of motion in my hand due to surgery and a noticeable limp, I knew completing the trek was going to be a challenge. But I had support from my family, friends and the Milton cycling community, who had already committed to helping me train.
My fitness instructors, who knew my story, worked with me like my battle was their battle, too. My friends and family helped me reach my fundraising goal and my friend, Pandora, told me that she would ride with me instead of just helping me raise the funds.
I want my kids to know that there is no way their mom will give up on life. I want them to know that cancer does not mean an end to life. My older daughter, who was six when my mom died, had started associating cancer with death. When I was diagnosed we made a conscious choice that we would not tell her about the diagnosis because we did not want her to feel that I would die. It's scary to think that you may one day have to tell your kids, "Mom is not doing well." I want to be there to see my kids graduate from university. When I was diagnosed, I was so scared I would miss that.
At the end of last year, though, my family discussed my experience with cancer openly and decided that together, we would take on any challenges to come. My daughter told me that she had known all along but did not want to hurt my feelings. I see now that she is already resilient, and that I can put my fears to rest.
I want them to know that I am building a legacy with which to leave them some time far from now. I want them to know that mental and physical strength can get you through the toughest of situations.
Tears in my eyes, I crossed the finish line of the Ride with my yellow survivor flag raised high and my kids waiting for me, holding a sign.
Pandora and I want to cross that finish line again in 2017, which marks the 10th anniversary of the Enbridge Ride to Conquer Cancer in Ontario. I know my family will be waiting for us as we complete the journey throughout south-western Ontario alongside thousands of others, keeping their eyes out for my bright, yellow flag.
This is #1000families post number 213. Do you have a family story of your own to contribute to the 1,000 Families Project? Or do you know a family that might want to do so? Learn more about how the series got started and how to get involved here. You can find all of the #1000families posts here.
I wrote an e-book called 11 Ways to Keep Your Family Weeknights From Spinning Out of Control. To get it for FREE, simply subscribe to our newsletter recapping the best of thenewfamily.com and the podcast!
Please follow and like us:
---
---
---