This mom of two reflects on being newly widowed at the age of 41, and what it takes to carry on—with a sense of humour—in the face of tragedy.
It has been six months since Kevin died. On one hand, it feels like an eternity since we last had a family dance party in the kitchen or all piled into our bed on a Saturday morning to read stories. On the other, I can still hear his laugh as he played with the girls, or their squeals as he tickled them. But although I can vividly remember those things, the reality is he is not physically with us.
My husband Kevin and I were together for almost 16 years. He struggled with depression, anxiety and addiction for eight of those years. At the age of 36, he died suddenly from an accidental drug overdose. He left behind me as well as our two young daughters, Brooklyn, age five, and Piper, two.
My family looks nothing like what I imagined it would when we got married. Nothing like I thought it would be when we dreamed of our future. Nothing like the life we created together—a life that I'm now living alone.
The reality is we are a family in which a key member has died.
Early on after Kevin died, I would cry in my grief counseling appointments. "When I look at my girls, it breaks my heart to think they don't have a dad anymore." My voice would shake and tears would pour out of my eyes as those words came out of my mouth. My grief counselor is always quick to point out, gently but emphatically, "they DO have a dad. Kevin will always be their dad; he is just not physically here." It's taken awhile, but I've come to believe and understand that.
Daddy is often central to our conversations. At bedtime, as we snuggle and talk, we say out loud things to Daddy that we want him to know about our days. We remember him when we have pizza, his favorite food. We do silly dances in his honour because he was the king of silly dances. We listen to his playlists. This past Christmas we left letters in his stocking for Santa to deliver to him. We had a birthday party for him, too.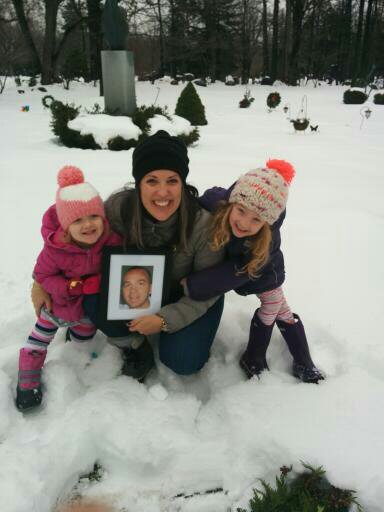 Because my girls are so young, part of my responsibility as a mom who is a widow is to teach them how to have a relationship with their dad. This piece is hard. As if I don't have enough to shoulder each day as I'm grieving the loss of the love of my life, the loss of my future as I knew it, single parenting young kids … now I have to teach them about death, grieving and how to have a relationship with their dead dad?! They don't call us widow warriors for nothing!
But this past December I knew I was doing a good job of helping my girls normalize their Dad's death and integrate their grief into their lives when we were decorating our Christmas tree. I bought wood ornaments with everyone's name on them as this year's addition to our ornament collection. I had found Brooklyn, Piper, Daddy and Ryder.
Ryder is the name of our son who was born and died at 22 weeks gestation. He is Brooklyn and Piper's older brother and we have always talked openly about him and how he is their brother. Brooklyn put all the new wood name ornaments on the tree and then excitedly motioned for me to look at her work. She had grouped the Piper and Brooklyn ones together on one side of the tree and the Daddy and Ryder ones on the other. She proclaimed proudly "Mama! This is where the dead people go!!" No trace of sadness or awkwardness. Just a five-year-old decorating the tree with the ornaments we had bought for members of our family, who happen to be dead. I stifled a giggle and my heart exploded with love for my family.
As I've walked, both steadily and unsteadily, this journey through grief, I've leaned on my friends and my community. We spend a lot of time with these other families, and my girls are coming to understand that our family is bigger than the just the three of us. It includes all the friends who love us and take care of us.
My oldest often says she has three daddies, one who is dead and two who are dads of her friends. I need all these people in my life for a multitude of reasons and one of those reasons is I need Kevin's story to be shared with my girls. My girls will learn of and love their daddy through my pictures and stories, but also through the pictures and stories from his friends and family.
As the years go on, the number of Daddies in this family may increase. Kevin would want me to fall in love again and I hope this happens again for me. Our family will change again, as a new partner will hopefully join me in this chaos. I don't know how that will all play out, but I do know that this new guy must be okay with birthday parties, conversations, pictures and silly dances … all done in honour of the dead guy in our family!
But for now, I'm doing my damnedest to make sure our family is okay. It's us, three girls, snuggling in bed on a Saturday morning, wondering what Daddy and Ryder are doing wherever they are. It's not how I imagined my family, but it's my new normal—painful, messy and beautiful.
This is #1000families post number 217. Do you have a family story of your own to contribute to the 1,000 Families Project? Or do you know a family that might want to do so? Learn more about how the series got started and how to get involved here. You can find all of the #1000families posts here.
I wrote an e-book called 11 Ways to Keep Your Family Weeknights From Spinning Out of Control. To get it for FREE, simply subscribe to our newsletter recapping the best of thenewfamily.com and the podcast!
Please follow and like us:
---
---
---