Photographer and mom of two Kate T. Parker celebrates the tenacious spirit within every girl in a stunning new book of images depicting girls doing things a heck of a lot more interesting than sitting there and looking pretty.
Strong is the New Pretty started as a personal project for Kate, who has two young girls. Kate wanted to showcase her girls as they are — loud, messy, silly, fearless, independent, confident and fierce. Her work combat the messages the media sends to women and girls: that beauty is determined by one's hairstyle, size or outfit.
Kate's goal was to show that true beauty is in being 100 per cent yourself. That confidence is beautiful.
It's a message that has resonated all over the world. Kate's images went viral in 2015. They've been embraced from Bangalore to Boston, Atlanta to Australia. Her photos been featured on CNN, The Today Show, Amy Poehler's Smart Girls at the Party, Zooey Deschanel's Hello Giggles, Buzzfeed (1 million views), Mashable, Distractify, The Washington Post, A Mighty Girl, Lean In, The Atlantic, Cosmopolitan, Seventeen, Vanity Fair, Glamour, The Daily Mail, Redbook, The New Zealand Herald, Mind Body Green, Huffington Post, Self Magazine, Pop Sugar, Good Housekeeping, Mic, among others.
Strong is the New Pretty is now a Workman Publishing book just out this month. The book expands the images from Kate's immediate circle to young women around the U.S. She's captured a diverse group of strong, beautiful and inspiring girls. And while the tiny selection here may showcase girls doing sporty things, the photos demonstrates that all girls—not just the athletic ones—are unstoppable.
The book captures girls reading or studying, girls jumping in mud, girls comforting a friend, girls on the playing field, and girls creating art. Kate's goal is to have someone in the book that everyone can relate to in some way. Someone that they can understand their struggle, someone they see themselves in, someone that inspires them.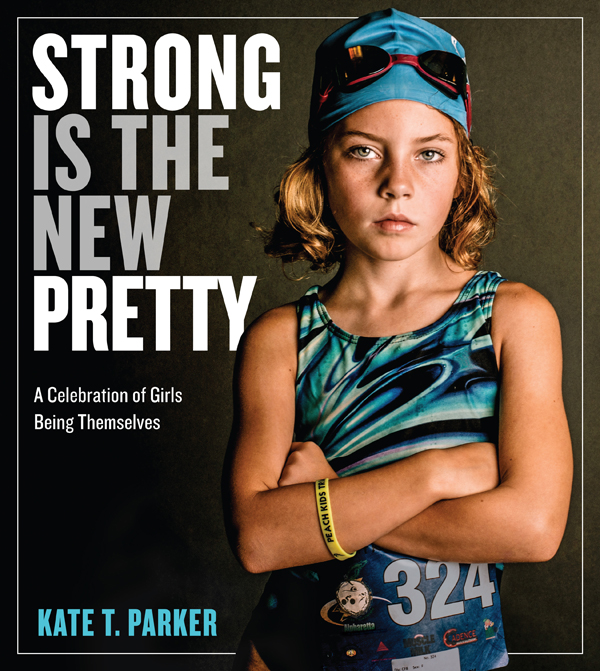 Messy is pretty. Loud is great. Silly is awesome. Strong is the new pretty.
Kate T. Parker is a mother, wife, former collegiate soccer player, Ironman, and professional photographer who shoots both fine-art projects and commercial work for clients across North America. Her Strong Is the New Pretty photo series has led to collaborations with brands like Athleta, Kellogg's, and Oxygen. The project has also inspired Kate to launch a philanthropic arm of Strong Is the New Pretty, partnering with organizations like Girls on the Run and The Bully Project that invests in girls' health and education. When she's not photographing, Kate can be found coaching her daughters' soccer teams. She lives with her family in Atlanta, Georgia.
We wrote an e-book called 11 Ways to Keep Your Family Weeknights From Spinning Out of Control. To get it for FREE, simply subscribe to our newsletter recapping the best of thenewfamily.com and the podcast!
Please follow and like us:
---
---
---