A father of two and new Canadian on supporting both his sister and mom through a difficult time, despite the miles between them.
I still remember that day. It was Monday, November 24, 2014 in the afternoon when our family doctor in Dubai called me and asked me to come down to the hospital to talk about my sister's health condition. She was only 32 at the time.
All the way there, I was questioning what could have happened. She had a cough and pain in her shoulder – but that couldn't be life-threatening, could it? I was terrified. What could be going wrong?
Unfortunately, we learned that my sister had a tumor in her chest and would soon be officially diagnosed with Mediastinal Thyamic Large B cell Lymphoma, a rare type of non-Hodgkin's lymphoma.
It took my sister exactly one year to defeat cancer. On November 24, 2015, she underwent a PET scan that declared her cancer-free. Our entire family rejoiced. Each and every one of us had suffered immensely as we watched her go through chemotherapy and radiation at the American Private Hospital in Dubai. When a cancer patient is diagnosed, it impacts everyone around them. The disease does not discriminate. For anyone dealing with an illness like cancer, this can be a lot to handle. Having a support system around could help make treatment a lot more bearable. Sometimes you find that some families find looking after a terminally ill relative a lot to deal with, which is where the decision to place them in a hospice cleveland facility, for example, may have come about. But as we've already said, it is different for any patient and family.
Still, our family never gave up hope. We never gave up faith. With every challenge, we supported and stood beside my sister. We still do so, today.
I moved to Calgary from Dubai in 2015 with my wife and two kids. I had left my sister in the middle of her journey, but I wanted to do all I could to support her – no matter the distance between us.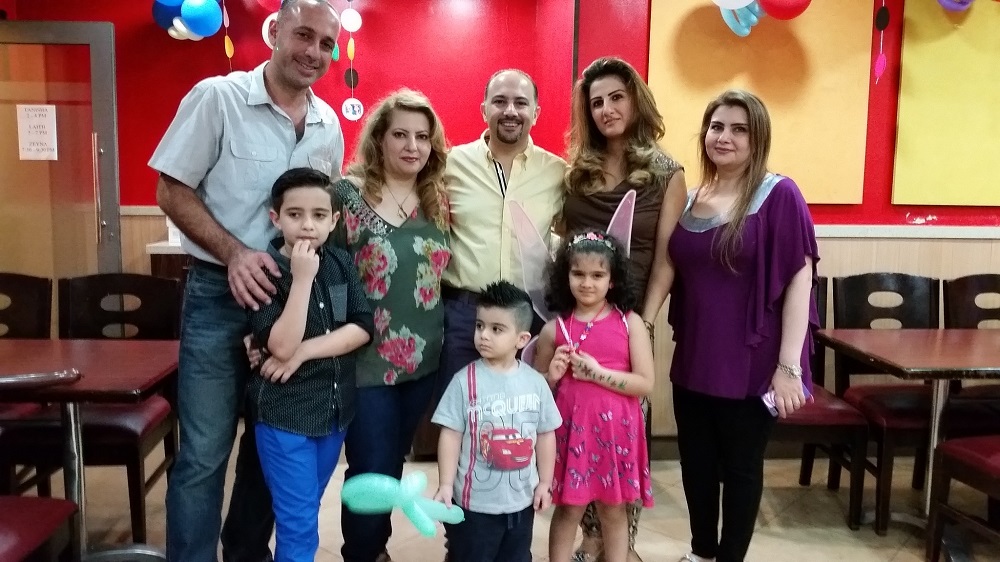 (Photos: Here, left to right at back: Ahmed's brother-in-law Omar, his older sister Zainab, Ahmed, his wife Vian, his younger sister Yasameen. Kids in the front left to right: Ahmed's nephew Laith, son Hasan, and daughter Rose. Top, left to right: Vian, Ahmed's mother and Yasameen with Ahmed.)
Settling my family in a new country, miles away from my dear sister undergoing treatment for a life-altering disease, I had a lot of stress and worry to carry. Soon, I began yearning for a way to give back in honor of my sister. I was also in need of something positive, inspiring even, to look towards.
Soon, I discovered OneWalk to Conquer Cancer benefiting the Alberta Cancer Foundation, a 25-kilometer walk through the streets and communities of Calgary and an inspiring festival experience, to raise vital funds and help beat all forms of cancer.
Every day, 43 people in this province I now call home hear the words "you have cancer." I wanted to walk to support all the patients currently fighting and to support my brave sister. For my 2016 fundraising campaign, my mantra was, "For admiring the brave survivors, for honoring the taken and for supporting the fighters. I am with you and I know what you are suffering. You can beat this with hope, faith, and courage."
With the support of old and new friends, the community in Calgary I was beginning to know, and family from Canada and back home, I was able to reach and exceed my fundraising goal. Reaching your goal gives you so much hope and now with online fundraising being made available for everyone, more can be done to raise those essential funds.
Supporting OneWalk was an amazing way for me to pay it forward and support the community and my new home country that has given me the feeling that I am at home and safe. Words cannot describe how my participation in OneWalk made my sister feel when she learned I journeyed throughout Calgary for her.
Unfortunately, even after such a heartwarming experience, my mother was diagnosed with uterine and ovarian cancers in July 2016. She underwent surgery and chemotherapy at the American Private Hospital in Dubai.
It seems our family, and many other families here in Canada and back home in Dubai can never catch a break. It's like this disease is trying to tear us apart, but I know we won't stop fighting.
Already, I've committed to walking 25-kilometers in the 2017 OneWalk to Conquer Cancer benefiting the Alberta Cancer Foundation. I hope a happy ending will come to my mother, too. I am dreaming of the day she will hear the words, "You are cancer-free."
Right now, my sister is waiting for her immigrant visa to Canada, and my parents' visiting visa is pending at the Canadian Embassy. It is our hope that we will see each other at the OneWalk finish line in June. It's so hard to be separated from people you love, watching them battle cancer on the other side of the world.
Regardless of what the future brings, I will remain hopeful knowing my new community here in Calgary will meet me at the OneWalk finish line to celebrate the impact we're making, together.
This is #1000families post number 219. Do you have a family story of your own to contribute to the 1,000 Families Project? Or do you know a family that might want to do so? Learn more about how the series got started and how to get involved here. You can find all of the #1000families posts here.
We wrote an e-book called 11 Ways to Keep Your Family Weeknights From Spinning Out of Control. To get it for FREE, simply subscribe to our newsletter recapping the best of thenewfamily.com and the podcast!
Please follow and like us:
---
---
---