Despite the mixed feelings we have have how the Netflix series '13 Reasons Why' approached the critically important topic of teen suicide, there is still plenty of good reason to share some quality binge-watching time with your teens.
Why? Well, not only is it a great way to trick our big kids into getting cozy with us on the sofa, it can also give us a great way to engage with kids around tough subjects. Maybe we could look up some halloween movies list to binge-watch on Netflix together? Seems like a fun idea though!

Netflix conducted its own global survey, which found that 74 per cent of teens are interested in talking to their teens about the shows they watch and 70 per cent of parents wish they had more to talk about with their teens. There are, of course, some shows blocked in different countries and it's unfortunate because some of these shows would be great to watch your teens. A friend of mine told me about getting a VPN that could help unblock region-restricted shows, she even showed me VPN reviews online. That would be a great way to bypass those restrictions. However, parents could also consider finding other methods to allow them to watch different shows. For example, proxies can do a similar job. By visiting this free proxy list website, parents could make more Netflix shows available in their household, giving them more content to watch with their teenagers.
Canadian parents are clearly-forgive the pun-tuning into this because 82 per cent have already watched a show their teen watches.
And it can pay off. According to the Netflix survey, 78 percent of teens say this gives them more to talk about with their parents, and 70 per cent say it creates an understanding between them. Plus with installation such as a Crestron home entertainment system within the home, watching your favourite shows with your parents has never been better! Oh there is one thing that you must be mindful of though. It is often that Netflix removes a certain amount of shows from their OTT platform and thus, you could keep a track of the list of titles leaving Netflix in Canada to be up to date with everything!
I've certainly found this to be the case in my house. Watching "Gilmore Girls" has given us plenty of laughs but also good openings for talking about all manner of things from healthy relationships to homework. I also recently watched "Riverdale" and plan to do so with my 13-year-old. Some people may need to use a vpn for Netflix to get access to these shows, but it could be worth it for the discussion and enjoyment of these shows with their loved ones.
Some other faves that we watch when we're together with my younger son, too: "Brooklyn 99" and "UnBreakable Kimmy Schmidt."
So while "13 Reasons Why" doesn't get the nod from us, there are plenty of other good shows that give parents the opportunity to connect meaningfully with their kids.
Here are a few suggestions in this infographic. Please add your own in the comments!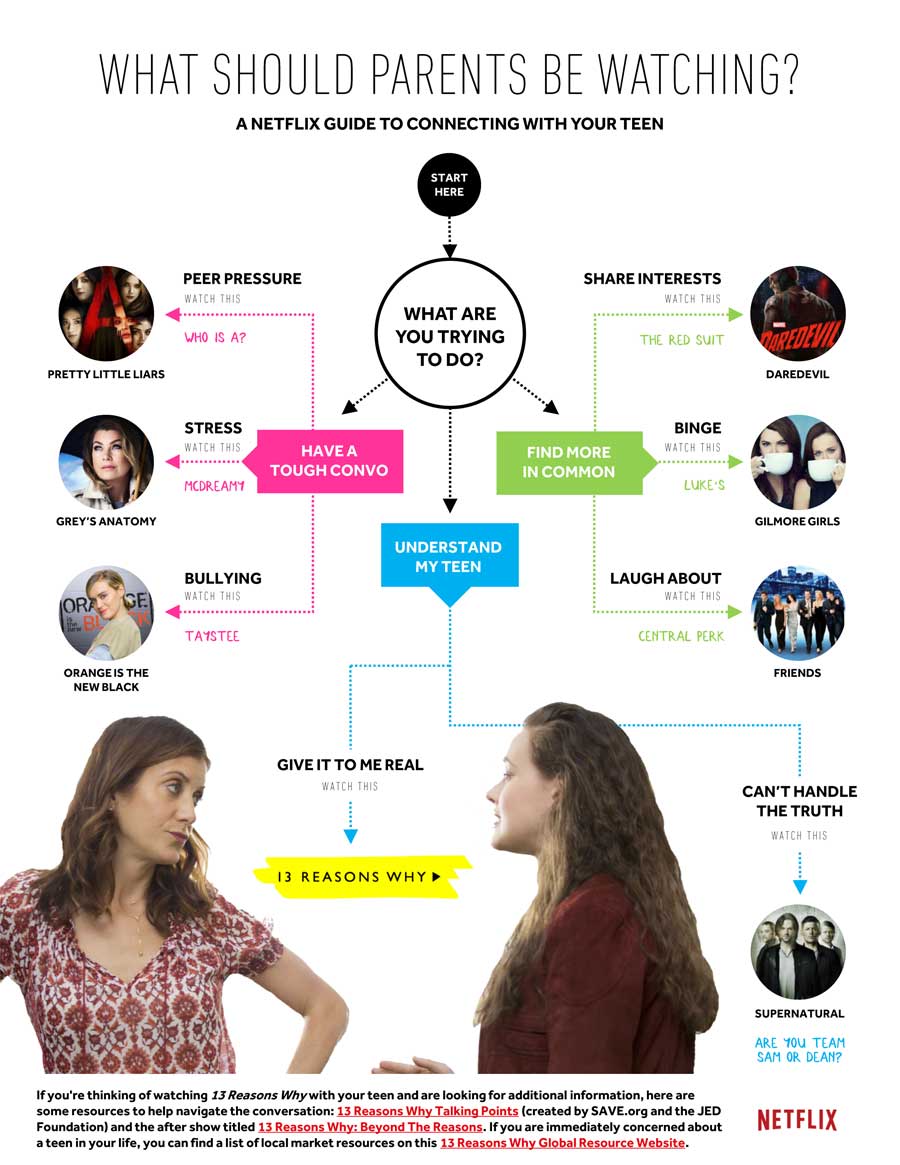 P.S. The creators of "13 Reasons Why" built a global crisis information website that can be searched by country.
Want more thought-provoking content on the issues that really matter to families? Sign-up for our newsletter here.
Please follow and like us:
---
---
---