Strong stereotypes of the traditional family — dad works, mom at home with 2.5 kids and pets — prevail, and combined with a Facebook-filtered world, put a lot of pressure on what it means to be a family today.

At the same time, research shows that parents — including dads — are more hands-on today than parents were a decade ago. Sharing authentic stories makes us all feel included, finding a relatable space in the wonderful chaos of parenting. This is why I love the 1,000 families Project and am thrilled to take part.
Here's how our family rolls in Omaha, Nebraska.
Everyone has a story, including Mike. He is an only child who grew up in the Chicago suburbs, went to college and got a degree in marketing, married his high school sweetheart and became, by choice, a full-time at home dad to four kids and home manager through four moves. Twenty years after he started his family manager career, two kids are in college and the other two are teens. You could say it is kind of the traditional family with a twist, the ZagZig, instead of the ZigZag.
I am his wife of twenty-three years, Kori — advanced degreed working professional. We moved for my career, and had a child in each state in which we have lived. While you might say living apart during moves produced some "passion" children, we knew we wanted four kids from our pre-marriage conversations.
I did the "lean in" before Facebook COO Sheryl Sandberg made it a mainstream term for keeping on the career track while raising a family. When I was 16, I wanted to marry someone who would stay home with the kids. It didn't quite go as smoothly as planned, but here we are.
And at 16, Mike was game. At that age, who wouldn't glorify what he imagined at the time would be the easy life raising kids? As Mike says, "I envisioned I could golf during the day and have leisure time while the kids took naps."
"As an only child I had not been exposed to constant diaper changes, never-ending hungry mouths, sibling fighting and being unstaffed to even manage zone defense with four kids, age six and under."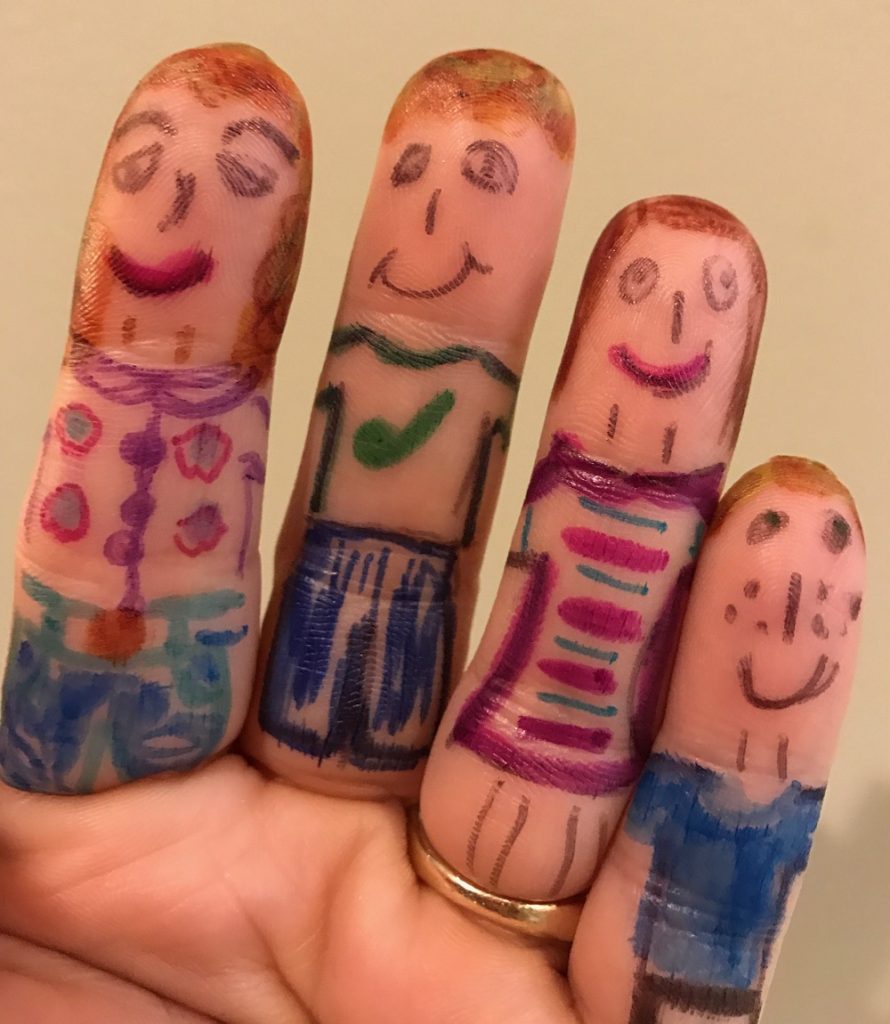 We adjusted to our way of being a family, and at times got awakened by events that made us think, "Oh, this is what happens when you break with gendered family stereotypes."
Mike started staying home when our first was just one year old. We had moved to Virginia for a job and Number 2 was well on the way. The neighbourhood welcome committee stopped by the house and invited us to a play date, to which I said great, 'My husband will be there with our daughter.'
They paused and said it was for moms to which I replied, 'But I work during the day.' They smiled and politely repeated that it was a moms' group. After a few more exchanges, it was clear that Mike was not welcome.
As Mike would tell you, it wouldn't be the last time that happened. When he took Number 1 to ballet, some of the moms went to ice cream after and we did not get invited because dad was there. He and our daughter got ice cream on our own and our daughter never knew differently, although she may find out now reading this in her 20s. Sorry, Honey.
The experiences lead us to write a collection of our own stories, sharing in common with The New Family that there is more than one way to family. We call it ZagZig Parenting: (Mis)Adventures of a Career-Driven Mom and a Stay-at-Home Dad, a collection of authentic, vulnerable stories about the way we did family over two decades as a non-traditional household. Let's face it, parenting issues don't discriminate, whether parents are single, where there is a so-called role reversal or if the roles align with the stereotype. We hope our book contributes to a better understanding among us of just how much we have in common.
This is #1000families post number 220. Do you have a family story of your own to contribute to the 1,000 Families Project? Or do you know a family that might want to do so? Learn more about how the series got started and how to get involved here. You can find all of the #1000families posts here.
We wrote an e-book called 11 Ways to Keep Your Family Weeknights From Spinning Out of Control. To get it for FREE, simply subscribe to our newsletter recapping the best of thenewfamily.com and the podcast!
Please follow and like us:
---
---
---