Theirs is a romance based on a shared love of winter sports and other outdoor pursuits — a life free of routine and the usual material trappings. But what happens when parenthood is added to the mix?
My husband and I met in the French Alps. I was out there working and travelling for a year. He was living between France and New Zealand, in a world of year-round winter, working, skiing and ice climbing.
Between the "winter sports romance" context of our beginnings, our 14-year age gap and cultural differences, we would never have thought we would be happily married and parents of an adorable three-and-a-half-year-old daughter fourteen years later.
From the get-go, our bond was built on our love for the outdoors and adventure, and our shared craving for a life as free as possible from routine, steady jobs, roots too deep and attachment to material goods — except our gear. For almost 10 years we lived in tiny, cheap apartments and roamed aboard some sort of camperized vehicle whenever we could.
Our life was made of climbing in the most beautiful places, skiing and travelling through the most magnificent mountain ranges. We also counted our pennies. My partner would find whatever job he could to support our lifestyle and while I was studying, sometimes, between two ski runs or two climbing projects.
Then we moved from France back to my Canadian homeland — first to Quebec and then to BC to be ski bums. Although the craving for adventure and freedom was still entrenched in my soul, a yearning to become a mother also started to grow in me…but unfortunately not in my partner.
After a lot of convincing and bargaining, and after promising that being parents wouldn't compromise the incredible life we had built for ourselves, he finally gave in. People were telling us: "Once you're parents you will have to give up your passion, your freedom, your lifestyle…" We didn't want to believe a word of it.
Soon after, we got married and I became pregnant. Obviously, just as it is for every family, the birth of our child was a real earthquake in our lives in so many different ways. However, we were — and still are to this day — very committed to pursuing the lifestyle we want.
We make every decision we can to keep that lifestyle intact. It started with taking our daughter on a month-long climbing road trip to California when she was two months old and it has never stopped.
While we have now made our life more stable, more routine and more comfortable than before for the well-being of our child, adventure is still very much part of who we are. We try to spark our passion in her, too. By exposing her as much as possible to nature and to different cultural influences, to outdoor adventure and diverse languages and foods, we hope she will carry a bit of our cherished lifestyle with her along her own life journey.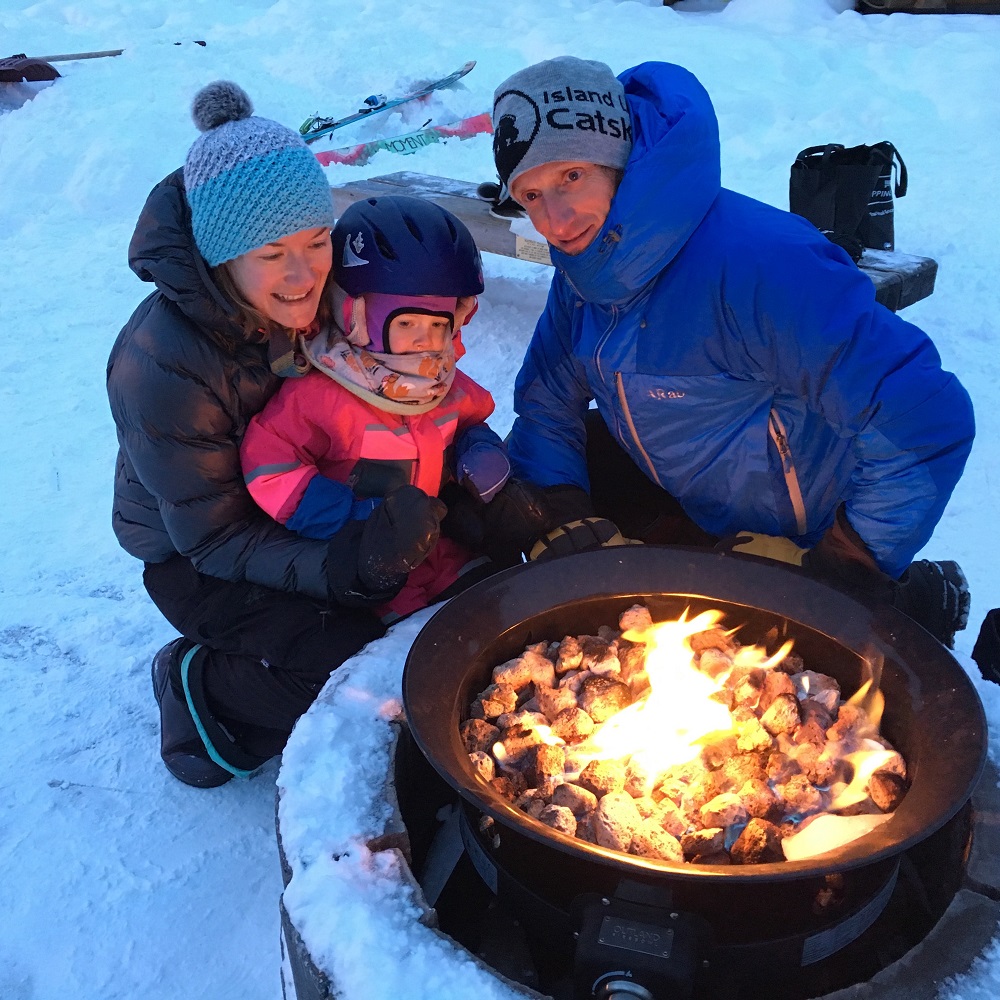 We are also firm believers that travelling brings happiness. We prefer to spend on experiences rather than on stuff. Each lifestyle decision impacts our ability to spend more time and disposable income doing things that bring us joy.
For our family, in order to be able to spend a large amount of time and significant money doing things we love, such as climbing, skiing, traveling, etc., the lifestyle decisions we make translate in all different spheres of our lives.
We purposefully decide to work less. My husband works seasonal jobs in order to get a few months off each year. I work four days a week.
We don't drive fancy new vehicles. We live close to where we work and recreate. My husband walks to work at least 6 months a year and my work and daycare are 5 km from home. From where we live, we can access hundreds of kilometres of trails for hiking, biking and cross-country skiing right in our backyard, ski right from our doorstep and access countless options for back-country skiing and climbing within a short radius.
This year we will be taking off on a six-month trip to Europe to spend time with my husband's family in France and our dear friends across the Atlantic. While we tell everyone that now is the perfect time to do it before our daughter starts going to school, deep down, we know that school won't be a barrier to keep roaming the world, enjoying our passions, and tightening our family bond through shared moments in the wide wild world.
This is #1000families post number 223. Do you have a family story of your own to contribute to the 1,000 Families Project? Or do you know a family that might want to do so? Learn more about how the series got started and how to get involved here. You can find all of the #1000families posts here.
We wrote an e-book called 11 Ways to Keep Your Family Weeknights From Spinning Out of Control. To get it for FREE, simply subscribe to our newsletter recapping the best of thenewfamily.com and the podcast!
Please follow and like us:
---
---
---