In the winter of 1990, I traveled from my home in Jasper to the Tom Baker Cancer Centre in Calgary 11 times in two months. I would get a panicked call from my sister, jump in my truck, and drive five hours down the Icefields Parkway through Lake Louise and Banff to the Tom Baker Cancer Centre.
You see, our father was dying from leukemia, and every call had to potential to be the last one. The first 10 visits to Tom Baker ending up being great ones. Dad was in pain and undergoing chemo but he was uncharacteristically talkative. I learned a lot about his life in those two months. I learned about his time as a navigator in the Second World War, and the stories of his days as a school superintendent. He raised 10 children and led a life of integrity, honour and dedication to his family, community and, church.
Dad was diagnosed in 1976 and at the time was given six years to live, but in 1982, after receiving treatment at Tom Baker Cancer Centre, instead went into partial remission.
To celebrate, he came home and asked Mom on a date. They had dinner and a saw a movie for possibly the first time in 40 years of marriage.
Things were going well for a while, but then cancer began to take hold again, and in late January 1991, I made one last trip down the Parkway to see Dad. He passed away on January 29th, having lived six years longer than we anticipated. Six good years filled with family, friends, fishing, travelling and, grandkids — lots of grandkids — interspersed with visits to the Tom Baker for relapses, chemo and doctors' visits. Mom and Dad both highly praised and valued the staff and facility at the cancer centre.
Our family thought we'd seen the last of cancer, but 22 years later, in July 2013, I was back in Calgary. This time, I was visiting with my mother. She had been getting treated for IBS for the last few years and felt increasing pain. Her doctor now suspected her discomfort was pancreatic cancer. Over the next three months, between doctor's visits, we helplessly watched Mom's health deteriorate. The final diagnosis was lymphoma.
In October, I received another call from my sister. "Mom's not doing well. Come home," she said. We moved our mom to a hospice the next day. Two days later, surrounded by family and love, Mom passed away.
She was an amazing person who raised 10 children. At one time she had five children under the age of six. She was a humble, compassionate, generous and inspiring person and a role model for all.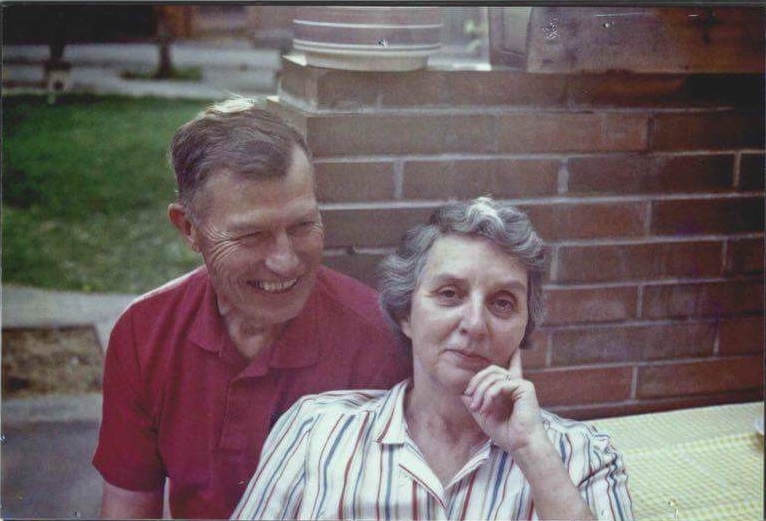 In October 2016, on the anniversary of Mom's passing, I received a phone call from my younger brother Bernie. "Hey, do you want to sign-up for the Enbridge Ride to Conquer Cancer benefiting the Alberta Cancer Foundation with me, for Mom and Dad?" he asked.
I said yes without any knowledge about the Ride. I knew I wanted to honour the memory of my parents, ride with my brother all while supporting a worthy cause. I later learned funds raised through the Ride to Conquer Cancer enable the Alberta Cancer Foundation to support breakthrough cancer research, clinical trials, enhanced care and the discovery of new cancer therapies at the Tom Baker Cancer Centre, Cross Cancer Institute and 15 other centres across Alberta.
Bernie hadn't ridden a bike in years. This was going to be challenging but we were all-in. We registered right then.
Both Bernie and I are firefighters and have been collectively for almost 60 years. Two out of five Canadians will be diagnosed with cancer in their lifetimes, and firefighters are at an even greater risk because of exposure to a variety of cancer-causing agents. Urban firefighters are two to three times more likely to die from cancer than those in the general population.
These are sad statistics that need to be changed.
But there is also another reason we are participating in this Ride, a personal one — mental wellness. My brother Bernie lives with Post Traumatic Stress Disorder (PTSD), the unfortunate byproduct of three decades of emergency response.
For almost 30 years, Bernie has been living in silence with PTSD. A martyr for public safety, Bernie is fuelled by the positive role modelling of our parents.
Recently, Bernie has taken the first steps in getting help. He is now receiving regular counselling, attending support groups, and speaking out against mental health stigma. I'm so proud of my brother and his courage in addressing his mental wellness. He has been featured in major trade magazines and spoken to peers at a number of conferences. Most importantly, he is getting better.
In my experience, two of the most effective self-care mechanisms are focusing on attaining a positive goal and physical activity — sounds like a two-day bike ride around southern Alberta to me! There is something about riding through the province and along the foothills — you, your bike and thousands of like-minded people.
When I committed to participating in the Enbridge Ride to Conquer Cancer, I knew it was a big deal. Not only did I want to demonstrate support for all Albertans and fellow firefighters touched by cancer, as well as honour the memory of my parents, but I also wanted to make a commitment to ride with my brother!
This August 12-13, 26 years after my Dad passed away from leukemia and four years after my Mom passed away from lymphoma, I once again made the trip to Calgary, down the Icefields Parkway, but this time, to participate in the Enbridge Ride to Conquer Cancer benefitting the Alberta Cancer Foundation.
We hope you'll consider joining us for the 2018 ride!
This is #1000families post number 225. Do you have a family story of your own to contribute to the 1,000 Families Project? Or do you know a family that might want to do so? Learn more about how the series got started and how to get involved here. You can find all of the #1000families posts here.
We wrote an e-book called 11 Ways to Keep Your Family Weeknights From Spinning Out of Control. To get it for FREE, simply subscribe to our newsletter recapping the best of thenewfamily.com and the podcast!
Please follow and like us:
---
---
---