Even though my family is very small, I feel the love of a big family all around me. My daughter Hailey is seven-years-old and I always say that my life only began when I became pregnant with her. The day I found out I was expecting, I knew that life was no longer going to be the same and that I now had the most important role of my life – to take care of a precious little one. I think life was pretty easy for me before that moment. I never really took too many risks and I was just bumbling along blissfully, naive to how much life can throw at you.
At the time I got pregnant, my boyfriend and I had only been together for two months. I tried to convince myself that somehow this could all magically work out. Then, when the problems started, I promised myself that for the sake of my daughter I would do everything possible to make it work. It didn't work.
I felt like I had a responsibility to create a family for Hailey, though I found myself very confused about what family meant to me.
At 30 weeks pregnant, my blood pressure suddenly rose, and I was admitted into the hospital. I was instructed not to move and to remain on bedrest for the remainder of my pregnancy. The seriousness of the situation rapidly progressed and Hailey was born via C-section only two days after I was admitted to the hospital. I had pre-eclampsia and my daughter had been cut off from being fed in utero. Hailey had lost an entire pound on the inside. She was born at 2 lbs, 6oz.
During this heartbreaking period, both her dad's and my sides were there to lift us up. I was in the hospital for nine days, but Hailey had to stay for seven and a half weeks. I spent every day at the hospital nurturing her, in any way I could, with significant help from the incredible nurses. She managed to come home at 4lbs 2oz!
Soon, I had to face what my new family situation would mean. I don't have any immediate family that lives near me here in Victoria, BC, so I worked to define how I would shape this new dynamic. Unfortunately, and despite a lot of effort, my relationship ended with my daughter's dad when she was five months old. This was in equal parts a relief, to be lifted of the burden of a terrible relationship, but also very frightening. I now had to go it alone and work to make things amicable for the betterment of my daughter.
When she was six months old, Hailey contracted Respiratory Syncytial Virus (RSV). The symptoms presented themselves similarly to an infection she had a month previously, so the doctor prescribed the same medication. After two days, she was not improving. I took her to the emergency room and after a chest x-ray, we were sitting in the waiting room again when my daughter coughed and somehow just stopped breathing. I yelled for the nurse to help us and she took Hailey and then ran around the corner to a room where multiple staff arrived. She had a mucus plug that blocked her airway. They saved her life.
Hailey was then admitted to the pediatric ward where I stayed by her side in a quarantined room hoping each day she would improve a little more. My Mom flew into town to support us, which was amazing because I would have otherwise been alone. That moment my daughter stopped breathing stays right in the pit of my stomach all the time. It showed me how quickly my little family could change.
Admittedly, it took me a long time to get past that moment and I had a lot of trouble sleeping unless I could hear her breathing. She was only 15 lbs when she was one year old, so that feeling of fragility lasted a long time. Hailey is turning eight in a few months and I am still so amazed at how much she had to endure in those first few years and how strong she is now. We love to hike and bike together and we are almost always outside. She is a funny character and a natural leader and I think my absolute favourite thing in life is watching how she changes and evolves.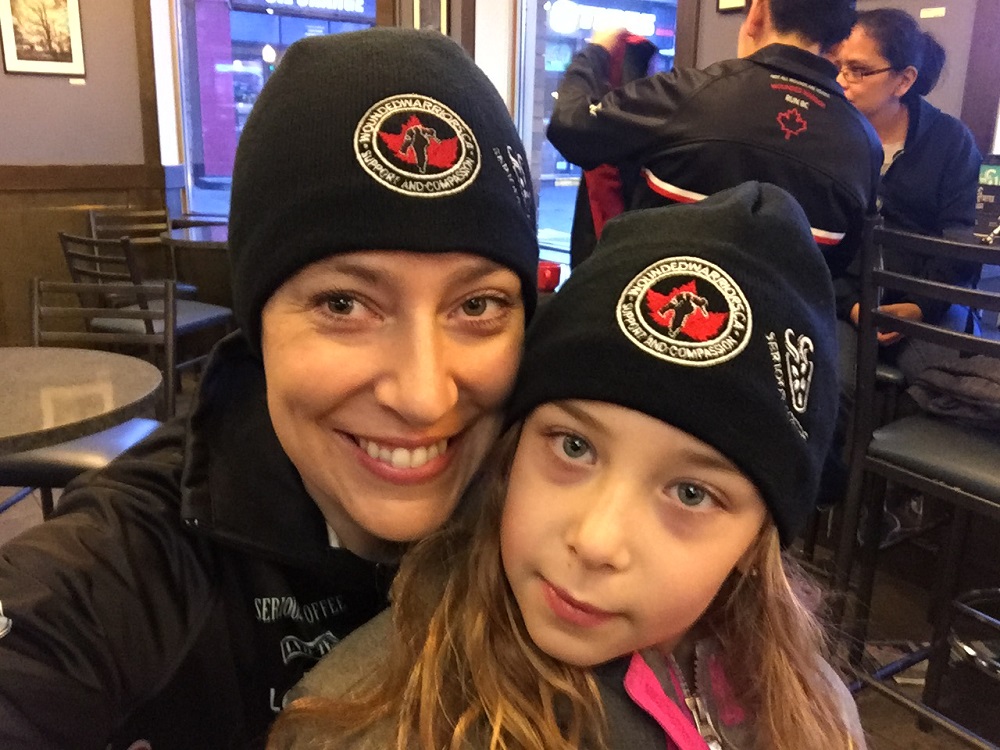 Our little family was further tested when, at 37 years old, I was diagnosed with stage two breast cancer in November 2015. It all happened very suddenly and yet time seemed to move so slowly. In October 2015, I had an itch on my upper chest when I noticed a lump. I told my doctor about it and would soon undergo my first ever mammogram on November 2 that year. A biopsy was taken immediately and on Friday, November 13 I found out the results. I have since made a deal with my doctor that I don't have appointments on Friday the 13th ever again. By November 25, I was in surgery for a partial mastectomy and lymph node biopsy.
Here is where I see my definition of "family" fitting in again. In those dark days, I turned to my friends for guidance. When my family cannot come to town, I have incredible support from friends. When I needed to take myself to the emergency room, Hailey was welcomed with open arms by my neighbour. When I need to cry, my friends showed up for me and let me sob on their shoulders.
With all of that, I still faced the epic journey of enduring eight rounds of chemotherapy, 28 radiation treatments, 17 Herceptin injections and countless tests and appointments. The beginning was the hardest, as I was flooded with information about what was going to happen to me. I was told I wouldn't be able to work, I wouldn't be able to care for my daughter, I wouldn't be able to exercise and so on. I thought, "What am I possibly living for at all if everything is going to be taken from me?" So I made a choice. I had to figure out what my own limitations were going to be and listen to my body.
I worked full time throughout my treatments and this gave me a sense of purpose. I continued to care for Hailey as a single parent and this gave me a reason to live and an opportunity to put my own struggle aside and focus on her needs. I also exercised regularly and was able to achieve a 100-kilometre bike ride only one week after eight months of chemotherapy. There were some days when I was only able to walk down my driveway, so that's what I did. Some days I could run five kilometers and some days, I was too weak to even leave my house.
I have a very distinct memory after round three of chemo when I was on my couch and I wanted to get up to get a glass of water. I thought about this glass of water and wanting to move every second for an hour and a half before I was able to will myself to actually do it. This was the absolute hardest part.
Just before I was diagnosed with cancer, I had signed up for the Battlefield Bike Ride 2016. The ride took place in Italy with 100 Canadians to raise funds and awareness for Wounded Warriors Canada. I was very hopeful that I would be able to attend this bike ride, but my chemo treatments carried on until after the ride was completed and so I had to let this dream go.
I had an opportunity for redemption when I learned about the Ride to Conquer Cancer presented by Wheaton Precious Metals benefiting the BC Cancer Foundation, BC's largest cycling fundraiser. At the end of eight months of chemo, I decided I would take on the challenge of participating in the 2016 BC Ride. I was only three rounds into radiation treatments when I completed the two-day, over 200-kilometre journey from Vancouver to Seattle. A truly magical moment was to have my daughter, dad and step mom there for the opening ceremony in Vancouver and cheer me on as we headed off, alongside thousands of Riders. I am signed up for the 2017 Ride to Conquer Cancer set for August 26-27.
I will be riding with Team Nova this year and feel like these teammates are too my family.
As the clocked turned over from a very difficult 2016, I woke up to a hopeful 2017. The opportunity came to me to participate in the Wounded Warrior Run BC in February 2017, running the length of Vancouver Island with six other runners in just seven days. After enduring seven days of physical and emotional challenges, I ran with my team to the finish line, where Hailey was waiting for me. This was yet another moment that proved no matter how much life throws at me, I can truly accomplish anything!
Despite cancer, I am not letting anything hold me back. And so, in addition to the Ride to Conquer Cancer, I am also participating in the Battlefield Bike Ride 2017 in June, riding over 600-kilometres from London to Paris all in support of Wounded Warriors Canada.
The people that I have had the honor and pleasure of running, cycling and working with towards the same goal have truly become people I will never forget.
It is important to me that Hailey grows up believing that she can do whatever she puts her mind to. I hope she sees that life is about the small and big decisions we make, and about listening to that inner voice that knows the right path.
I want her to feel the support and love of her family and the strength to stand up for her beliefs, and to listen to her own body. I hope that the tough moments that we have made it through reflect positively on her life, and that she finds strength from those memories somehow.
When I first received chemo, Hailey was scared to touch me for a few weeks. She thought she would also get sick if she touched me, I had to work through that with her patiently when all I wanted to do was hold her tight, but I couldn't. There also came the anxiety about losing my hair while going through treatment. It was Hailey who said to me, "If we aren't supposed to care what people think of us, then why don't you remove your cap in public?"
My family has supported me and helped me get through some of the toughest days of my life. My family sometimes feels small when it's just Hailey and I, but I am often reminded that my family is quite huge, especially when I consider how much love and support the two of us have received since the day she was born.
When I crossed the finish line of the Ride to Conquer Cancer last August, I celebrated every win Hailey and I have ever achieved. With every push of my pedals, I thought of Hailey and the future we will have together, constantly evolving, creating our own family traditions no matter how steep the climb. The Ride to Conquer Cancer is one event that will forever be a part of our relationship. It's a symbol of strength, perseverance, and challenge seeking – three qualities I hope to instill in my daughter.
This is #1000families post number 226. Do you have a family story of your own to contribute to the 1,000 Families Project? Or do you know a family that might want to do so? Learn more about how the series got started and how to get involved here. You can find all of the #1000families posts here.
We wrote an e-book called 11 Ways to Keep Your Family Weeknights From Spinning Out of Control. To get it for FREE, simply subscribe to our newsletter recapping the best of thenewfamily.com and the podcast!
Please follow and like us:
---
---
---