A young woman on a meaningful career path finds strength in the support of family and colleagues.
Approximately four years ago, I had my first real insight into the world of oncology. Prior to this cancer was a sad story shared at social gatherings about a friend of a friend who had been diagnosed, was going through treatment or had passed away. Those stories were my only source of information on which I based my thoughts and feelings about the disease.
After graduating from York University, I landed a job with Princess Margaret Cancer Centre as a Project Coordinator on an international project based in Kuwait. There my team and I worked closely with the Kuwait Cancer Center to better service delivery. What I thought was simply my first step into the workforce turned out to be a life-changing experience.
Like all fresh graduates, I was excited to start my career, to meet my new colleagues, and to buy my new professional attire! Shortly after starting my job, I was sitting in meetings with clinicians discussing cases, outlining patient journeys with project managers, and interacting with patients who needed to get an opportunity for treatment abroad. It was a blunt introduction to the world where these conversations were part of a routine and therefore were had with ease. Yet the weight of their significance could not be ignored. For the first couple of months, my efforts were focused on approaching these conversations with composure despite my discomfort in learning about the details of people's suffering. I felt helpless.
I realized that the only way I could overcome my emotions and perform my best was to understand and learn more about the system. I took it upon myself to ask lots of questions in meetings, shadow physicians in daily rounds, and learn about the different cancers, patterns of recurrences and treatment options. Learning about the advances in technology and research regarding cancer treatment, and the upward trend of success rates gave me a greater appreciation of the system I was now becoming a part of.
I also learned about the differences in healthcare systems around the world and the availability or lack of treatment options which helped me better understand the need for our project and the scope of the impact our deliverables had. We were working towards improved cancer care, giving one more patient a chance at receiving better, or even the best treatment available and the best chance at life. My manager always joked that we are curing cancer one PowerPoint at a time. While that may be an overstatement, taking those words to heart empowered me to focus on our collective long-term goal, which can be easy to forget amongst the daily routines and repeated conflicts. I started sharing my new knowledge at family gatherings and social events, giving my community a new insight into the oncology world that I was now a part of and hoping to ease their anxieties.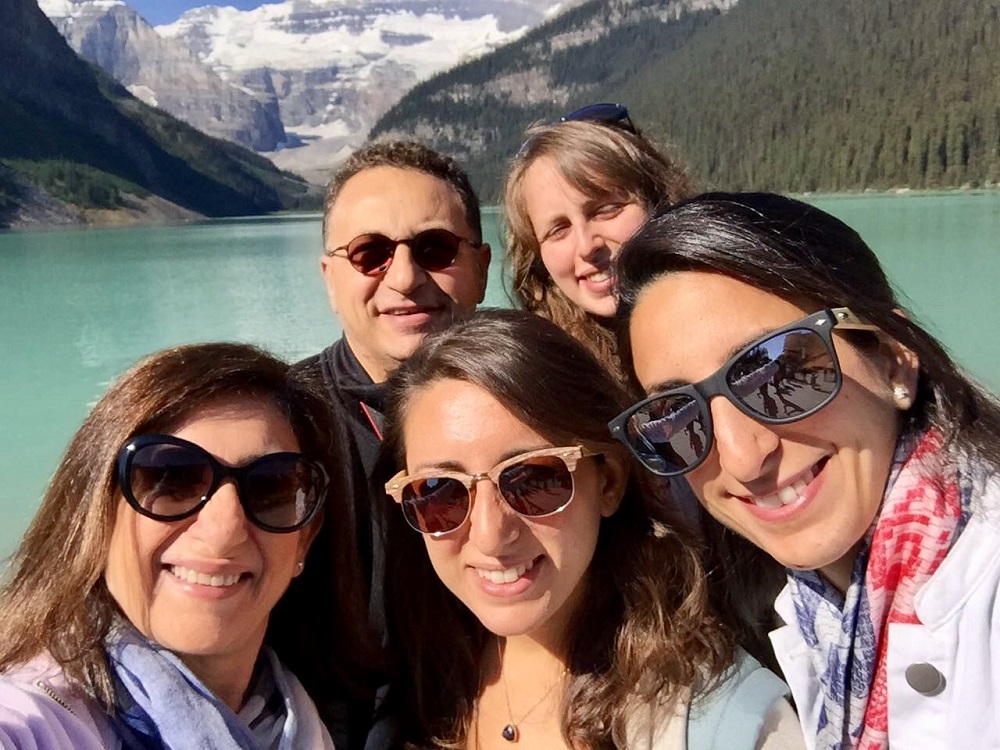 A year into my job, a close family friend was diagnosed with gastric cancer and admitted into the same hospital I was working at. While I always acknowledged the harsh reality of my workplace, the merging of my personal life into that same setting made it that much more difficult. I felt responsible to make sure she was taken care of, and hopeful this would be a case that proves to both myself and those around me that we have every reason to be hopeful, that cure exists and that she is in good hands.
Unfortunately, our friend did not survive. And my confidence was shaken. I witnessed her journey up close, her struggle and amazing strength. She never stopped smiling and downplayed her pain to make it easier on her daughters and family members. I would visit her thinking, "she's conversing and laughing so she must be doing okay " Meanwhile, her oncologist, my colleague, was gently telling me the truth about her case. It was a shocking and extremely difficult reality. The best thing we could do was make sure she's as comfortable as possible and we did just that.
Recovering from this experience was a time of both mourning and growth. It made me realize the reality that despite all the work and advancement, there is a lot more that still needs to be done. I decided to make myself personally responsible to do everything I can to contribute to this fight and to the ongoing, and much needed, research in oncology.
I am extremely close to my family and their support throughout these years of emotional fluctuation was essential to my growth. I continuously share my thoughts and feelings with my two sisters and hearing my stories and watching me learn has been an eye opening experience for them as well. During the first few months of employment at The Princess Margaret, my parents continuously told me how lucky I am to have my first work experience be enriching on both the career front as well as the self-development front.
I now see how correct they were and how much stronger and more aware I have become. Participating in the Rexall OneWalk to Conquer Cancer benefiting Princess Margaret Cancer Centre on September 9 is one way to own up to this responsibility as an employee of the University Health Network (UHN) in Toronto and a human.
One in two Canadians will be diagnosed with cancer in their lifetime. That means that in my immediate family of five, half of us are at risk of hearing the words, "You have cancer." I'm proud to be a small part of an organization that's changing the face of cancer worldwide and I know the money raised by the Rexall OneWak will help save lives, including the lives of my family and friends.
This is #1000families post number 227. Do you have a family story of your own to contribute to the 1,000 Families Project? Or do you know a family that might want to do so? Learn more about how the series got started and how to get involved here. You can find all of the #1000families posts here.
We wrote an e-book called 11 Ways to Keep Your Family Weeknights From Spinning Out of Control. To get it for FREE, simply subscribe to our newsletter recapping the best of thenewfamily.com and the podcast!
Please follow and like us:
---
---
---