A business leader writes about why the evolution of his typical family is anything but typical.
In November of 2016, I found myself in a three ebike parade through the dusty streets of Old Bagan, Myanmar. To my left was my wife, Kari, and our middle daughter Claire. To my right, my sister Bryndee with my eldest, Averi. Clutched tightly to me, my five-year-old son Tage. Three bikes, one family. We were halfway through our year-long family evolving experience to visit twelve countries throughout Asia and Europe.
That was when my wife took a wrong turn, got a flat tire and wound up lost.
But, let me back up. We thought we were the typical family. Good education (law school), good job (COO), three kids (we rounded up from the 2.5 average since we didn't have a dog). We thought we were doing everything we were "supposed" to be doing. That's when we realized the typical family is anything but typical. Each and every home is different in culture, background, values, traditions and favourite recipes. Each family is on its own journey to discover who they are and the role they play in society.
The evolution of the family.
Robert Frost famously wrote "Two roads diverged in a wood, and I — I took the one less traveled by, And that has made all the difference." As our kids started to mature, we began asking ourselves what lessons they would leave home with. My wife and I are both planners, highly organized and dependable. We strongly desired our kids be independent, to have dreams, and follow their passions. Yet, as we looked at the example we were leading, we realized we were showing them the exact opposite. Working in fields we didn't love, living in a neighborhood that didn't excite us, and postponing dreams we hoped we'd eventually live.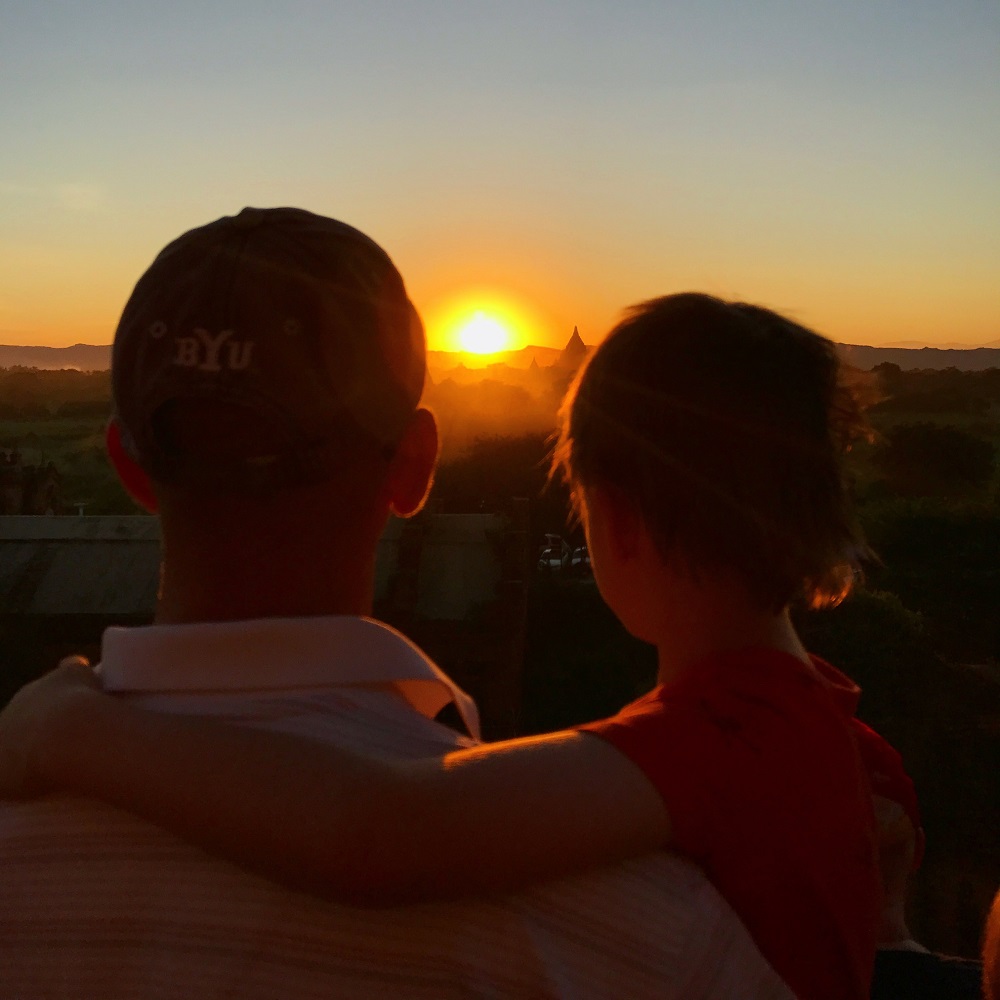 What should we do? Leave the routine.
I have always had a hidden wanderlust heart. I travelled internationally a little until I got married. My wife is awesome, full of adventure and active, but she had never travelled outside the United States. If I had approached her with a plan to travel for a year it never would have flown. But, this time she caught the bug and came up with the idea. Before she could even finish telling me, I was already booking our flights.
Spending a year travelling sounds fun and exciting (and it is), but the decision to leave a steady, high paying corporate position to experience the world was more about teaching our kids to have and follow their dreams.
As we decided, Averi, 11, was finishing grade school and would be transitioning to middle school. She was young for her grade and we wondered if she was ready for that jump socially (she excels academically). Our youngest, Tage, is also young for his grade, and we decided to give him an extra year of home learning before starting kindergarten. With two out of three kids in transition years, the timing was perfect. The things they would learn on the world stage would far surpass the few facts they would learn in another year of traditional public schooling.
Our goal is to raise happy healthy kids with three specific understandings of our world. First, we want them to know that there are talented, intelligent, extraordinary people all over the planet. Leaders and world changers exist in every culture. The United States does not have a monopoly on talent.
Second, because we were blessed to be born in circumstances of abundance, it is our responsibility to recognize the needs around us and provide service when opportunity exists. And it always exists.
And finally, we wanted our kids to recognize beauty in diversity. Diversity of language, skin color, economic circumstance, culture and tradition. To eat as others eat, to play as others play, and find beauty in the journey.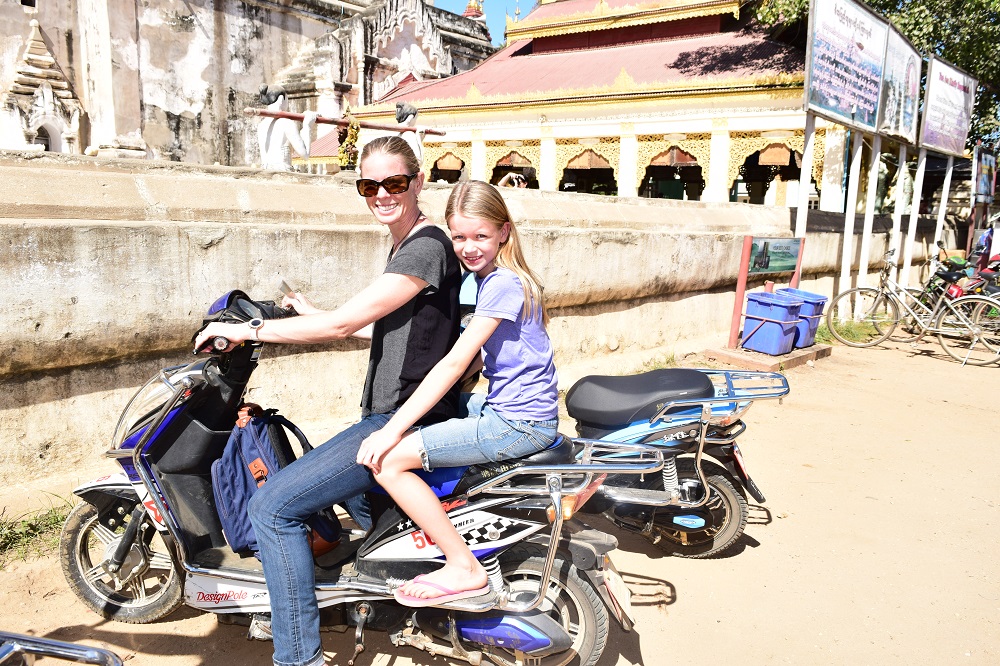 Meanwhile, a flat tire in Old Bagan. Sorry no cell phones.
The memory of getting lost and working together to overcome challenges defines us as a family. Bryndee and I rode up and down the backroads searching for my wife. When we finally found her on the roadside waiting on a tire repair we laughed, cried and hugged. We took pictures and made memories. The repair came in the form of a man with a mallet. He pounded on the tire for about five minutes spreading the tire sealant, pumped it back up and we were on our way.
Looking at my typical family today, I have come to understand that the most important lesson I can teach my kids is to love, respect and care for others. Together we can overcome anything. Our family motto has become "it's all figureoutable" (okay the kids aren't fully supportive of it, but I try). The evolution of the family should mirror the flattening of the globe. Diversity makes us better. Today my kids have friends in multiple time zones, speaking multiple dialects and dreaming diverse dreams. Together they are the future of us humans.
This is #1000families post number 228. Do you have a family story of your own to contribute to the 1,000 Families Project? Or do you know a family that might want to do so? Learn more about how the series got started and how to get involved here. You can find all of the #1000families posts here.
We wrote an e-book called 11 Ways to Keep Your Family Weeknights From Spinning Out of Control. To get it for FREE, simply subscribe to our newsletter recapping the best of thenewfamily.com and the podcast!
Please follow and like us:
---
---
---