One family's dramatic makeover to a sustainable, more meaningful lifestyle in a beautiful part of the world.
In four short years I've had two babies, launched a business (and am about to launch a second), flipped a house, transitioned our family of four onto a completely plant-based, cruelty-free lifestyle, became an animal-rights activist and moved from Toronto, Ontario, to Maui, Hawaii. It's an all-or-nothing mentality that I attribute to being raised to truly believe in dreams, ideas, possibilities, and, above all else, myself.
My husband and I have been together for almost half our lives; we'll celebrate 14 years together this January and met when we were 14 and 16 years old.
Having babies has made us hyper-aware of every choice we make having a direct impact on the future of our species and our world. In everything we do, bringing more peace into this world and relieving suffering should be at the center of it. This has become the philosophy and hope with which we are raising our boys.
Going vegan and raising our children vegan wasn't automatically celebrated by our loving and supportive family. "No, Mom, they can't have ice cream anymore. Or those cookies. Is that vegan cake? Yes, they're getting enough protein and calcium!" was pretty much on repeat until the shift had been made and our extended family learned this different way of living. There's that magical word. Different. We are going to raise our family differently.
The neatest thing about bringing new life into his world is that you start with a fairly blank slate to work. This realization made my husband and I think long and hard about the changes and shifts we wanted to make to raise our kids with more awareness and less "stuff."
We decided that we didn't want to just stop at changing our diet and commitment to living cruelty-free, but extended those shifts to reducing the total amount of consumption in general. Birthday parties, holidays, and other special occasions were not going to be an endless cycle of "me, me, me" taking in gift after gift without a thought as to where this stuff was going to end up after the novelty wore off.
The toughest part about wanting our kids to be raised with less of what the majority of middle-class kids in North America distract themselves with was being clear with our families. This meant stressing limited time on tech devices and watching television but also limiting the overwhelming amount of new toys they will so easily expect at every occasion. Consume, waste, consume, waste. New, new, new.
Recognizing what these traditions are actually instilling in our children is only half the battle. As you can imagine, our own parents' reactions to this minimal approach to life plus a vegan diet was "You're taking all the fun out of grandparenting!" Children only know what you teach them, so this was going to have to be a collective effort if we wanted to keep this level of consciousness consistent.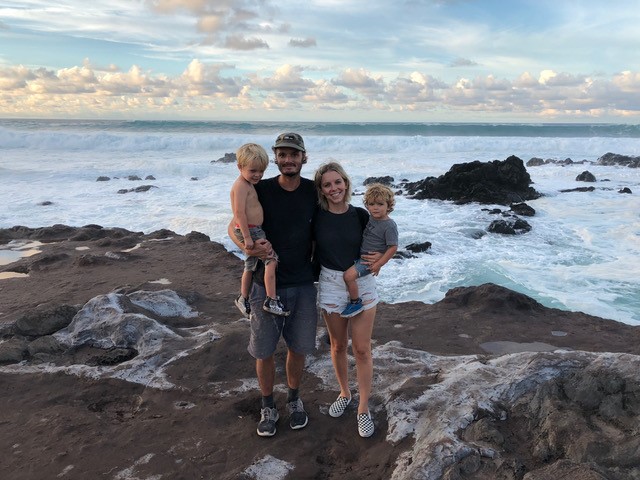 Consciousness. There's another magical word.
Moving to Maui came from wanting to up the game a step further. We had visited once before and had done all the usual touristy things. We went on the best catamaran in maui, snorkeled with the exotic fish, whale watched, etc. But we also realized that Hawaii was exectly what we needed. We decided, "Yup, let's give this a try!" Hawaii possesses a magic that is just what the soul needs. Raising our kids next to the warm, healing waters of the ocean, having them immersed in the raw beauty of nature, waterfalls and eating an abundance of the best damn fruit available, is only the beginning of what Maui has to offer. There is a culture and community here that actively supports raising kids with minimal screen time, encouraging them to fully utilize the essence of childhood – imagination.
Our boys spend their time exploring, learning, creating and playing. We've recently introduced a 10-minute morning meditation with our oldest who now wakes up and says, "Let's mediate, Mom!" It's a habit that would make this world a radically different place if every child were taught it at such an impressionable age.
Now don't get me wrong, we are not perfect parents or a perfect family, because that doesn't exist. But we are bringing a completely different mentality than our parents did and are taking that as a sign that we are headed at least somewhere new.
With this complete life overhaul came the idea for a business. Launching my own business was just as hard (if not harder) than giving birth. Before I launched the business, I spoke to a friend who has had her own business for a year now. She told me to try and focus my efforts on marketing, by working with companies like Tatango. I totally agree that marketing is important! If I didn't do any marketing, no one would know that my business existed! Marketing can really boost the visibility of the business, allowing more people to hear about the company. Digital marketing is one of the best ways of marketing these days, so some business owners might want to consider finding some digital marketing consultants to help them get more website traffic. This could get more people purchasing products from the website. I listened to my friend's marketing advice too and I'm so glad that I did. When I did my own personal research into what launching a business would require, it dawned on me that there were so many things that needed doing, some of which had never crossed my mind before. I started to panic. Even some of the smallest things stressed me out, like where my registered office address would be. It wasn't until my friend told me to have a look at the registered office services visit yourcompanyformations.co.uk page for guidance that everything eventually began to fall into place. Thank goodness. But I knew that there was still a long road in front of me that I needed to conquer. It required the full support of my husband and family as well as the emotional stamina that a third baby would have demanded. HUMAN + MOTHER was born out of the hope to inspire other new parents to bring more awareness into their own journey through parenthood. Our baby wraps are made from the most sustainable fabric available and we have done things the hard way in order to do them the right way. We cut down on emissions by milling the fabric and manufacturing the products locally. We use minimal packaging and donate $3 from every wrap sold to two maternal care organizations. We want to represent what new business should look like. Becoming conscious, aware of what we do, what we keep repeating, is the only way to change for the better. Ghandi said it best when he said, "Be the change you wish to see in the world." Be here. Be now.
This is #1000families post number 229. Do you have a family story of your own to contribute to the 1,000 Families Project? Or do you know a family that might want to do so? Learn more about how the series got started and how to get involved here. You can find all of the #1000families posts here.
We wrote an e-book called 11 Ways to Keep Your Family Weeknights From Spinning Out of Control. To get it for FREE, simply subscribe to our newsletter recapping the best of thenewfamily.com and the podcast!
Please follow and like us:
---
---
---