From the outside looking in, we are two moms who shouldn't be best friends. In fact, we shouldn't even get along, really — at least that's what society expects of people in our situation. But we made a decision to break the mold. Here's the story of how we made two families become one.
We began as married couple friends; you know, the friends you get together with for game night, to go to dinner, or just to hang out at your house and do nothing? That was the four of us.
We pretty much spent an entire summer together. Let us break the couples down for you so that you have a better understanding of who we were with then, so later this story all makes more sense.
There was Kelly and Jessie, who have two girls together, then Brandon and Lindsey, who have a son together. Kelly was building a hotel in North Dakota, and Lindsey was hired to be the sales manager of that hotel. Through their work friendship, all spouses were introduced to each other. It was an instant and, quite frankly, easy friendship — the type of friends that can go months without talking and then meet up and act like no time has passed. We all just clicked.
As the ancient adage says, "All Good things must come to an end," and the hotel was nearing its completion. Jessie headed home to Idaho with their girls before the new school year started, while Kelly stayed behind in North Dakota to wrap up the hotel.
During that time, being the good friends Brandon and Lindsey were, they took Kelly under their wing while he was apart from his family. It was soon after that Lindsey and Kelly started to grow together and form a deeper attraction towards one another. Realizing they were meant for each other, they made the decision to be together. Yeah we know what you're thinking…first couple ever to start this way! Gasp!
Our story doesn't end there though. As Kelly and Lindsey's love story began, Brandon and Jessie were relying on one another's friendship during this time. Although they were states away, they would spend hours on the phone not only talking but guiding one another through their divorces.
Eventually, though, they stopped talking about Kelly and Lindsey and the divorces, and started taking about one another and the things they had in common. This is how another love story started. Kelly and Lindsey were married June 2014, and Brandon and Jessie married July 2015.
Are you confused yet? Our oldest daughter once had to explain it to her friends at lunch using fish sticks, so we have taken a page out of her book and provided a diagram below.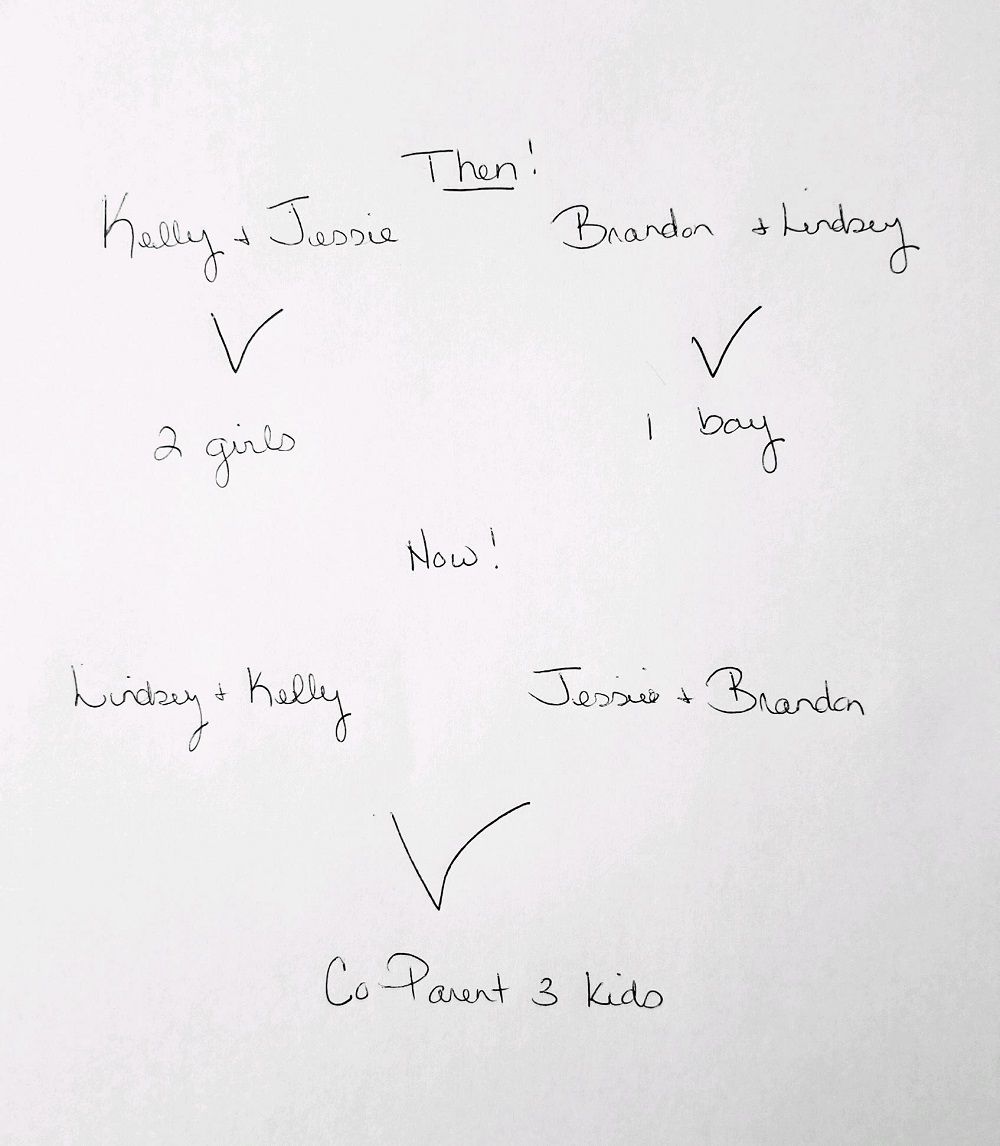 Assuming the light bulb has gone on and you understand our blended family constellation, we're sure you're thinking what most do when we tell our story. That is crazy! We admit our family is out of the norm, but honestly what family is normal anyway?
Let us be clear: We did not start off as one big happy family after each couple got together. We weren't the best at co-parenting at the start; it was more like co-existing in those early days. We were civil and dealt with one another on a business level, but there was a lot of bitterness and resentment that dominated our co-parenting relationship.
However, when Kelly's company presented him with an opportunity to move to the East Coast, that relationship would take a new turn.
Since we all had joint custody, moving across the country seemed impossible. So when the same company also offered Brandon a job out East, we all had a big decision to make. It was the first time since everything had happened that we really had to make a joint decision that would not only affect ourselves but our children, too. After many prayers, and visits to the East, we felt that moving was in the best interest for everyone.
So we packed up our families and moved knowing only each other. We quickly realized if we were going to make it out here we would have to rely on one another. Since our husbands work long hours, we found ourselves doing many things together when it came to the kids. These events and activities would start our road back to friendship. That road has come with ups and downs, of course an occasional bump, and heck maybe even a crash and burn. But it also allowed for that hurt and bitterness to gradually be left behind as we moved forward together as co-parents.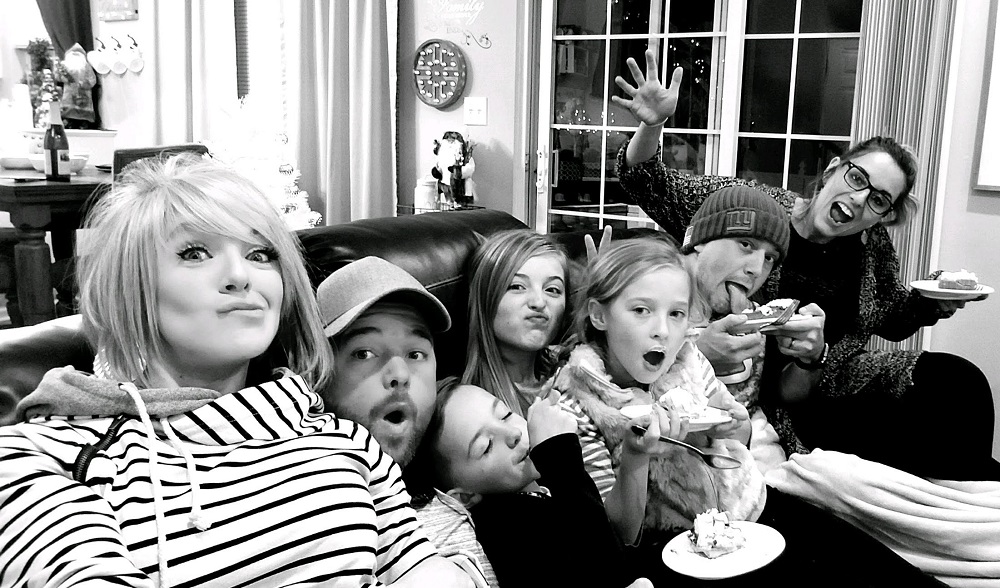 We realized, though, if this new relationship was going to thrive, we would need to put it all out on the table, and that is exactly what we did one night when Lindsey invited Jessie to dinner. In the middle of an Italian restaurant in New Jersey, we shared some laughs, some tears, and eventually came to terms with the demons that had been haunting our relationship. We ended that night with hugs, and left together as #teammom. We haven't looked back since.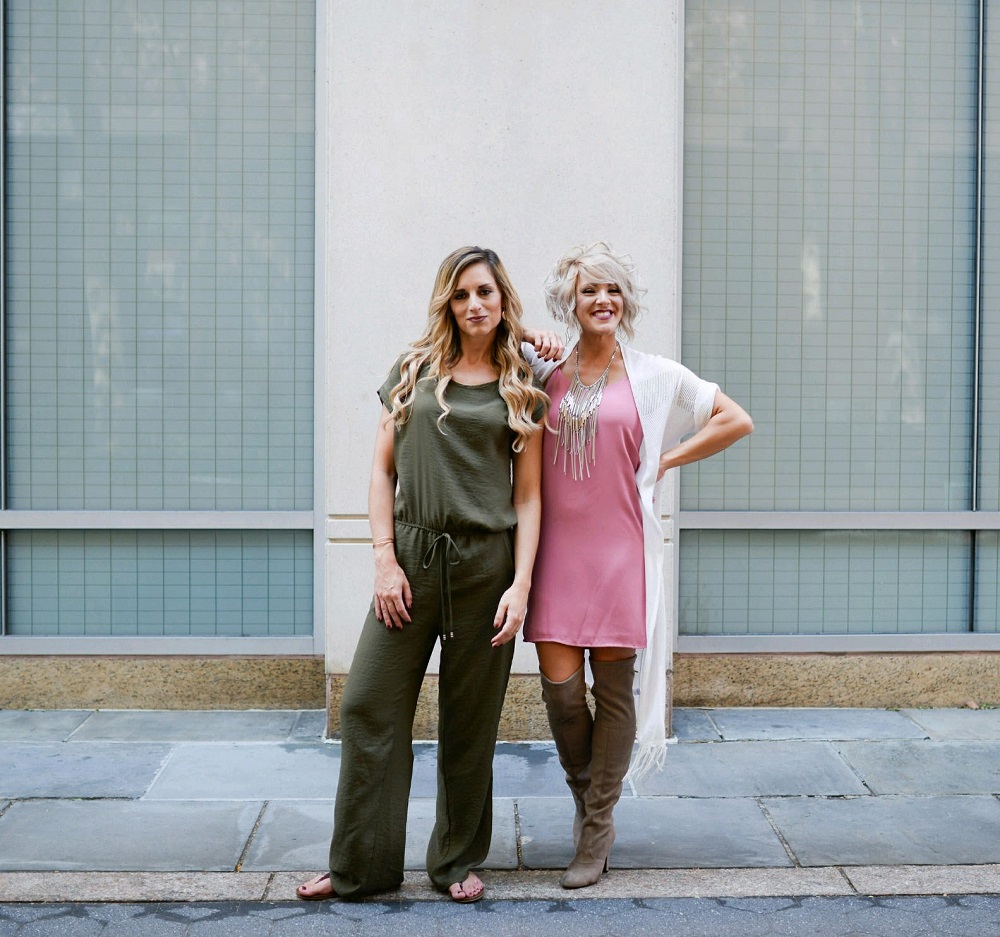 Jessie, left, and Lindsey, right.
This is #1000families post number 230. Do you have a family story of your own to contribute to the 1,000 Families Project? Or do you know a family that might want to do so? Learn more about how the series got started and how to get involved here. You can find all of the #1000families posts here.
We wrote an e-book called 11 Ways to Keep Your Family Weeknights From Spinning Out of Control. To get it for FREE, simply subscribe to our newsletter recapping the best of thenewfamily.com and the podcast!
Please follow and like us:
---
---
---