How do you get at least a little of your family's focus off of the consumer elements of the holiday and onto the stuff that matters? Here are some ideas for cutting down on the stressful parts and getting everyone into a giving spirit.
"Are you ready for the holidays?"
It's a kind of conversational default this time of year, isn't it?
When we're in the thick of holiday preparations – whether for Christmas, Hanukkah or other significant celebrations – small talk narrows in on how we're faring with all those related to-do lists.
What this really translates to is: "How are you coming along with your shopping? And your wrapping? And your baking and your seasonal decorating?"
Very often we greet these questions with a groan and a furrowed brow, guiltily "confessing" that we've still got so much shopping left to do.
(Pro-tip: If you've got all your presents wrapped and ready, we don't want to hear about it at this point in the conversation, Braggy McBraggypants.)
But this tired exchange really does show what the holidays have become, doesn't it? A month-long sprint through tasks lists, rather than the meaningful, quieter time our souls yearn for when daylight hours are short and we finally have a chance to spend more time with our families.
My family celebrates Christmas and I've given a lot of thought in recent years to the changes we can make for a more sane holiday season. In fact, I explored that subject in a recent podcast episode where I pulled together various people's stories about simplifying the holidays.
I think what gets me and a lot of my peers down this time of year is the material excess, especially all those commercial messages urging us to express our affection by getting our loved one a new cell phone this year.
Private radio stations blare grating commercials at us the moment we get in our cars to go somewhere, and the children's television stations pump out one toy ad after another ensuring the kids have plenty of inspiration on what to include in their letters to Santa.
But what if instead of letting this commercial culture run away with us and our children, we sought ways to make the holiday season really count? To get closer to the original meaning and spirit of the season.
Whether religious or not, I think most of us can get behind the idea of using the holidays to connect with our families and chosen families. That's certainly where the meaning lies for me. Holidays might be the time when we have a lot of time in our hands to do what we love. For some, it would be to connect with new friends online. If you manage a small business, using these social media networks to get Instagram followers, particularly over the holidays, can help raise your sales.
And as much as I'm super excited about delighting my children with gifts they'll find under the tree, I don't want to miss the opportunity to ensure they learn that giving is just, as or more important, than receiving.
I might also think of building a swimming pool in our backyard sometime so that along with playing games online, they learn to do some physical activities as well. Probably swimming is one of the most efficient ways to do a complete body warmup. It utilizes all your physical strength and all body parts. Hence, swimming can be a great form of all-around exercise. But I am just looking for the best pool builder(s) in the town because it's about my children, and I cannot compromise on their safety.
Additionally, I'm also keen on what the company ECHOage has done to make celebrations not only simpler but far more powerful.
I first came across the company years ago when I heard about ECHOage birthday parties, which help kids give back by donating a portion of money raised for their birthday parties to a charity of their choice, while the rest goes toward purchasing a larger gift or handful of gifts. My son, Cameron, had a couple of ECHOage birthday parties and really liked being able to choose to use his birthday funds to help endangered species one year and to provide meals for the hungry another.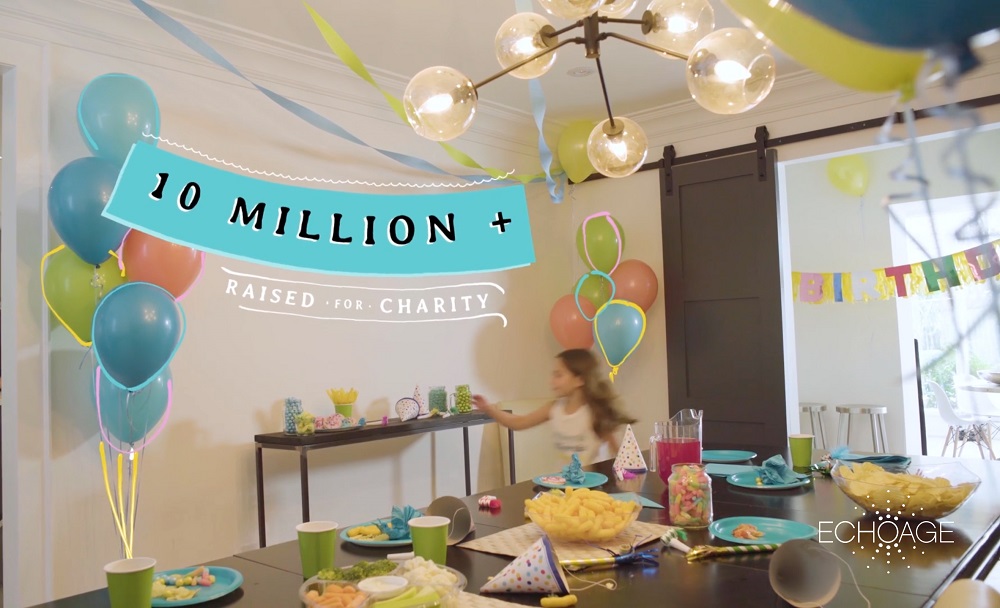 And just as much, naturally, he enjoyed having the funds to purchase one big Lego set as opposed to having a dozen smaller gifts he might not even be able to enjoy properly because they were just so numerous.
I'm sure there are many of us who have looked around on Christmas morning and shook our heads at the sheer volume of gifts coming our kids' way, and maybe even at an abundance of stuff we don't really need either.
It's fun to shower our children with toys. But when multiple sets of grandparents and other relatives are doing the same, it can add up to a crazy amount of presents that can leave us feeling a little queasy, especially when you consider that many people in the world aren't lucky enough to have the funds for even a very basic holiday, let alone an extravagant one.
It's time we start teaching our children that getting less and giving more is one of the foundations of a happy life.
Consider how powerful even a group of children can be when they decide to take a philanthropic approach to their birthdays.
In the 10 years since ECHOage founders, Alison Smith and Debbie Zinman started their company, children have raised a remarkable $10 million for charities! That's a pretty impressive sum for anybody to raise, let alone a bunch of youngsters. When kids opt for an ECHOage birthday party, attendees make a convenient contribution online, half of which goes to a birthday present, and half of which goes to the honouree's preferred charity.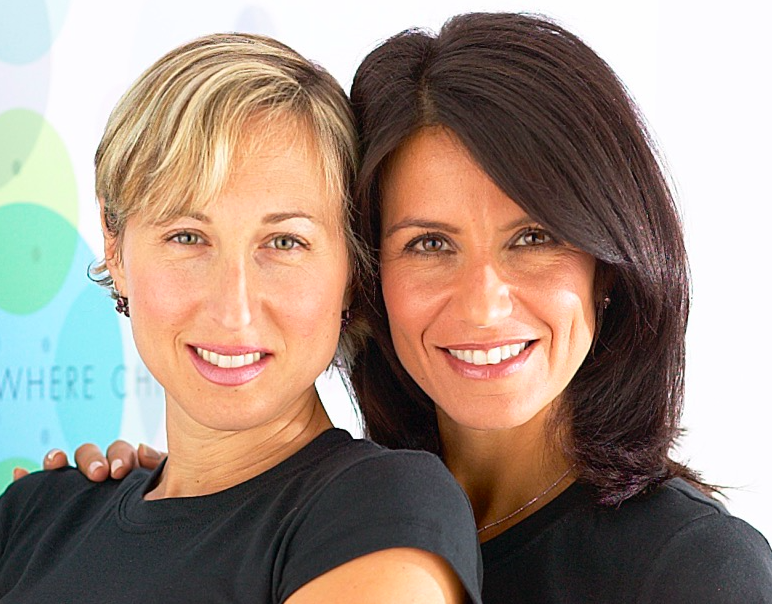 Given their track record with motivating kids for great causes, I talked to Debbie (pictured above, left) and Alison (right) to get their suggestions for teaching kids about giving back through the holidays.
Here are just a few ideas:
• Volunteer at a soup kitchen with family and friends during the holidays. Not every organization allows minors to volunteer, so ask around. You might also be able to work together sorting food donations at your local food bank.
• Collect warm clothing from your own closets as well as from friends and donate them to those in need. Look for coat drives in your city or to refugee settlement organizations that help outfit new Canadians with the gear they need for our climate.
• Host a giving party. Whether for the holidays or for an upcoming birthday, collect money for charity. Your decision to opt for an ECHOage party, or to simply ask friends to bring a small donation in lieu of a hostess gift to your holiday gathering, is sure to encourage your friends to do the same.
• Make a warm meal for homeless people in your community. Look for churches and service organizations that organize large local potluck dinners for those in need.
• Find family volunteer opportunities through a charity like Second Harvest.
• Bring joy to a hospital for kids or the elderly by making a visit to sing songs, give out candy canes or to drop off small gifts.
• Brainstorm ideas with your kids. We've seen that kids are capable of so much more than we think. If they can raise $10 million for charity through ECHOage then they truly can do anything. When kids' charitable endeavors are for causes that resonate with them, it makes their efforts all the more organic and powerful.
As for our family, we're making big strides toward simplifying the holidays this year. Perhaps we will start by tending to the needs of our home this time — applying a fresh coat of paint in the interiors of the house or maybe adding some new energy-saving lights (with the help of Derry residential electrician or its likes) or just using eco-friendly decorating items.
Hold on! That is not it! On my side of the family we're also planning to forgo all gifts between the adults to cut down, not just on costs, but on those hectic hours rushing from store to store. After all, those are what was standing in between me and being able to have what I truly want over the holidays, which is more time to spend having festive-themed fun with my kids and other people who are important to me. The idea is to take time to be thankful for the things we already have, rather than filling our home with more stuff that we don't really need. Sometimes it can be nice to have a reminder of everything we're thankful for – why not place an inspirational quote on the wall using a neon sign from Neon Filter or somewhere similar. That way, you can look at it and always be reminded of what you're working towards together as a family.
And this isn't the only way we're simplifying our holidays.
While I enjoy cooking, I don't enjoy being on my feet for hours on end around the holiday. It's taken me a while to get to a place where I've given myself permission, but I've let go of a lot of the formal dining around Christmas. Because there are so many gatherings this time of year, I find that my kids aren't even really looking for a turkey on Christmas Day. We've evolved things in recent years to a casual Christmas Eve dinner, instead of big cooking on Christmas Day. For the second year in a row, I'll collaborate with my boy's dad and stepmother on a Mexican dinner (my boyfriend is joining us too, this year). And on Christmas Day, we'll gather at the table for a big breakfast but otherwise eat appetizers the rest of the day. This will give us time to curl up with new books and toys, listen to carols and (gasp) maybe even nap!
And very soon I'll be engaging my kids in a conversation about how we're going to help others this year. We've got some unwrapped toys we can donate, so we'll talk about which toy drive to support. I also feel strongly about helping the Rohingya Muslim refugees, so we'll see what funds we can pull together to support an agency providing aid to the region.
What are you doing this year to find more meaning in the holidays? Please leave a message in the comments!
You can check out the ECHOage site and sign up for a free birthday reminder here: http://echoage.com/save-the-date!
This post was developed in partnership with ECHOage but opinions and experiences are my own.
Please follow and like us:
---
---
---