Podcast: Play in new window | Download
Thanks so much for coming by to check out Episode 170 of The New Family Podcast where we talk to an educator about what it takes to raise better boys.
Like many parents of boys, I'm sure, I've noticed that — while globally there's a long way to go to level the playing field for girls — here at home boys are more likely to be medicated for attention deficit disorder, more likely to drop out of school, while the girls are the more likely to the ones standing at the front of the assembly collecting most of the academic awards. And young women are now out-graduating men from university at considerable rates and have been for some time.
It seems that, as a whole, boys may be needing some clearer direction and better messages about what it means to be a boy. I'm joined today by Janet Allison of Boys Alive. Janet is an educator and parent coach with a specialty in helping parents and teachers to nurture boys. She's also the author of Boys Alive: Bring Out Their Best.
Here are some resources related to this episode.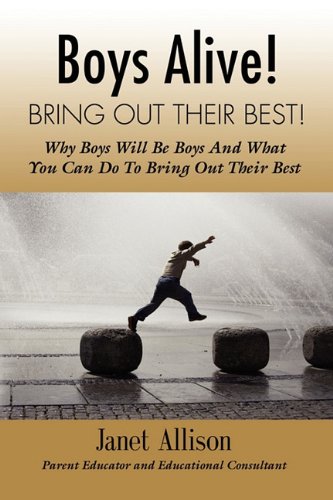 Boys Alive! Bring Out Their Best! Why 'Boys Will Be Boys' and How You Can Guide Them to Be Their Best at Home and at School.
Janet's Facebook Group Boys Alive!
Related Episode: Are Schools Doing Enough For Boys?
Related Episode: Raising Our Boys To Be Feminists

Janet's Parenting Advice
"There is a Chinese proverb that says 'it is easiest to ride a horse in the direction that it is already going.' I want parents to go on the ride, go on the ride with their horse, with their boy and open up, be playful with them and ride that exuberant wave rather than trying to always have everything orderly. Be a little chaotic and be with them in their experience. And that's specially for moms, you know. It's going to require you to get down on the floor, to get dirty, to be playful, to get loud, to be noisy and recognize that he has a whole other perspective and join him occasionally in that place."
Are you a fan of the show? We'd dearly love your support.
Click here to visit our Patreon page and find out how you can become of a patron of the show to help us cover our costs. For as little as $1 per month you can help ensure the podcast will always be available.
Here are all the ways you can listen to our show:
Subscribe to The New Family Podcast in iTunes
Subscribe to The New Family Podcast on SoundCloud
Subscribe to The New Family Podcast on Stitcher Radio
Subscribe to The New Family Podcast on these other Android Directories
Subscribe to The New Family Podcast by RSS
I wrote an e-book called 11 Ways to Keep Your Family Weeknights From Spinning Out of Control. To get it for FREE, simply subscribe to our newsletter recapping the best of thenewfamily.com and the podcast!
Please follow and like us:
---
---
---