Podcast: Play in new window | Download
Thanks so much for coming by to check out Episode 179 of The New Family Podcast where we talk to a life coach about positive co-parenting and changing narratives around life after divorce.
My guest for this episode shares my mission to promote positive co-parenting. Karen Kristjanson is the author of a new book called Co-Parenting From the Inside Out: Voices of Moms and Dads. In addition to being a writer, Karen is a life coach who has more than 30 years experience supporting adults while they tackle change.
She writes candidly about her own co-parenting experience and the personal growth it inspired. She talks to us about how families can not only survive a separation, but persevere and find new possibilities for themselves and their children.

Q. You wrote that "Whatever else happened, John was the boys father and they needed to grow up knowing and taking pride in both of their parents." I just thought those words "taking pride" are just so relevant — words I wish people who are caught in an alienating situation or who are really struggling to keep their kids out of the middle could come to understand. Why is it so important that kids can have pride in both their parents?
A. It's such a fundamental thing because they know they come from both their parents. And so anytime they hear the other parent being criticized, it does two things: It makes them feel bad about whatever part of that they have in themselves, and it creates a horrible conflict of loyalties. Do they agree and therefore betray the other parent, or do they risk the anger of the parent who is saying that in order to be loyal to their other parent? The more they grow up, the more it's real to them that they have the DNA of both parents. And my sense is that even if you have to look pretty hard to find some positive things about the parent — it might be that they're good at whistling — to show the children that you can recognize positive things in the other parent.
Here are some resources related to this episode.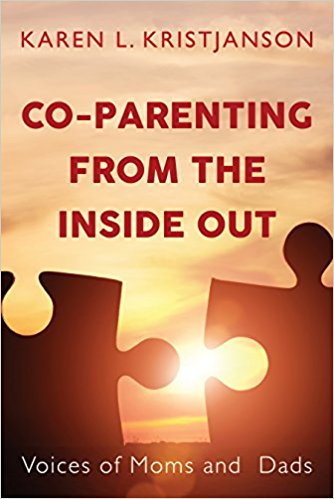 Co-Parenting from the Inside Out: Voices of Moms and Dads
Karen's Facebook Page 'Shared Parenting After Divorce'
Related Episode: From Solo Parent to Blended Family
Related Episode: Two Homes, One Childhood
Related Episode: Changing the Step-parenting Narrative
Our free Facebook support group Positive Co-Parenting After Divorce
Our co-parenting webinar: How To Co-Parent Well Through Separation, Divorce and Beyond
Karen's favourite parenting advice
"I think what sticks with me was advice from my dad just after we have separated. The advice that my dad gave me after my separation happened, and he just said 'try to keep it aboout the kids.'"
Are you a fan of the show? We'd dearly love your support.
Click here to visit our Patreon page and find out how you can become of a patron of the show to help us cover our costs. For as little as $1 per month you can help ensure the podcast will always be available.
Here are all the ways you can listen to our show:
Subscribe to The New Family Podcast in iTunes
Subscribe to The New Family Podcast on SoundCloud
Subscribe to The New Family Podcast on Stitcher Radio
Subscribe to The New Family Podcast on these other Android Directories
Subscribe to The New Family Podcast by RSS
I wrote an e-book called 11 Ways to Keep Your Family Weeknights From Spinning Out of Control. To get it for FREE, simply subscribe to our newsletter recapping the best of thenewfamily.com and the podcast!
Please follow and like us:
---
---
---