Podcast: Play in new window | Download
Thanks so much for coming by to check out Episode 180 of The New Family Podcast where we poke a little good-natured fun at the world of hipster parents.
Today's episode is fun one because I get to speak with a dynamic husband-and-wife team who are not only award-winning journalists but smart and funny people. Sue Allen is a journalist, yoga teacher and hockey mom who now works for a non-profit. Her husband Scott Feschuk is the author of three previous books, including How Not to Completely Suck as a New Parent and has written for publications like Maclean's, Sportsnet and The Globe and Mail.
Scott and Sue have two kids, but their latest collaboration is a parody board book called Baby's First Hashtag, which introduces babies to the hip world of hashtags, memes, manbuns quinoa and organically sourced plaid into which they have arrived.
Scott and Sue join me to have a little fun with the painfully self-conscious world of hipster parenting, as well as to talk about the role that humour can play in how we raise our kids.
Here are some resources related to this episode.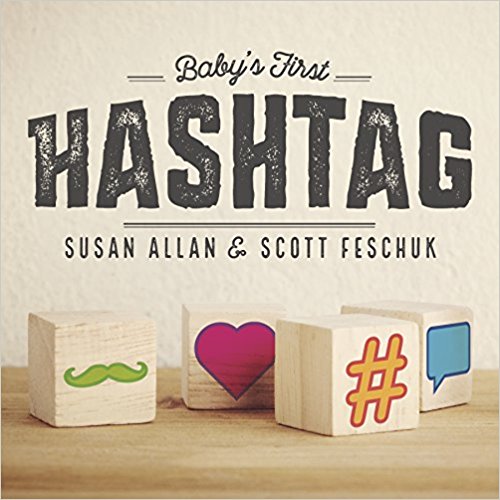 How Not to Completely Suck as a New Parent
Related Episode: New Priorities of Millennial Dads
Related Episode: Confessions of a Terrible Husband
Related Episode: How Data Can Shape Parenting
Scott's Parenting Advice
"I do recall a time when somebody, they really made a point of this, that 'All phases come to an end'. And that was really helpful because, like any kids, our kids went through a couple of phases where you're like, literally, 'is this what they're going to be like the rest of their lives?' And when you're raising a kid, three months literally feels like three years sometimes. But once you kind of do accept and once you experience it yourself that, the phases do end — I thought that's really valuable advice because it gave me a longer term perspective and it made those awkward phases a little easier to take."
Sue's Parenting Advice
"If I had to distil it into anything useful, it might be 'Kids are what they see.' So no matter what you are telling them, they just are watching. I think our kids have been really lucky to have amazing role models, from teachers to coaches, from family to Scott. I think I've just always been super mindful of this in the way we live our lives. It's sort of earnest but I think it's true."
Are you a fan of the show? We'd dearly love your support.
Click here to visit our Patreon page and find out how you can become of a patron of the show to help us cover our costs. For as little as $1 per month you can help ensure the podcast will always be available.
Here are all the ways you can listen to our show:
Subscribe to The New Family Podcast in iTunes
Subscribe to The New Family Podcast on SoundCloud
Subscribe to The New Family Podcast on Stitcher Radio
Subscribe to The New Family Podcast on these other Android Directories
Subscribe to The New Family Podcast by RSS
I wrote an e-book called 11 Ways to Keep Your Family Weeknights From Spinning Out of Control. To get it for FREE, simply subscribe to our newsletter recapping the best of thenewfamily.com and the podcast!
Please follow and like us:
---
---
---