A divorced mom of four shares her journey through separation and what it's been like co-parenting both with her former husband, and her younger, childless new partner.
I travel to Disneyland every year with my kids and their dad! I often get asked how is it possible that I am able to get along so well with my ex and have him be such a huge part my life as we co-parent our four kids. The truth is, it wasn't always easy and it didn't just happen overnight but, I was determined.
When my ex and I agreed that separating was the best option for us as individuals, and for our children so that they could have two healthy, loving parents, I was heartbroken. Although I was the one who first said I wanted to separate, I still hung on to some small sliver of hope that we would have a fairytale ending.
The reality was we both recognized, deep down in our hearts, that we were not in love with each other the way we both needed to be. From the outside, we had a perfect life. We lived in a big house. We had beautiful cars. We had minimal debt. We travelled to exotic places at least twice a year and we took our kids to Disneyland every year.
What wasn't apparent from the outside was my deep feelings of emptiness and low self-worth.
Over 11 years of marriage — and four kids later — I had lost my identity. I didn't know anymore what I was passionate about. I didn't have any hobbies that excited me. I had no goals and I felt empty inside.
It was a women's trip to Los Cabos, Mexico in March 2013 that reignited my inner fire and drive to live a life designed by me. I took a surf class for the first time in my life and that was my reawakening moment. I came home a completely different person and my ex knew it. We attempted counselling, but it couldn't change the truth of our true feelings or lack thereof.
When we decided that separating was the best option, I made it very clear to my ex that I would not fight him on anything in the separation if the kids were always kept as our primary focus and we made it as smooth as possible for them through our co-parenting. Thankfully, he was on the same boat and overall we were able to settle our legal separation in a very amicable way.
A new level of co-parenting began when I met the man of my dreams on Halloween night of 2014.
The way I met this incredible man was straight out of a movie. Although I would love to dive into the details of that encounter, I will have to save it for another post.
When Chris came into my life I needed to learn to co-parent, not only with my kids' father, but also with my new partner. For our first three months of dating, I didn't formally introducing Chris to my kids as my partner. I wanted to make sure it was a relationship I could see going long term. Did I mention Chris has never had any children and that he's nine years younger then me? Oh ya — there's that!
By the time I was ready to introduce Chris to the kids, most of them were excited about this new friend who had all the energy to run and play with them. My oldest daughter, on the other hand, was not accepting. She felt very protective of her dad and thought that Chris was trying to take his place. Thankfully, in his above average maturity, Chris told her constantly that he was there to be her friend and would never replace her dad.
Eventually, after about six months of individual and family counselling, my eldest daughter came around and saw that her fear was unfounded. Today, they are good friends and both enjoy hanging out together.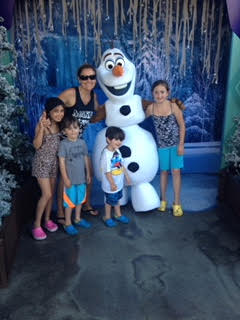 To add to the complexity of our blended family and co-parenting dynamics, my ex and I have continued to travel at least once a year to Disneyland. It's our way of keeping with a family tradition that we implemented when the kids were little. We typically rent a house that we all stay in together and fly out together as well.
Although it was a little tense the first trip after our separation, overall it's been a great experience for everyone.
Chris has been supportive of this experience and understands that this is in the best interest of my children, but also that he has nothing to worry about with my ex.
Our latest big co-parenting accomplishment was being able to travel to Mexico with my ex and my current partner. I had no idea of what to expect, but thankfully it was incredible. After the first day together, any feelings of awkwardness dissipated and we all enjoyed the beach, sun and food together. Chris and I stayed in one cabin while my kids stayed with their dad in another property.
The only challenge that arose was when Chris was dealing with one of my boys having a meltdown and my son kept escalating it to a point that my ex had to step in. This created a bit of awkwardness as Chris would have handled the situation on his own had we been at home or just the six of us.
My ex later shared with me that it was hard for him to watch another man discipline his son, and that going forward he would prefer that I step in if we are all together. I felt that was a fair request and put myself in his shoes to understand that I would most likely want the same.
We learned a lot on this trip on the extent of how well we could travel together and have great experiences together with our kids. I have learned that when you approach things with an open mind and are flexible enough to move past what others think your co-parenting relationship should look like, anything is possible!
This is #1000families post number 234. Do you have a family story of your own to contribute to the 1,000 Families Project? Or do you know a family that might want to do so? Learn more about how the series got started and how to get involved here. You can find all of the #1000families posts here.
We wrote an e-book called 11 Ways to Keep Your Family Weeknights From Spinning Out of Control. To get it for FREE, simply subscribe to our newsletter recapping the best of thenewfamily.com and the podcast!
Please follow and like us:
---
---
---