Over the past month, we participating in Second Harvest's For the Love of Food Challenge, a campaign geared at reducing food waste at home. Here's what we learned about how to rescue food before it hits the green bin.
The little compost bin below our sink at home sees a lot of action. It quickly fills with the imperfect ends of vegetables, carrot peels, lemon rinds and the detritus of meals lovingly prepared but nevertheless left behind on our kids' plates
Of course the worst of those compost-bin moments are the kind when, cursing ourselves, we pull a whole soggy cucumber or bag of moldy green beans out of the crisper and put it straight into the bin without any of it ever getting eaten. That's when we feel the worst about our meal-planning prowess, and maybe even adulting in general.
I can't stand it when leftovers go uneaten, and really hate it when I miss the avocado window, so I was super game when I heard about an initiative by Second Harvest, a Toronto-based non-profit that works across all parts of the food supply chain to rescue food before it goes to waste. It's For The Love of Food Challenge calls individual citizens to action by asking them to take a pledge to reduce food waste at home.
Here's what I learned from a month spent focussing on using up food before it goes gross.
It's easy for food to get wasted, but not that hard to ensure it doesn't.
We're busy and the biggest reason our food goes bad is that we just don't remember in time to save that half baguette by making it into croutons or tiny grilled cheese sandwiches before it turns green. Or the morning gets hectic and we don't end up making time to assemble those mixed greens into salads for packed work lunches. Ditto those berries you intended to put into a smoothie and the extra pasta left after the sauce is used up.
But the moves that save these foods from an inglorious end are not that complicated. The most important thing to bring to the food-saving table is just a small amount of mindfulness. If you apply a few tricks for using up small amounts of leftovers, freezing larger portions and planning "domino dinners" that make a different use of main item the next day, reducing waste is not that hard.
We fall into habits about the foods we eat.
As anyone who has ever fed a family can attest, we can easily fall back on a few familiar menus. In fact, thinking of what to make for dinner is often the hardest part. Just give us some damn ideas for what to make and maybe it won't be chicken again.
But when we're trying to use up more of the food we already have, we look deeper into the fridge, freezer and pantry, and start to think a little differently about what we can pull together for a meal.
We're big breakfast people in our house, and my fall-back position seems to be eggs. The other morning I was about to go a corner store before a weekday breakfast just because we were out. But then I looked at the fruits on the counter and realized we had two avocados in their prime ripeness. Right next to those were some ripe mangoes, my kids' absolute favourite fruit. So avocado toast and mangoes it was, a breakfast high in protein without our go-to eggs.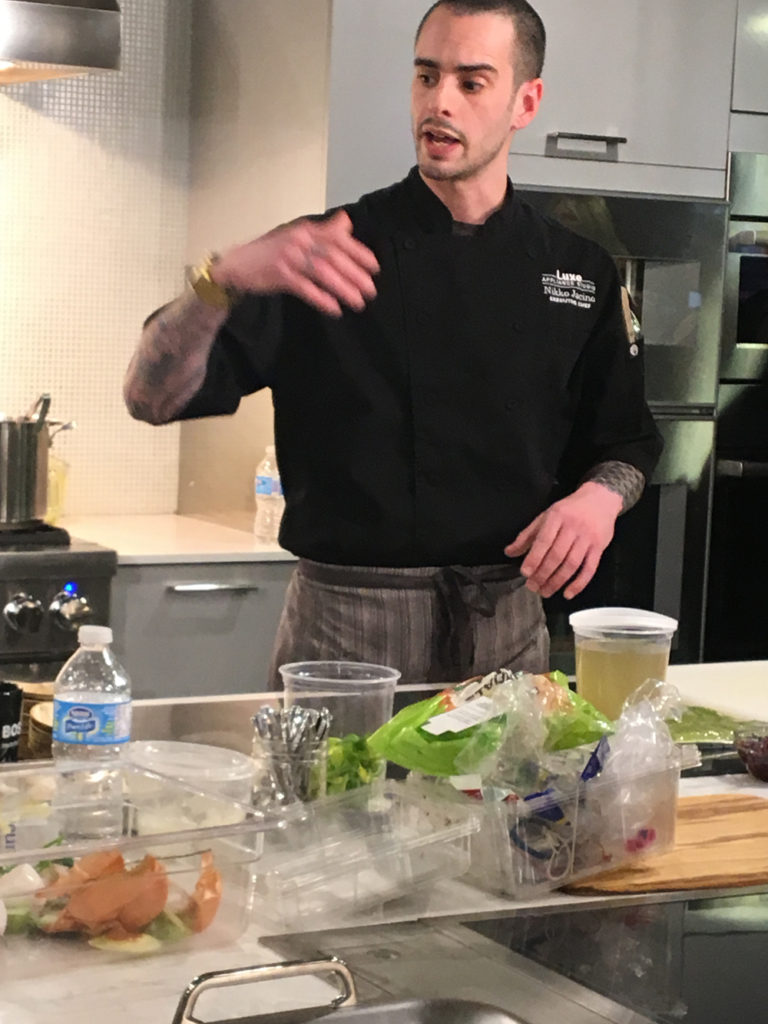 More of the vegetable is good than we realize.
It turns out, most of us are vegetable snobs. Out of habit, and simply not knowing any better, we cut the florets off the broccoli and toss the stalks, for instance. I know that's what I've done most of the time. But even if our kids only like "the tree part" of broccoli, we can chop the stalks into an Asian-inspired slaw, or put them into the freezer to use in a soup or stock later.
Chef Nikko Jacino explained this to some of us at a Second Harvest event to launch the For the Love of Food Challenge. He showed us how to use those lesser-known edibles from the vegetable world, like carrot tops. I've been putting these in the compost bin forever, so it's a bit of a revelation to learn that these can get added to a Tabouli or pasta salad, for instance.
The freezer is your friend.
During the food challenge I've been adding all our carrot peelings, the papery outsides of onions, the cauliflower and broccoli stalks and any other produce that's about to go off into a big ziplock bag in the freezer to be used the next time I need to make soup.
We live near lots of great bakeries. That means we can buy wonderful, fresh bread very easily, the kind that isn't full of preservatives aimed at extending shelf-life like many of the kinds you find on grocery shelves. But that also means we can easily lose half of one of those delicious loafs to mold if we don't go through it as fast as I thought we would.
I'm now freezing about half of every loaf, as well as all but a few of our fresh Montreal-style bagels. The unfrozen half of the loaf goes to sandwiches, and the frozen slices are used as needed for toast. As for the bagels, I slice them in half before putting them in the freezer so that the kids can easily toast them from frozen for snacks.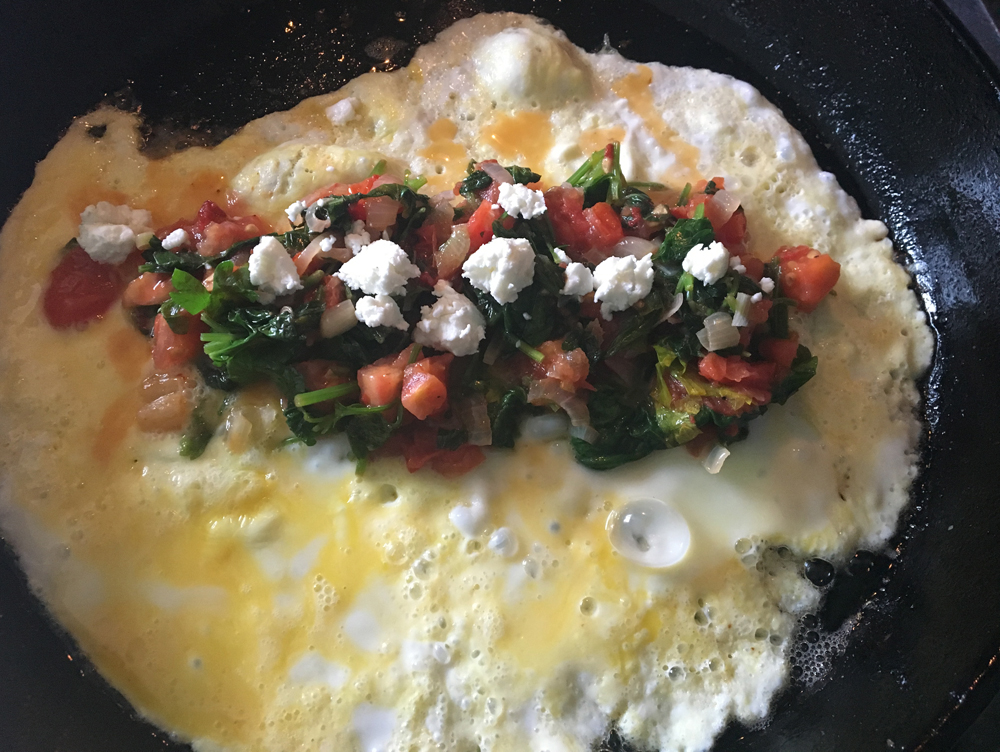 Almost anything goes into an omelette
You know how I mentioned my thing about eggs? I've been an omelette enthusiast for a while, but during this challenge I've really been making use of these breakfast meal to use up the miscellaneous little bits of stuff left in the fridge.
The night before the omelette pictured above was made, we had an assemble-your-own-pasta dinner where I'd set out little bowls of chopped up tomato, herbs, spinach, olive and goat cheese. Normally those little half-ramekins of things are in serious danger of going sludgy in my fridge, but this time they all went into this omelette the next morning.
Another good use for those leftover fresh herbs? Tossing them with any unused cooked noodles for an easy pasta that's really flavourful with some added Parmesan.
It lowers your grocery and restaurant-food bills.
Another bonus? I swear this thing has helped me spend less duplicating foods I have at home or rushing out for ingredients when there's other options that could easily come together for a meal. Plus, when you've applied just a little thought to making something out of your leftovers, it's easier to avoid the siren song of take-out at the end of a long day.
We'll definitely be carrying on with our new food rescuing efforts.
Since it's not a lot of  work to cut down on food waste, and the benefits are so many, we're not packing in our food-waste-reduction efforts just because the Second Harvest campaign is wrapping up. That's not, by any means, to say we've nailed this thing. There's definitely lots of room for us to improve on our performance so far and divert more produce and other foods from our green bin.

This is a sponsored post created in partnership with Second Harvest but opinions and experiences are my own.
Please follow and like us:
---
---
---