Through all the ugliness that divorce can bring, the beauty is that we're given this tremendous gift – an opportunity to build our own happiness to be whatever we want it to look like. A mom of two shares about rebuilding after divorcing a divorce lawyer, about the bumps along the co-parenting journey and finding her own new 'happily ever after.'
I suppose my "happily ever after" story begins when I got married in December 1998. I was 25. He was 30. I was young, eager and full of life – more than ready to conquer the world and eventually motherhood. I was excited to begin our lives together.
Our first child, our daughter, came along five years later and her little brother, 28 months after she.
I had the "perfect" family. I was now a stay-at-home mommy. I was married to a prominent divorce lawyer. I had a nanny. I volunteered at school and within our community. We had friends and family, and my life was as perfect as I could have imagined it would be.
Except for one thing: This wasn't my "happily ever after" after all.
And so, after a long period of trying to find happiness together, my husband and I decided to divorce using a law firm similar to Thomas Boyd Whyte. Sometimes you have to tear something down in order to build something greater, but at the time of destruction, it's difficult to see past the debris and mess immediately surrounding you.
I am often asked, "What's it like to divorce a divorce lawyer?"
When we first separated, I didn't think about the fact that I was divorcing a divorce lawyer. He works at a firm similar to Klampe Law Firm but his firm and his colleagues didn't even cross my mind. I couldn't think past the fact that I felt like a huge failure. I had failed at marriage, and I was terrified that I was also failing my children – those beautiful, innocent sweethearts for whom I had given up my career and to whom I had dedicated my life. Looking back, I can see that I wasn't a failure and it's just something that happens to some relationships. You shouldn't feel like a failure if you want a divorce, sometimes it's healthier for you to reach out to a divorce lawyer westchester and start the divorce process. All the sadness you feel in the moment would be worth it in the long run.
I was in shock, I was scared of the unknown, I worried about how our kids would adjust – whether they could adjust. In those early divorce days, my emotions were limited and ranged only between sad, scared and guilty. I didn't know anything, I had never been through this before. When I got married, I never thought about when to divorce, it never crossed my mind. This certainly wasn't my "happily ever after," but what I hadn't realized at the time, is that it was an important step in the process.
My ex and I decided that I would stay in our home and he would move to a home in our area so that it was easier for the kids to go back and forth. We also saw a benefit to the added continuity of the kids having one neighborhood to call "home." So we worked together to minimize the amount of change our children would have to endure. I helped my ex-husband find a new home, and I even took my kid's shopping to help them decorate their new rooms at Dad's house. While I wasn't thrilled at the prospect of them having a home that wasn't with me, I was able to mask my sadness and reluctance with excitement so that my kids would too be excited.
A few years following our divorce, my ex and his fiancee moved into another home, this time on my street.
While our co-parenting relationship was far less amicable at this point than it was in the early days, I still saw this as a positive for our kids. They seemed very excited about being able to walk home if they forgot something, and just simply having both parents close by brought them comfort. I was happy for them and certainly welcomed the move.
It's always an added bonus to see my kids playing outside if I happen to drive by their dad's house when they're there, and I'm sure he feels the same way when he sees the kids at our home.
Our co-parenting relationship is currently rocky, but one important constant is our unconditional love for our children and our ability to overlook the current situation with my ex husband and always put our kids' interests first. I value the fact that we can jointly attend school meetings and come up with plans to ensure our kids' success. The fact that we are able to work together in this important fashion, gives me hope that perhaps one day we will once again find a healthy co-parenting relationship.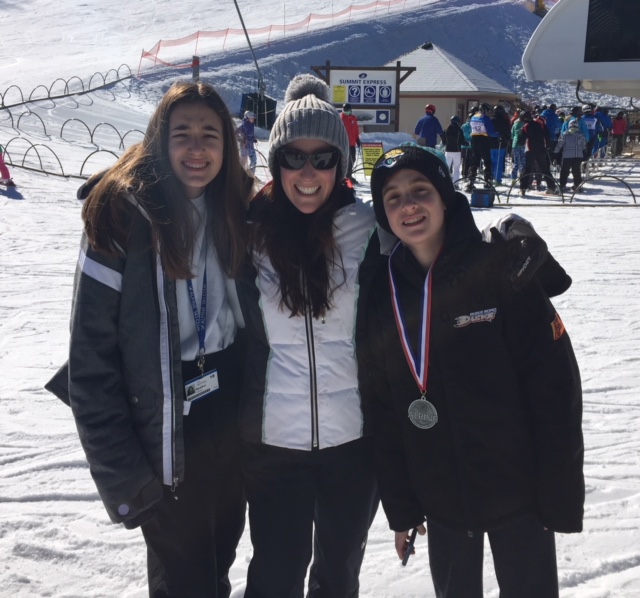 I have very recently blended my amazing family of three with my boyfriend's equally amazing family of three. Our family now looks different again. Life is busy, life is fast paced and kids grow up far quicker than we can imagine. I continue to learn each day that life doesn't come wrapped up in a pretty little package with a bow. I am learning to take the good with the not-so-good, focus on simply enjoying my kids, my family and my life. Life is far too short to not laugh.
Sure, life is bumpy and sometimes messy, but if I've learned anything it's that we must take matters into our own hands and build our "happily ever after."
I try to keep my eye on the long-term goals, which are to raise happy, healthy, well adjusted and resilient children. When you can look past the small bumps and keep focused on the horizon, you're able to find clarity and direction. Through all the ugliness that divorce can be and often is, the beauty is that we're given this tremendous gift; an opportunity to build our own happiness to be whatever we want it to look like. "Happily ever after" isn't something that we find; it's something that we create for ourselves.
This is #1000families post number 235. Do you have a family story of your own to contribute to the 1,000 Families Project? Or do you know a family that might want to do so? Learn more about how the series got started and how to get involved here. You can find all of the #1000families posts here.
Please follow and like us:
---
---
---