When we heard that Drake's new album revealed that he's a dad who clearly has some mixed feelings about raising his kid in a co-parenting relationship, we just had to speak up. We want Drake to know that co-parenting isn't a failure. In fact, it can be a triumph. Here's what we hope Drake will come to understand about co-parenting.

Dear Drake,
We heard and read about the lyrics to the "March 14" song on your new album, Scorpion. OK, we may not be the huge fans that our kids are, but as writers we appreciate good poetry — the beauty of words and feelings woven together to create a story.
In the case of "March 14," it's your story of coming to grips with parenthood. Of family life rolling out differently than you had hoped or expected. It's also your son's first chapter, and a time when you can set your intentions for fatherhood.
But it's not your co-parenting story. Not yet. You still need to figure out what that's going to look like. And you have every opportunity to make sure it looks like something pretty great.
Related: Updating 'Happily Ever After' After Divorce
Drake, you write that you're embarrassed to tell your parents "I ended up as a co-parent." As co-parents ourselves, we want you to know there's no shame or embarrassment in co-parenting. Do it right and your kid will have every chance of being well adjusted and happy. Sure, you may not be in a romantic relationship with your son's mom. But your child has two parents who love him and that's a lot more than many kids have.
Plus, you're in good company. Co-parents come in all forms, from every income bracket, cultural background, sexual orientation and relationship structure. And some of us are in the business of busting negative myths around single parents, separation, divorce, having kids outside of a relationship and more.
Related: Check out our Positive Co-Parenting Webinar
You may be feel some shame about the the way your son was conceived — "Sandi used to tell me all it takes is one time/and all it took one time/Shit, we only met two times" — but you've got to get over that. Every one of us needs to update our fairy tales at least once in a lifetime — usually more.
The only thing that you ought to be embarrassed about would be if you chose to walk away.
If you chose to not be a present figure in your son's life. If you chose not to be there for him. If you chose not to support his mother — yes, financially, but just as importantly, emotionally, as your co-pilot on this parenting journey. Only then would embarrassment be appropriate.
You say in "March 14" that you "always promised the family unit". We understand that you've "been through it," but we're here to tell you that you don't need to have a 1980s-style "broken family." (We object to that language anyway, which has only served to hold people back.)
You see, co-parenting has changed.
Our parents' generation was the first to split up in the no-fault divorce era, so they had nothing but a winner-takes-all, War of the Roses-esque model to follow.
People didn't know then what we know now about sparing kids from the drama of putting them in the middle of arguments over child support, shared custody and who has them Christmas morning. They only knew hurt, betrayal, disappointment and defensiveness. They had too few examples of conscious uncoupling and friendship between co-parents.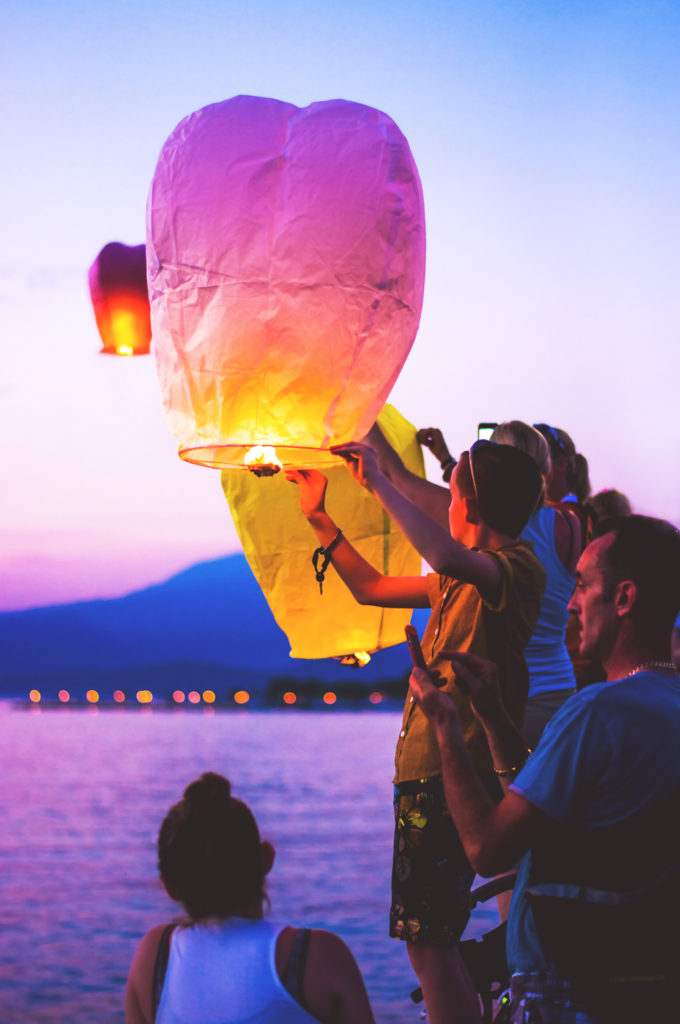 Photo by Gianandrea Villa on Unsplash
You can do it differently. You can collaborate on shared birthday parties and trips to Disney World. You can be there for all of the big moments, like kindergarten graduation and piano recitals. You can choose to see future partners — yours and hers — as extra sources of love and guidance for your son.
And lucky for you, Drake, social evolution has brought with it a broader reinvention of the family unit. Today we accept so many different kinds of families — your son needn't ever be judged for his. A child doesn't need a "traditional" family where mom and dad live together — that thing about the nuclear family was really quite a feat of social engineering anyway. What he needs are engaged, invested parents who love the hell out of him.
Related interview: Two Homes, One Childhood
Your son can absolutely thrive with the unconditional love of his parents, regardless of your living arrangements. So give your son a conflict-free atmosphere between you and his mother. Give him love, understanding, respect and a listening ear, and you're on your way to successful parenting.
Related: The Co-Parenting Guide to Travelling After Separation
The dedication you promise your son in "March 14" is admirable ("I promise if I'm not dead I'm dedicated"), but that dedication must start with the way you treat his mother. Show your son that she is worthy of respect. Because your son is half her, you've got to have love for both halves.
Drake, each of you must give him the freedom to have loyalty and admiration for both his parents. And of course you'll teach your son to be a mensch by being a mensch. We're glad that you recognize that you "gotta think for two now." This shows us that you're on the road to positive co-parenting.
You don't have to be perfect at this parenting thing.
Is parenting easy? No. Is co-parenting harder? It can be, but doesn't necessarily have to be that way. Married couples don't always agree on how to raise children, and neither will you and his mama. You'll mess up at times; we all do. But if you put your pride aside and let your son's best interests guide you, you'll find your way.
We also caution you against buying into myths that suggest that because you're not married to his mother, you've somehow wrecked your kid. The most comprehensive research out there shows that it's the way a co-parenting relationship is handled — not the fact that you aren't together — that matters most.
A lot of the guilt parents feel about the breakdown (or absence of) a romantic relationship with their child's other parent stems from misinformation about the effects of divorce. It doesn't have to be a great tragedy. Don't let it be yours.
Related: How to Stop Fighting With Your Ex about Money
You mention an "empty crib in my empty crib"; that's something all co-parents can relate to with a heavy heart. It's tough not seeing your kid everyday. It can hurt when you see how much they've grown because it means you aren't there to notice the unnoticeable daily changes. However, being there and being present isn't confined to your physical presence. You can be in your son's everyday life through FaceTime and phone. Let him hear your voice. Sing to him. Let him become familiar with his daddy's voice; not your public voice that sings to our kids through streaming, but your personal voice. Connect with your son. Be there when you can and be present when you can't.
You may think you're "all alone/No one to cry on" — this simply isn't true. But you need a good support system. Surround yourself with people who will help you gain perspective and those who can offer you emotional support. You're certainly not alone in the co-parenting journey you suddenly find yourself on. There are lots of us. There are support groups and an abundance of resources to help you.
Related: Join Our Free Online Support Group, Positive Co-Parenting After Divorce
Drake, it's up to you to define and create the type of relationship you want with your son and his mother. You're right when you say that you've gone from "boy to man." That's OK. Every man does. Put your needs and wants aside and focus on your son. Practise radical forgiveness of yourself for the fact that parenthood didn't happen in the planned way you'd hoped for. Focus instead on what your son needs from you.
Good luck. Whether you know it yet or not, you have just embarked upon the greatest journey of your life. Enjoy the ride.
---
Please follow and like us:
---
---
---