Photo by Victoria Borodinova from Pexels
Keep youngsters happy on the way to the cottage, Grandma's house or your epic family road trip destination of choice with these must-have activities to pass the time both on the way and when you get there!
Road trips can be so much fun, especially when the whole family gets involved. Nonetheless, when you hit the road with little ones in the backseat, it can be hard to predict exactly how the miles ahead will unfold. Will you be blessed by well-timed naps, freely moving highways and happily contented children?
Or will you be visited by the ghosts of road trips past who bestow upon you the same delights you provided from the back of your family's station wagon some 30 years earlier?
It's true you could encounter that trifecta of happiness — sibling squabbles, car sickness and traffic jams. The latter two may be difficult to predict, but the sibling fights, squirmy toddlers and cries of "are we there yet?" can be minimized with a little strategic planning.
When it comes to the perfect car for a road trip, it is essential that your vehicle is reliable and spacious. If possible, try and hire a campervan with the help of a search engine like CampervanFinder.com.au, as they are not only one of the safest vehicles out there, but you can kit them out to be a home from home for the kids, so they (and you) feel comfortable. They're so spacious too so you won't have any of the usual feelings of claustrophobia which are so typical of long car journeys. Alternatively you could opt for a larger car. One of our friends just bought a new car after checking out some online Deals on Chevrolet vehicles. Travelling in style can make all the difference to your road trip experience.
Ultimately though, when travelling with children, what you need is a road trip bag of tricks containing the makings of both low-key and energy-burning fun so you can make the journey part of the destination.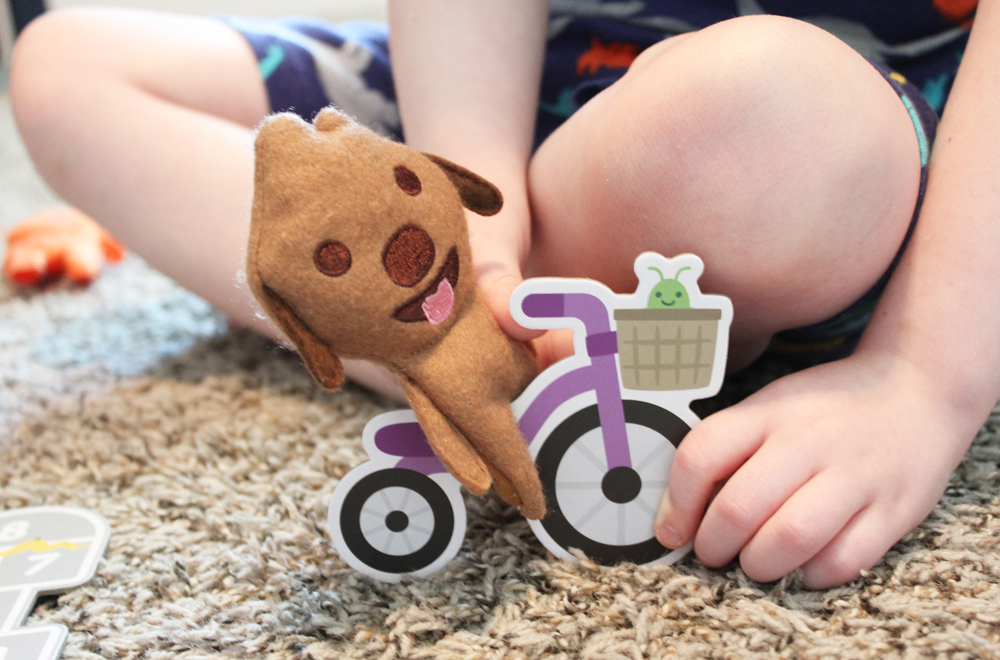 Photo by Kristina Proffitt, One Happy Mama.
1. Sago Mini Walk and Play Finger Puppets, 3+
We love seeing our kids engaged in good, old-fashioned imaginative character play. That's why the sweet cat and dog in this set of finger puppets and accessories from Canadian company Sago Mini are so great. This toy provides a compact little set-up that allows your kids to create a kid story by
engaging in whatever dialogue and adventure sparks their fancy, as well as to puppet the characters through some classic outdoor fun on the bicycle, skateboard and hopscotch accessories included.
The soft fabric characters, Jinja the cat and Harvey the dog, can be used two ways — puppetted from below one way, or walked along when put on the other way.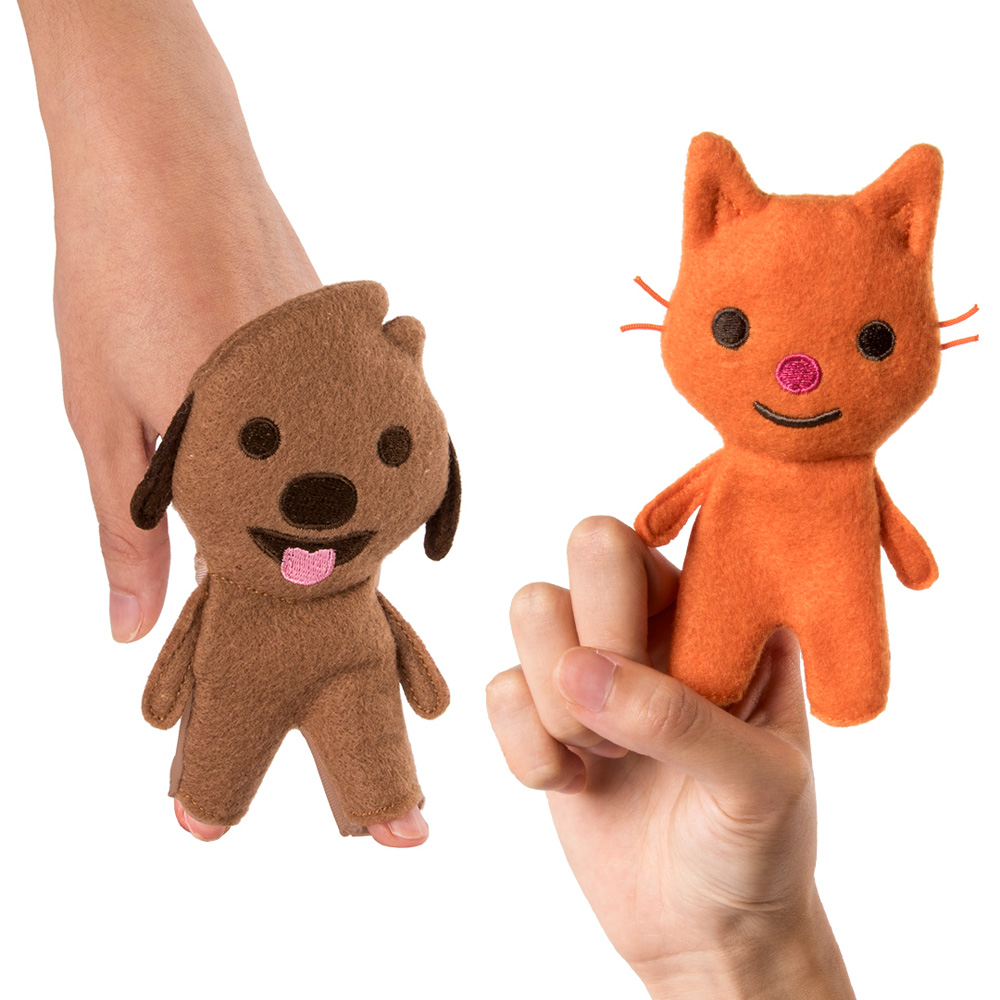 The wee skateboard is cleverly designed so that little fingers can wear the puppet and fit through holes on the skate deck to perform whatever ollies, kick flips and other tricks they can think of in the back seat skatepark landscape.
These are perfect to pull out during the wait for food at a restaurant, too, or during rainy days at home or away.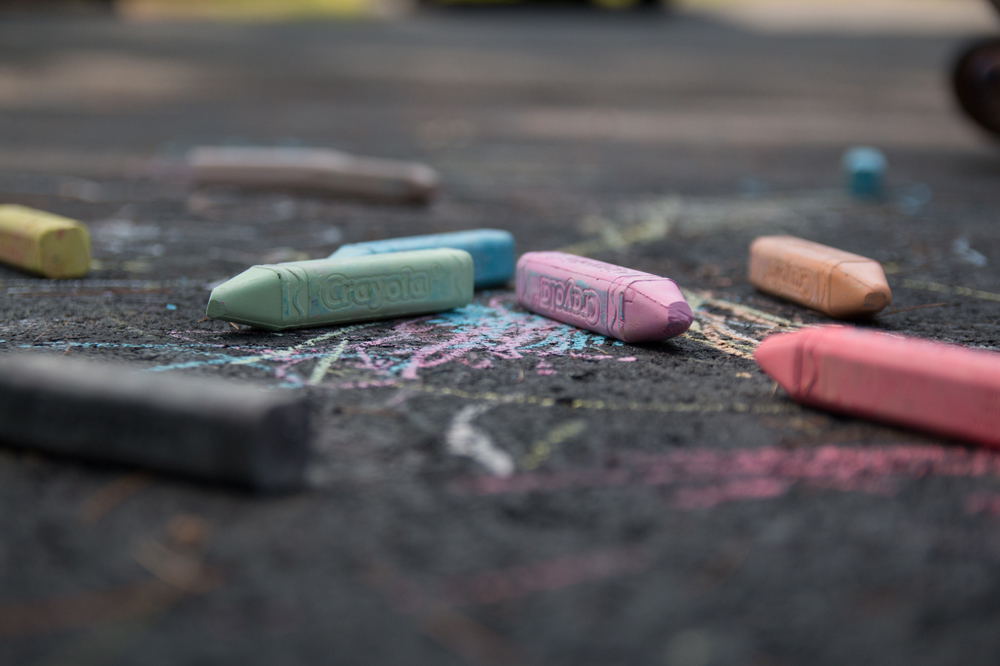 2. Sidewalk Chalk
Everywhere you pull over to put gas in the car or buy a sandwich on your journey, there's going to be a patch of pavement or sidewalk for a little artistic expression. It's a low-key fresh air activity that can turn even the corner of an uninspired truck stop parking lot into an opportunity for fun. Keep a pack of colourful sidewalk chalk in a small reusable ziptop bag or container either in your glove compartment or your tote bag of activities. Who knows? A spontaneous game of hopscotch may just bust out, too.
Photo by Sam Haddad on Unsplash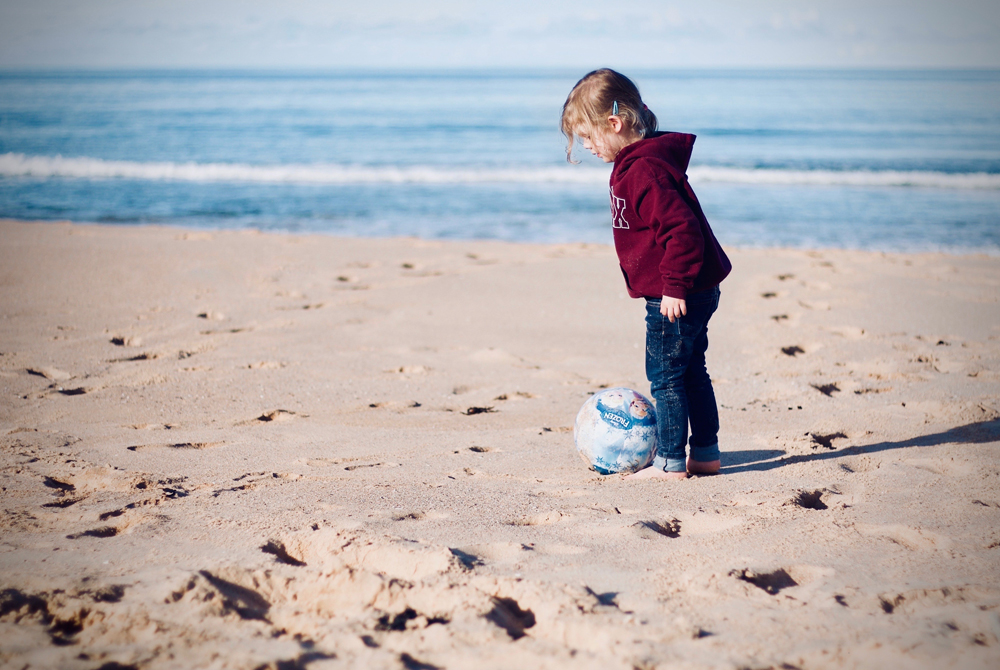 3. Standard play ball
When it comes to keeping kids happy on the road, pent up energy is enemy number one. Be ready to get all those muscle groups working when you unleash those seatbelts by throwing a play ball or soccer ball into the trunk. Your kid can dribble down the beach or you can kick or toss the ball around together at rest stops, next to the picnic table where you're having lunch, or on the grass at the hotel or wherever you're staying.
Photo by Jelleke Vanooteghem on Unsplash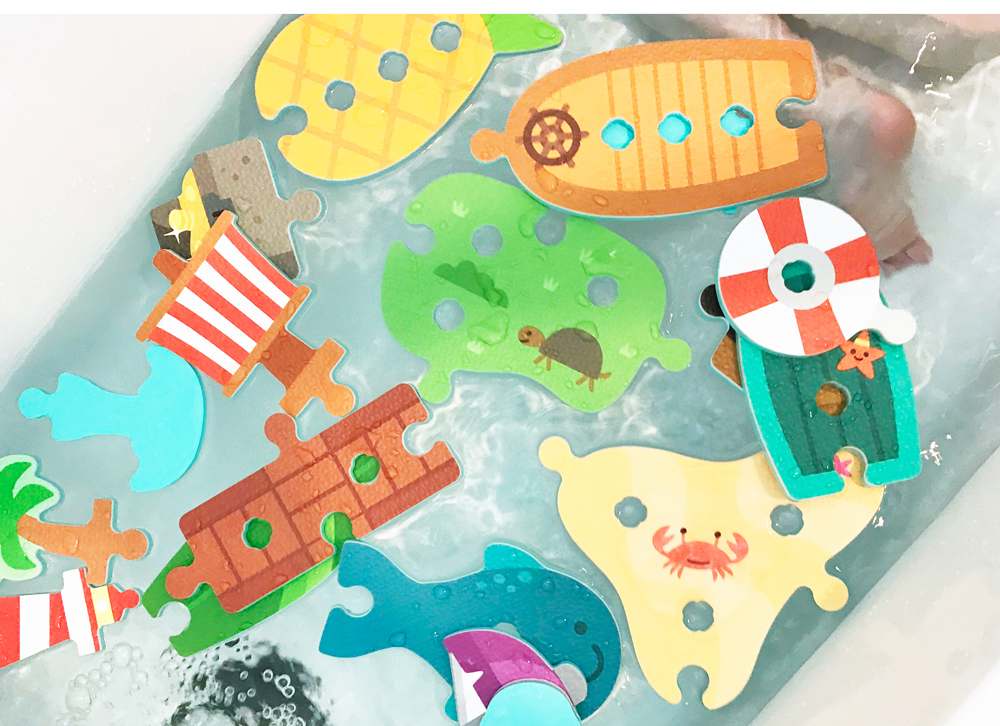 Photo by Kristina Proffitt, One Happy Mama.
4. Sago Mini Aqua Puzzles: Island Adventure and Boat Builder, 1+
Although routines tend to get turned upside down when we're away for vacation or just a weekend visiting grandma anytime of year, one thing you can count on to provide familiar routine is a bath at the end of the day. But it's not practical to pack the whole collection of bath toys you keep at home. These sweet sets will provide enough novelty to encourage your busy little ones into the bath at the end of the day's adventures. And they also make for great company in the pool or kiddie pool wherever you might be.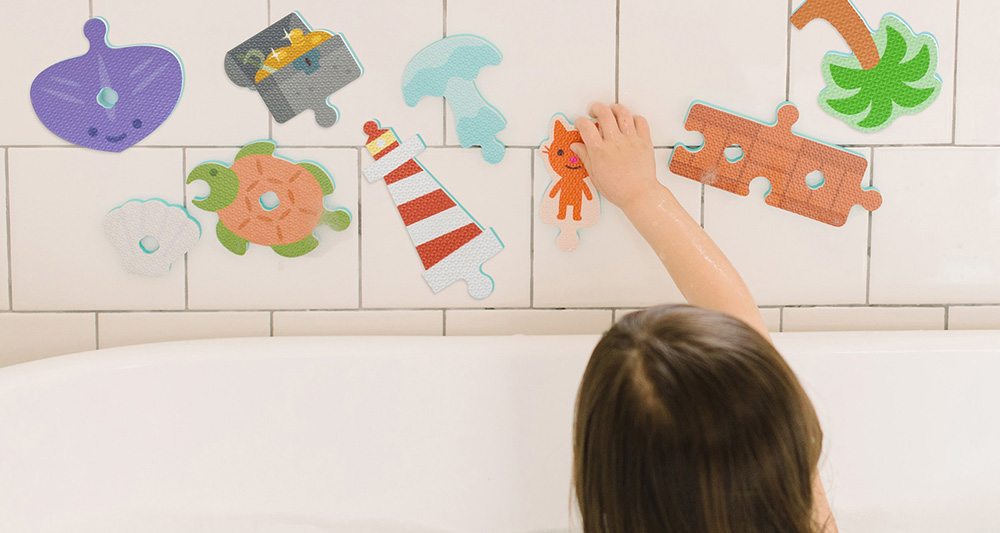 Each of these sets, the 23-piece Island Adventure and 14-piece Boat Builder, feature multiple characters and open-ended play through constructing kids' own islandscapes or whimsical boats. The pieces float on the water surface and stick to the side of the tub or tiles.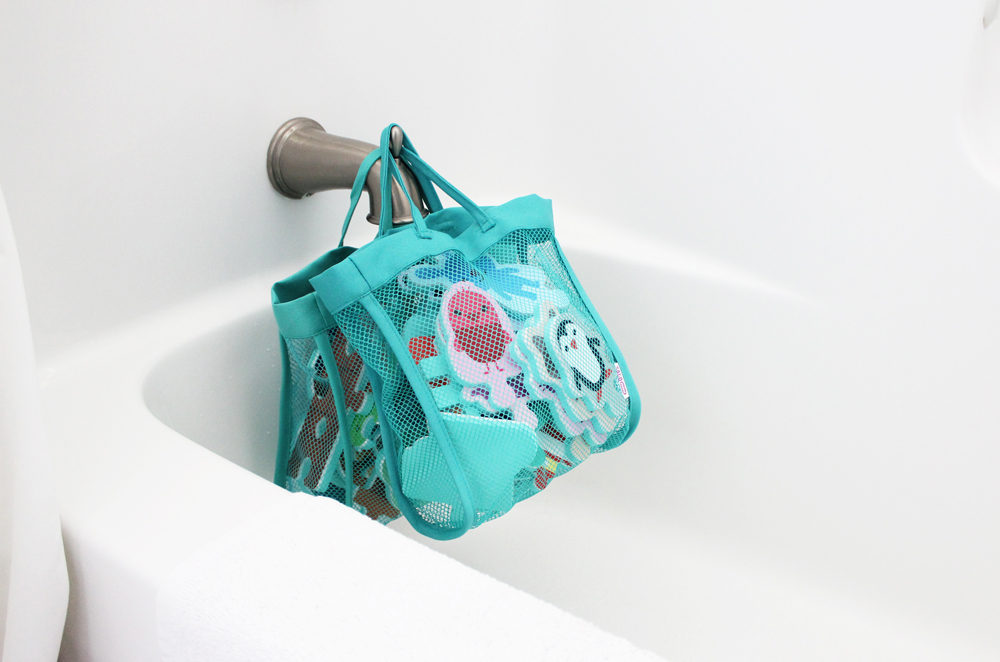 Photo by Kristina Proffitt, One Happy Mama.
Everything fits easily together and then comes apart quickly when it's time to get out of the water. The pieces pack away in the mesh carrying bags they come in, where they can easily hang to dry for next time.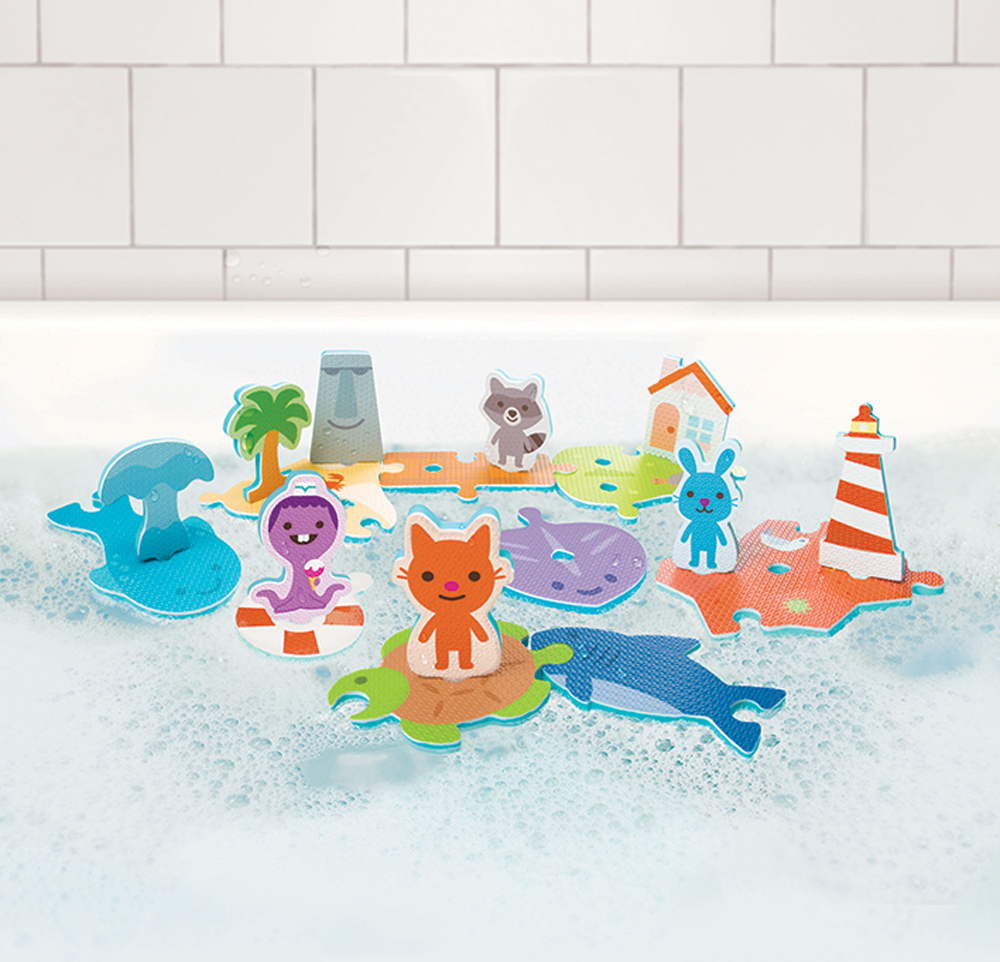 We like these as birthday gifts for littles, too, and with no batteries to replace and no blinky lights or noises, we think parents will appreciate these, as well.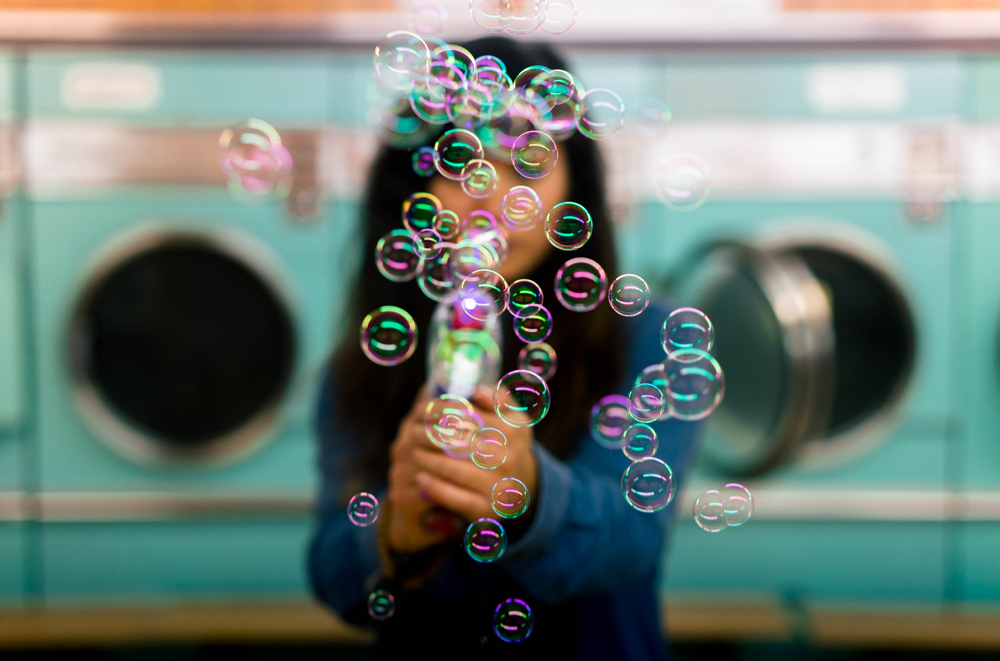 5. Bubbles and Bubbles Wands
Slip this classic, go-anywhere activity in your bag before you leave because it's sure to provide some entertainment and fun. Kids can chase these around outside while you operate the wand, or create the bubbles themselves. You may even be able to use a few bubbles inside the car to provide some distraction for tired toddlers and preschoolers who are showing signs of car-seat revolt. Soothing and fun, these are good for bubble-popping games wherever you go.
Photo by Kid Circus on Unsplash
This post was created in partnership with Canadian toy company Sago Mini, but opinions and experiences are my own.
Please follow and like us:
---
---
---