This new dad and his wife are meeting one of the challenges of modern family life – increasing housing costs – in a really inspiring and gratifying way.
My 19-month daughter has two mommies and two daddies, but not in the way you'd think. Since her birth, my wife and I have been raising our baby in a group house with two unrelated friends. What started out as one big joke turned into the best living situation for our current season. Here's how it happened.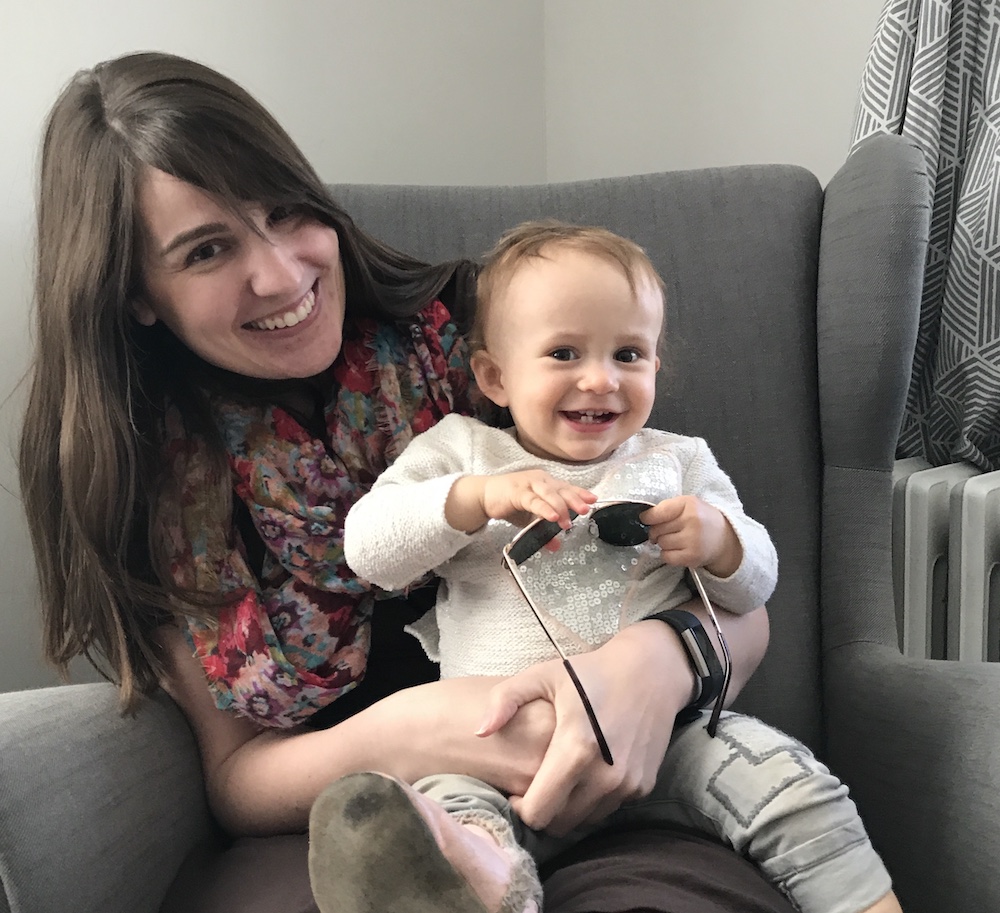 Austin's daughter hanging with housemate Laura.
After a year of marriage, my wife and I found out we were being evicted from our building (common in a growing Washington, D.C.) to make room for a new development. Starting the house hunt, we jokingly emailed two friends suggesting we all live together. The most introverted of the pair responded, "I think you're joking, but if not, I'd seriously consider it." The seed was planted, and months later the four of us signed a lease.
One year turned to two to three to four. Then my wife and I got the unexpected news that we were having a baby. Our group house was doomed – or so we thought. When we told our housemates, they voiced that they'd like to test out living with a baby. It's been 19 months and we all still love each other. Here's how we make it work:
1. Direct communication:
This is the backbone of raising a baby in a group house. Without it, the house crumbles (this applies to any living situation with people, not just with a baby). If you're going to install baby safety locks for kitchen cabinets, tell the people you live with first. If you're going to install a baby gate, communicate and make sure everyone is OK with it. From the middle of the night crying to toys in the kitchen, babies leave opportunities for resentment to linger. The adults in our house have an agreement to be direct fast and the receiving adult agrees to not take it personally. There is a lot of supportive assistance out there, whether that be from another parent or online help where there are tips to soothe your crying baby at bed time, as well as how to make a rota system for cleaning toys away. If there is a routine with constant communication, this can work smoothly.
2. Respect:
To have direct communication, you need mutual respect. We are friends first and housemates second. Every Friday we gather for a meal to enjoy each other. This helps my wife and I see them as individuals worthy of respect. With that guiding principle, we rarely ask them to babysit or partake in the usual parenting duties (play time, discipline, logistics, etc). We budget for a babysitter. The guiding principle is to never assume they will help us with our daughter. It's their house, not a daycare. We need to make sure that we are on top of everything that we need to be, so if there is an issue in the house for any reason, we all sort it out together especially as there is now a baby in the mix. For example, if there is a problem with the air-con or our heating system, then we will look into something like Keller TX AC Installation services and others like it, so we are all doing our bit without things falling by the wayside.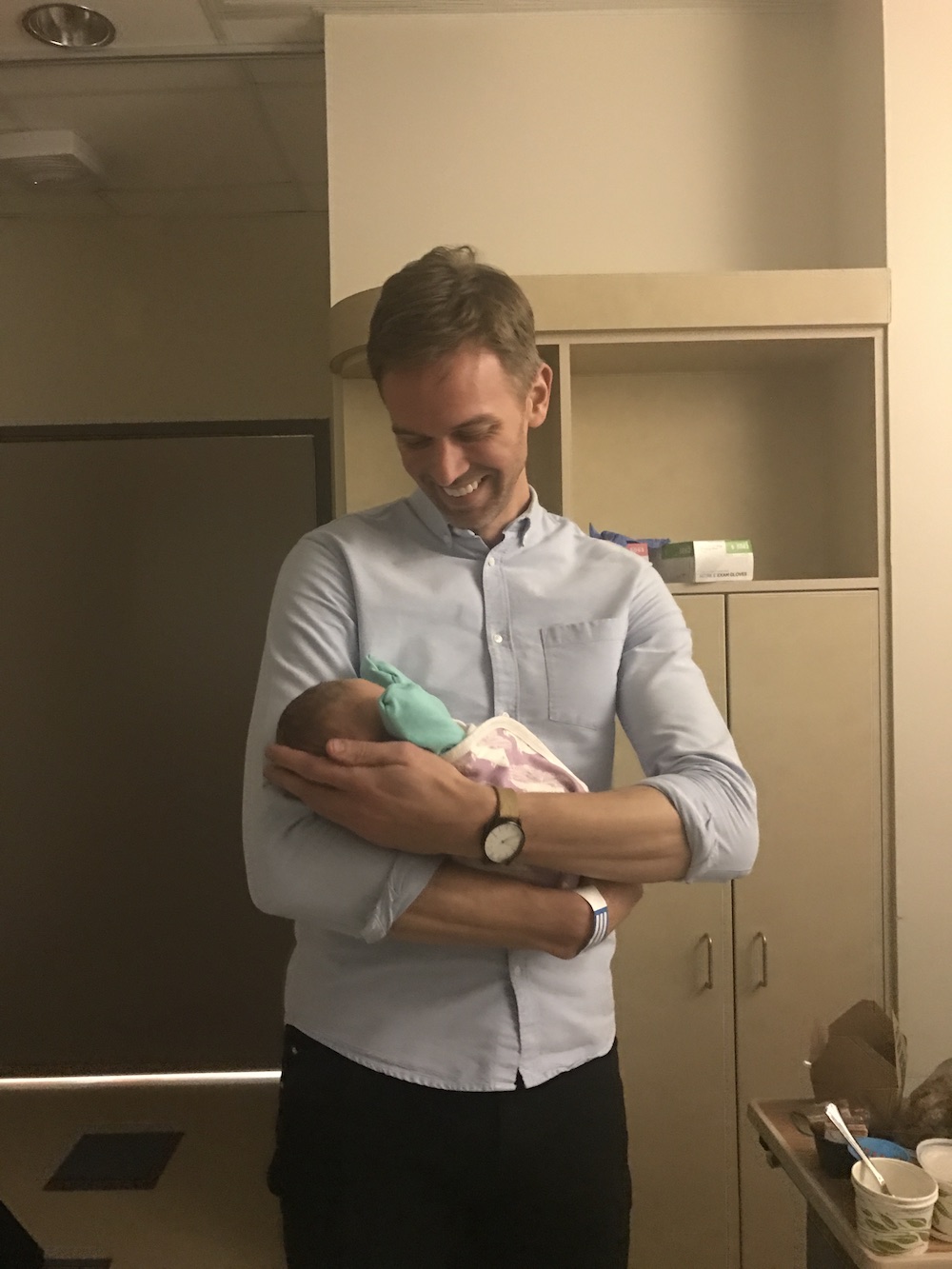 Housemate Keith with baby on the day after she was born.
3. Space:
Humans (extroverts and introverts alike) need space. To that end, we were particular in the type of house we moved into. Non-negotiables included everyone getting their own bathroom, each of us having a part of the house to escape to, and a large common area. The common area has all the necessities that might be required by each of the members of the house, be it food items (suited to the needs of each person) placed on the tables, or the surplus of cushions so that everybody (when they are seated together) can feel comfortable. Besides this, we are also planning to get an air conditioning installation done in the common area. The heat at our location can sometimes be unbearable, and those who sit in the common area might be the ones to suffer the most because all our rooms happen to have air conditioners.
Anyway, if someone needs quiet, we close our bedroom doors and the others don't take it personally. And when there's a baby in the house, some quiet time can be much-needed sometimes. Having a good baby monitor (we've gotten suggestions to look up https://www.safebabymonitor.com/ and buy one) can be really great for both the little one and us. Buying your housemates sound proof doors is helpful too!
It's been 19-months and raising our daughter in a group house is working. We just bought a house with our housemate making it a permanent living arrangement. As our daughter grows, we're sure new hurdles will present themselves, but we're confident that even more blessings will emerge by choosing to live in this way.
Read my full story in The Washington Post here.
This is #1000families post number 240. Do you have a family story of your own to contribute to the 1,000 Families Project? Or do you know a family that might want to do so? Learn more about how the series got started and how to get involved here. You can find all of the #1000families posts here.
Please follow and like us:
---
---
---