Podcast: Play in new window | Download
Thanks so much for coming by to check out Episode 200 of The New Family Podcast, where we celebrate a milestone for the podcast with a very personal episode.
For this special milestone episode of the podcast, we're getting a little personal. For the first time, the whole family joins in as we share the first week of school in our house.
Join host Brandie, the boys' dad, Derek, stepmom, Amy, 15-year-old basketball enthusiast Cameron, skateboarding fiend Alister, 11, and some other very important people in our lives as we share the everyday experience of the return to school, the juggle between work and family, the quest to get the right mix of extra-curricular activities and the never-ending mystery of the unmatched sock.
Here are some resources related to this episode:
Related Episode: The Ex Next Door
Related Episode: A Journey With My Sister
Related Episode: 100th episode – Special Guest!
Related Article: Conscious uncoupling before it was cool – My reason for starting the 1,000 families project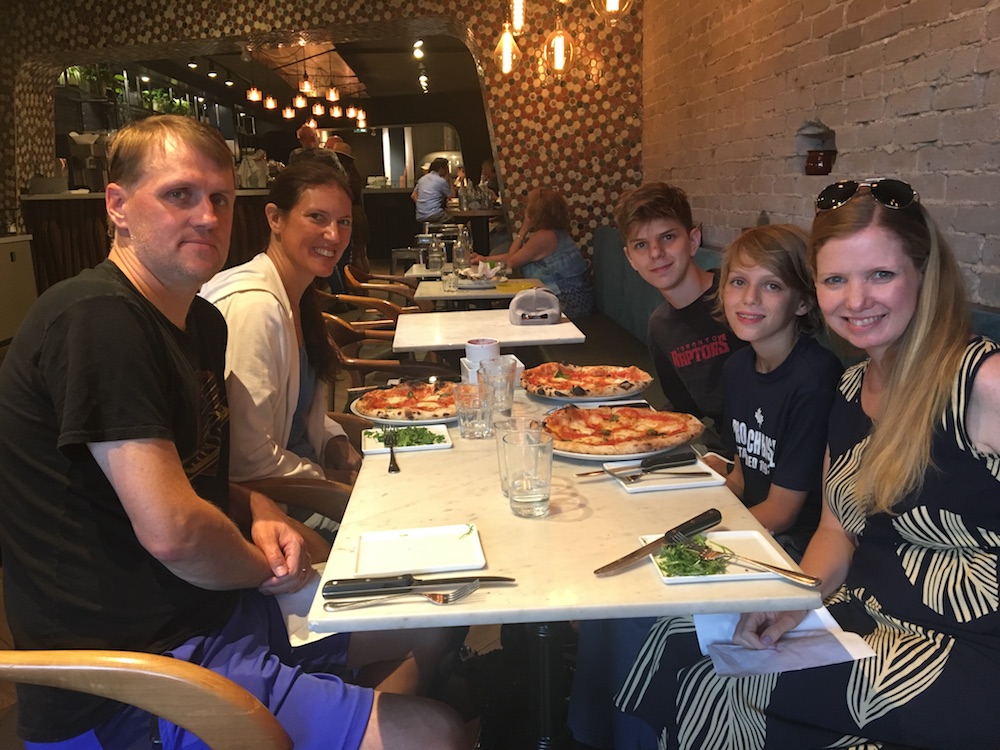 Left to right: The boys' dad, Derek, stepmom, Amy, Cameron, Alister and Brandie out for pizza on the night before school started.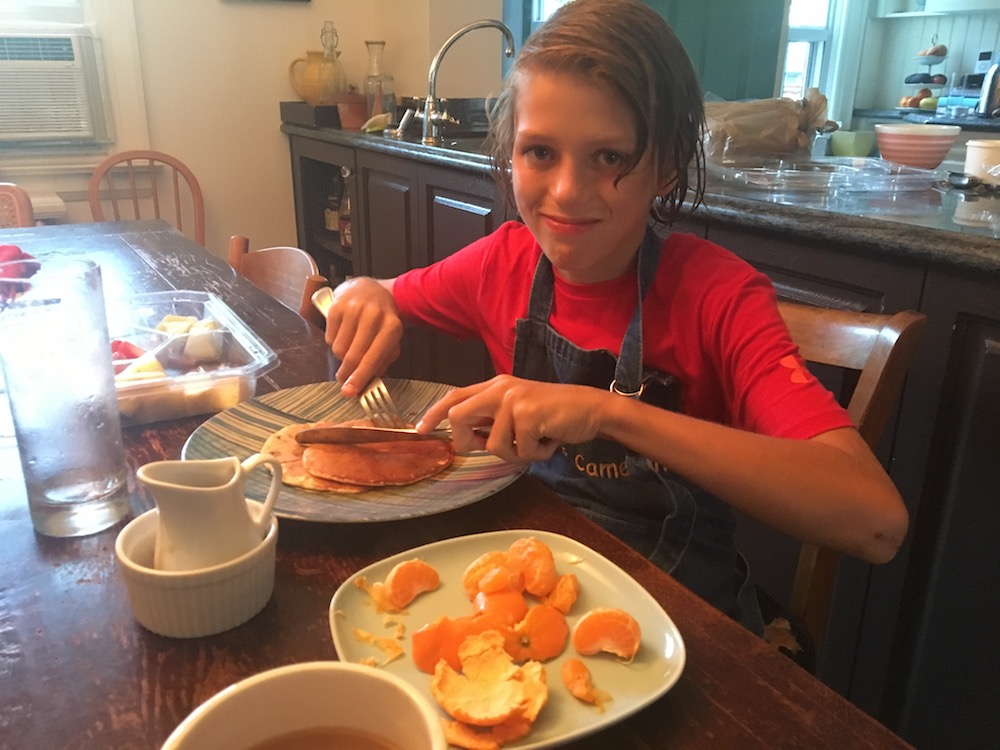 Alister enjoying some chocolate-chip pancakes on the first day of school.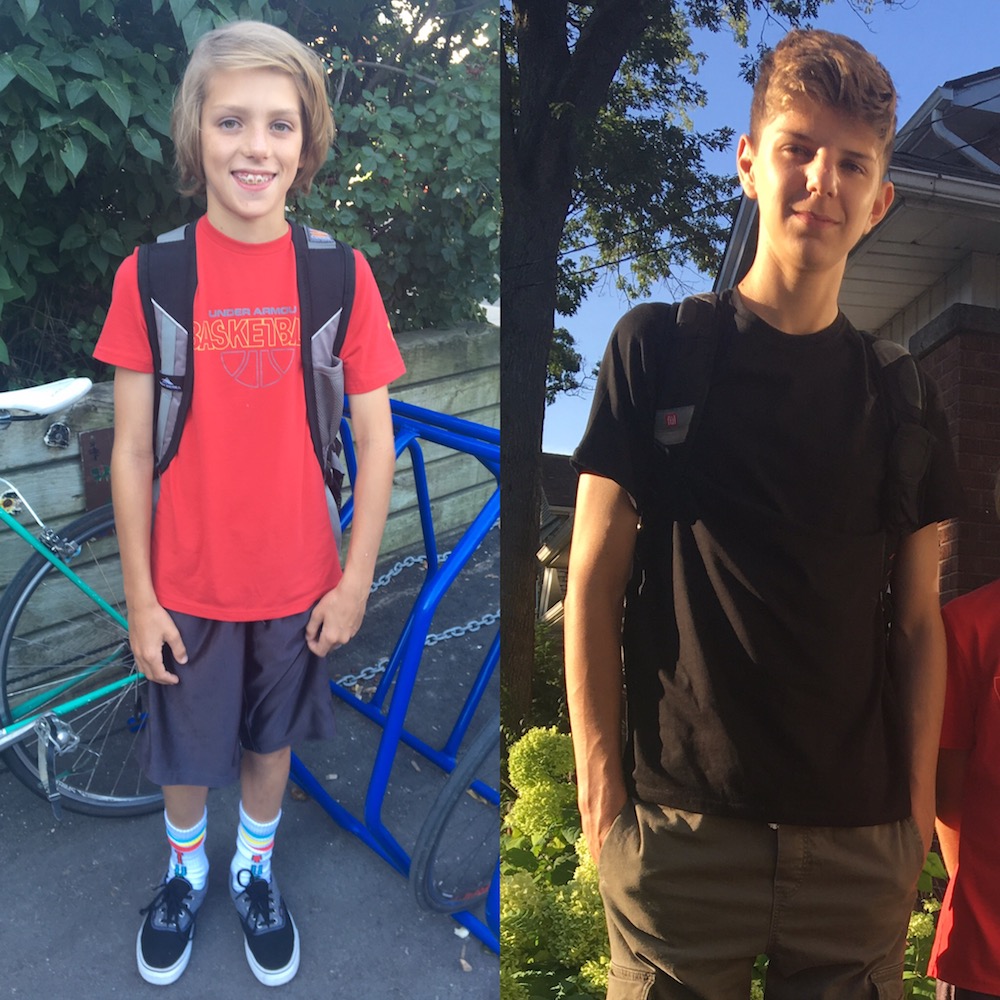 Alister, left, and Cameron, right, on the first day of school.
Of course, not every week is the first week of school. But overall the events we've share over the seven days captured by this podcast feel like a pretty accurate reflection of how we spend our time and of the predictably unpredictable nature of family life with its moments of laughter and of frustration, its long evenings spent juggling work and family commitments, and the usual array of problems to solve. I hope you heard some of your own lived experience as you listened in our week.
Sponsor Thanks!
Special thanks to our sponsor, Wise Bites, makers of allergy-safe snacks that check all the right boxes for back to school, for helping us make the show is entirely free to you.
The kids are back to school, and that means parents are back on duty with packing school lunches and snacks. Not only does this mean making time for preparing lunches on busy school mornings (or, if you can get it together, the night before) but it also means shopping for all the right supplies.
That's why we like to stock up on cookie bars and other low-sugar baked treats from Canadian-company Wise Bites. These delicious treats are sweetened almost entirely with date paste, and they're a good source of protein, iron and fibre. Plus, they're free of the top 11 allergens—including peanuts, tree nuts, gluten, eggs, dairy, soy and more—making them perfectly compliant with school allergy policies. You can order online at wise-bites.com.
Or, if you prefer to taste them before you stock up, for a limited time, Wise Bites is offering a free sample cookie to our listeners. Just cover the $1.95 shipping to get it to your door.
Are you a fan of the show? We'd dearly love your support.
Click here to visit our Patreon page and find out how you can become of a patron of the show to help us cover our costs. For as little as $1 per month you can help ensure the podcast will always be available.
Here are all the ways you can subscribe and listen to our show:
Subscribe to The New Family Podcast in iTunes
Subscribe to The New Family Podcast on SoundCloud
Subscribe to The New Family Podcast on Stitcher Radio
Subscribe to The New Family Podcast on these other Android Directories
Subscribe to The New Family Podcast by RSS
Please follow and like us:
---
---
---