Author Emily Lycopolus has written five cookbooks with two common threads: olive oil and the wonderful power of food to bring people together and cross cultural divides. Her latest is Syria: Recipes for Olive Oil and Vinegar Lovers.
As you can read here in this wonderful 1,000 Families blog post, Emily has made unforgettable connections to Syria on both sides of the Atlantic.
Emily has graciously shared a couple of the recipes from Syria with The New Family, and you can find them below, starting with the delicious chickpea and pita pictured above.
Fatteh
Serves two
3 pita or flatbread
1/2 cup Lime fused olive oil, divided
2 garlic cloves
1 (19 oz) can chickpeas, drained and rinsed
2 Tbsp lime juice
2 tsp Aleppo Spice (see below)
1/2 tsp ground cumin
1/2 tsp sea salt
1/4 tsp cracked black pepper
1/2 cup pine nuts
1 Tbsp Harissa infused olive oil
1/2 cup Tahini Garlic
Yogurt Sauce (page 21)
1 tsp sumac
Curly-leaf parsley for garnish
(For a hearty dinner or Sunday brunch, add 1/2 lb of ground beef or lamb along with the chickpeas.)
Simple and delicious, this dish is a personal favorite-and it only takes a few moments to put together.
Fatteh is a common breakfast food in Damascus, and there are many different ways to prepare it. The general idea is to top toasted flatbread with chickpeas, ground lamb, eggplant, or chicken. Drizzle it with garlic yogurt sauce, and a few extra pieces of crispy bread and toasted pine nuts.
Preheat the oven to 350 °F.
Brush each piece of bread with 2 Tbsp of the Lime fused olive oil, using 1 Tbsp per side, and let it sit for a moment for the oil to be absorbed. Place the bread on a baking sheet and bake for 3–5 minutes, just until golden.
Allow to cool enough to handle and then chop into roughly 2-inch-wide wedges. Line the bottom of two serving plates or bowls with half the pieces.
Slice the garlic finely. In a frying pan over medium-high heat, warm the remaining 1/4 cup of Lime fused olive oil. Add the garlic and cook until it just begins to sizzle. Add the chickpeas, lime juice, Aleppo spice, cumin, salt, and pepper and cook until the chickpeas are soft and warmed through.
Divide the chickpeas between the two dishes to top the toasted bread.
Using the same frying pan (no need to wipe it out first), toast the pine nuts in the Harissa infused olive oil over medium heat, shaking the pan gently to keep the nuts moving. They burn quickly, so keep a close an eye on them. When they are golden, remove from the heat and let rest in the pan for a few moments.
Drizzle the chickpeas with garlic yogurt sauce and top with the pine nuts, remaining pieces of pita, and the sumac. Garnish with parsley.
Serve immediately. The bread will get soggy, so this is best enjoyed as soon as it's assembled. Each individual component can be prepped ahead of time, though.

Aleppo Spice:
1 1/2 Tbsp ground allspice
1 Tbsp ground cinnamon
1 tsp ground black pepper
1 tsp ground cardamom
1 tsp ground cloves
1/2 tsp ground ginger
Place all the spices in an airtight jar. Shake to mix well. You can stores this is an airtight container at room temperature for up to 6 months. Makes 1/2 cup.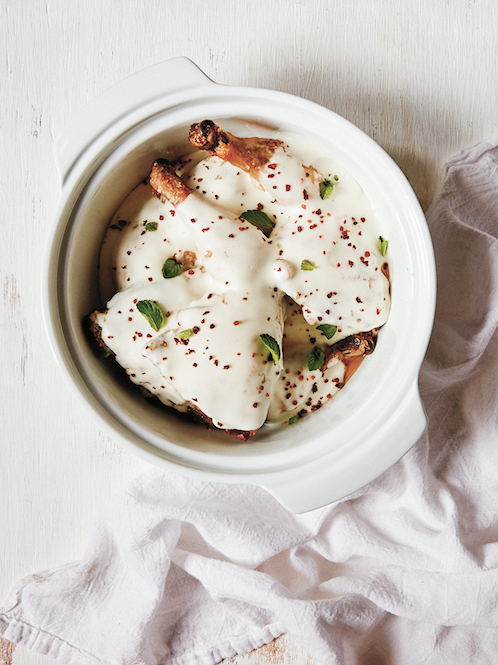 Roasted Chicken and Yogurt Sauce (Shakriyyeh)
Serves four
4 chicken legs, bone in and skin on
1 tsp sea salt
1/2 cup Lime fused olive oil, divided
2 white onions
4 garlic cloves
1 tsp Aleppo pepper (or 1/2 tsp chili flakes)
3 bay leaves
5 whole cloves
4 cardamom pods
2 cinnamon sticks
1/2–1 cup chicken stock
3 cups full-fat, Greek-style thick yogurt
2 Tbsp cornstarch
Pinch of sea salt
Fresh mint leaves and Aleppo pepper or chili flakes for garnish
In Syria, it's quite common to find meat served in a yogurt-style soup or sauce. This dish is one such example, and it's often served on the first of the year, as some traditions believe that serving white food on the first day of the year will bring forth purity and luck.
The warmed yogurt gives a thick, rich texture to the meat and holds the flavor of the aromatics so well. Searing the chicken in the Lime fused olive oil creates a beautiful subtlety in the dish, enhancing the fragrances of the spices and adding a refreshing citrus note.
Preheat the oven to 375 °F.
Pat the chicken legs dry, then rub them all over with the sea salt and 1 Tbsp of oil for each leg.
Chop the onion roughly and crush the garlic cloves with the back of a knife, leaving them whole. Place them in a roasting pan, just large enough to hold everything without crowding, sprinkle with the Aleppo pepper, and then scatter the bay leaves, cloves, cardamom, and cinnamon sticks over top. Pour in the chicken stock. It should cover the bottom of the pan. Place the chicken legs on the onion spice mixture so they are snug in the pan.
Cover the pan loosely and roast for 20 minutes. Uncover the pan and roast the chicken for an additional 10 minutes, until golden brown. Remove from the oven and let rest in the drippings, covered again, to stay warm.
While the chicken is cooking, whisk together the yogurt, cornstarch, and salt in a medium bowl until smooth, creamy, and lump-free.
Tip up the roasting pan and begin to whisk the 1 cup of the pan drippings into the yogurt mixture a few tablespoons at a time.
In a heavy-bottomed frying pan over medium heat, pour in the yogurt mixture. Stirring constantly in the same direction, bring the yogurt mixture to a boil. Allow to boil for 1 minute then remove from the heat. Add the chicken pieces and return to the stovetop.
Simmer on low heat for 2–3 minutes to ensure they are still warm.
Serve the chicken in a shallow bowl or rimmed plate with yogurt sauce poured around it and trickle liberally with the remaining olive oil. An extra drizzle of olive oil probably won't hurt since it is not only capable of adding some distinctive flavor to the chicken, but also has plenty of health benefits. And if you can get some excellent stuff at a discount price, using something like a Gundry MD olive oil coupon, then why not? Once that's done, garnish with fresh mint and pepper flakes.
You can store this in an airtight container in the fridge for up to 3 days.
Find more great recipes like these in Emily's latest book Syria: Recipes for Olive Oil and Vinegar Lovers.
Get more from The New Family's Recipe Archive here.
Please follow and like us:
---
---
---