Although his parents had very little formal education themselves, they expected their kids to aim as high as they wanted.
My parents taught me a lot about education, but they barely had one themselves.
In December 2016, I successfully defended my doctoral dissertation after years of work. As I left the examining room that day, I kept thinking about the home I grew up in. Even though my parents had little education themselves, they taught me some foundational principles that helped me reach this academic achievement.
Growing up, I didn't have a dream of earning a PhD. However, there were two important things that were indirectly—perhaps even accidentally—fostered in my home that propelled me toward more education: critical thinking and a desire to learn. These were traits that my parents instilled in me.
When I first encountered the 1,000 families project, I couldn't help but stop and think about the quirks and intricacies of the home where I grew up. It's a family dynamic that is prevalent, but typically only spoken about in superficial ways. I'm talking about the immigrant family. Of course, there are many satirical takes on this theme, but these focus largely on the humorous moments of misunderstanding that arise when two cultures collide.
To many, some aspects of my family history may be weird because of cultural particularities that don't mesh neatly with what's often understood as "normal." Yes, I grew up with a mother and a father, but there are cultural aspects of my family's development that are not typical. Canada accepts huge numbers of immigrants every year, but in these homes, ideas of what is culturally "normal" is resisted, renegotiated, and recalibrated. I'm sure that many readers will understand where I'm coming from here. If you've ever seen one of Russell Peters' stand up performances about his relationship with his father, you'll know what I mean.
My parents are Greek immigrants who came to Canada in the mid-1960s. In Greece, they were poor. My mom lived in a small city in a one-room home with multiple siblings and parents. My dad grew up in a rural setting on a small mountain. They both completed some elementary school, which taught them to read and write, but in comparison to today's standards and requirements, my parents received little education. This was true of their parents as well—my maternal grandmother, though clever, was illiterate.
From the outside, the home I grew up in looked pretty "normal." But having all of the normal parts of a structure doesn't always lead to the same outcome. The method of construction is relevant. Just take the foundation of my parent's marriage as an example.
When my father was 21 years old and living in Toronto, he started to think that it was probably time to get married–there was certainly social pressure to do so, as well. A Greek compatriot told him that he knew a suitable woman.
One night, this friend brought my father to my mother's family home. My father spoke with my grandfather who asked my dad what he wanted. In other words, my grandfather wanted to know if my father was looking for a dowry.
"Nothing," my father replied. Following this news, my mother was asked if she approved of the young man she just met. She said she did. My father agreed. I'd love to say that they lived happily ever after, but this is not the end of the story.
Before their wedding, my father and mother went to City Hall to fill out some marriage paperwork. In front of a judge, my father signed his designated signature area. The judge asked my mother, "Is your guardian here?" to which my father responded, "why would she need a guardian?" Then the judge asked, "Young man, do you know that this woman is 16 years old?"
My father was shocked by what he heard. All along he believed that his bride-to-be was 19 because this is what someone else had told him. Evidently, in the run-up to getting married, my parents knew only a few things about one another.
When I tell others this story, they're sometimes shocked. When I share it with people from other immigrant families however, they often identify with it and tell me similar tales.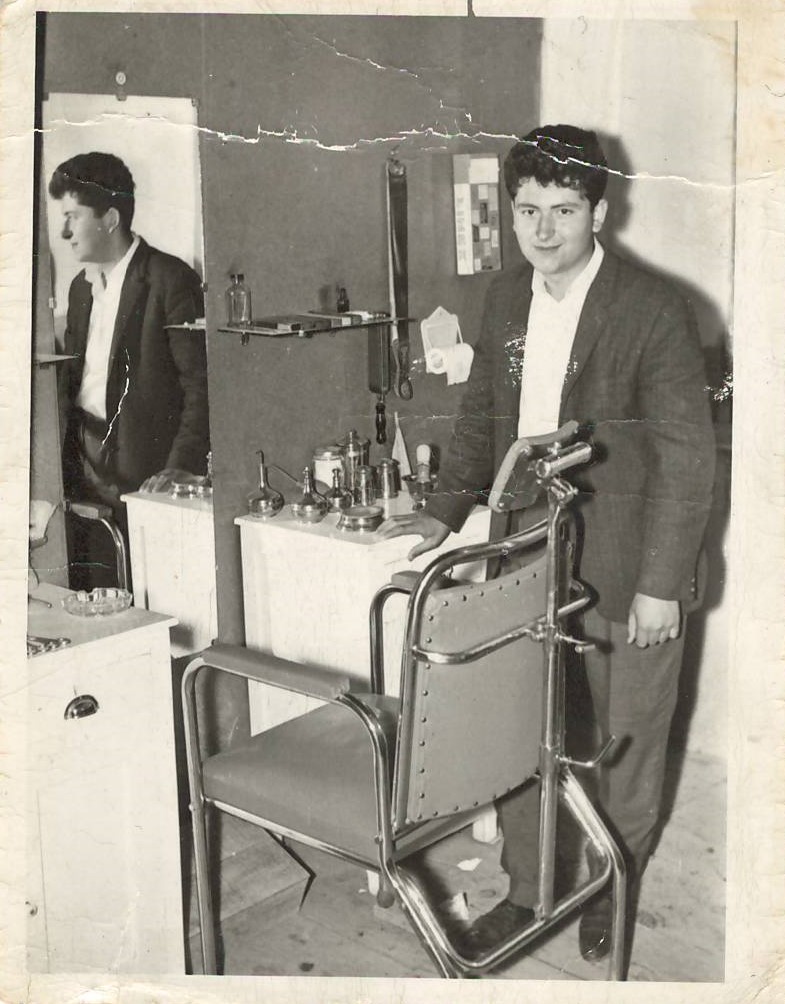 Photos: Top—Author Chris Grafos, right, visiting his father at the family barber shop. Here—Chris's father as a young man.
As a kid, the stories that I heard about my parents were rarely about their childhoods. In fact, I grew up with a belief that my parents were always immigrants. It wasn't until my twenties when I travelled to Greece on my own for the first time that I would learn about what my parents were like before they came to Canada.
That's where I learned that my parents were once young, too. I learned about their rootedness in another place when my family in Greece told me about how they played and pulled pranks as kids.
My parents never said so, but I believe that when they came to live in Canada, their identities changed. They didn't speak like everyone else. Things were less familiar. It would take a long time for Canada to become their normal. As you can imagine, living as an immigrant anywhere has benefits and challenges.
The experience of being a newcomer, with all that it entails, certainly percolated into our family. Contrary to what many would expect, when I was growing up, my parents didn't insist that I study Greek or learn to recite every nuance of Greece's antiquity. Actually, my parents insisted that I learn to speak English with eloquence and proper grammar.
They expected that I take advantage of every educational opportunity possible. They expected that I take nothing for granted. They expected an appreciation for the fact that they had bestowed me and my brothers a choice to do whatever we wanted in life, without any limitations with our language and communication skills. They expected us to learn how to thrive.
I thought that this pressure was exclusively driven by their desire to see their children succeed. I would slowly learn through my adult life, however, that this had more to do with their own immigrant experience.
To be clear, my parents ooze a love for Canada; particularly for the fact that they were offered opportunities to work hard and advance themselves on the socioeconomic ladder. This is all my parents asked for, after all.
But at the same time, my parents often talk about the early days and the everyday obstacles in those early days, including their accents and poor English. They even feared speaking Greek when they were out in public. Fear of scrutiny. Even fear of deportation. One thing my father still says to me from time to time is, "I wish I spoke better English. I would have responded differently."
In me and my brothers, my parents strived to raise adults unafflicted by markers of ethnic difference. They did this through formal education, even though my parents hadn't been offered the same opportunity.
I use the term "formal education" deliberately. I learned a lot from my parents, but I learned it through a means that is an overlooked part of many cultures and communities — the oral tradition. Everything I learned from my parents came from speaking with them. My parents often talked about what growing up in a different place was like and how their culture, self-perception, ideas and values collided with their identity as newcomers. Their identities were constantly renegotiated and re-fashioned.
We talked about how Canada changed from when they arrived in the mid-1960s, and how life in rural Ontario was different than in the big city. In other words, they accidentally taught me about some of the central themes in Canada's social fabric.
My parents, my father in particular, also spoke using metaphor; employing this tool to show me common threads in humanity across time and space. Whenever we talk about pressing social or political issues, for example, especially ones related to excess consumption or consumerism, my dad quotes a famous ancient proverb: "Everything in moderation." In saying this, he challenges me to think about whether our society's impulses constantly lead us to make, buy, eat, and/or produce too much. The countless metaphors that I heard while growing up are filled with these analytical gems that say so much in so few words. I learned all about these important thematic aspects of life because my parents grew up so differently than I did.
For my parents, education and integration into Canadian society were seen as the sources of infinite nourishment for me and my siblings. I remember telling my parents that I had been accepted into a PhD program. They were sitting at the kitchen table. Their response was, "Congratulations. Good."
The absence of any exclamation mark in their reaction is intentional. I imagined that they would be thrilled, but rather, they took it as news that was expected. In short, they expected that I take advantage of every educational opportunity possible. They expected that I take nothing for granted. They expected an appreciation for the fact that they had bestowed me and my brothers a choice to do whatever we wanted in life, without any limitations with our language and communication skills. They expected us to learn how to thrive.
For these reasons, I dedicated my doctoral thesis to my parents. It was the most appropriate way for me to say thanks.
And to all others who made an uncertain journey so that your children could grow up in Canada to study, advance, achieve, and simply have an opportunity to follow their own unique path, we thank you, too.
This is #1000families post number 243. Do you have a family story of your own to contribute to the 1,000 Families Project? Or do you know a family that might want to do so? Learn more about how the series got started and how to get involved here. You can find all of the #1000families posts here.
Please follow and like us:
---
---
---