Podcast: Play in new window | Download
Thanks so much for coming by to check out Episode 215 of The New Family Podcast, where we explore how to better support new mothers.
We try our best to prepare for parenthood while we await the arrival of our first-born babies, but there's really only so much we can know until we're in the trenches with our wee ones. Until then we plan as best we can for our baby's birth, endeavouring to exert some control over a process that can't really be controlled. When baby arrives we become laser focussed on baby's care and feeding. But what about the care of the ones doing all that feeding, comforting and changing? My guest on today's episode is Maria Lianos-Carbone, the woman behind a highly successful lifestyle blog for moms, A Mother World. Maria is now also the author of Oh Baby, A Mom's Self-Care Survival Guide for the First Year, which invites readers to pay a little more attention to their own care and feeding — and critically, to their mental health as well. Maria and I talk about the factors that make a difference for new moms, as well as the policy and cultural changes we'd like to see to better support new parents.
Here are some resources related to this episode.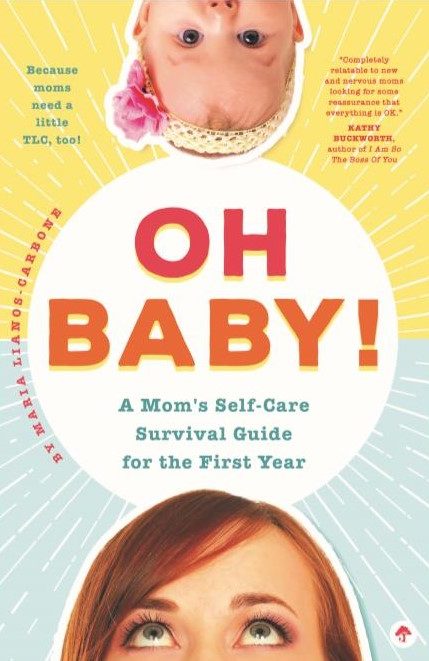 Oh Baby! A Mom's Self-Care Survival Guide for the First Year: Because Moms Need a Little TLC, Too!
A Mother World, Lifestyle Blog For Women
Related Episode: Can Feminism and Stay-at-home Motherhood Mix?
Related Episode: Mother's Day Special
Related Article: 13 Habits of Mentally Strong Parents
Related Episode: How to Be a Happier Parent
What Maria Wishes Every New Mom Could Know
"I would tell them not to just to prepare during pregnancy for all the things that the baby needs, but also to really sit down and think about how this change, how this new baby is going to affect them, how is it going to affect their relationship because, yes – you and your partner will either be handling this and doing this together or you may need to guide your partner along the way because he or she may not quite know how to help you. Try as best as you can to prepare yourself for the changes that you and your partner are going to face together and individually because your lives are going to change, in many different ways, again together and apart from one another."
Are you a fan of the show? We'd dearly love your support.
Click here to visit our Patreon page and find out how you can become of a patron of the show to help us cover our costs. For as little as $1 per month you can help ensure the podcast will always be available.
Here are all the ways you can subscribe and listen to our show:
Subscribe to The New Family Podcast in iTunes
Subscribe to The New Family Podcast on SoundCloud
Subscribe to The New Family Podcast on Stitcher Radio
Subscribe to The New Family Podcast on these other Android Directories
Subscribe to The New Family Podcast by RSS
Photo by Kevin Liang.
Please follow and like us:
---
---
---