Photo by Rex Pickar from Unsplash
When cold and flu season hits and one of your kids needs to stay home from school or daycare, it's rarely at the start of a quiet Saturday when no one needs has a meeting or deadline or any particularly critical place to be. Here's how to prepare for the inevitable run-of-the-mill sniffles and fevers that come with the return of cooler weather, so your child can get back to being a kid and you can get on with your day.
We made it until Day Three of school this year.
That's how long it took before one of our kids had to stay home from school with a seasonal virus of some sort that had him coughing too much to be comfortable sitting in class. Plus, he was clearly a germ-spreading hazard to his Grade 6 classmates.
Thanks a heck of a lot, cold and flu season.
It's incredible how quickly the start of this season makes itself apparent as soon as our kids return to the tight quarters of the classroom. It's definitely the time of year to stock up on essential oils for cough as no doubt I will end up with it too.
Having a kid home on the third day of school this year felt particularly early to me. But I know I'm not alone among moms with kids in school who have experienced this boomerang-like return of at least one sick kid when we've had hardly enough time to post those first-day pics on Instagram.
Luckily, my 11-year-old's sick day happened to coincide with a work-from-home day for me this time. But as a freelance journalist, I did have interviews scheduled for 9:45 a.m., 10, 11 and 11:30, all kinds of writing to do, and someone to pick up at the airport at 3:15.
Still, I was grateful that I wasn't expected that day in the office where I work part-time. At least I could attend to Alister as he recovered on the sofa doing not much at all. A sure sign that your kid is feeling particularly crummy? He doesn't even immediately ask if he can watch something on Netflix or the iPad.
(Pro-tip: If you've got a kid who is asking to stay home from school and you're not sure whether it's the real deal – and there's no fever to make that decision really clear – just say, "Okay, but you'll have to stay in bed sleeping." If they're welcoming screen-free time to convalesce, they're probably quite under the weather.)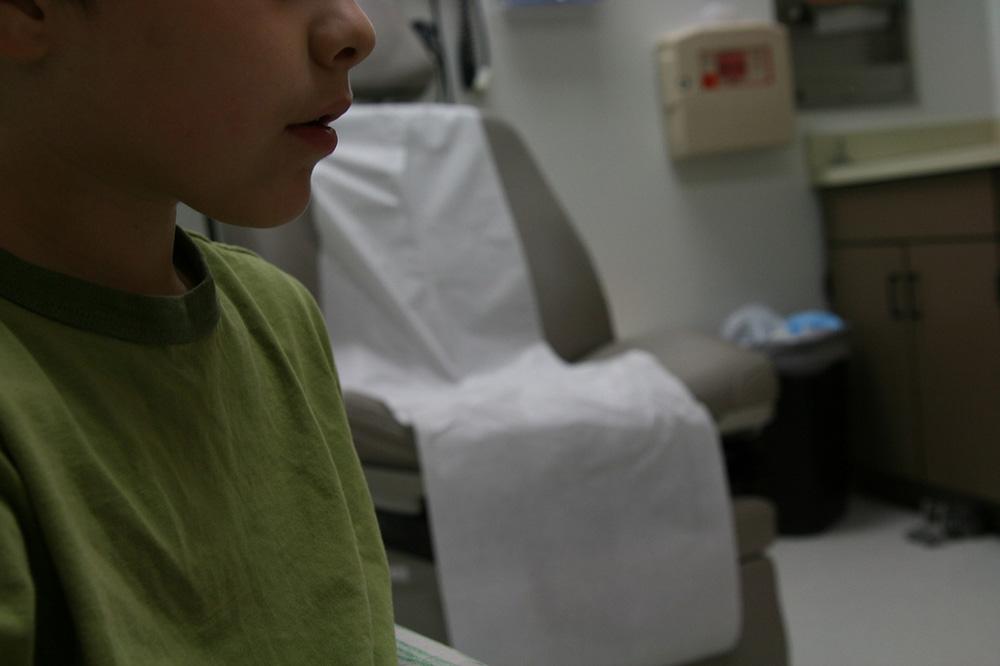 Not that there's anything wrong with a bit of screen time to keep a child content on the sofa and distracted from their cough, runny nose, aches and pains. Alister called up some of his beloved skateboarding videos on YouTube while he recovered that day. Interestingly, he also reported that while he had terrible coughing fits in the classroom the day before, he was cough-free skateboarding with a friend after school.
"Skateboarding is the cure for everything," he said.
The air could certainly be a little fresher outside than it is in a stuffy classroom in his 100-year-old Toronto school, and maybe that helps a little, but I wasn't going for the skateboarding cure that day.
Instead, I gave him something to manage his low-grade fever and had him sit tight while I conducted back-to-back interviews with parents of twins (and one mom of triplets!).
To his credit, Alister is a more easy-going patient than his brother was at the same age. Cam would catastrophize his symptoms – an early bloomer in the so-called man cold department.
But no matter what kind of mood your child tends to be on a sick day, there are a few things you can do to be prepared for those inevitable moments when plans change because of cold and flu season.
Make a childcare plan.
I was fortunate that Alister's early school-year sick day fell on a work-from-home day. I'm also lucky that I'm not the only parent in the picture who can pitch in. When she's not travelling for work, Alister's stepmom works from home, and his dad can pull off the odd telecommuting day as well. But it pays to have given a bit of a thought to a backup plan for those days when you can't be there and your child absolutely must stay home. Maybe there's a mom in your neighbourhood who offers this kind of backup babysitting. Ask around or post on the parent Facebook group for your child's school.
Stock the medicine cabinet with cold and flu symptom relievers.
It's a logistical hassle to acquire supplies for managing your child's symptoms after they're already sick. For fevers, we like Children's Advil because it provides up to eight hours of fever relief so that your child can get back to being a kid. As parents we're very attuned to the lethargy that comes along with fever, and it's heartening to see the tired, achy symptoms lift so they can feel like themselves again. With both liquid and chewable formats, there's sure to be one your child likes.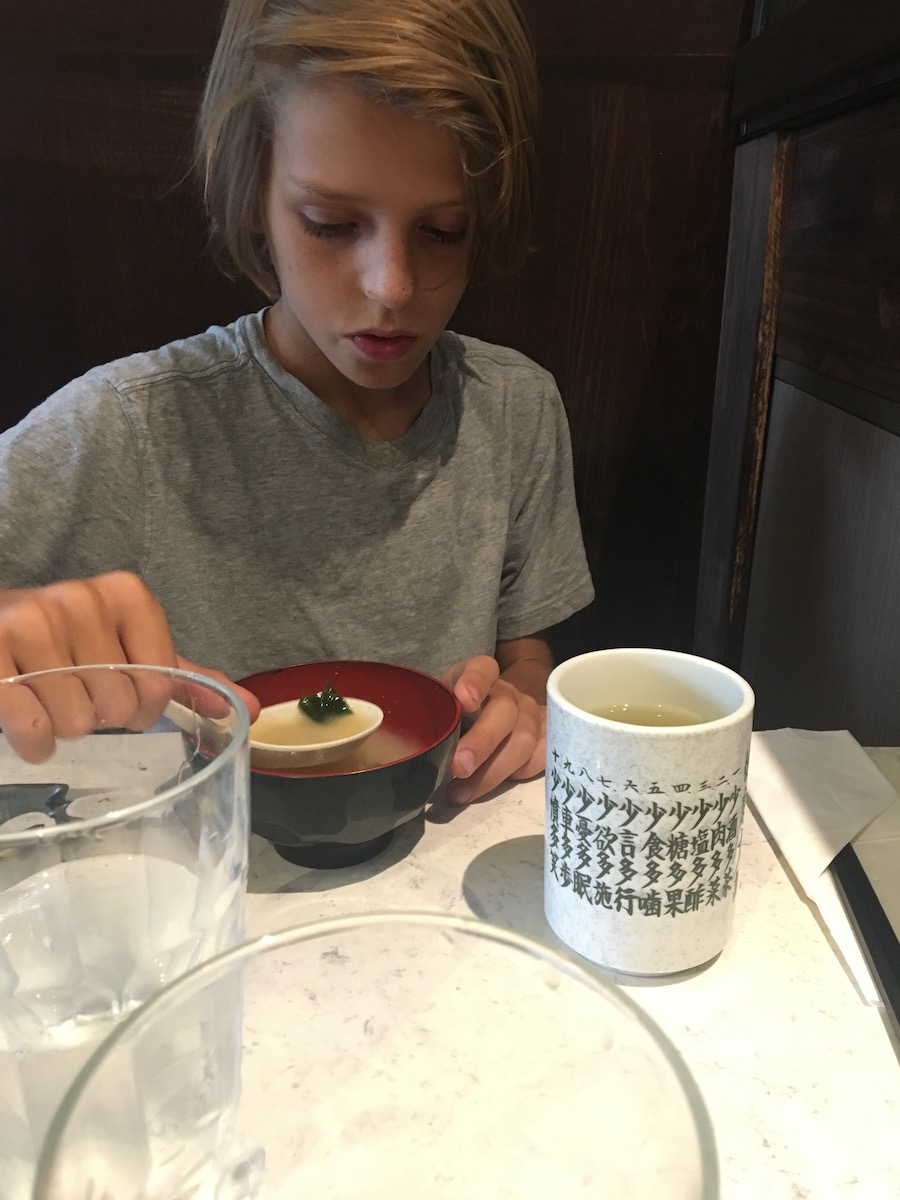 Stock the kitchen with soup.
When my kids are sick, they get a lot of relief from a lunch or dinner of miso soup. On his sick day I had a break in my meetings around lunch time and Alister was up for it, so we went to the local sushi place for his feel-better green tea, miso soup and California roll. But you can make soup easily from a package of miso paste or a pre-made soup mix. Brothy chicken noodle soup is also a big fave with kids, and those chicken or vegetable broths you can buy in tetra packs also make great pantry items for times like these.
Buy ample facial tissues for runny noses.
Inevitably, somebody's viral infection is likely to bring major nasal congestion this cold and flu season. Your child will easily fly through a box – or more! – while blowing his or her nose through a Teen Titans marathon, so more is more in the tissues department. Pick up some pocket-sized packages, too, for when family members head back to school and work, while still contending with the last of their runny-nose symptoms. These are good to have stashed in winter coat pockets when really cold weather brings everyday drippy noses. You could also send them off with a face mask to help with containing the spread of any germs that may still be lurking, or prevent them from getting sick again from others who may be infected.
Truthfully, as much as a sick kid can turn plans upside down and leave us scrambling a little, I've learned to see the chances I have to be at home with my kids on these days as stolen time. I know it's a privilege to have the flexibility to be there, and though I wouldn't tear myself apart over needing childcare for a sick kid, when a cold or flu hit, it's nice to be the one doling out both medicine and hugs.
This post is created in partnership with Children's Advil but opinions and experiences are my own. Be sure this product is right for you. Read and follow the label.
This information is provided for informational purposes only and is not intended as a substitute of any kind for professional medical advice, diagnosis or treatment of a qualified professional as required. Speak to your healthcare professional before making any changes to your lifestyle, or beginning or discontinuing any course of treatment. Never disregard professional medical advice or delay in seeking it because of something you have read on this site.
Please follow and like us:
---
---
---