Podcast: Play in new window | Download
Thanks so much for coming by to check out Episode 228 of The New Family Podcast, where we explore the universal human experiences of laughing and crying.
Long before we learn to speak, we communicate through laughter and tears. That's because these non-verbal expressions come factory-installed. They're instinctive, social and key to bonding us with one another, from our earliest days and through our whole adult lives. In this collaboration with documentary filmmakers Mike Downie and David Wells, we take a look at some of the fascinating science between why we laugh and cry. As Mike puts it, laughter and crying are an incredible expression of our humanity, and highlight a life well lived.
I also chat with one of the scientists featured on the Laughing and Crying documentary, Dr. David Haley, a psychology professor at the University of Toronto Scarborough.
Here are some resources related to this episode.
Watch the Laughing and Crying documentary on CBC's The Nature of Things with David Suzuki
More info about Laughing and Crying on CBC's The Nature of Things
'Laughing and crying is the soundtrack of our lives'
4 giant myths about laughing and crying
Prof. David Haley's UTSC profile
Related Episode: A New Way of Thinking About Intelligence for a New World
Related Episode: The New Science of Emotion & What it Means for Kids
Related Episode: We Need to Do A Better Job of Caring for New Moms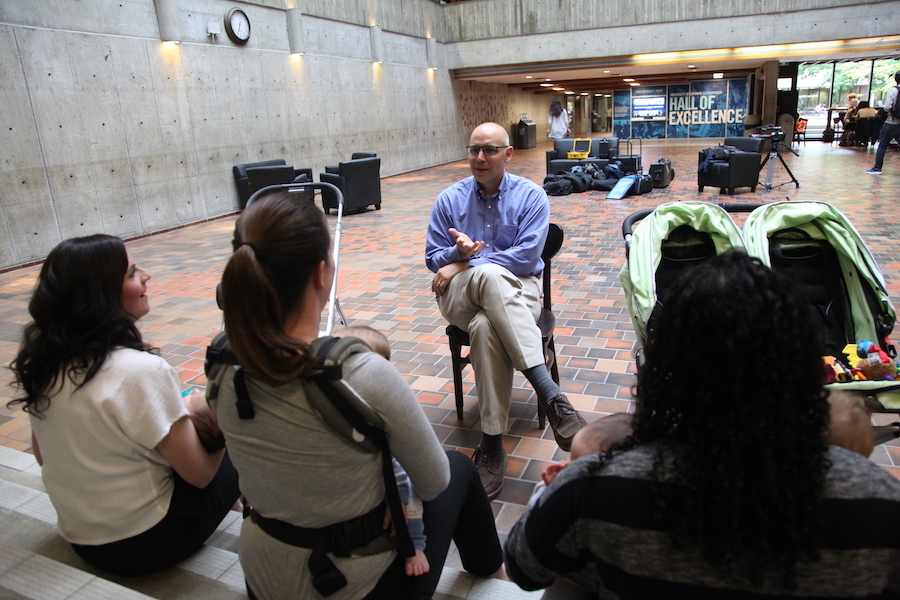 Dr. David Haley talks with some new moms at the University of Toronto's Scarborough campus
Are you a fan of the show? We'd dearly love your support.
Click here to visit our Patreon page and find out how you can become of a patron of the show to help us cover our costs. For as little as $1 per month you can help ensure the podcast will always be available.
Here are all the ways you can subscribe and listen to our show:
Subscribe to The New Family Podcast in iTunes
Subscribe to The New Family Podcast on SoundCloud
Subscribe to The New Family Podcast on Stitcher Radio
Subscribe to The New Family Podcast on these other Android Directories
Subscribe to The New Family Podcast by RSS
Please follow and like us:
---
---
---