Podcast: Play in new window | Download
Thanks so much for coming by to check out Episode 235 of The New Family Podcast, where we talk to a writer about her experiences with motherhood and poverty, and what we can do to help erase the stigma surrounding this complex issue.
It's my delight to be able to bring you a remarkable and important story today. I'm joined by author Stephanie Land, who has become known for her unflinching writing on poverty and motherhood. Stephanie writes about her years seeking out an existence for herself and her daughter through her work as a housekeeper. She writes about her struggle to make ends meet, her reluctance use of food stamps and the bigotry she encountered for needing to access social services.
But she also chronicles her efforts to keep alive her dream of going to university and becoming a writer something she nurtured in blog posts about her life with her daughter and getting by in those years. Since then her work has been featured in The New York Times, The Washington Post, Vox, Salon and elsewhere. Her book Maid: Hard Work, Low Pay and a Mother's Will to Survive is already a New York Times bestsller that's been met with all kinds of critical acclaim. Although her circumstances have now changed, Stephanie remains active in fighting to change the stigma surrounding people in poverty, especially single mothers. Stephanie lives in Montana but while in Toronto to give in a talk she visited me in my small home studio.
Here are some resources related to this episode.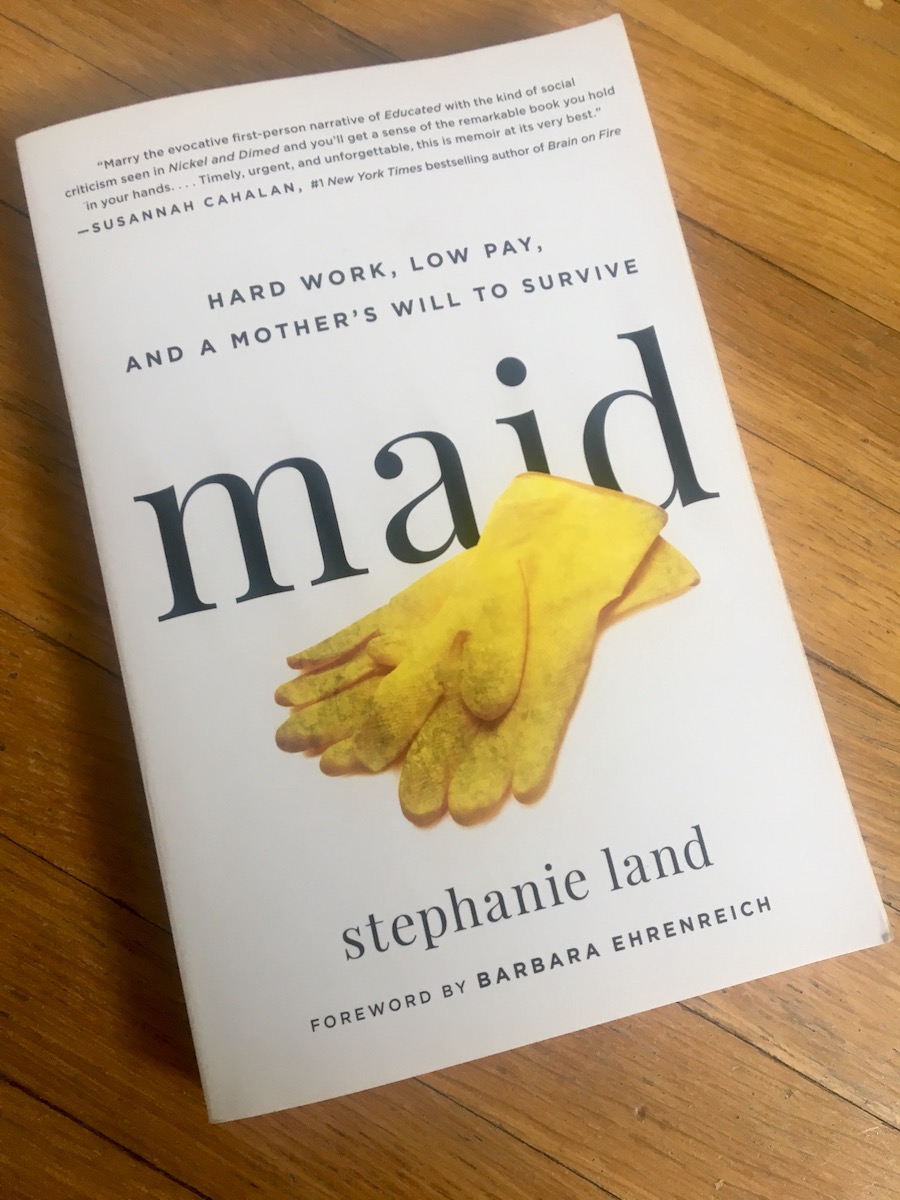 Maid: Hard Work, Low Pay, and a Mother's Will to Survive
Related Episode: The Families Forced Out When Condos Move In
Related Episode: These New Parents Bought a House with Their 2 Best Friends
Related Episode: What it takes to be — and raise — a mentally strong woman
What Stephanie wishes others who are struggling to get by could know
"Everybody's situation is different. There's a lot of people in much worse situations or dangerous situations, but I always think of that Mr. Rogers quote about looking for the helpers. What I wish I would have done more of is tell people how much we were struggling. I've had people reach out to me after reading the book who lived in Port Townsend, and who said, 'I had no idea. I would have said yes when you asked me to babysit Mia if I had known how much you really needed it. I never wanted people's sympathy, and I didn't really realize that I needed their empathy. I think the more you can just matter-of-fact say things like, 'I need $20 for gas today.' Well, people don't really like to give you money. Things like Target gift cards would just kind of show up in my mailbox sometimes because people knew that I was struggling. But I wouldn't have received any of that stuff that often went straight into Mia's Christmas stocking or for her birthday, unless I shared that I was in need of these very specific things. It took a lot of guts to say that, but I can't imagine where we would have been if I hadn't.
Are you a fan of the show? We'd dearly love your support.
Click here to visit our Patreon page and find out how you can become of a patron of the show to help us cover our costs. For as little as $1 per month you can help ensure the podcast will always be available.
Here are all the ways you can subscribe and listen to our show:
Subscribe to The New Family Podcast in iTunes
Subscribe to The New Family Podcast on SoundCloud
Subscribe to The New Family Podcast on Stitcher Radio
Subscribe to The New Family Podcast on these other Android Directories
Subscribe to The New Family Podcast by RSS
Please follow and like us:
---
---
---