Welcome! Thank you so much for checking out The New Family Podcast! We're delighted that you're here and want to make it as easy as possible for you to listen to our show.
The best way to do that is to subscribe to the podcast—this way the new episodes will always be waiting for you when you want them.

Subscribe in iTunes
Subscribe on Stitcher Radio
Subscribe on SoundCloud
Subscribe on other Android directories
Subscribe by RSS
Listen on LibSyn
---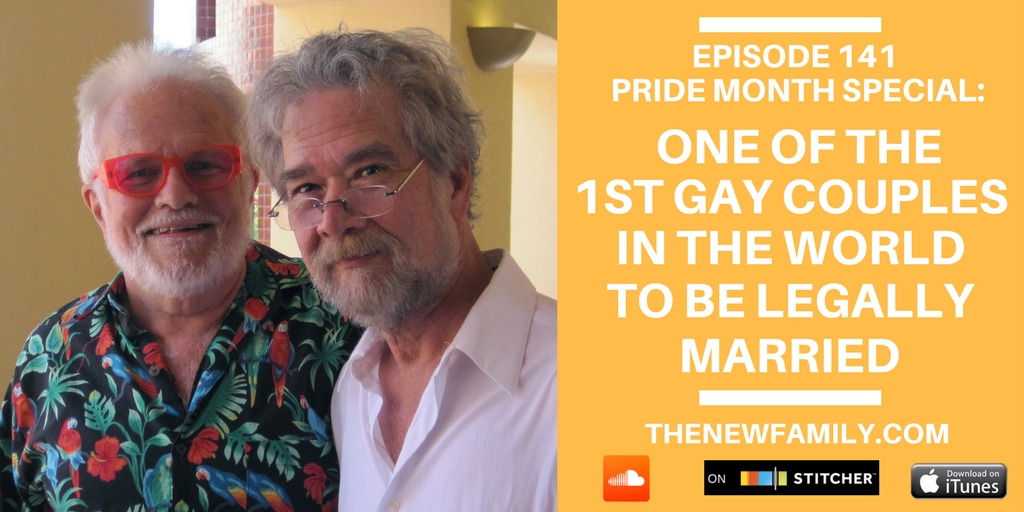 This is a special episode of the podcast tied to Pride Month, and I'm delighted to be able to bring you an incredible and legally-precedent-setting love story. In 1975, before anyone had even coined the phrases "same-sex marriage" or "marriage equality," Filipino-American Richard Adams and Australian Tony Sullivan became one of the first same-sex couples in the world to be legally married. But after applying for a green card for Tony based on their marriage, the couple received a denial letter from the Immigration and Naturalization Service. To prevent Tony's impending deportation, the couple sued the U.S. government, filing the first federal lawsuit seeking equal treatment for a same-sex marriage in U.S. history.
Read more…
---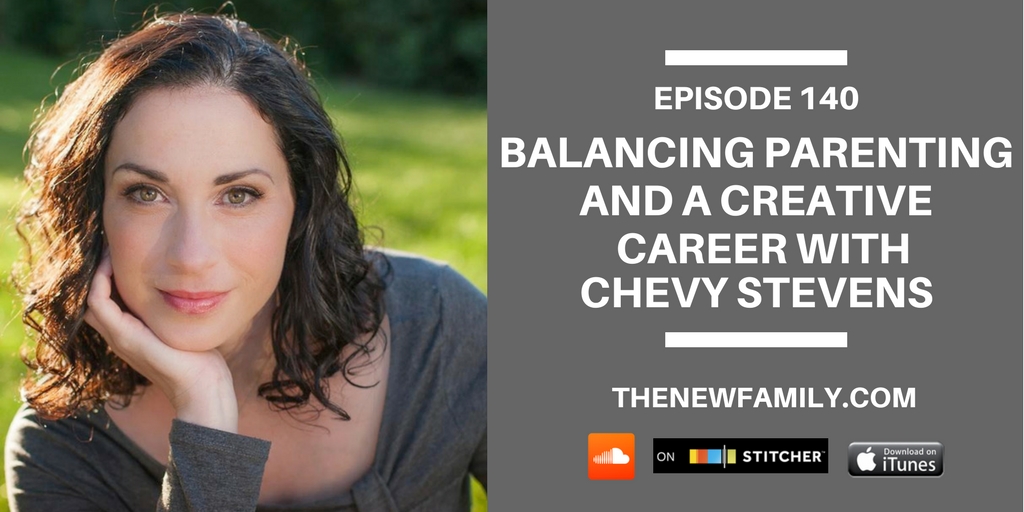 Anyone who has ever dreamed of quitting a day job to pursue work they're passionate about will want to tune in for this episode. I speak with Chevy Stevens, a mom and author of several wildly successful thriller novels featuring strong female protagonists. Chevy quit her real-estate job and sold her home to finance her writing. Her debut novel, Still Missing, then went on to become a New York Times bestseller. Her books have garnered glowing reviews and received praise from the likes of Gone Girl author Gillian Flynn. Chevy now supports her family with her writing and her husband is a stay-at-home dad. She talks about what it takes to find the mental space and quiet to write when you work from home your kid wants to hang out with you 24/7. Plus, Chevy opens up about how some difficult aspects of her own upbringing helped her to write authentically about domestic violence in her latest novel, Never Let You Go.
Read more…
---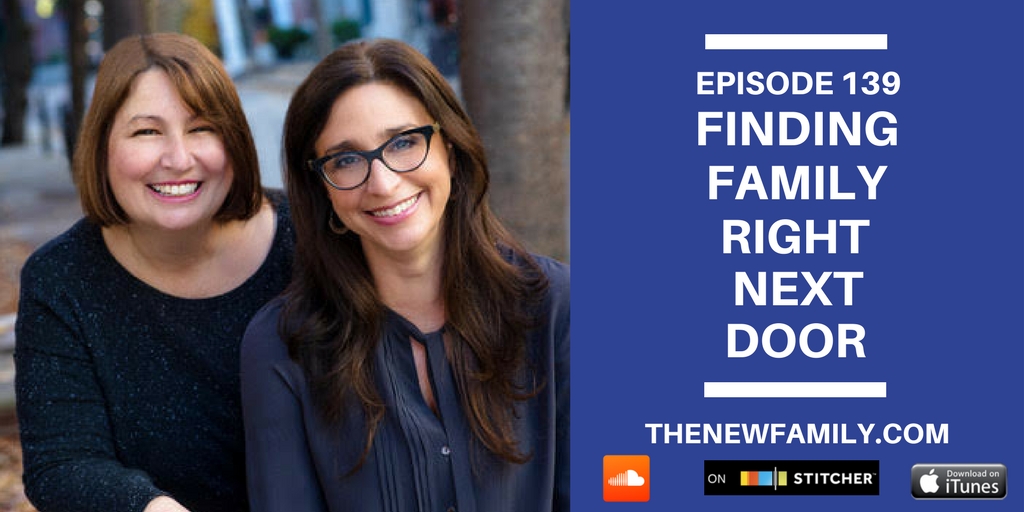 We're joined for this episode by writers Melissa DePino and Elizabeth LaBan. Melissa and Elizabeth have a lovely story to tell that's so in keeping with the theme of this website and podcast and its mission to celebrate the many ways that family can form. For years Elizabeth and Melissa were next door neighbours who truly became family to one another, sharing the parenting experience from when their children were small, a shared family that continues today. In fact, they've co-authored a novel inspired by their story called Pretty Little World. They tell us about how their organic extended family has come to be, and what we can all learn from their story about being open to connection in creating our own chosen families.
Read more…
---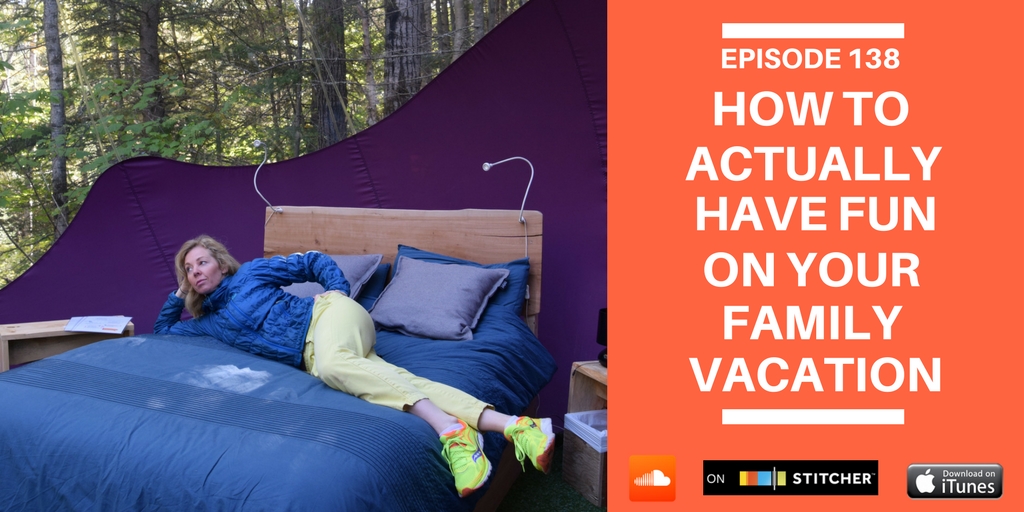 I'm very pleased to be joined by my friend Jody Robbins, a travel writer based in Calgary, Alberta. Jody is the author of a new book called 25 Places in Canada Every Family Should Visit. Today Jody and I are going to talk about what it takes to have a family vacation that's actually enjoyable for everyone in the family, and not just a heck of a lot of work for the parents.
Read more…
---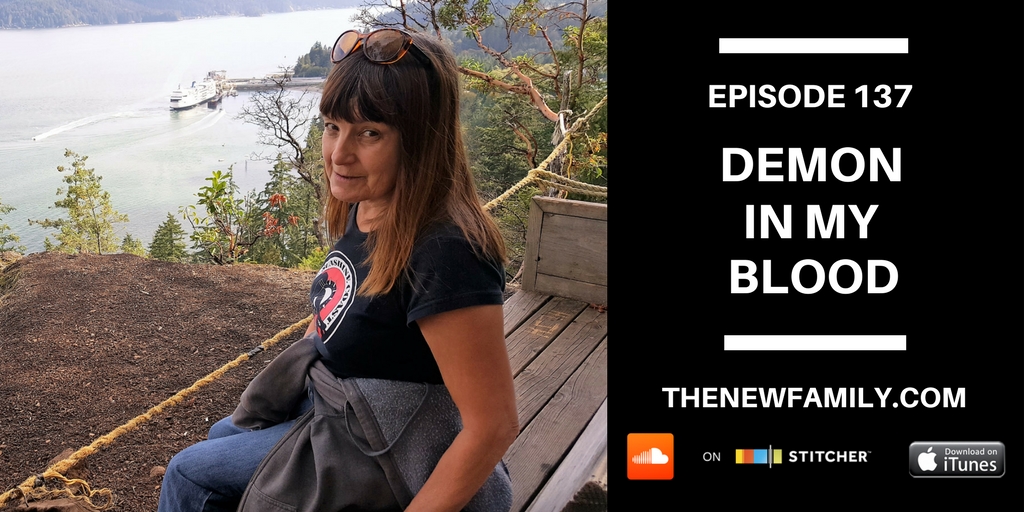 I'm joined on the show today by a woman with a remarkable story. Elizabeth Rains, a mother of two and acclaimed Canadian journalist, was overcome with confusion when she was diagnosed with Hepatitis C. She was immediately confronted with the fact that Hepatitis C is still often-stigmatized as well as perceived as a death sentence, even though it is now 90 per cent curable. Elizabeth has written a new book about her own journey and the history of the disease, called Demon in my Blood: My Fight with Hep C — And a Miracle Cure.
Read more…
---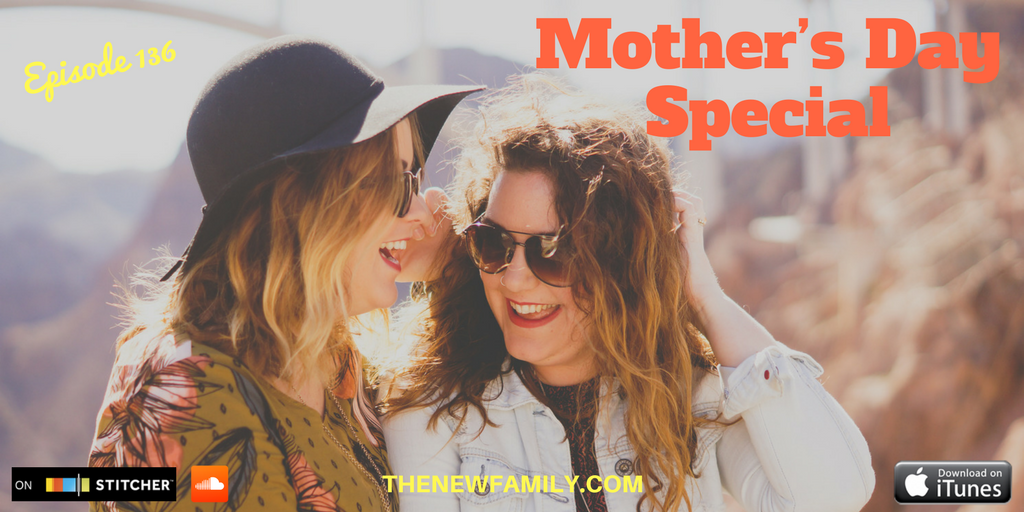 With Mother's Day just around the corner at the time this episode goes live, we've got a special edition of the podcast reflecting on experience of mothering in 2017. I'm joined by my friend and colleague, Beth-Anne Jones, who also writes about parenting and other lifestyle topics on Plenty the Magazine, the lifestyle site she runs with two other moms.
Read more…
---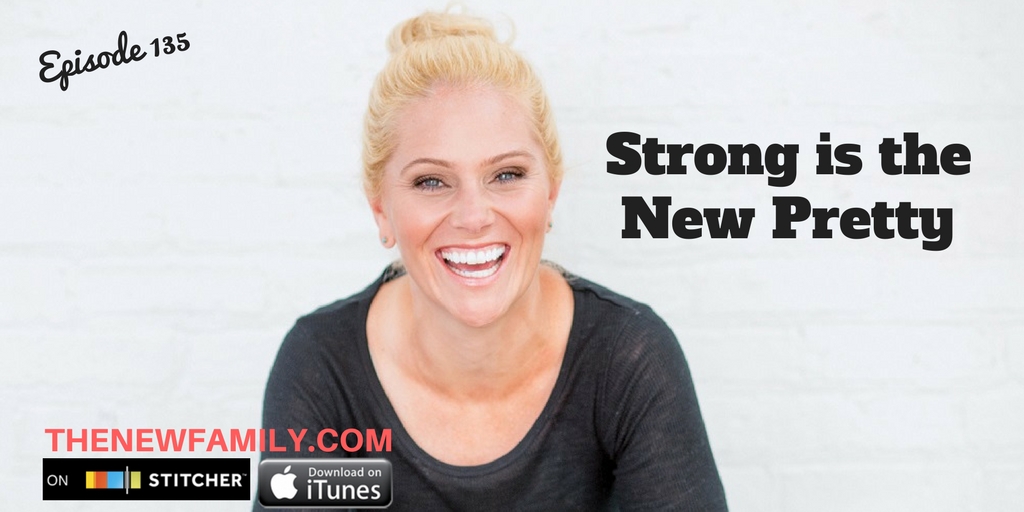 Photographer Kate T. Parker joins us on the this episode. Kate is the author of a gorgeous and compelling new photo book called
Strong is The New Pretty: A Celebration of Girls Being Themselves
. Kate is the mother of two loud, messy, adventurous girls, and in 2015 her Strong is the New Pretty photo series went viral, having clearly struck a chord both for the beautiful, raw images and the positive messages behind them. She's here to share what inspires her to help change the conversation about what girls are supposed to be and how they're supposed to look.
Read more…
---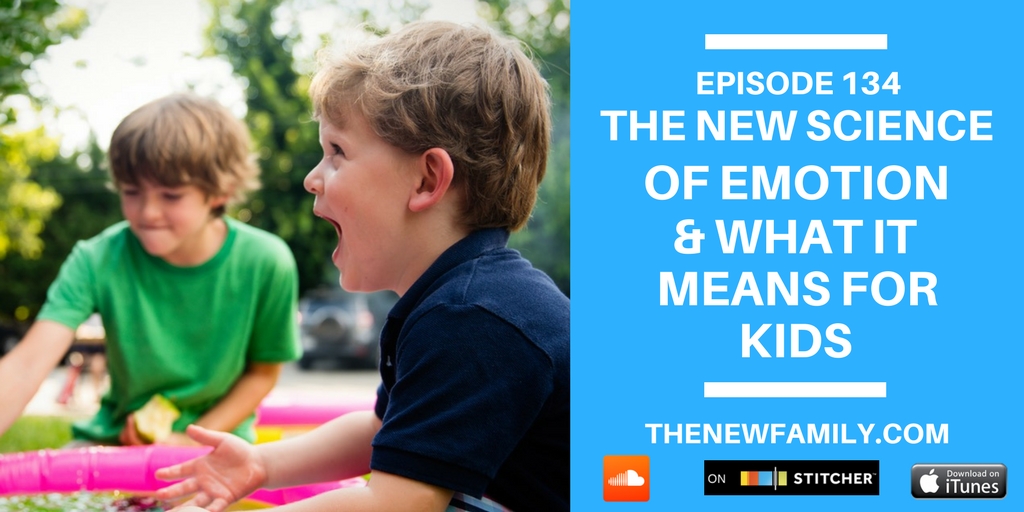 What if everything we've assumed about our relationship to emotions and where they come from was wrong? We're joined by psychologist and neuroscientist Dr. Lisa Feldman Barrett for this episode, author of a new book called How Emotions Are Made: The Secret Life of the Brain. Dr. Barrett is a distinguished professor of psychology at Northeastern University with appointments at Harvard Medical School and Massachusetts General Hospital. She's here to talk to us about what her research means for parents and for raising emotionally intelligent children. Read more…
---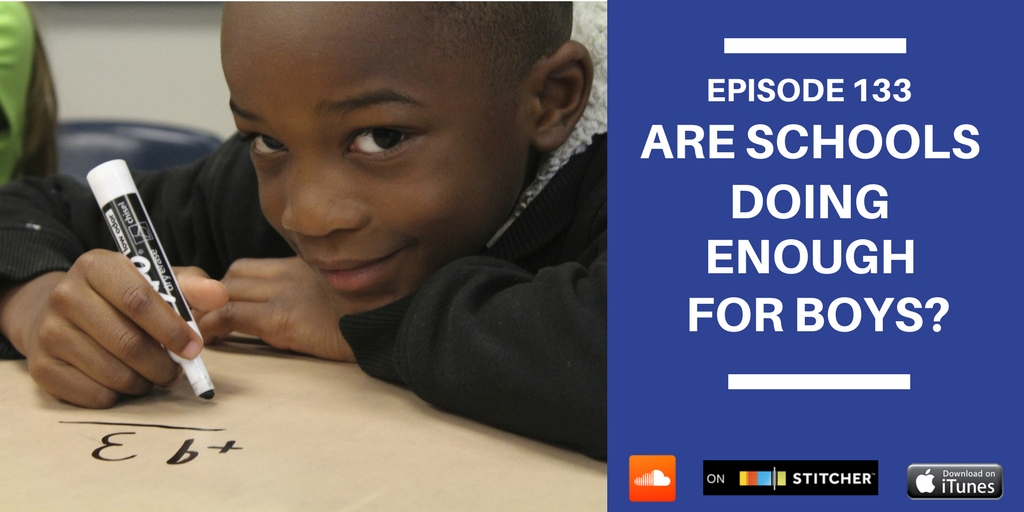 In this episode we look at how boys learn differently from girls and explore whether schools are doing a good job of catering to boys' learning styles. We're joined by Dr. Shimi Kang, a Harvard-trained psychiatrist and best-selling author of The Dolphin Parent: A Guide to Raising Healthy, Happy and Self-Motivated Kids. She is also founder of a 21st century life skills centre called DolphinPod, and a mom of two boys and one girl. Globally we still have a very troubling disparity in access to education between girls and boys that disadvantages girls considerably. But in North America we have a situation where boys are not performing as well as girls in school, and in fact young women are out-graduating young men from university by considerably margin. Dr. Kang talks to us about the neurological differences in how boys and girls learn, how those impact what goes on in the classroom, and what can parents of boys do to support their learning at home. Read more…
---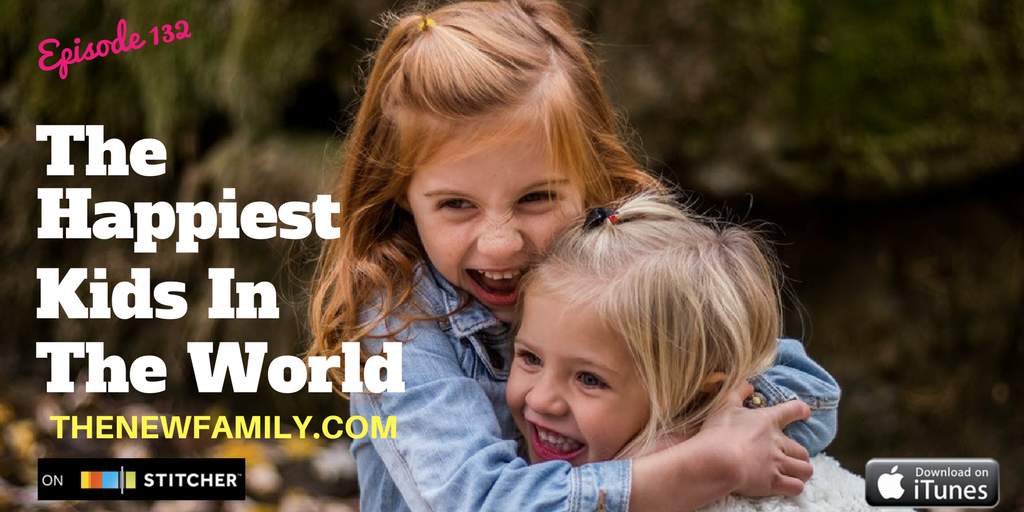 Where can you find the world's happiest kids? The Netherlands, it turns out! My guest Rina Mae Acosta is a co-author, along with Michele Hutchison, of a fascinating new book called The Happiest Kids in the World: How Dutch Parents Help Their Kids (and Themselves) by Doing Less. Their book explores why in 2013, a UNICEF report rated Dutch children the happiest in the world. While neither Rina Mae or Michele grew up in The Netherlands, both are raising their kids there and observing some significant differences in how parenting is approached compared to their home countries, the U.S. and the U.K. Read more…
---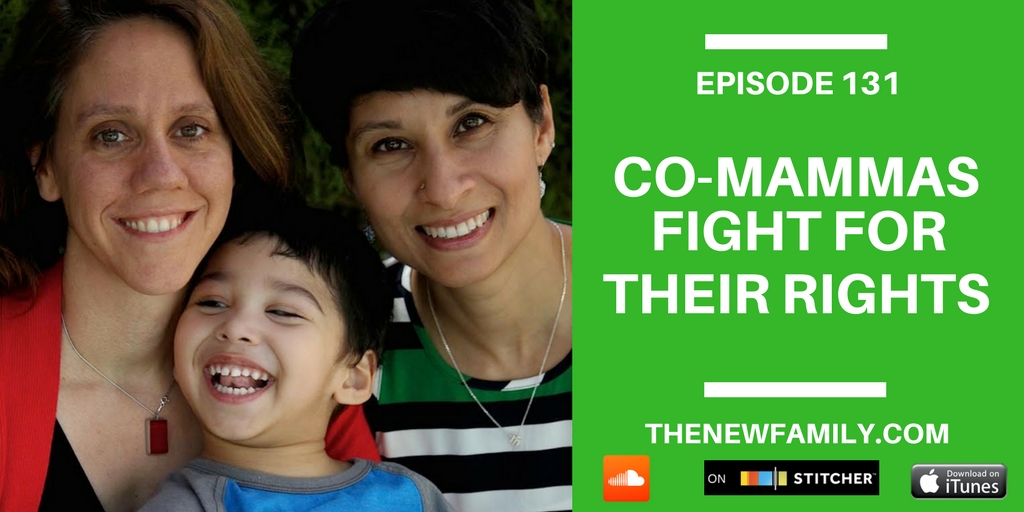 I am really delighted to welcome to the show Natasha Bakht and Lynda Collins, two lawyers and friends who are co-parenting seven-year-old Elaan, who has complex disabilities and care needs. Elaan is Natasha's biological child, but late last year the two won a legal victory to have both of them recognized as co-parents on their little boy's birth certificate. Read more…
---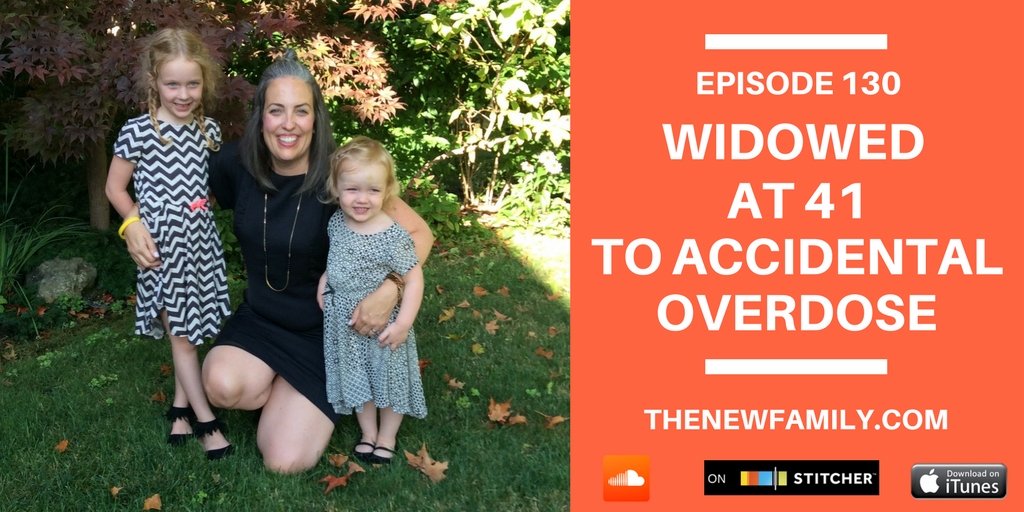 I'm joined on this episode by Sarah Keast, who wrote a very powerful 1,000 Families Post for The New Family recently in which she shared her experience as a newly-widowed mom of two small children. Sarah and I are dive into a very important aspect of her story. You see, Sarah lost her husband, Kevin, very suddenly to accidental overdose related to his addiction and his struggles with mental health. As our country grapples with its opioid crisis, it's more critical then ever for us to understand the grip of addiction and it's total disregard for age, gender, ethnicity or income bracket. Accidental overdose, no matter the class of drugs—legal or illegal—is something that can happen to anyone. Sarah's strength in the face of devastating loss is remarkable. Case in point: She has somehow got it together to launch a blog called "Adventures in Widowed Parenting." Read more…
---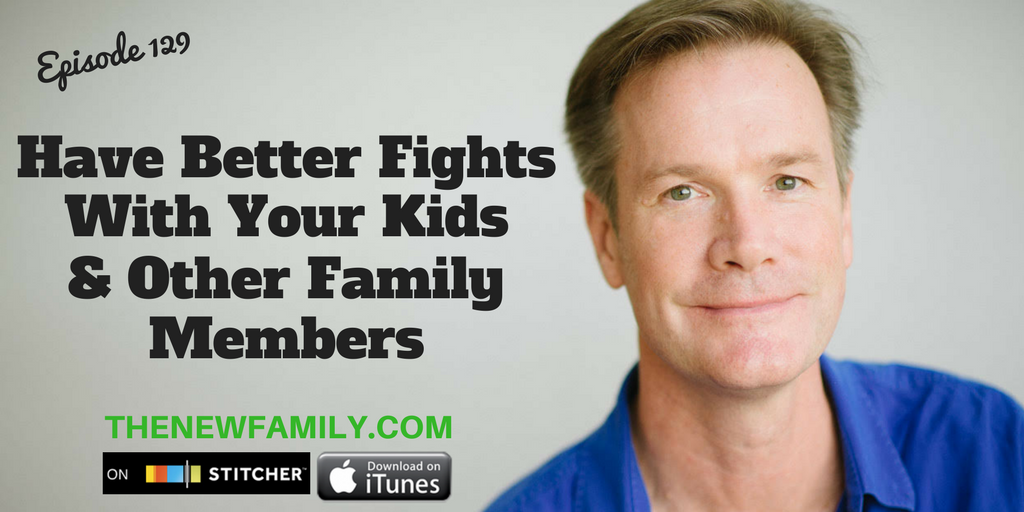 Dr. Hal Movius is an applied psychologist, a father of two and the author of a new book called Resolve: Negotiating Life's Conflicts with Greater Confidence. He's an expert in conflict and negotiation, and on this episode he talk to us about why we should commit, not to eliminating all conflict in our households, but to fighting well. So whether you'd like to handle conflicts better with your child, a parent, your partner or a former partner, Dr. Movius has got some great tangible advice. Read more…
---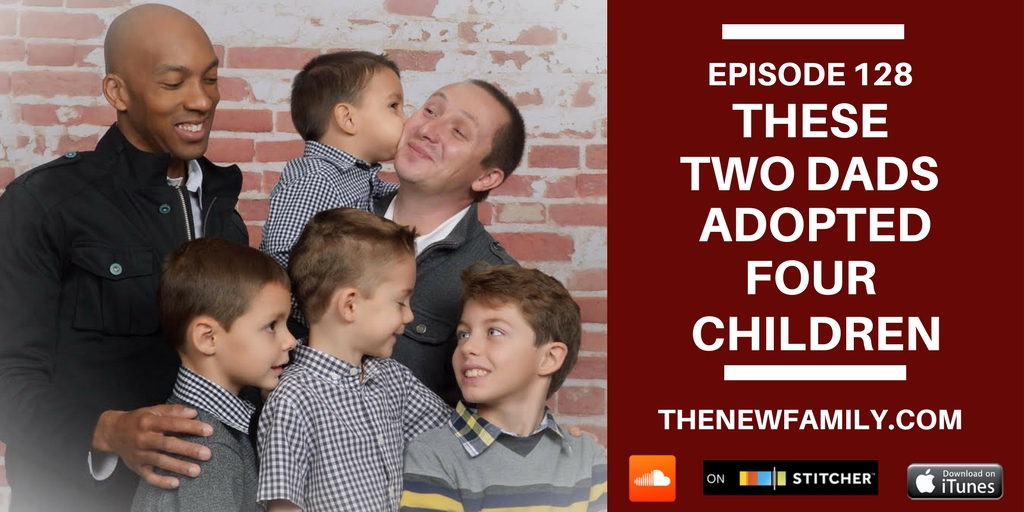 Calvin Witcher joins us on this episode of the show. He's a life coach, speaker and author of Parenting With Pieces: Parenting As A Catalyst For Personal Growth. He and his husband, Jeremy, have adopted four children—all biological siblings—and he joins us to share a little bit about how their family came to be, and what the adoption experience has been like for them. Read more…
---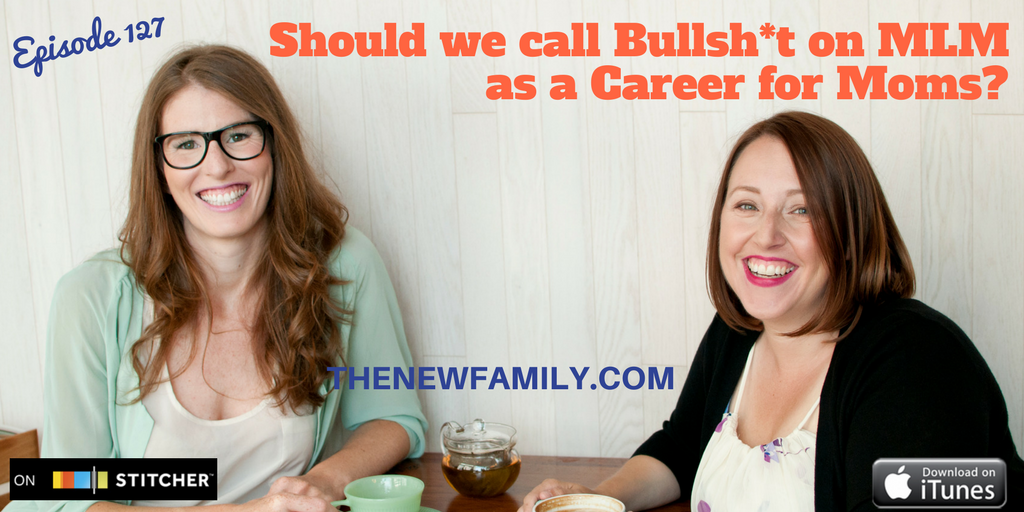 We're joined on this episode of the show by two entrepreneurial women, Bianca Sprague and Natasha Marchand. They're the co-founders of bébo mia, a training organization for birth and parenting professionals. Bianca and Natasha were and nominees for Ernst & Young 2016 Entrepreneur Of The Year, and remarkably managed to go from broke to earning six figures in their first year of business. We're going to hear a little bit about that, but we're also going to have a frank talk about the kind of career that is so often positioned to moms as best way to make money while being present for their children, and that's multi-level marketing. Read more…
---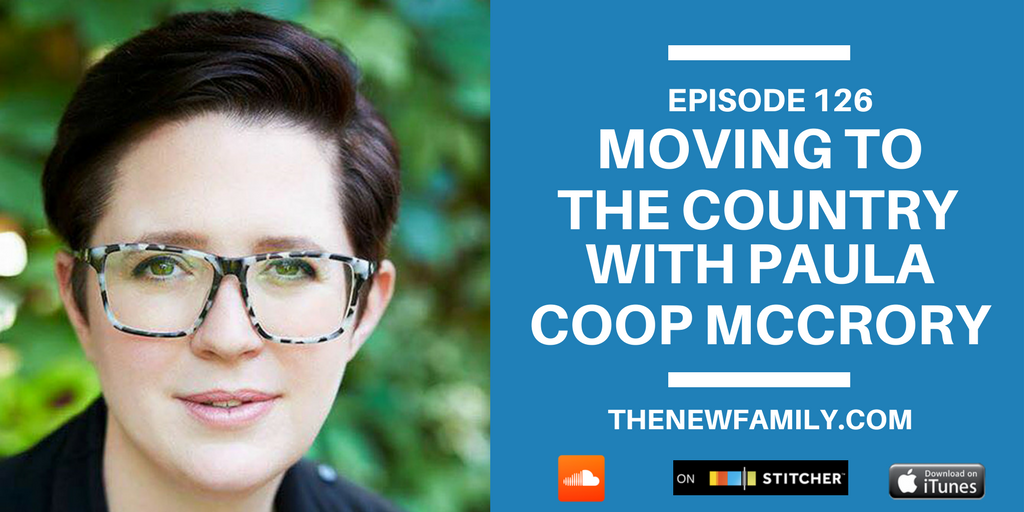 Ever been out of town and thought, "Let's just see what houses go for around here?" That's what happened when digital influencer Paula Coop McCrory, of Pinterest fame, was on a camping trip with her family. The result? Pulling up stakes and moving to the country! Paula is on the show to share what the transition has been like and shares her advice for other families contemplating a big lifestyle change. Read more…
---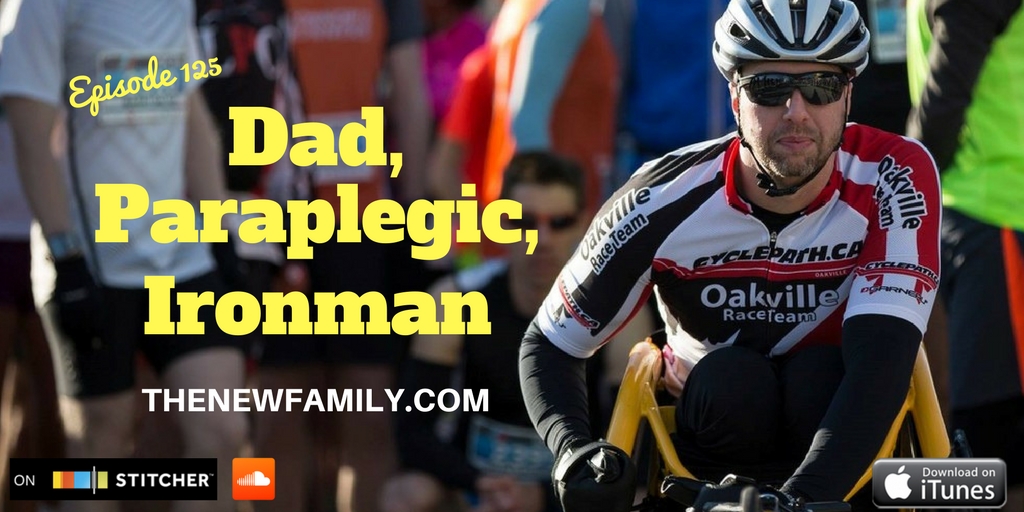 This is one of our most inspiring episodes yet. We're joined on the show today by dad and adventurer Robert Buren. Although he became paraplegic after an accident a little more than eight years ago, he and his wife decided that they were not going to let the fact that Robert would now be be confined to a wheelchair keep them from having everything that they wanted out of life—as individuals and as a family. They've met increasingly ambitious endurance sports goals in the years since, and in fact, Robert just became Canada's first paraplegic to race at, and earn second place, at the Ironman World Championships in Hawaii. The strength both he and his wife have demonstrated for their two girls is remarkable, and serves as an important lesson in the power of resilience. Don't miss their moving personal story and the message behind Robert's blog and philosophy, Rock the Chair. Read more…
---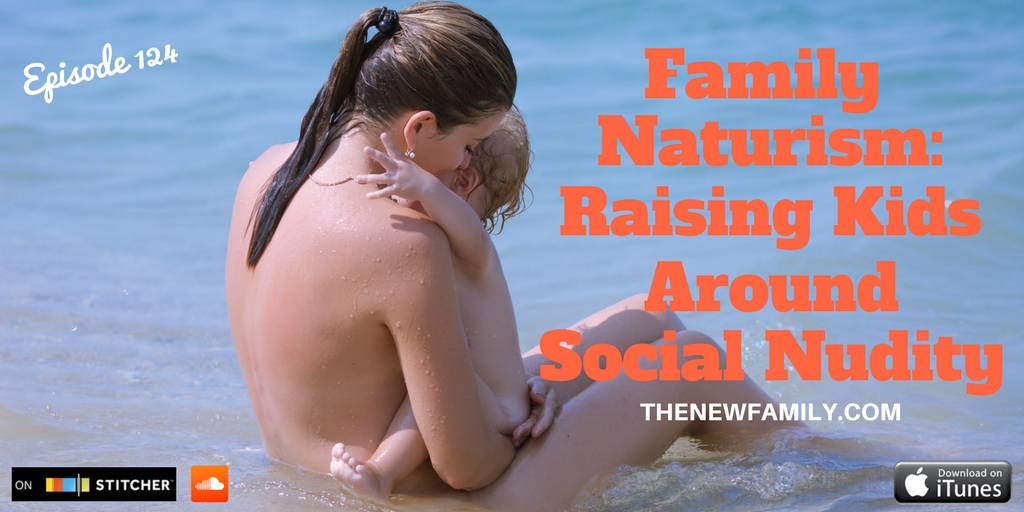 This episode is an interesting one! We're joined by two guests to talk about raising kids with a naturist lifestyle. You may be more familiar with the term "nudist" but the preferred language for this way of life is is naturism. Mom of two Andrea Alves recently wrote a very popular guest post for The New Family's 1,000 Families Project about her adventures as a relatively new naturist. We're also joined by Stéphane Deschenes, who—along with his wife—owns the Bare Oaks Family Naturist Park in East Gwillimbury, Ontario, where Andrea took her first forays into social nudity. Stephane's two boys, now ages 17 and 20, were brought up as naturists since birth. We tackle the tremendous misconceptions around social nudity, the root of our hang-ups about our bodies, and the compelling reasons for giving our kids some different messages about covering up. Read more…
---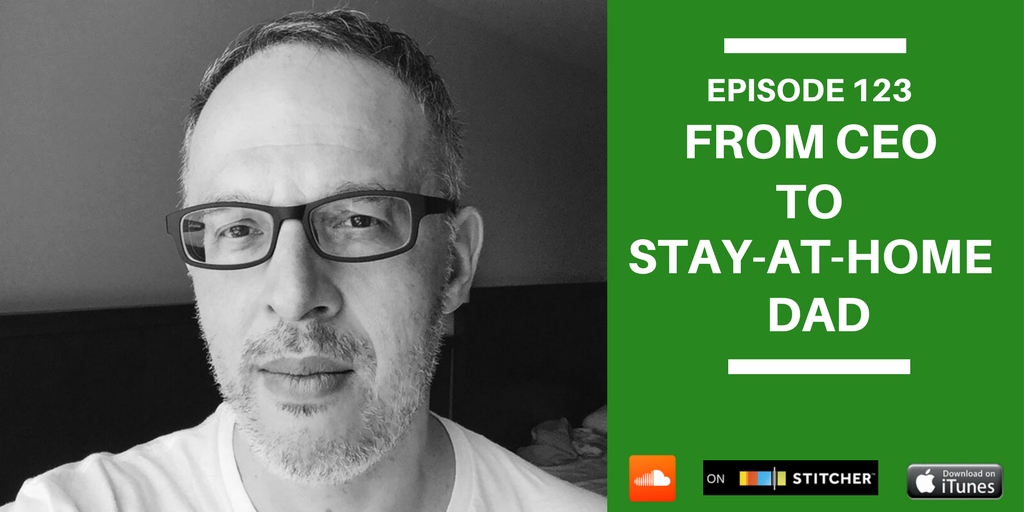 Tom Collin joins us the show today. Formerly the CEO of the Mayalsia operation of GEMS Education, Tom left his job so his wife could pursue a great opportunity at MIT. He's here to tell us about what this transition has been like, and what it means to him to have more time with the kids. Read more…
---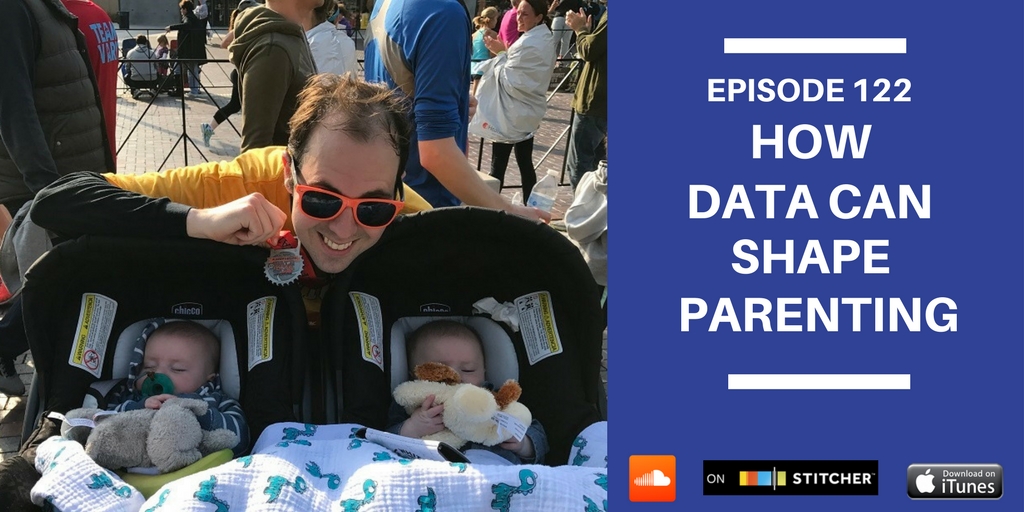 How can data play a role in our parenting? Tyler Lund, our guest on this episode, has some interesting insights and experiences to share. Tyler is a manager of software development, a blogger and the father of infant sons. Here's here to tell us about how he used his background with data to apply A/B testing and machine learning to his newborn twins, and to reflect on how parents might make use of data in the future. Read more…
---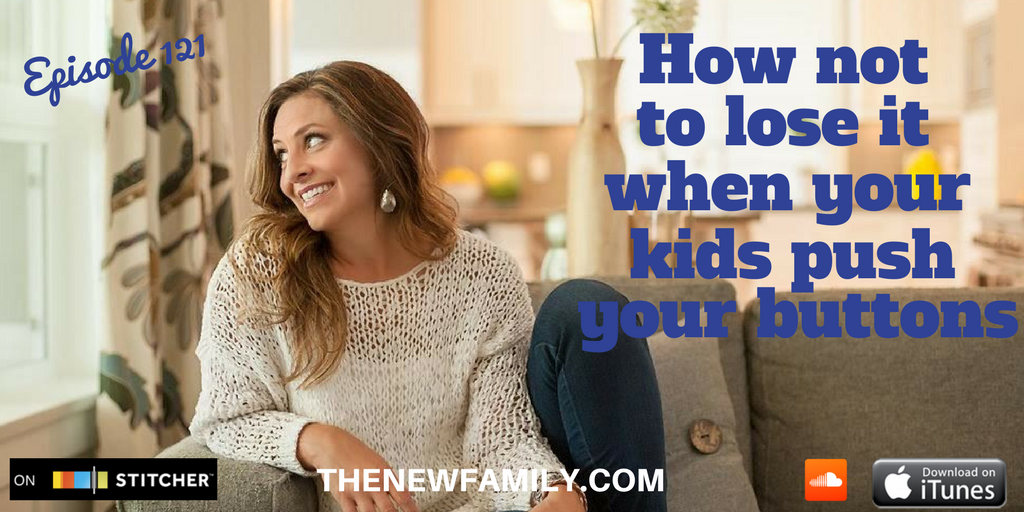 When we become parents, it takes many of us by surprise just how much our kids push our buttons. Yes, we'd take a bullet for them 10 times over, but we also want to throttle them sometimes. That's why I'm so pleased to be joined on the show today by Dr. Vanessa LaPointe, a registered psychologist, mother of two and the author of Discipline Without Damage: How To Get Kids To Behave Without Messing Them Up. Dr. LaPointe talks to us about how we can keep it together in those tough moments, and gives us tools for managing through our kids' various ages and stages. Read more…
---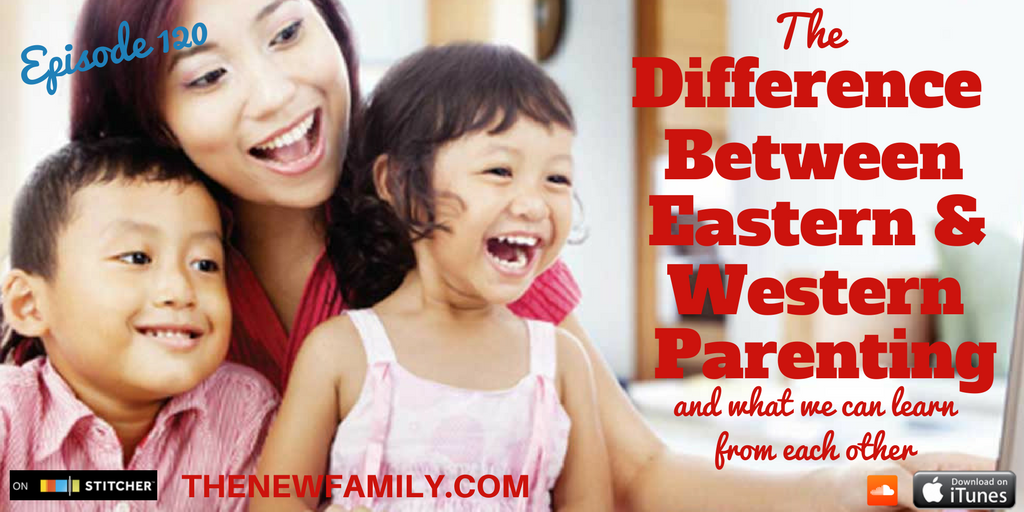 Our guest on this episode is Maya Thiagarajan, author of a fascinating new book called Beyond the Tiger Mom: East-West Parenting for the Global Age. In it she tackles some interesting—and not always terribly comfortable—questions, such as, "Why do Asian kids do so well in math and science? What is the difference between an Asian upbringing and a Western one?" She's here to talk about the different ways Western and Asian parents think about childhood, family and education—and what we can learn from each other. Read more…
---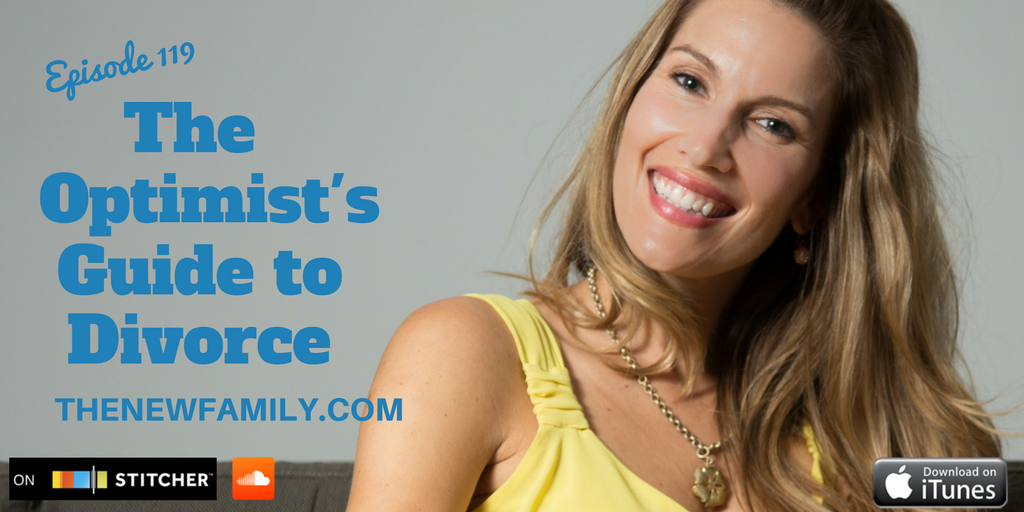 My guest Jill Sockwell and her friend Suzanne Riss have co-authored a brand new book called The Optimist's Guide to Divorce: How to Get Through Your Breakup and Create A New Life You Love. As followers of this podcast know, I'm a big proponent of learning to thrive—not just survive—after a divorce. I live in an unusual arrangement next door to the father of my children and also run a large free support group on Facebook called Positive Co-Parenting After Divorce. But just as important as learning to get along for the sake of the kids, it's critical to turn a life-changing event like separation and divorce into an opportunity for growth and to live your best life. That's the message in Jill and Suzanne's great new book. In this episode Jill shares her thoughts on why separation and divorce can bring about the opportunity to introduce positive changes in your life. Read more…
---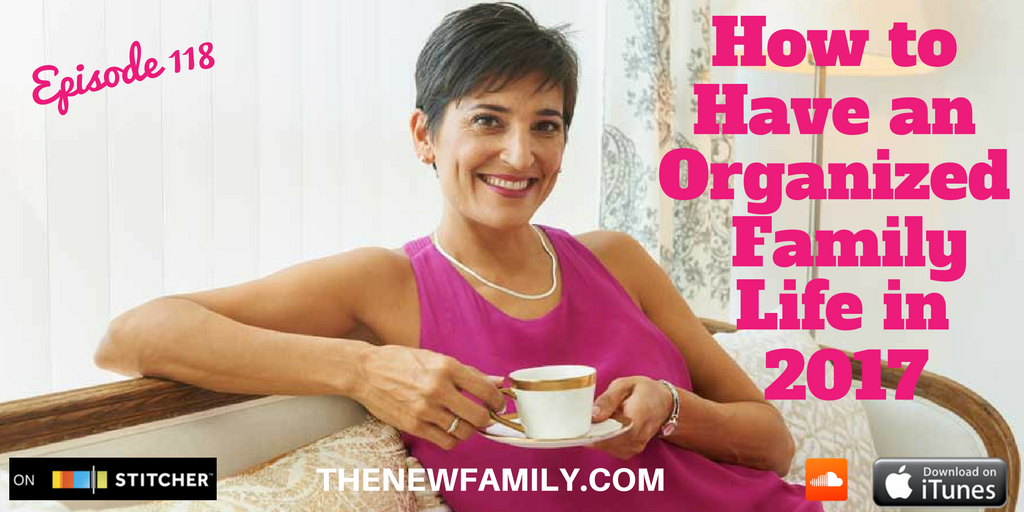 At this time of year we're thinking about resolutions and what we want the year ahead to look like. For many of us, getting organized is at the top—or close to the top—of the list. That's why I'm so pleased to have my friend Clare Kumar on the show for a chat. Clare is a Toronto-based professional organizer and productivity consultant, as well as a mom of two. Too often we put a lot of pressure on us around organization, holding ourselves to some crazy high standard involving perfectly organized closets. That's why I love Clare's big picture, pragmatic approach to organization. Clare is here to chat about some realistic, sustainable ways to have a more organized, low-stress family life in 2017. Read more…
---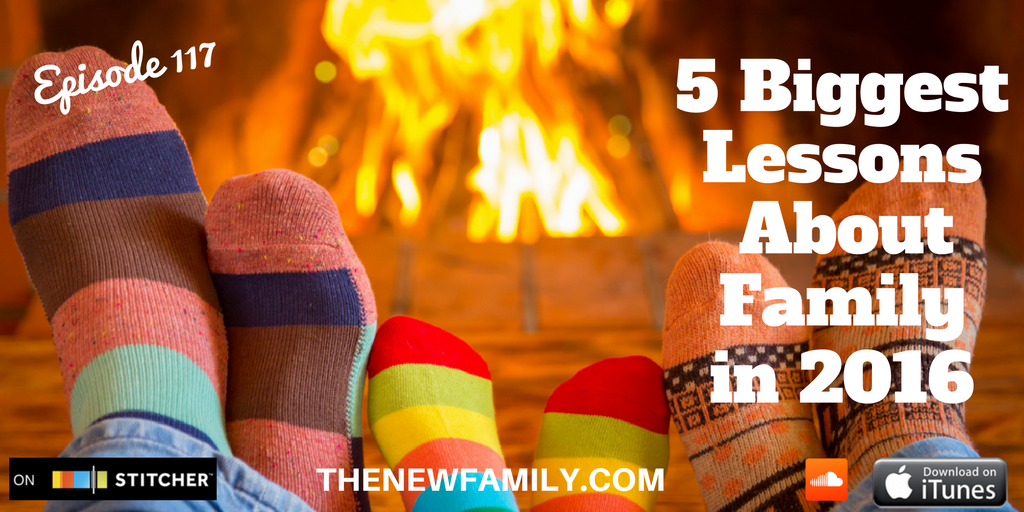 We wrap up this year on The New Family Podcast with this solo episode reflecting on the kind of year it's been and the biggest lessons I've learned from doing, oh, 88 episodes in 2016. It's important to note that, as a result of recent events in the news, there are people who feel that their choices—of who to love, of how to make a family—are under threat. So on this episode I touch on some of the wonderfulness of how far families have come and the level of acceptance they do enjoy, in a little effort to accentuate the positive and share a sense of hope. So here are 5 lessons and observations from the year I've had connecting with families in every shape and form, as well as with some of the most forward thinking experts and thoughts leaders on topics that pertain to family life. Read more…
---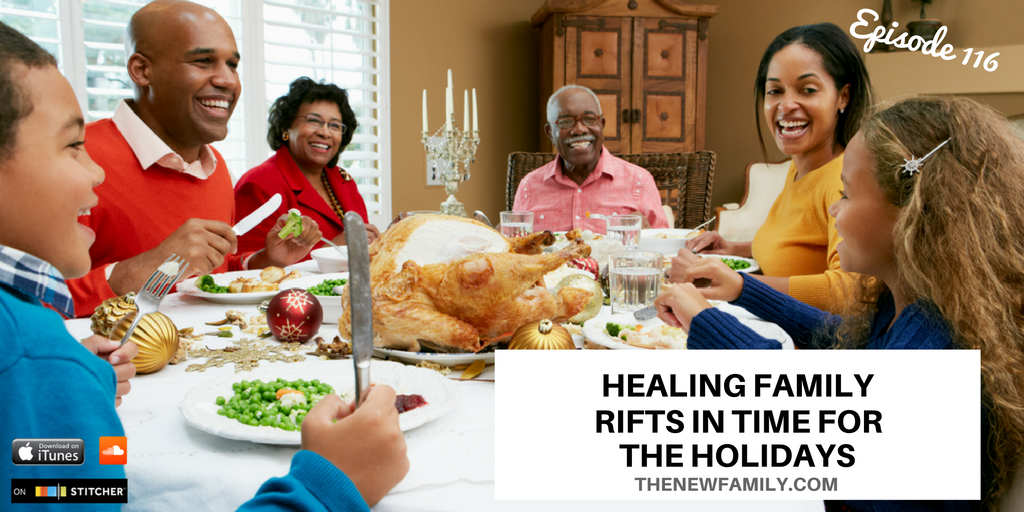 I'm really pleased to be joined on the show today by Dr. Robert Enright, who's often referred to as the "father of forgiveness research." He's an author and educational psychologist from the University of Wisconsin. If you're listening around the time this episode goes live, you'll know that we're right in the thick of the holiday season. We may so badly want the happy holiday experience that's broadcast at us from so many directions this time of year, but in fact the festive season can be made complicated by old wounds and resentments that translate into tensions or full-blown dramas when we're gathered around a dinner table or a Christmas tree. Dr. Enright is going to talk to us about why forgiveness is not only helpful to your holiday dynamics but important to our health. And just as importantly, we're going to get to know what forgiveness means and what it doesn't mean, so we can take concrete steps to healing old hurts and coping better through the holidays and any time of year. Read more…
---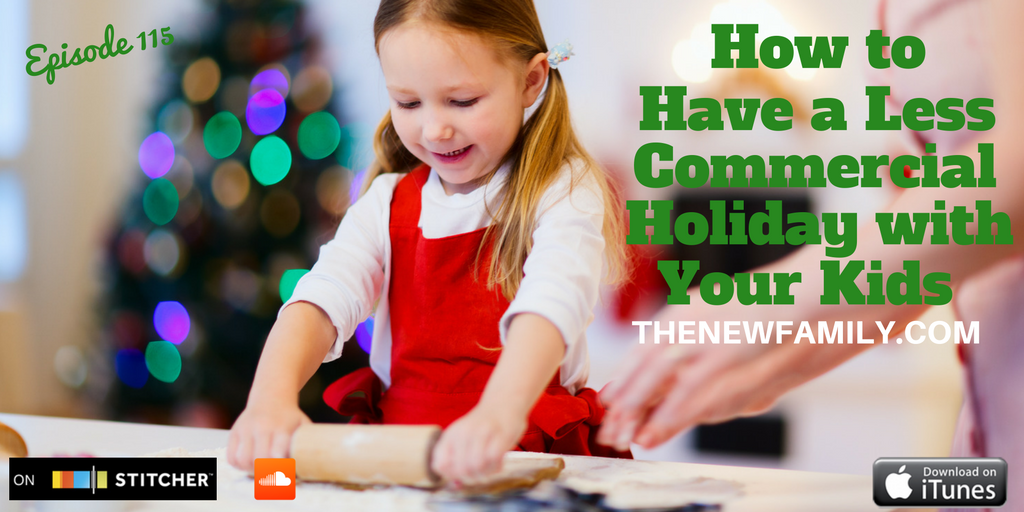 With the holidays approaching, I've been giving a lot of thought to what it takes to find meaning among the near-constant hum of commercial messages that come at us —and our kids — this time of year. I knew that Dr. Michele Borba would have some good advice on how to find more meaning and encourage our kids to think more about others and less about what's under the tree, so I asked her to come back on the show for this episode. Dr. Borba is an internationally renowned educational psychologist and an expert in parenting, empathy and character development. She is an award-winning author of twenty-two books, the latest of which is the acclaimed UnSelfie: Why Empathetic Kids Succeed in Our All-About-Me-World. She shares some great ideas about how parents can get the focus off of the material and onto thinking more about others. Read more…
---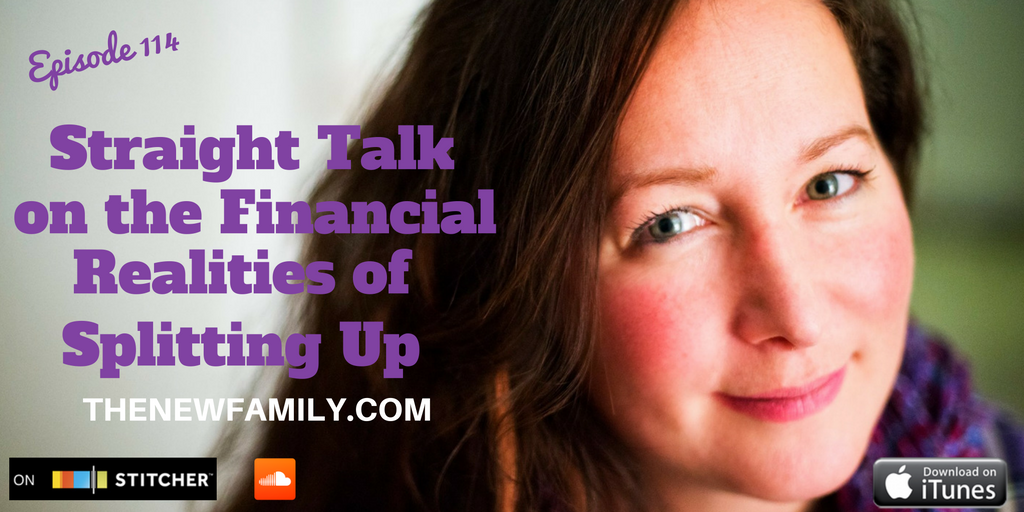 We're joined for this episode by Marci O'Connor, a Quebec-based freelancer writer, social media consultant and mother of two teenage boys. Marci has been separated for just over a year now and remains very amicable with the father of her boys. However, she and I dive into an aspect of separation and divorce that's not talked about as openly as we'd like—the financial realities of splitting up. Sure, everyone knows that divorce means dividing assets. But often roles as earners shift dramatically, stay-at-home parents return to the office or seek new careers altogether, housing and retirements plans can come into question. That said, it's not all doom and gloom either. It can be very empowering—especially if you were in a relationship where you didn't take the lead financially—to discover that you can manage much better on your own than you might have imagined. Read more…
---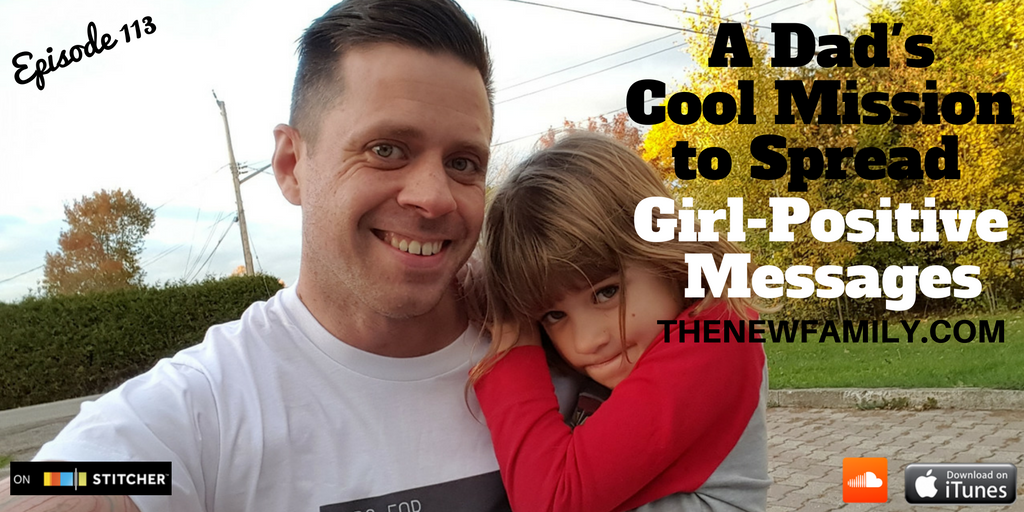 Mike Reynolds has a mission we dearly need to hear about right now. Mike has written extensively about raising his two daughters on his blog puzzling posts.com, and he's recently founded a great T-shirt company called Every Day Girl Dad to spread girl-positive messages. This seems particularly timely right now while many of us are deeply concerned about what the results of the US election mean for girls and women. Mike is very concerned about the gender stereotypes that still exist in our culture, including those that still seem to suggest boys and men shouldn't cry. He shares his view on how our society needs to redefine masculinity if it wants to address rape culture and make the world a more accepting place for both girls and boys. Read more…
---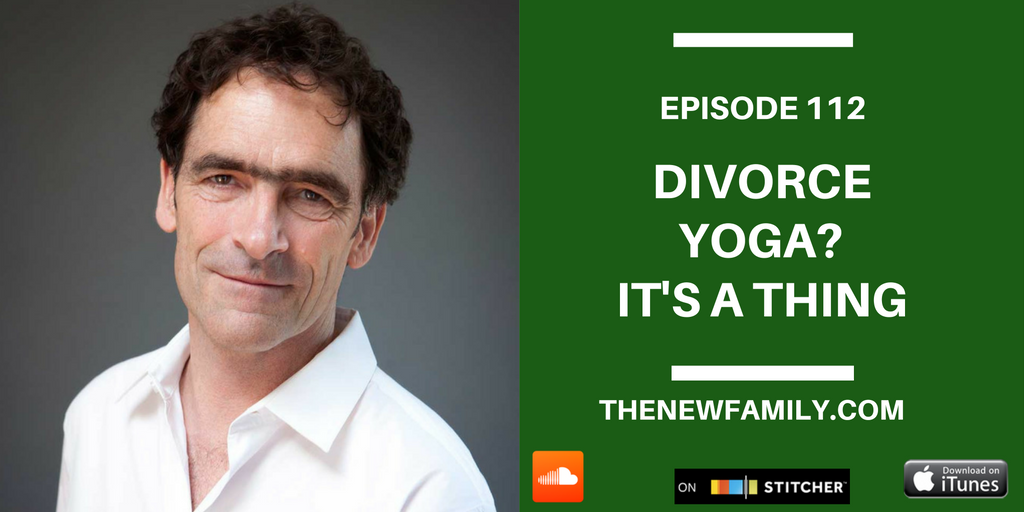 What does yoga have to do with divorce? Well, a lot actually. I'm joined on this episode of the show by mediator, educator, public speaker and yoga enthusiast Mike MacConnell. Mike is the principal at Reflective Mediation and the author of The Yoga of Divorce: A Mindful Route to Resolving Disputes. Mike was able to work through the pain that came with the end of his 25-year relationship with his wife by leaning heavily on the principles and practices of yoga and meditation. And in the end he and his ex-wife were able to sort out their divorce amicably and for only $1,200. Mike's wisdom about using yoga principles to get through a rough patch is relevant to all of us. In this episode Mike and I talk about his own journey and about how to bring mindfulness to any conflict situation or just tough period in general. Read more…
---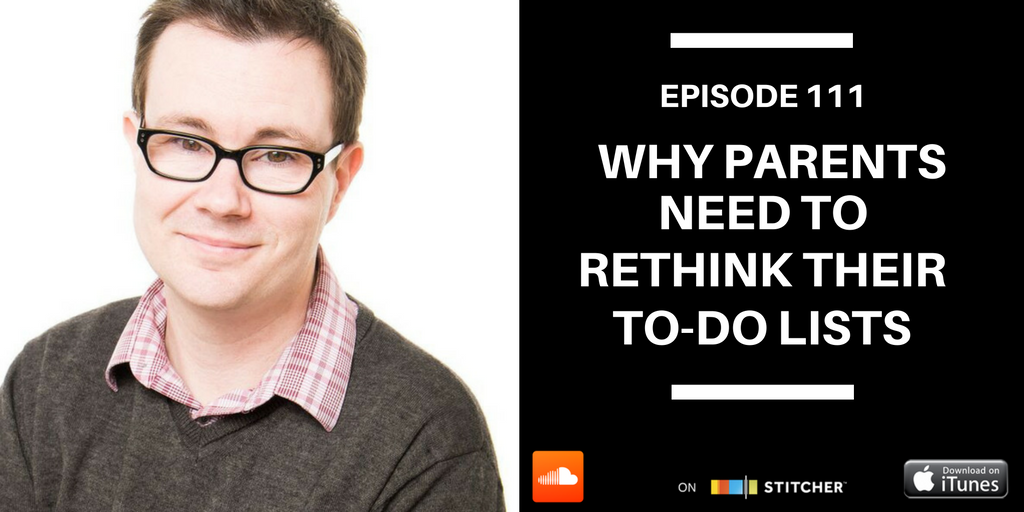 There's always a seemingly endless list of things we could be doing better, from tackling home repairs to keeping better track of school forms, doing regular meal planning or organizing the junk drawer. Yet although we know our generation is under far more time and connectivity pressures than those who have come before, we berate ourselves for not being better organized. My guest on this episode is a productivity and time-management expert, as well as a father of two. Mike Vardy is a writer, speaker, podcaster and founder of The Productivityist, a resource that helps people get the right things done. Mike also has a new book out called The Productivityist Playbook. Today we're going to talk about our often fraught relationship with the topic of organization, and about reframing our relationships to our to-do lists so we can get more of the important stuff done while letting go of what doesn't matter. Read more…
---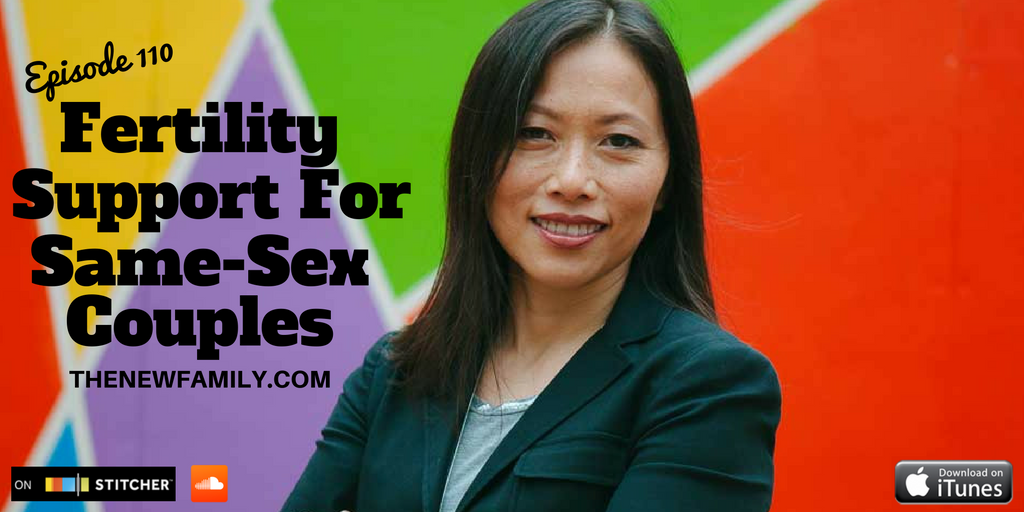 As you know, this podcast celebrate families in all the many forms they take, and of course those include families headed by same-sex couples. Sure, it's a given that the process of bringing kids into the world looks a little different if you don't have sperm, egg and uterus all available to you. Yet the baby-making journeys of same-sex families aren't talked about all that often. My guest has helped many two-mom families see their dreams for a child come to fruition. Mary Wong is a traditional Chinese medical practitioner and author of a new book called Pathways to Pregnancy: Personal Stories and Practical Advice for Your Fertility Journey. Mary brings together eastern and western medicine to support people going through fertility treatments, and today she provides an illuminating look at the issues along with wisdom and encouragement for same-sex couples who are beginning to form their families. Read more…
---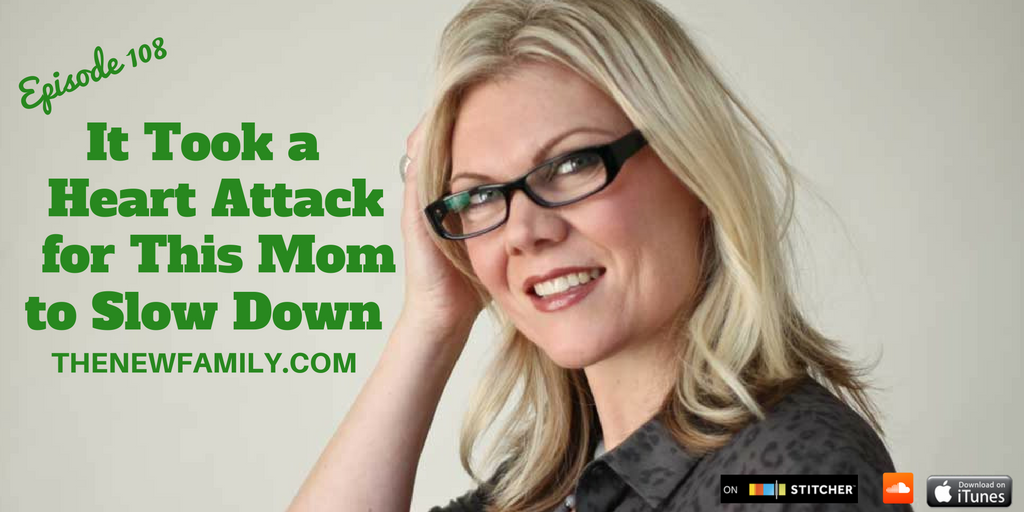 My guest on this episode has an absolutely critical message for all of us over-committed, super-stretched parents who are burning the candle at both ends. Kerrie Lee Brown is journalist, a motivational speaker and a mom of two. She's also the author of a new book called, My Heart, My Self: Knowing When to Slow Down is Half the Battle. In it she shares about the traumatic events that resulted from keeping up a too-fast pace in her life as a working mom, the adjustments she's made since, and how you too can make critical changes for your health and happiness.Read more…
---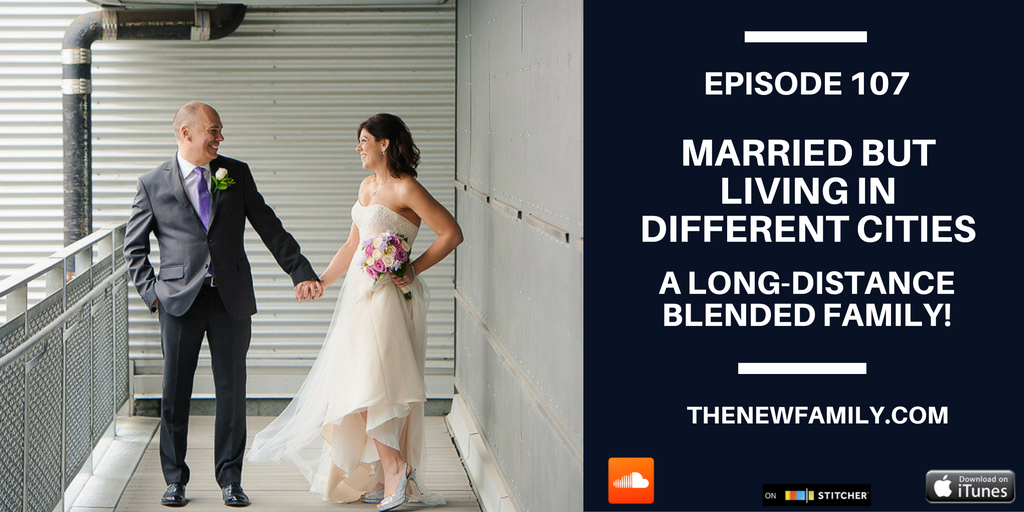 Jessalyn Coombe is my guest on this episode of the show. Jessalyn wrote a fascinating guest post for The New Family's "1,000 Families Project" about being part of a long-distance blended family. That's right. She and her husband live 3,400 kilometres apart from one another, but they have still managed to merge their families. We' hear about how this came about and how they make it work! Read more…
---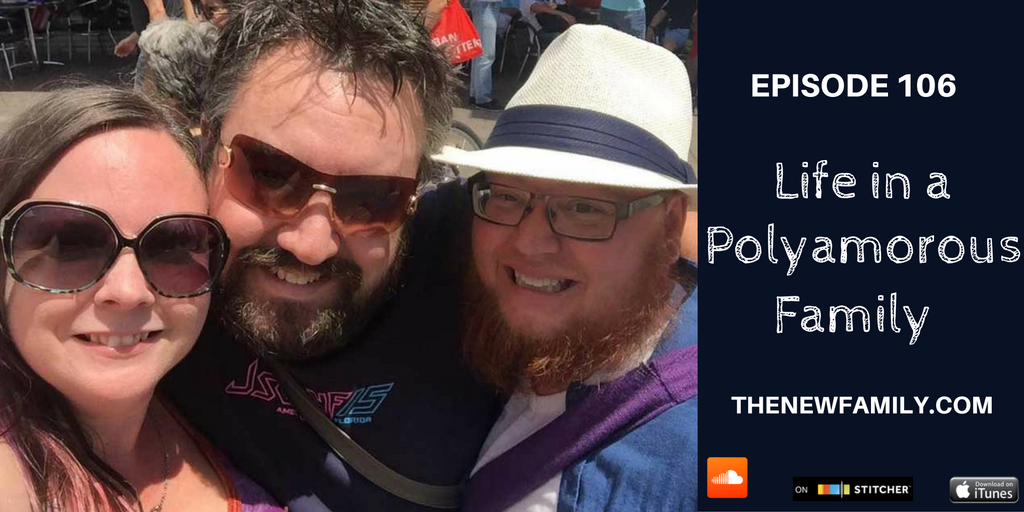 My guest on this episode is Jackie Yovanoff. Jackie is a mom to four spectacular humans—two she gave birth to and two who came as part of a package deal with her partner. She's a sexuality educator and sex and relationship coach, and today she's agreed to come on the show to talk to us about being polyamorous and what that means for life with kids. Jackie shares her personal experiences thoughtfully and candidly, and enlightens us on the terms polyamorous and pan sexual, and touches on some of the legal and rights issues that surround the individuals and families who identify as poly. Read more…
---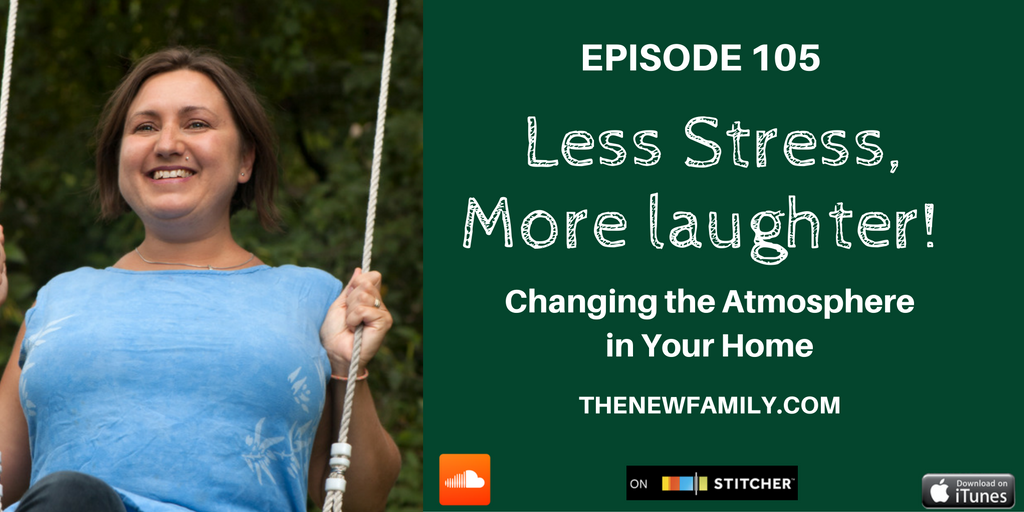 Less Stress, More Laughter. We all want that for our families, right? We're joined on this episode by Kaeli Van Regan. Kaeli is former child and youth worker, a mom of three, a podcaster and the author of a new book called Parenting Your Way.
We chat about improving the mood and atmosphere in our households and the shift she made with her family to set a happier tone. Read more
---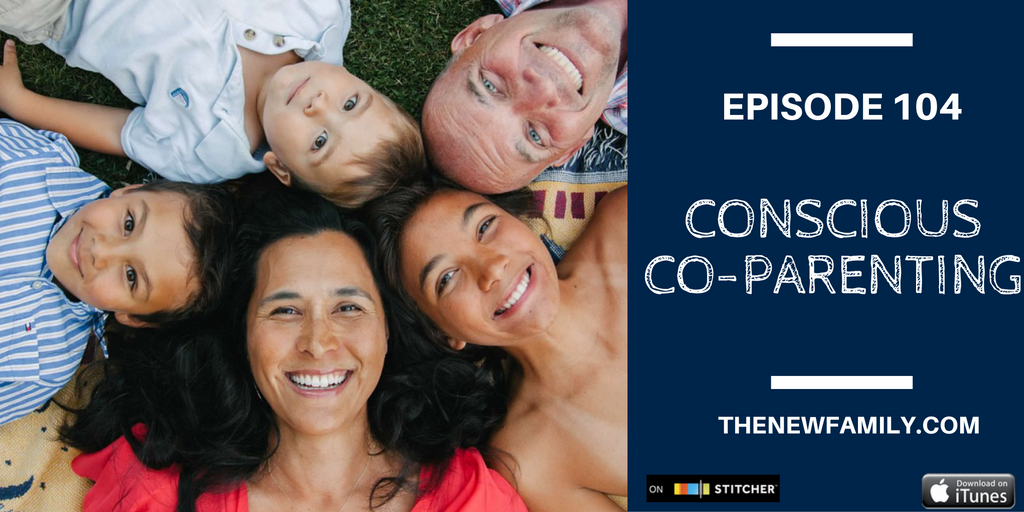 We're joined on the show for this episode by marriage and family therapist Dr. Jenna Flowers. She's got a new book out called The Conscious Parent's Guide to Co-Parenting: A mindful approach to creating a collaborative parenting plan. As many of you know, this topic is very near and dear to my heart as a passionate advocate for positive co-parenting. Jenna shares the the key principles to co-parenting well after a relationship ends, as well as some of the common stumbling blocks that can put parenting with the best interest of the child seemingly out of reach. Read more…
---

I'm joined for this episode by a father of eight kids! Rabbi Aryeh Weinstein is also the host of a new podcast called Beginning Within, which is all about strengthening ourselves by spending less time getting caught up with what's going on around us and more time focusing on what's going on internally. That can be a tall order in this age of distraction. Aryeh talks to us about how we can make that sort of shift in focus, not only to lead more purposeful and happy lives ourselves, but so we can be in the present moment with our kids. He also shares his wisdom on raising children who are grounded and self-aware. Read more…
---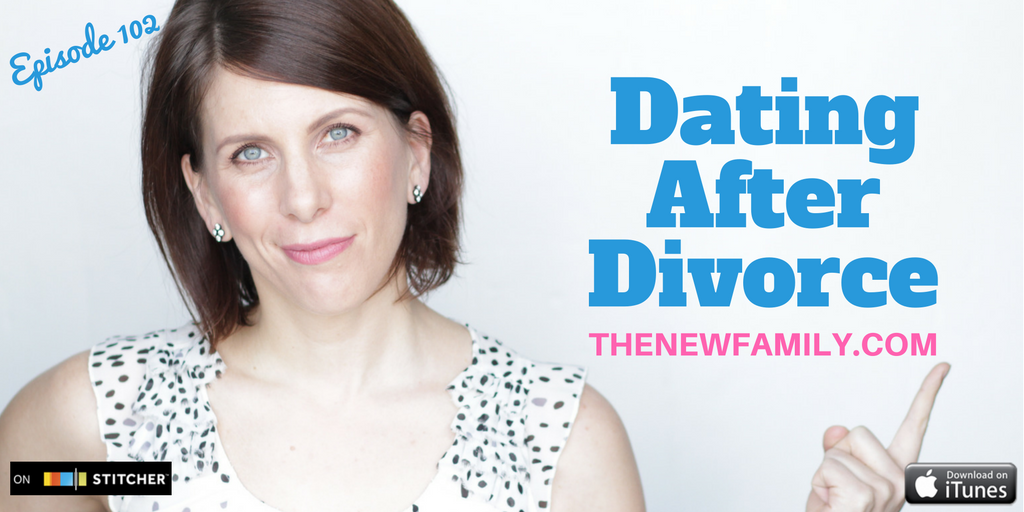 If you find yourself single again after being in a relationship for a really long time, the prospect of dating can be pretty intimidating, especially when you consider that online dating may not even have been invented the last time you were single. Pair that with the seemingly complicated aspects of dating when you have kids and it's enough to make anyone decide they'd rather just stay home and watch Netflix. But my guest on this episode has made it part of her mission to encourage people to get back out there again. Emma Johnson is a business journalist and the woman behind the wildly popular website Wealthy Single Mommy; she's also the host of a podcast I love called Like a Mother with Emma Johnson. Emma writes extensively about dating and, in fact, she has a popular online course called Get Back Into Dating for Single Moms. She talks to us about how to get over the fears and have some well-deserved fun in the dating world. Read more…
---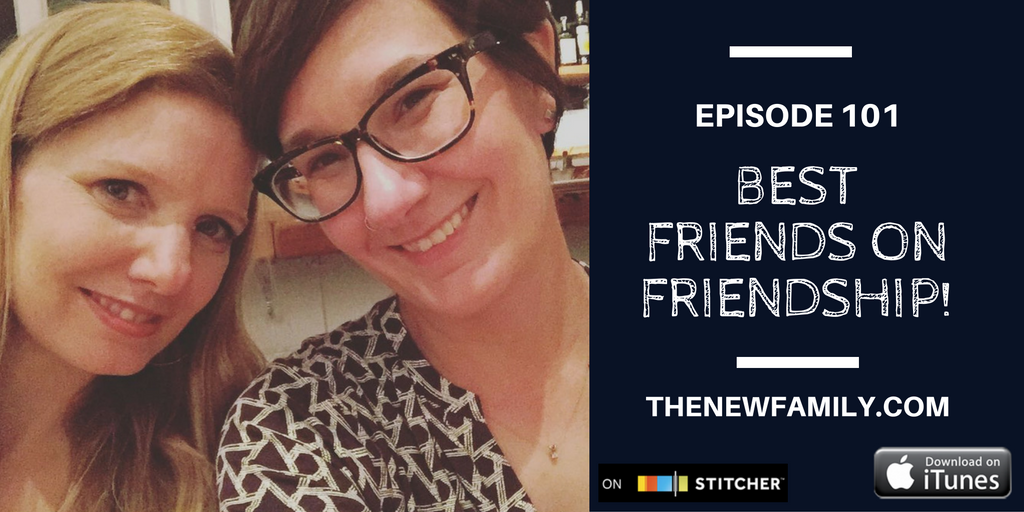 You are tuning in for Nepotism Week at The New Family Podcast. I'm marking the occasion of this show hitting triplet digit episodes by having on some very important people in my life. Today I'm so pleased to be joined my best friend, Mary Vallis Cowan. Mary is an editor at the Toronto Star, a national newspaper award-winning journalist and she's the mother of two lovely kids, Maddy and Henry. She and I talk about the critical role that friendship plays in our quality of life, in our mental well being and in our ability to parent. Read more…
---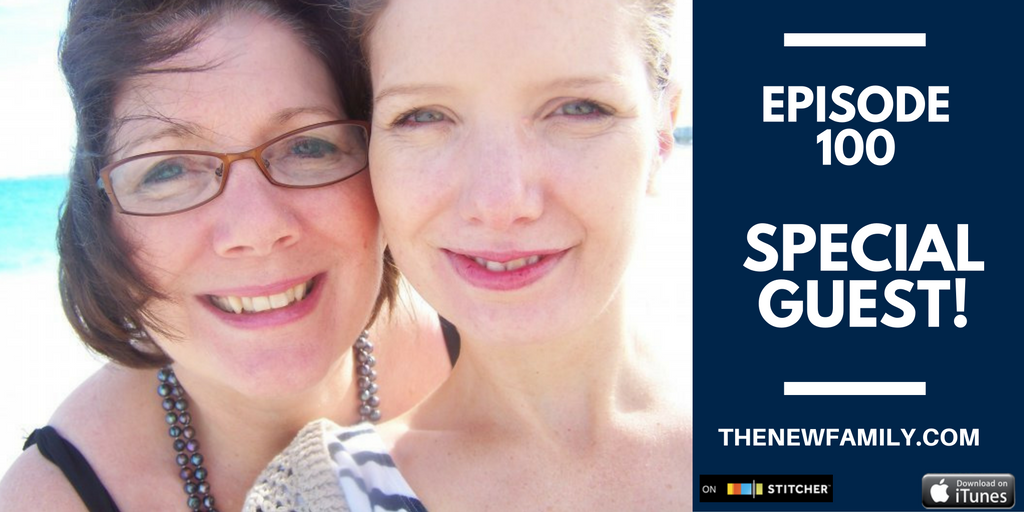 Thank you so much for joining me on this very special episode of the podcast. Our 100th! I can hardly believe that we've reached this incredible milestone, and right around our one-year anniversary! I wanted to do something to mark the occasion of this 100th episode. So my special guest today is my mom. Yes, given this show is all about sharing the experience of family and of parenting, I thought it made perfect sense to invite the person who most shaped my own upbringing, and who I turn to for advice about raising my own kids. We're joined by mother, grandmother and entrepreneur Cathline James. Read more…
---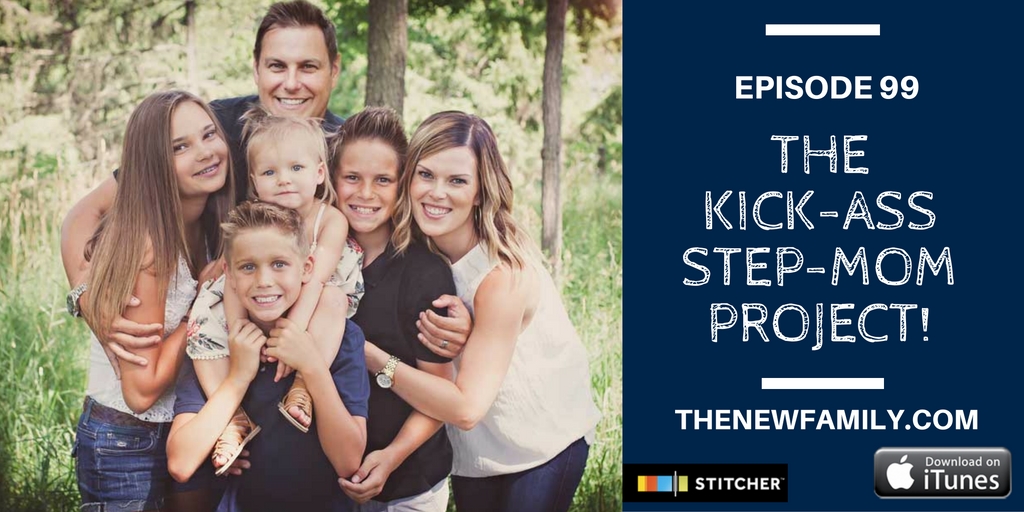 When my guest, Jamie Scrimgeour, first became a step-mom to three kids, there were times when she'd hide crying in the bathroom with a glass of wine. But today she uses the lessons from those challenging times to help others be great step-moms. Jamie is a Life Coach with a Certification in Stepfamily Dynamics. She talks candidly about her stepfamily life on her blog, The Poptart Diaries, and helps provides online support through her group coaching program The Kick-Ass Step-mom Project and her online Facebook group The Kick-Ass Stepmom Community. She shares the key principles behind great step-parenting as well as the common stumbling blocks step-parents face along the way. Read more…
---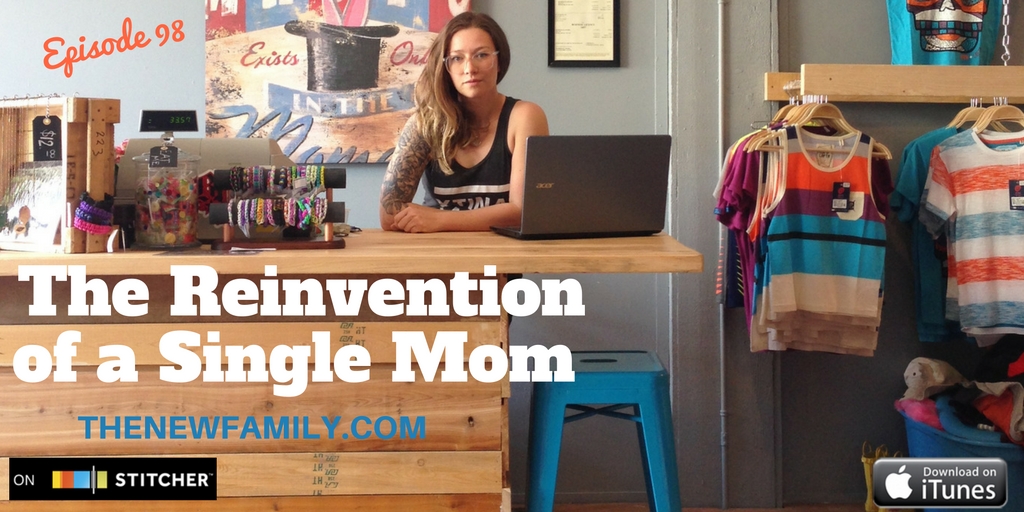 My guest on this episode has an inspiring story to tell about overcoming a difficult situation and learning to thrive. Alicia Graham is a mom of two, step-mom to two and entrepreneur from the little ski town of Rossland, B.C. in the Kootenay Mountains. When Alicia's marriage ended in late 2014, she was in a bit of a bind. You see, Alicia had been a stay-at-home mom for close to a decade, homeschooling the kids for some of that and mostly not working outside the home. With a sudden financial need and a big gap in her resumé, things were pretty tough. But in a short time she's turned that situation around and reinvented herself as an entrepreneur. Her story is just the kind you need to hear when you're going through a personal crisis, not just one brought on by separation and divorce, but by any change in circumstance, by a change of heart about your life's work or any other of those things that throws a wrench into the machine of life. Read more…
---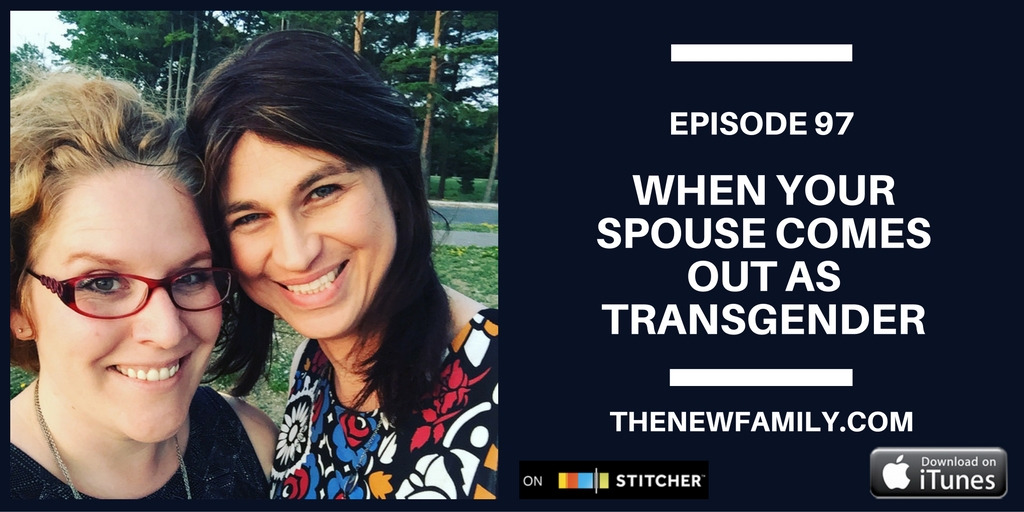 I've been looking forward to this episode for some time now. My guest, Amanda Jette Knox, was actually on the show way back at the beginning on Episode 3: Parenting a Transgender Child. And at the time she shared the experience of discovering that the child she knew as a son was really a daughter, offering us an important look at what it takes to parent a transgender child is a loving and supportive way. But what she couldn't reveal at the time was that her family was going through another important change, too. Read more…
---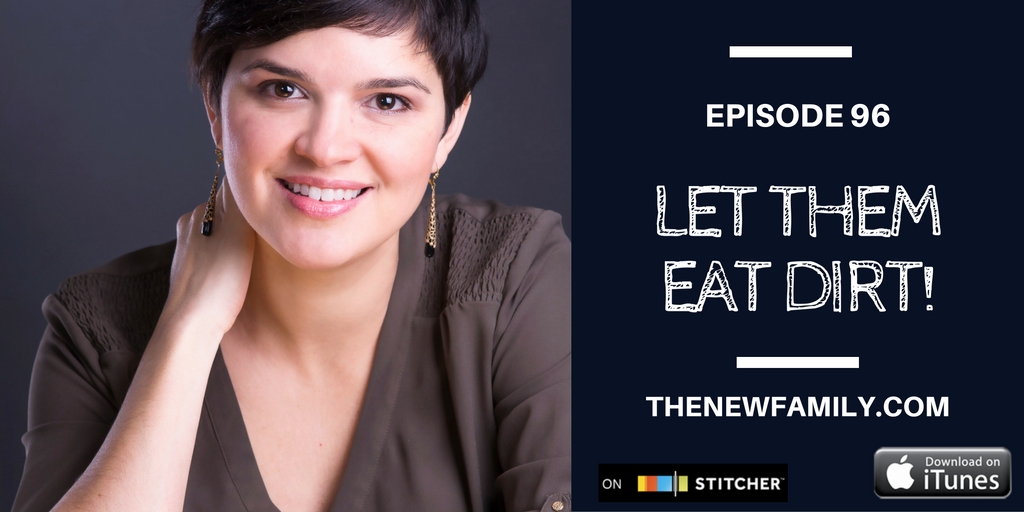 My guest on today's show is Dr. Claire Arrieta, an assistant professor at the University of Calgary and co-author of a new book called Let Them Eat Dirt: Saving Our Children from an Oversanitized World. In it she and her colleague Brett Finlay make the case that we're raising our kids in a cleaner, more hyper-hygienic environment than ever before. They outline how this is having a profoundly negative impact on kids' immune systems and a contributing to a host of chronic conditions ranging from allergies to obesity. But it's not all doom and gloom. Dr. Arrieta also offers concrete steps parents can take to ensure their kids have healthy immune systems. Hint: Throw out your hand-sanitizer! Read more…
---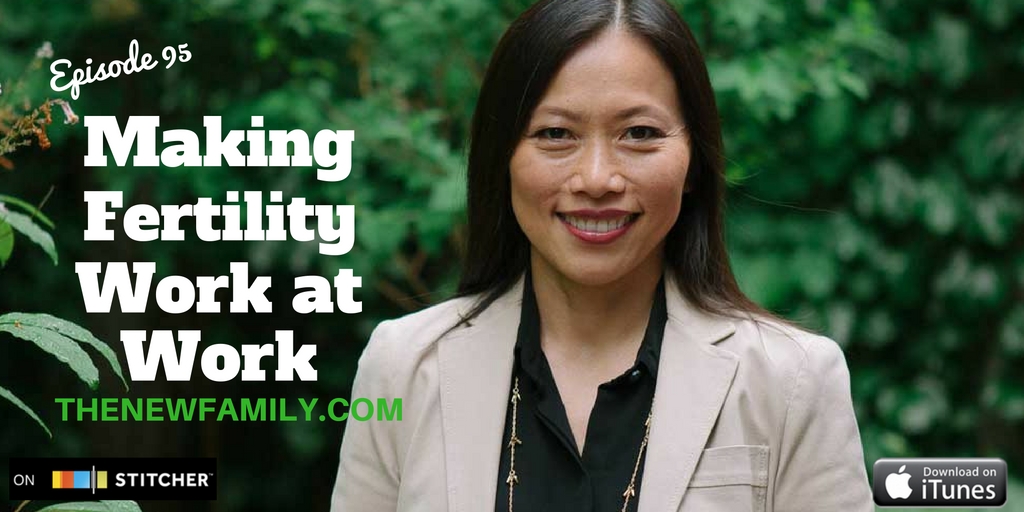 I have long marvelled about how anyone who has a job can manage to get through an IVF cycle. My guest for this episode is Mary Wong, a traditional Chinese medical practitioner and author of a new book called Pathways to Pregnancy: Personal Stories and Practical Advice for Your Fertility Journey. Over the past 20 years, she's helped thousands of couples conceive by bringing together Eastern and Western Medicine, and she's been an advisor to the Canadian government on infertility and adoption. Mary and I talk about how people who are experiencing infertility can better manage the incredible juggle of fertility treatments with responsibilities at work and how workplaces can shift to adapt to be more supportive. Read more…
---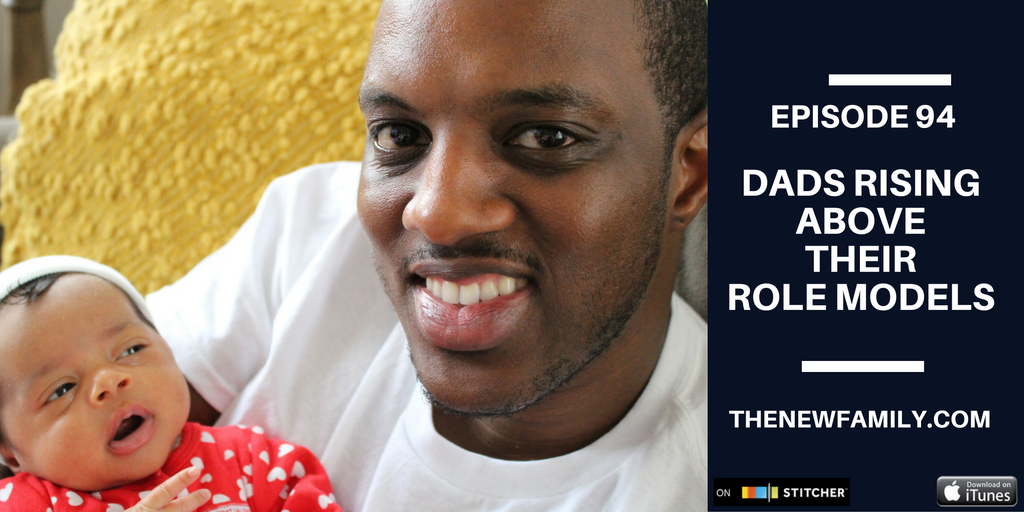 New dad and fellow podcaster Jama'l Chukueke joins us on the show for this episode. When he became a father in early 2015, Jama'l embarked on a journey to learn as much as he could about being a good father, seeking the advice of dads he knew and admired. Realizing that other dads were likely in search of this same wisdom, Jama'l decided to create an ongoing dialogue through his podcast and website, Diversity Dad. Today he's determined to be a beacon of light for dads in the African American and Latino communities to overcome the negative way they're portrayed in the media while accepting some responsibility for this reputation and rising to the occasion as dads. This often involves striving to do better than their own fathers, who may not have been consistently present during their upbringing. Read more…
---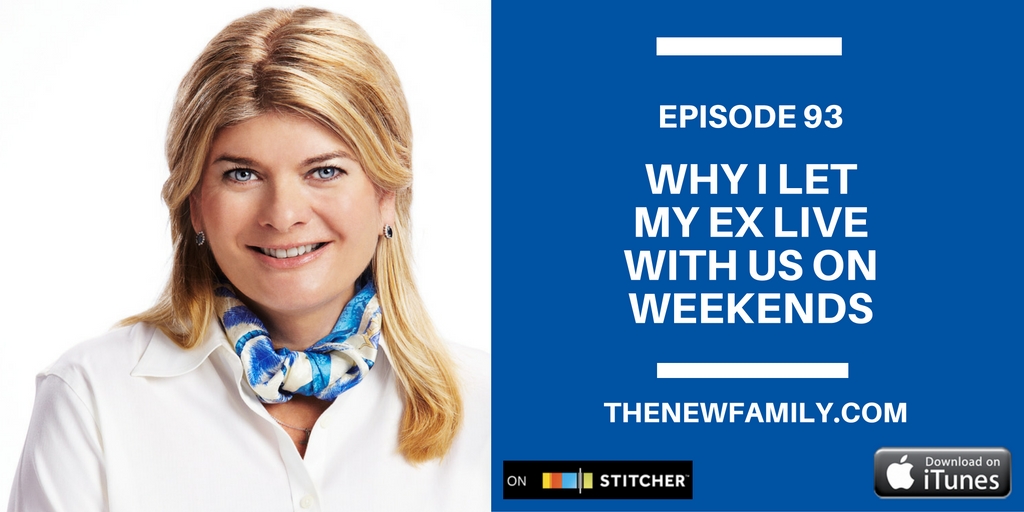 On this episode we're joined by journalist and mom of two Jaimie Seaton. She recently wrote a story about her family for the Washington Post's On Parenting section and it went crazy viral. The piece was titled, Daddy's home: Why I let my ex live with us on weekends. Jaimie speaks candidly about the shocking way her marriage ended and the rocky emotional terrain she's had to navigate since. She shares how she's been able to manage the pain, confusion and rage she felt when her world was turned upside down in order to co-parent so remarkably that her ex is able to stay with her and their teenage children on weekends. Read more…
---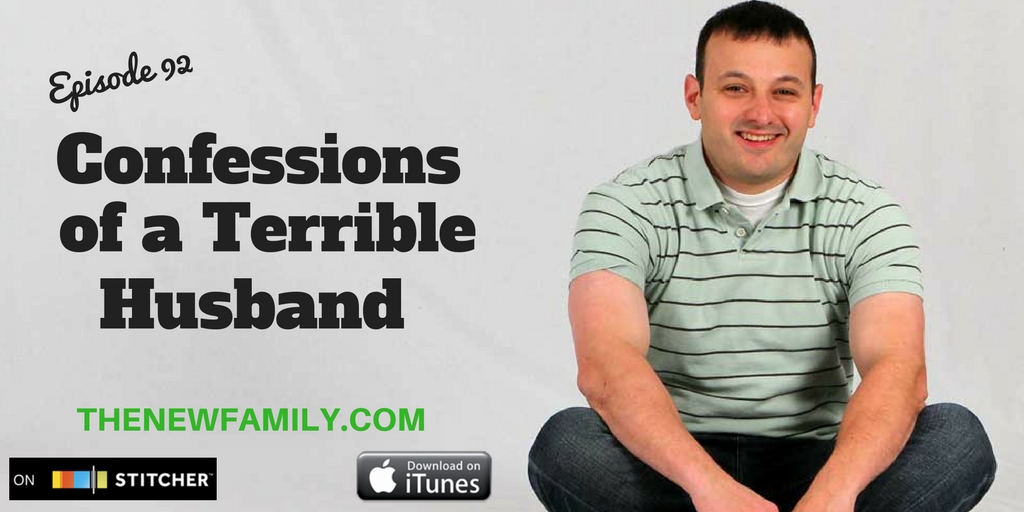 My guest on this episode insists that he's a terrible husband. I think he's probably not really a terrible husband and that, at worst, he's a reformed mediocre husband. Nevertheless, Nick Pavlidis has written a book called Confessions of a Terrible Husband: Lessons Learned from a Lumpy Couch. In it he details how he went from being an overworked lawyer with a family, to identifying himself first and foremost as a husband and father who is also happens to be a successful lawyer and businessman. Today Nick is also the host of two podcasts, Confessions of a Terrible Husband and Five Minutes with Dad. And he's become a ghostwriter and coach who helps high achievers build businesses while maintaining strong boundaries around family. Nick gets real on the changes that needed to happen in his marriage and how he turned things around. Read more…
---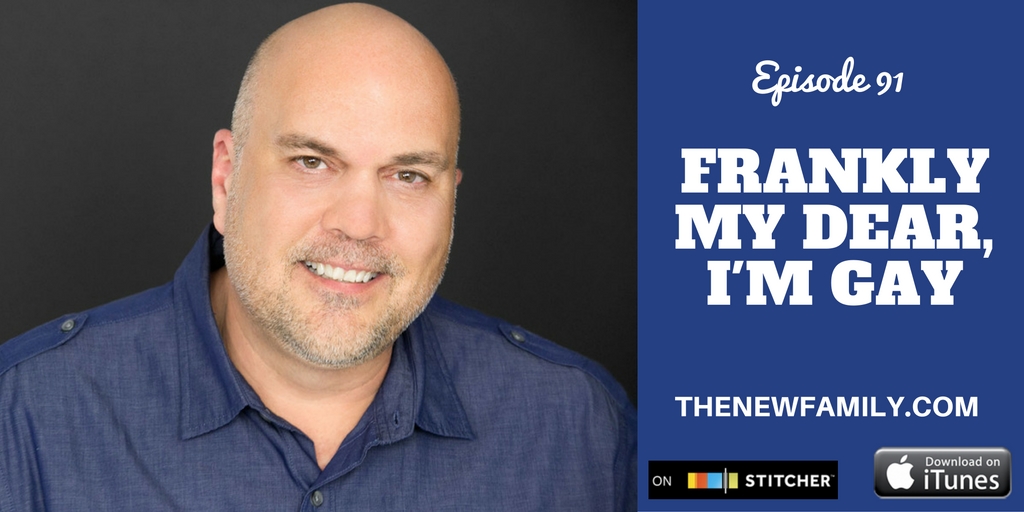 On this episode we're joined by Rick Clemons, author of a new book called Frankly My Dear, I'm Gay: A Late-Bloomer's Guide to Coming Out. Rick shares his own experience of coming out later in life at age 38 when he'd long been married to the mother of his two children. In addition to the book, Rick also provides resources on coming out through his great podcast The Coming Out Lounge, as well as through his coaching services. Rick is very candid about his journey to coming out and on the difficult process of sharing this news with his spouse at the time. Read more…
---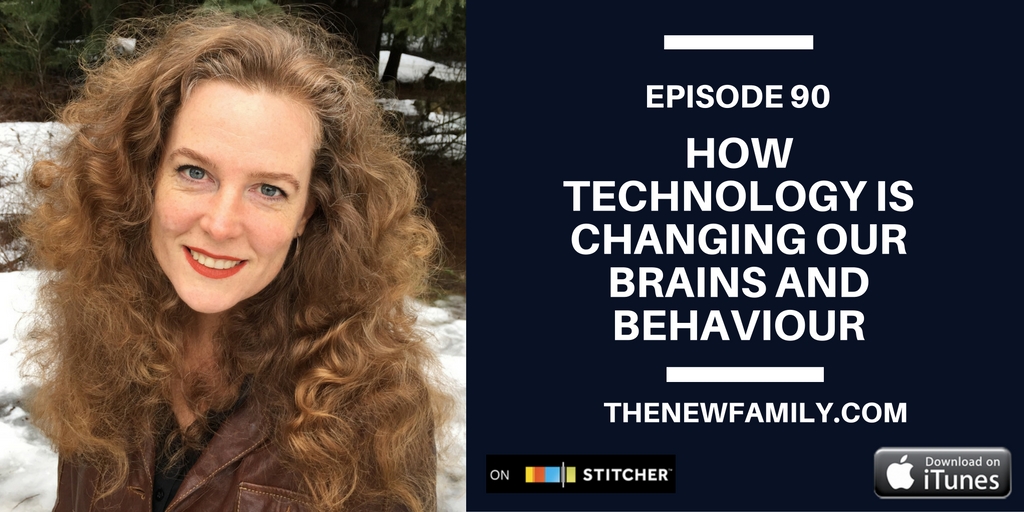 When the kids are off from school over the summer, and you're trying to keep the kids entertained at home or on long car rides, chances are good they're going to be on their favourite devices a little more than usual. And frankly, whatever time if year you're listening, this can be an issue. Our kids' iPods, computers and gaming systems are all pretty alluring—as our smart phones are for us. My guest on this episode is Dr. Mari Swingle, a neurotherapist, behavioral specialist and author of a new book called iMinds: How Cell Phones, Computers, Gaming and Social Media are Changing Our Brains, Our Behaviour and the Evolution of our Species. But don't worry. This isn't another guilt-inducing report suggesting that technology will bring about the death of our social skills and attentions spans. Dr. Swingle is here to talk to us not just about the dangers of constant connectivity, but about the positive steps we can take to embrace new technology while protecting our well-being and steering our future in a more human direction. Read more…
---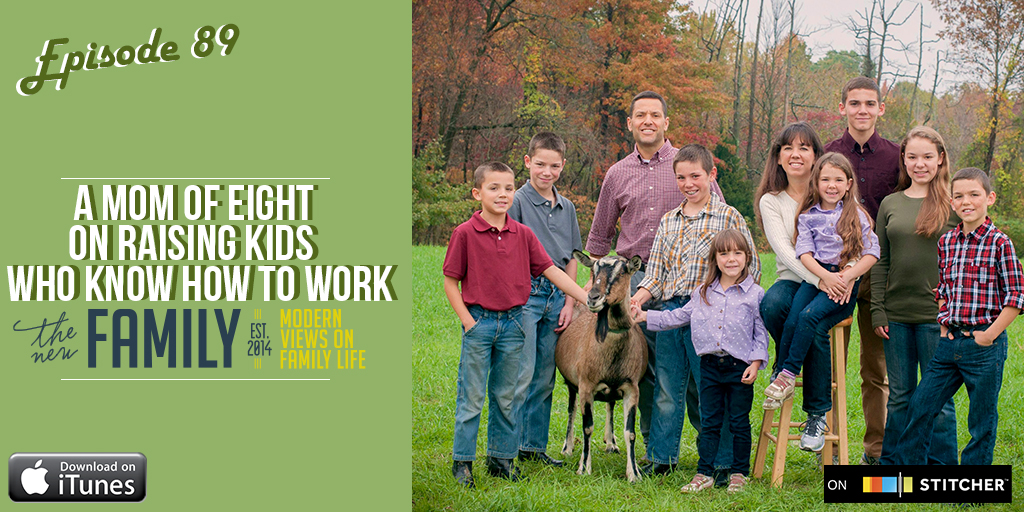 On this episode of the show I get to talk to a mother of eight! I find big families fascinating, not just because they buck the current trend toward smaller families, but because there's just so much we can to learn from them about parenting and about running a household. PJ Jonas and her family are a perfect example of this. They live on a farm, and in fact they run an incredibly successful family business called Goat Milk Stuff where they sell soaps and other goat milk products. The whole family is involved in helping to run the business, which has been featured on The Today Show and in O Magazine among others. PJ is here to talk to us about how her busy households operates and about raising kids who know how to work. Read more…
---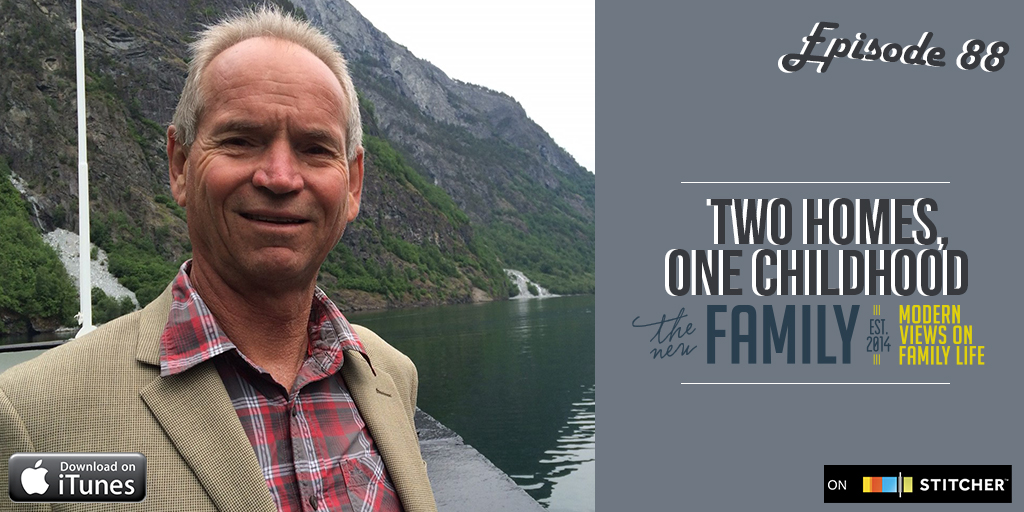 Researcher, therapist, and mediator Dr. Robert Emery is my guest on the show today. Dr. Emery is an internationally recognized expert on family relationships and children's mental health, including parental conflict, child custody and divorce. His latest book is called Two Homes, One Childhood: A Parenting Plan to Last a Lifetime. In it he outlines a new way to share custody after a relationship ends.
As many of you know, this topic couldn't be nearer and dearer to my heart. I have my own unique approach to co-parenting—I live next door to the father of my kids and his new wife and our kids go back and forth between our two homes in a very fluid way. Dr. Emery has himself been divorced and has been in this field of study for 35 years. He offers wonderful but realistic advice about co-parenting well, based on a Hierarchy of Children's Needs in Divorce, his own take on the famous Maslow's Hierarchy of Human Needs. Read more…
---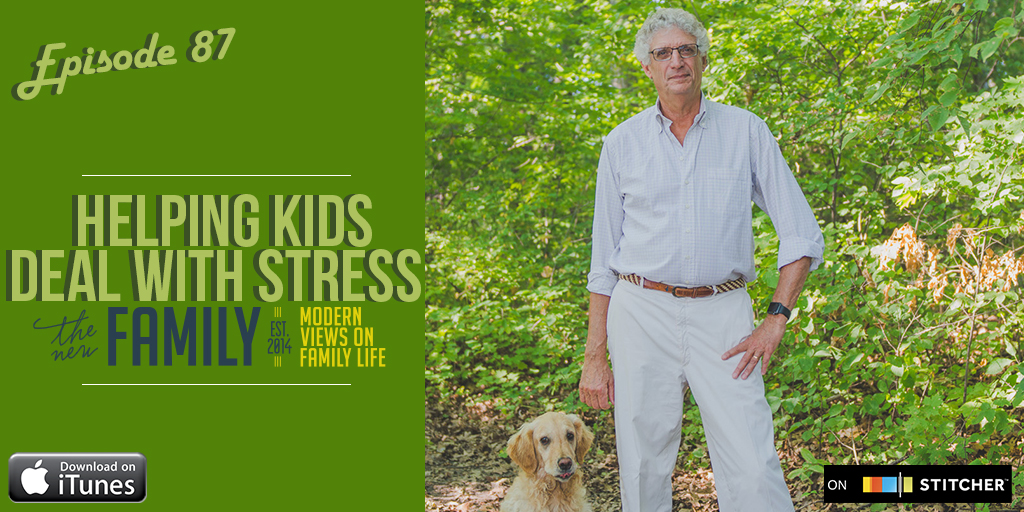 We're delighted to welcome Dr. Stuart Shanker to the show today. A world-renowned psychologist, Dr. Shanker is a professor at York University and an expert in child development. His new book Self-Reg: How to Help Your Child (and You) Break The Stress Cycle and Successfully Engage with Life came out recently. His previous book, Calm, Alert and Learning, written for teachers, is one of the top-selling Canadian education books of all time. But in this book he turns his attention to parents with an aim to helping us learn how to recognize when our kids are under stress and teach them to deal with it effectively. The key? Encouraging our children to develop the ability to self-regulate. Yes, self-regulation has become a bit of a buzzword in recent years. Today we get to the heart of what it really means. Read more…
---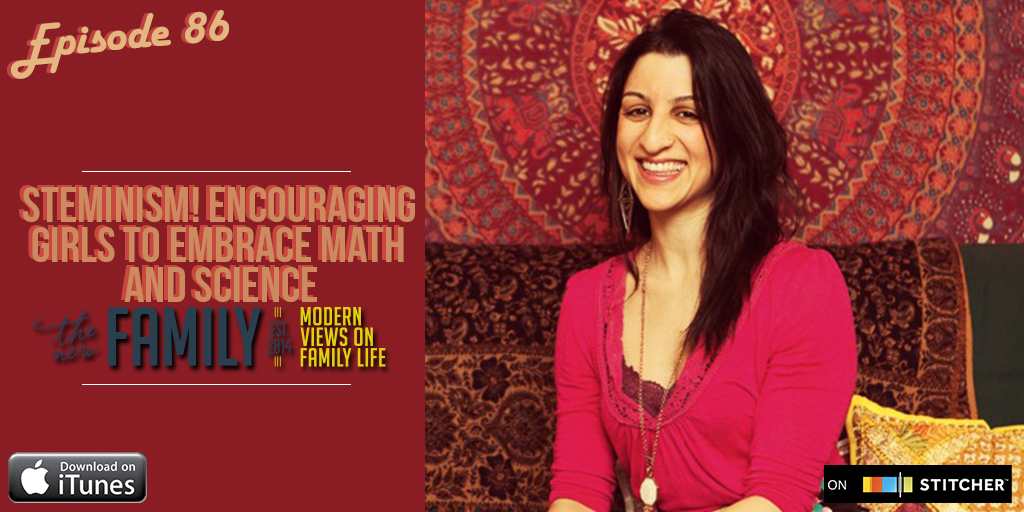 Our guest on the show today is Vanessa Vakharia, founder and Chief Inspiration Officer of a unique tutoring facility in Toronto called The Math Guru. She's a teacher with a Bachelor of Commerce, a degree in Graphic Design and a Masters in Mathematics Education. Interestingly, though, there was a time when Vanessa believed she was just not "a math person." In fact, her masters thesis was titled, Peace, Love and Pi: Imagining a World where Paris Hilton Loves Mathematics. Vanessa specializes in teen engagement in STEM (that's science, technology, engineering and mathematics), with a specific focus on encouraging young women to embrace STEM as a part of their identities. Now, in general, girls are doing better in the education system than ever. Young women are out-graduating men from university, for instance, and we're going to tackle that issue on an upcoming episode. However, we know that women are still woefully under-represented in STEM careers, which is particularly outrageous given how many of them attend university. Vanessa shares her insights into how to encourage girls to pursue these subjects, while also offering concrete advice on how parents can fight the impression that math is a dreaded subject for either boys or girls. Read more…
---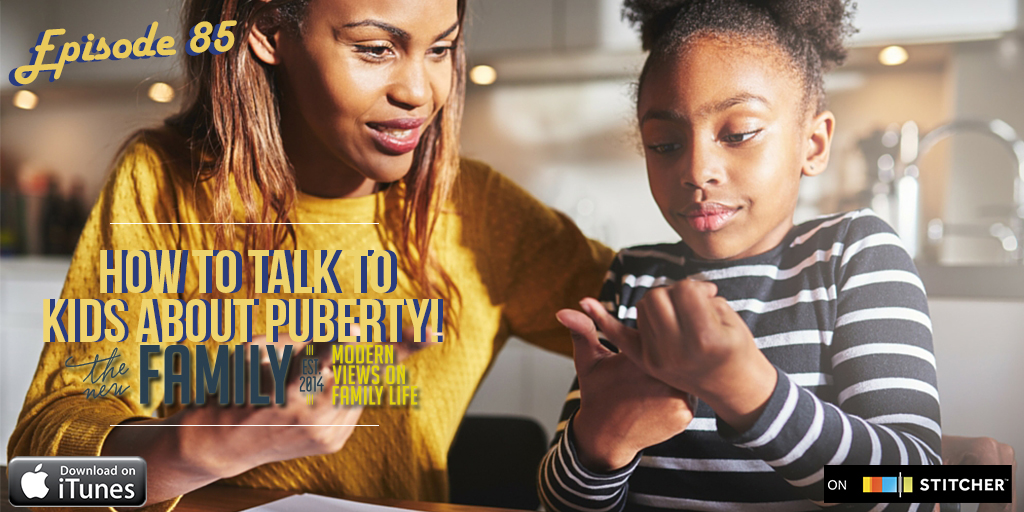 We're thrilled to have child sexuality expert Amy Lang back on the show for this episode. Amy helps parents talk to their kids about sex, love and relationships. She has a great website called "The Birds and Bees and Kids." The last time Amy was on to chat to us about how to answer that age-old question, "Where babies come from?", the episode kinda went viral. It was shared a tonne of times on Facebook and had 10 times the normal downloads. And that's because Amy just has a great, light-hearted approach to these topics that can make parents a little squirmy. So today she's back today to help us figure out how to talk to our kids about puberty. Everything you might be find awkward or embarrassing about this—we tackle it here. Read more…
---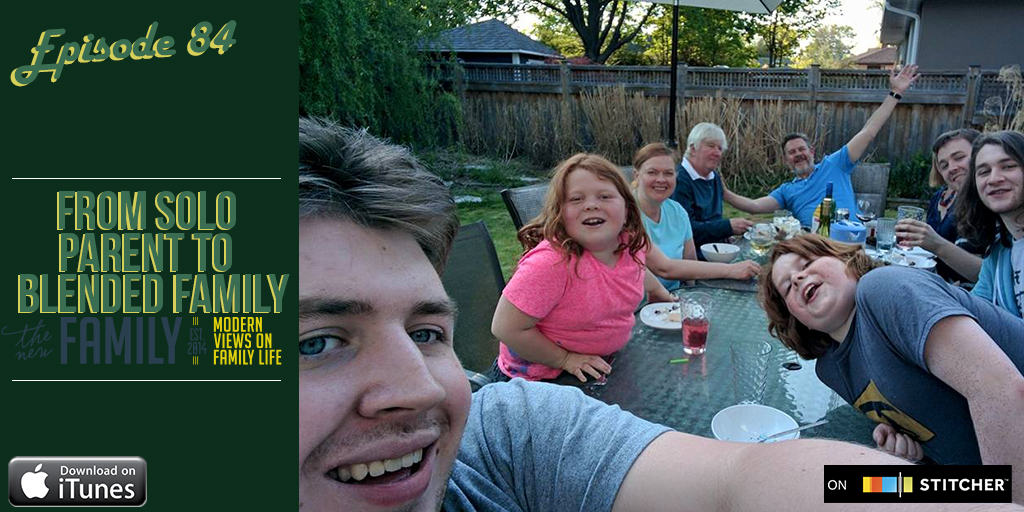 Our guest on this episode, writer and mom Amanda Lee, shares about the struggles she had emotionally after her marriage ended. Like many people who find themselves separated or divorced, she faced a lot of shame and guilt around her new status as a single parent. Our society really reveres marriage and it can be quite isolating when all your friends are married couples. This was even doubly so for Amanda who lives half a world away from her family back in Australia. But after proving to herself just how strong she is, Amanda met her partner Andrew and now has a newly blended family. She also shares her advice on blending a family in a sensitive way that takes care of everyone's needs. Read more…
---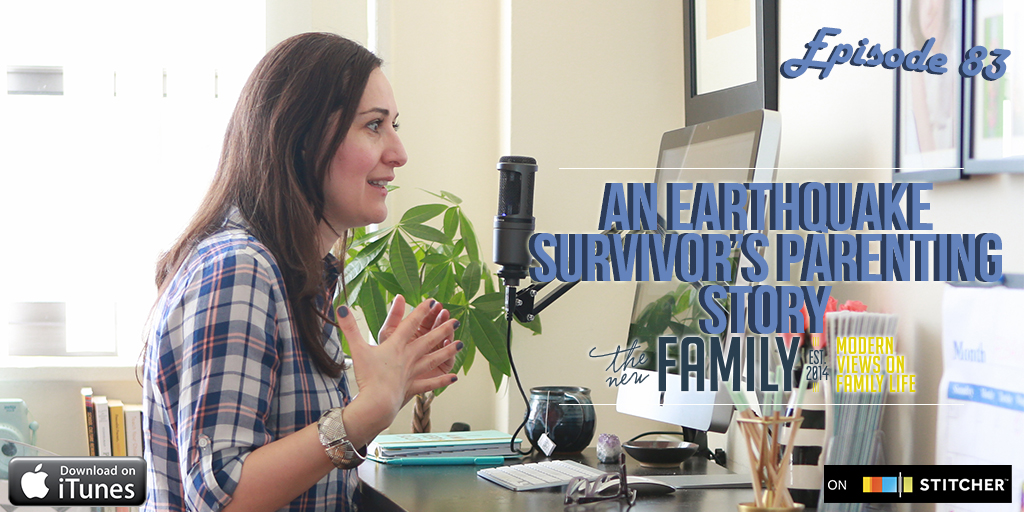 In this very moving episode, parenting educator Anna Sewald of AuthenticParentting.com shares a story she's never told before. You see, when she was just 13 years old, Anna survived a devastating earthquake that killed many in her family. This traumatic early life event led her to become a therapist and later a parent educator. Today she helps parents build strong relationships with their kids, in part by working through formative experiences from their pasts. You'll need a hankie to get through Anna's story about how she connected the dots between one of her frustrations as a parent and something that happened in the aftermath of the quake. We learn that there's incredible value in examining the things that trigger us with our children—that push our buttons, that make us lose our patience—because they just might point to important events from our past that we need to work through. Doing so will help us have the strong relationships with our children that we need to weather the storms. Read more…
---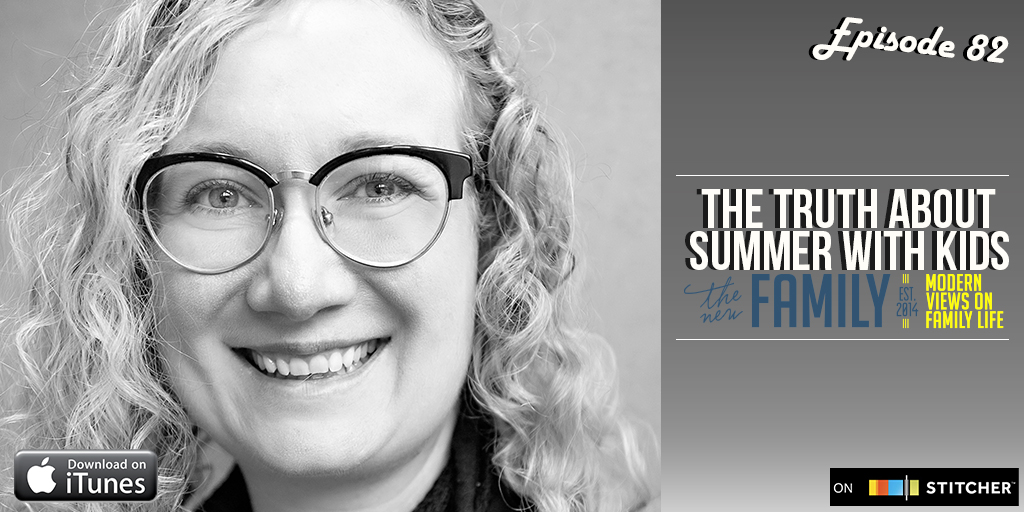 In this episode, my friend Rebecca Cuneo Keenan and I dish about what summer is really like when you have kids. Rebecca is the woman behind one of my favourite blogs, Playground Confidential, a smart, funny take on modern parenting, and she also writes for publications like The Globe and Mail, Today's Parent and Savvy Mom. We chat about that disconnect between what our souls want in summer time—slower days, time in the sun—and what we really get: patchwork childcare and the stink eye when you duck out of work the 3 p.m. for summer camp pick-up. Yes, it's fun at first to get a break from nagging your kids about homework, but we don't have nearly enough time off to cope with the long summer breaks our kids get, which date back to a time when every household had a stay-at-home mom. When we get done complaining, we offer some thoughts on how to manage in the summer so you can all enjoy yourselves. Read more…
---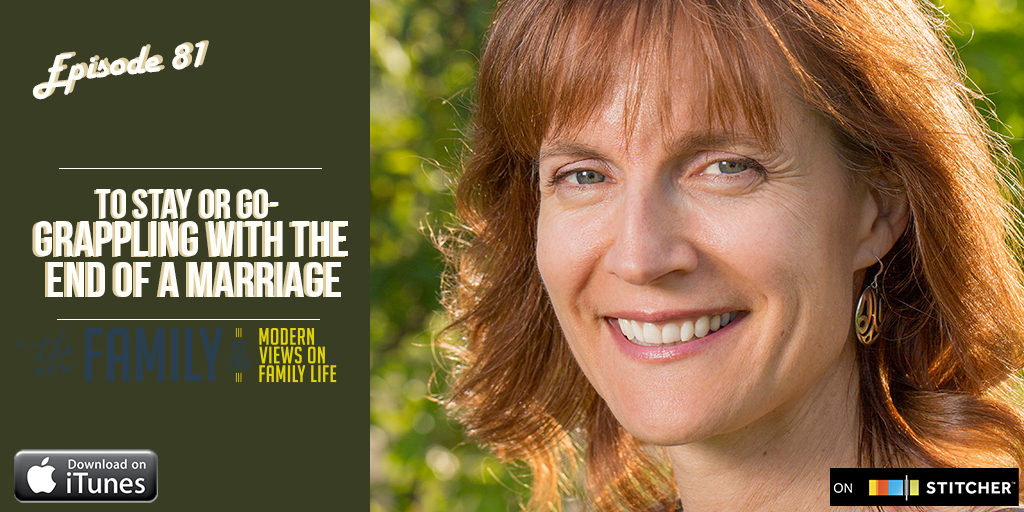 Very few among us enter a marriage expecting that it might end. My guest on this episode was no different. Jacqueline Green is the host of The Great Parenting Show and she's been a parent educator and coach for 15 years. She's known for her candor about some of the tough stuff life throws us. To that end she's the author of the forthcoming book Strong Enough to Stay; Smart Enough to Go about her own tumultuous marriage. Jacqueline now helps to coach moms through the process of deciding whether or not they will leave their marriages, as well as those having trouble co-parenting in or out of a relationship. She shares her own journey and offers some tangible advice for people wrestling with whether or not to end their marriages. Read more…
---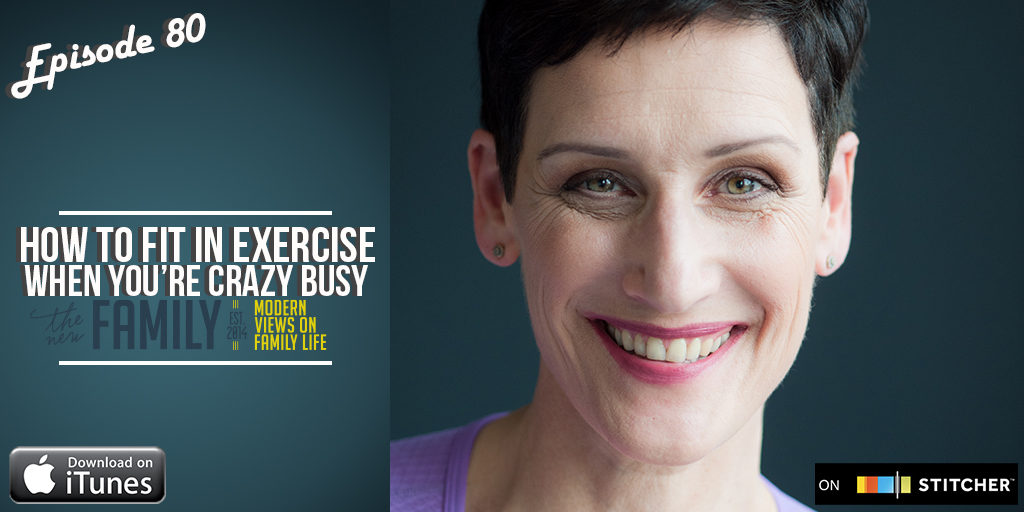 Good news: You can actually stay fit more easily than you might imagine. My guest on today's episode is Barbara Grant, founder and director of a pilates studio called Retrofit Pilates. Barbara is also a movement educator, health and wellness writer, and host of Shape Up with Barbara Grant on Rogers TV. Barbara and her husband Jim became parents in their 40s and are now navigating an active life in downtown Toronto with their 10-year-old son and 8-year-old daughter. She and I talk about the simple ways to work exercise into your everyday routine when family life is just too nutty to get to a fitness class. Plus, we chat about the importance of reclaiming a sense of play in our own exercise, something we tend to lose sight of while we're focussed on getting our kids to all their enriching extra-curricular activities. Here's how to save some of those resources for yourself so the whole family can be active and healthy. Read more…
---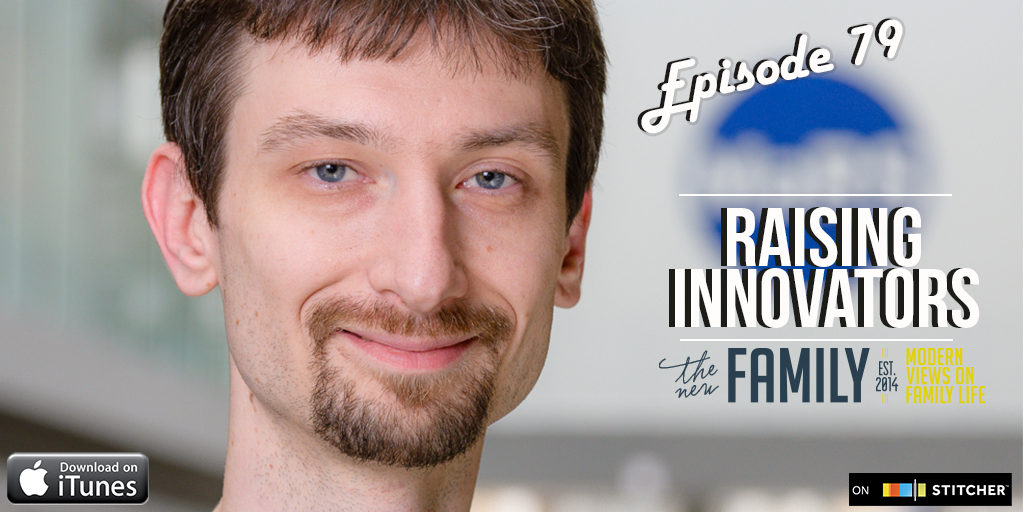 There's a very good argument that what our kids really need to thrive in the future is an entrepreneurial spirit. My guest on the show today is Ryan Burwell, a facilitator & instructional designer at MaRS Discovery District, one of the biggest tech and business incubators in the world. MaRS brings together educators, researchers, social scientists, entrepreneurs and business experts under one roof. One of the cool things it's doing is promoting entrepreneurship among students, with programs in schools, curriculum materials that teachers can us,e and a really cool summer camp called The MaRS Future Leaders Entrepreneurship Summer Camp for Teens. I'm very interested in what it takes to raise innovative kids, because the world of work is changing and hances are good that our children will one day employ themselves. Ryan is here to talk to me about how we can encourage an entrepreneurial spirit in our children. Read more…
---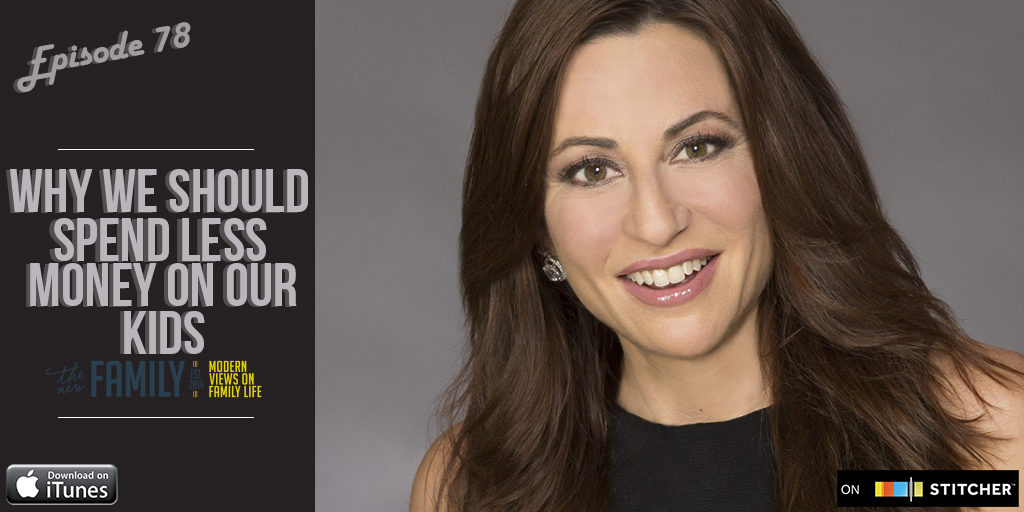 What if you're spending money on all the wrong things? My guest on this episode believes that less is more in almost every area in which parents are bleeding cash. Brett Graff, who goes by the moniker, "The Home Economist," is a former U.S. Government economist and a nationally syndicated columnist whose work appears in over 400 media outlets. She has a new book out called Not Buying It: Stop Overspending and Start Raising Happier, Healthier, More Successful Kids. Her research shows that we're going broke paying for stuff that we think will give our kids a leg up in life or make them safer in some way, but that actually has the opposite effect. She also shares surprising research that shows how neither a bigger house nor a private-school education makes for happier, more successful children. Read more…
---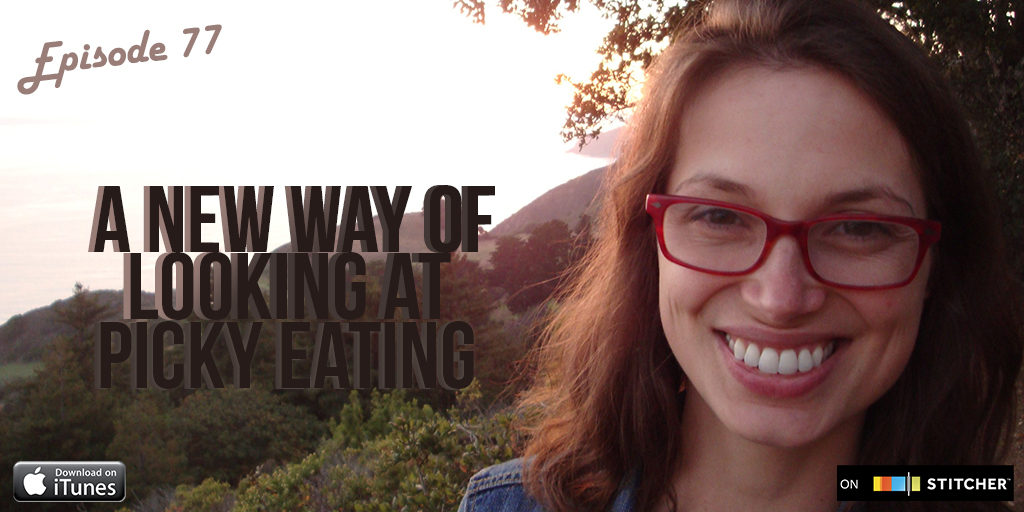 My guest on this episode is Caitlin Daniel, a Harvard PhD candidate in sociology. I had a chance to interview her for my Toronto Star column, Modern Family, recently. This was after Caitlin's paper on the link between picky eating and low-income households was published in the journal Social Science and Medicine. But while she and I were talking about that research, which we touch on briefly here, I learned that Caitlin has a very interesting personal story of food and family and how the two are intertwined. She and I also talk about the vulnerability around allowing unknown foods into our bodies, how parents of picky eaters can benefit from a better understanding of these, and what it really takes to encourage kids to expand their palates. Read more…
---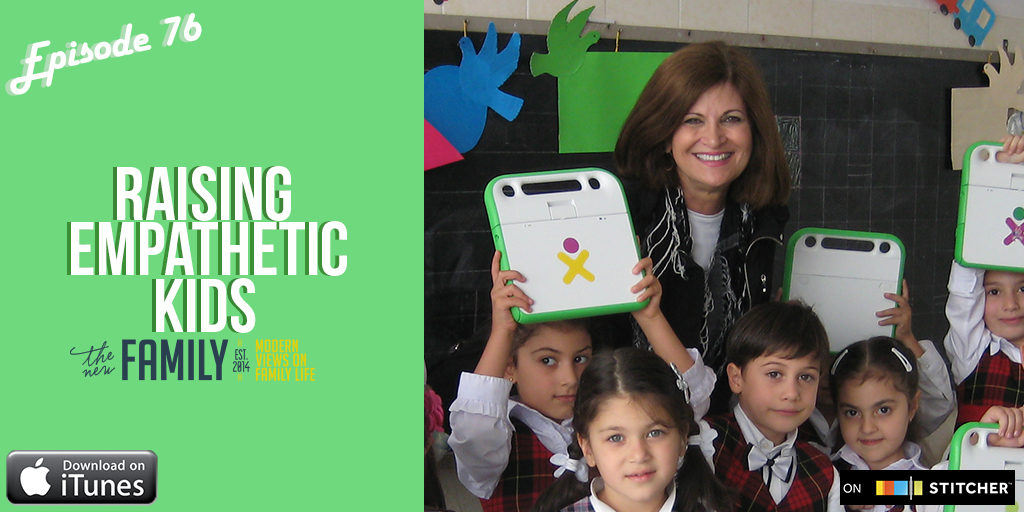 My guest on this episode is Dr. Michelle Borba, an internationally renowned educational psychologist and an expert in parenting, bullying and character development. She is an award-winning author of twenty-two books translated into a whopping fourteen languages. Her latest book, UnSelfie: Why Empathetic Kids Succeed in Our All-About-Me-World, will be out June 7th, 2016. Dr. Borba is considered one of the foremost authorities on childhood development in the U.S. and she's here today to discuss what she calls "an epidemic of self-absorption" in today's kids and what parents can do about it. She also explains new research that shows empathy is not just a "nice-to-have" quality; it plays a surprising role in predicting our kids' happiness and success. Read more…
---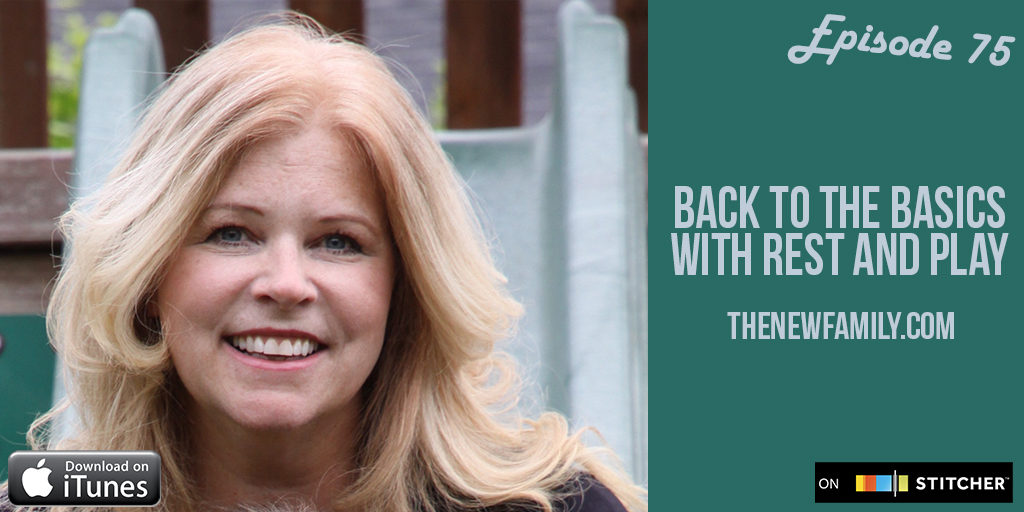 My guest on this episode is family counsellor Dr. Deborah MacNamara. Dr. MacNamara is the author of a new book called Rest, Play, Grow: How To Understand Preschoolers (Or Anyone Who Acts Like One). Based on the research and teachings of Dr. Gordon Neufeld, one of the world's most esteemed child development experts, the book stresses the importance of laying a back-to-basics groundwork on which our kids can get to know themselves and the world. The wisdom here applies not just to preschoolers but to how we raise our children through all their ages and stages. Read more…
---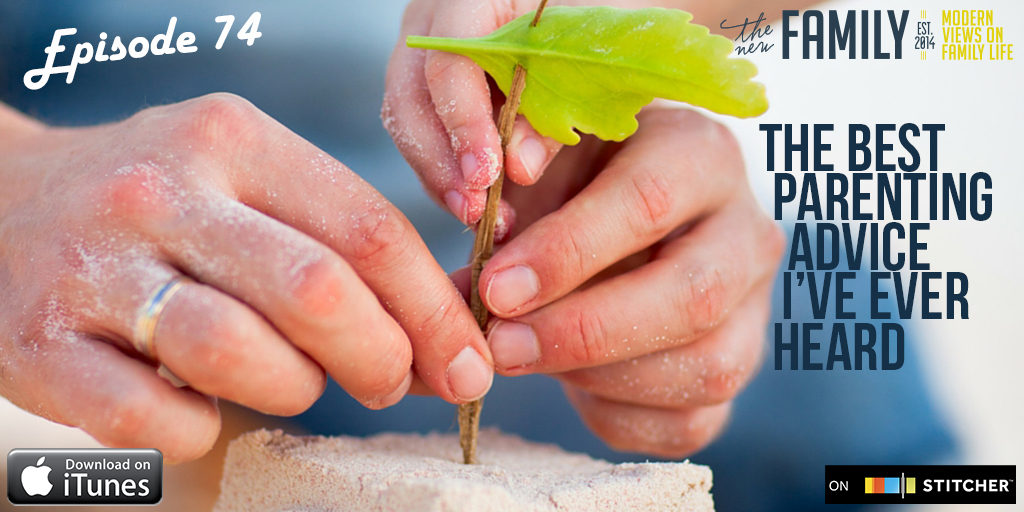 As those of you who listen faithfully know, almost every episode ends with the question, "What is the best piece of parenting advice you've ever received?" It's been really wonderful to get to hear what people have to say about that over the course of 74 episodes now. Well, today I thought I'd tell you about the best piece of parenting advice that I've ever received. I've been a journalist in the field of parenting for 16 years and have had the privilege of interviewing hundreds of experts and a lot of the latest literature. Tune in to this short solo episode to hear about the advice that has impacted my parenting experience the most. Read more…
---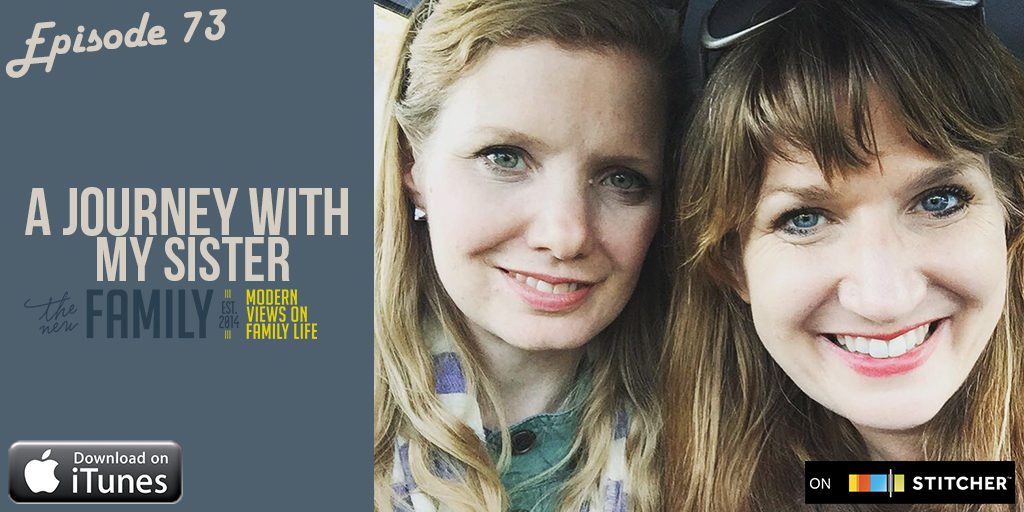 I'm doing something a little different and more personal for today's show—my first solo episode in a while. You see, by the time this episode goes live, I'll be on a highly-anticipated vacation with my sister, Erika. This trip is a celebration of Erika's accomplishments and the incredible distance she has come in learning to thrive with mental illness. Today I share a little of the 11-year period she was in and out of the hospital, what that was like for her family, and how she's turned her life, using her own difficult experiences to help others. Read more…
---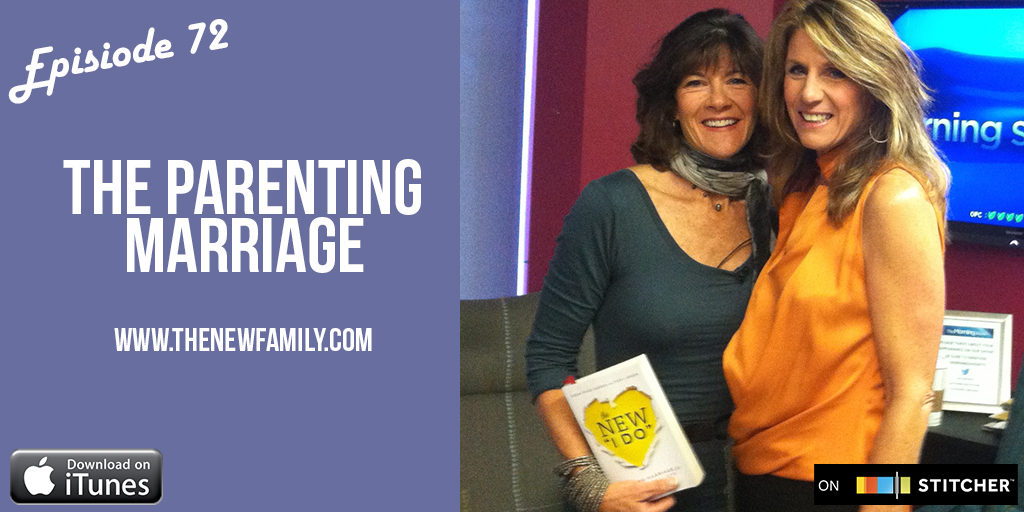 Should you consider a "parenting marriage?" Or are you perhaps already in one? In this episode I welcome guests Vicki Larson and Susan Pease Gadoua back to the show. Vicki and Susan are co-authors of a very interesting book called The New "I Do:" Reshaping Marriage for Skeptics, Realists and Rebels. They were on the podcast WAY back on episode 12, "Are We Doing Marriage Wrong?" which remains one of our most popular yet. The New "I Do" explores the modern shape of matrimony. And while they were researching the reasons why about half of marriages don't last, Susan and Vicki discovered that people are quietly tweaking the institution, redefining it to suit both their needs and the times. One of those is the parenting marriage. Sometimes this takes the form of people seeking each other out for the soul purpose of having a platonic co-parenting relationship and sometimes it's about changing the job description from your mate being your lover to being just your co-parent. Whether you want a parenting marriage or not, they say, it's important to have a dialogue about what we do and don't expect from a marriage—"conscious coupling" as opposed to trying to fit ourselves within a one-size-fits-all definition of marriage. Read more…
---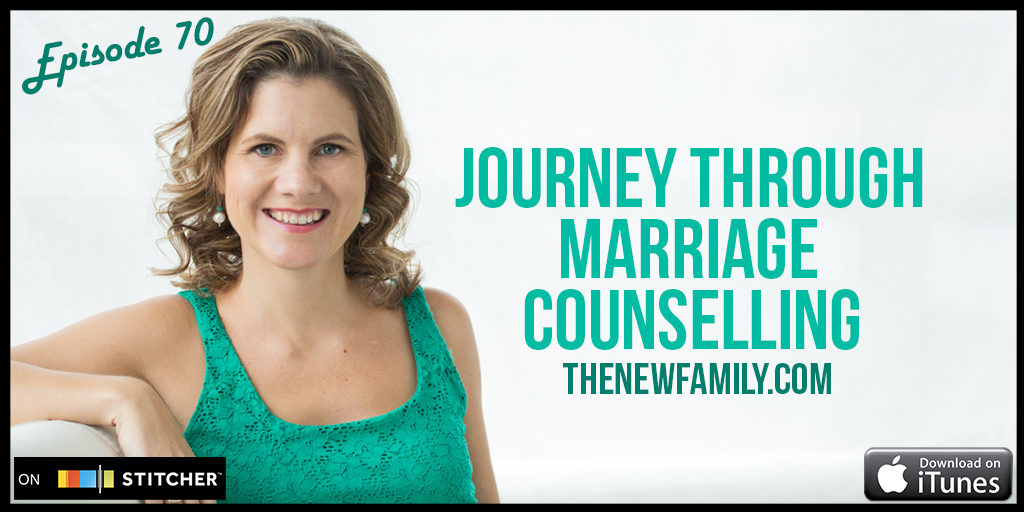 Our society really reveres marriage. We equate being married with having yourself settled in life and in many ways with being a successful person. Yet, we don't have that much dialogue about what it takes to keep a marriage strong. Then we're a bit shocked when a couple in our friend group separates. As a result, we're often talking about what goes wrong in a marriage when it's already too late. My guest on this episode is small business, mindfulness and productivity leader Leigh Mitchell. Whether she's advocating for families to get outside and be active together, or mentoring other entrepreneurs, Leigh is all about encouraging her community to thrive. An important aspect of that is thriving in our relationships, particularly the ones we have with our spouses. That's why Leigh has come on the show to share her own experience with marriage counseling and how it's helped her and her husband to weather some of life's storms and stay happily married. Read more…
---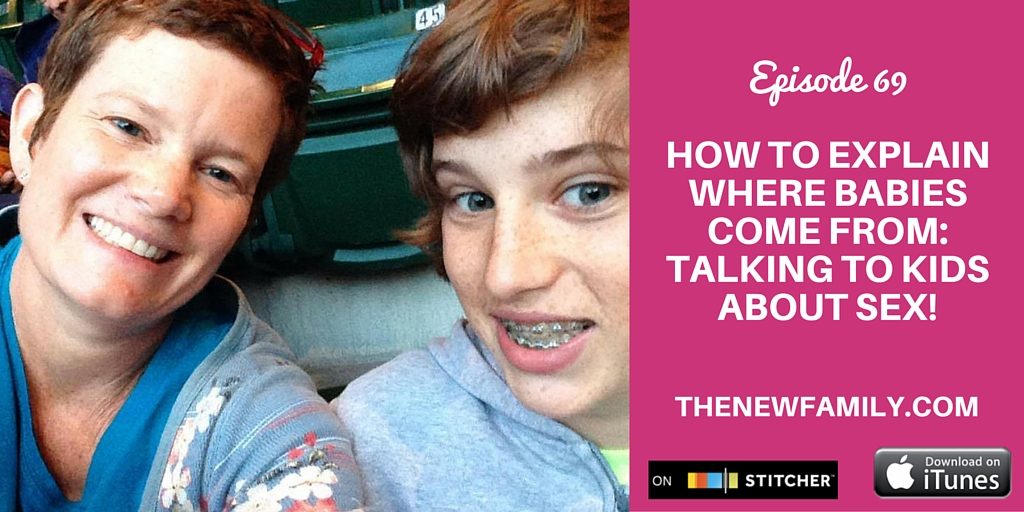 My guest on today's show is childhood sexuality expert Amy Lang, who helps parents talk to their kids about sex, love and relationships. Yes, episode 69 features a sexuality expert, something I only realized moments before recording this episode. Amy has a great website called "The Birds and Bees and Kids" and she's here to chat with us about how to answer that age old question, "Where do babies come from?" She provides us with great language we can use to explain how babies are made as well as how to adapt these conversations for the many ways families are formed today. Amy explains that talking to our kids about sex can actually begin when they're newborns (tune in for her very sane explanation of how) and then walks us through how to expand upon our initial sex talks with kids in age-appropriate ways as they get older. She and I also dive into what parents need to know about the changing landscape of sexuality for teens. Read more…
---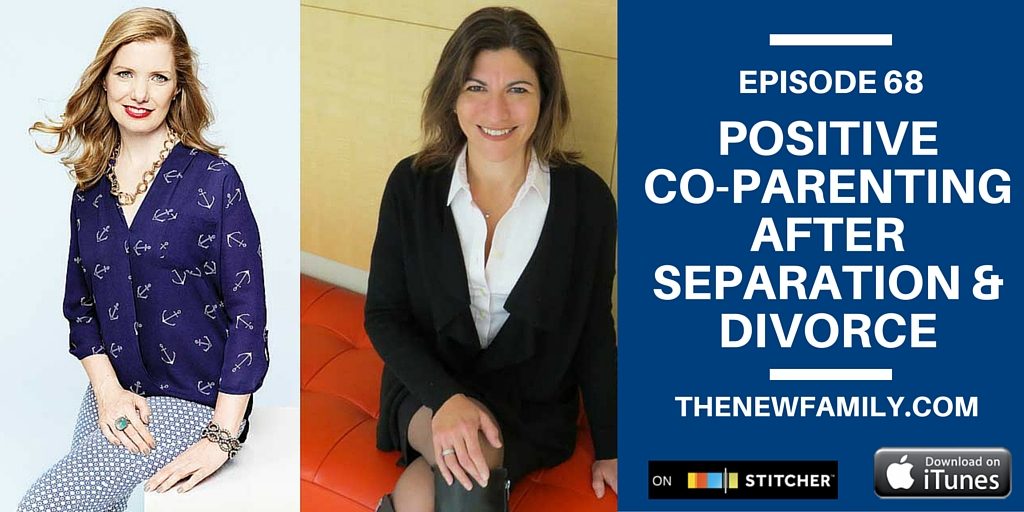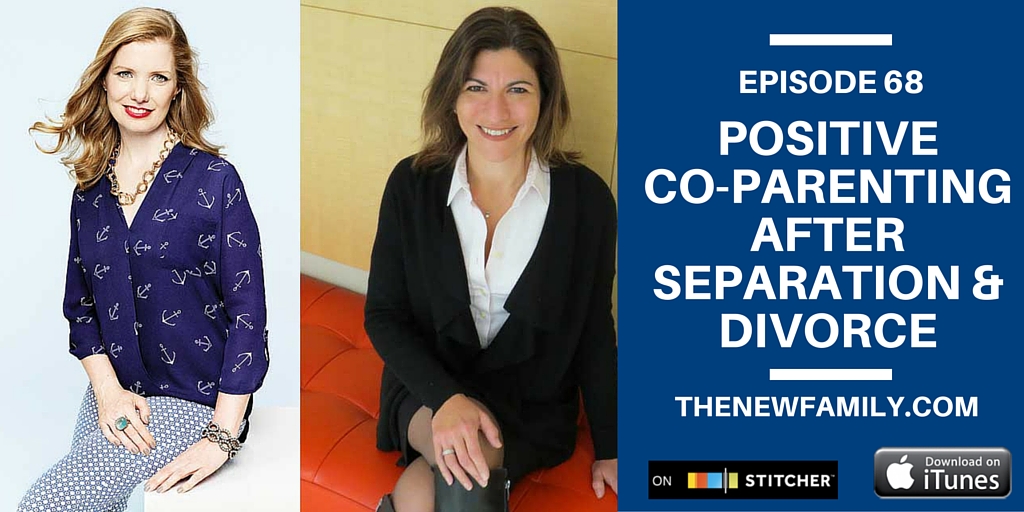 For this episode I'm joined by family lawyer-turned-mediator Rosanna Breitman, who was on the show to talk about why marriages end back on episode 26, which is our most popular episode so far. I really wanted to have Rosanna back on the show to share more of her insights, this time on how people can co-parent well together after a romantic relationship ends. And in fact, we're going to be diving even further into this topic in our very first webinar coming up on Tuesday, May 17th, 2016. at 8 p.m. Eastern, 5 p.m. Pacific. If you or someone you know is co-parenting, whether you're just recently separated or even if it's years later, please find the link to the registration for that at thenewfamily.com/coparent. Read more…
---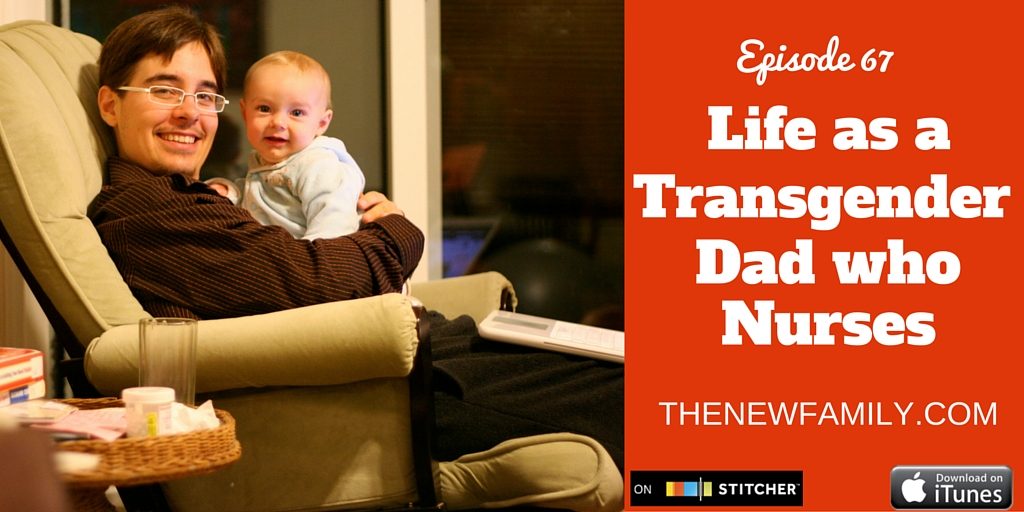 My guest on today's episode is Trevor MacDonald, who shares his incredible personal story of being a transgender dad who has nursed two children. His book Where's the Mother? Stories from a Transgender Dad is coming out May 24, 2016. Trevor's here to talk about his coming out experience as well as the realities of transgender parenting. He also shares what it takes to chest feed after having chest contouring surgery, and the work he's done since becoming a parent to pave the way for other transgender and gender non-conforming people who experience pregnancy, birth and infant feeding. Read more…
---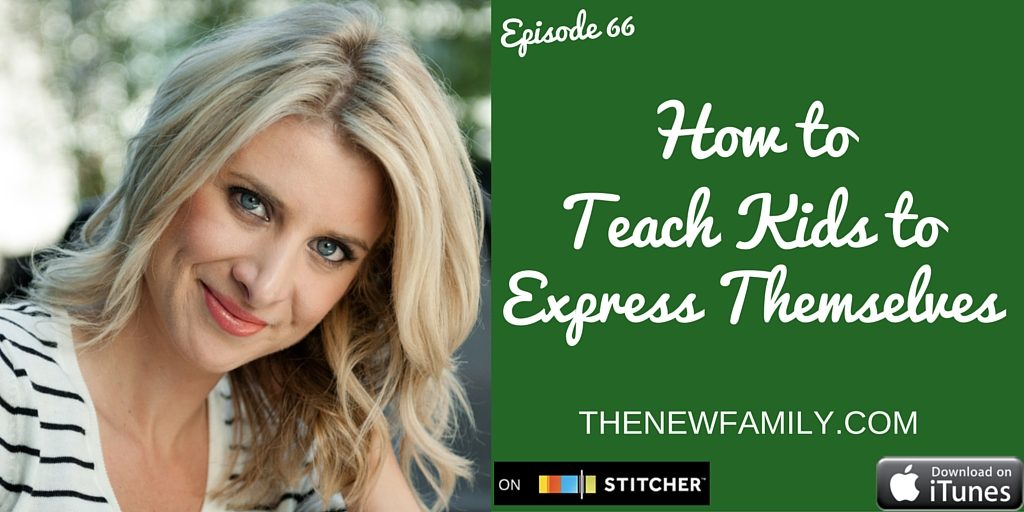 My guest on this episode is psychotherapist and author Emily Roberts. Her book Express Yourself: A Teen Girl's Guide to Speaking Up and Being Who You Are gives teenagers the tools they need to communicate their feelings in assertive and healthy ways. She's here to talk to us about how parents can help their kids learn to do the same, whether they're in the teen years or much younger. Read more…
---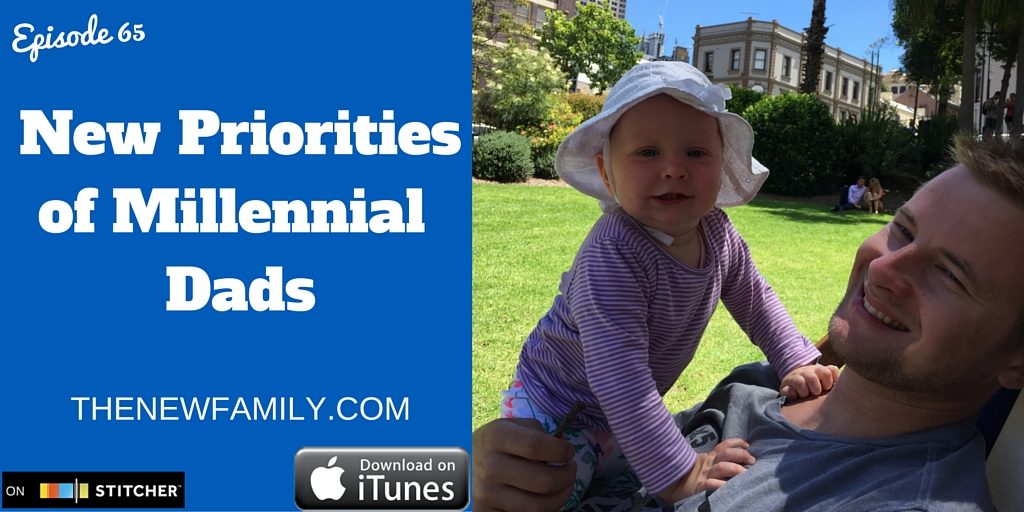 In this episode I talk to Tanel Jappinen—also known as T.J.—of the blog and podcast Brand New Father. He has an interesting personal story to tell of travelling around the world with his wife and baby in tow. But he's also here to speak to us about the values of millennial dads. He and I chat about how his generation of dads is defining fatherhood in their own way, and how that compares to how their fathers raised them. We also talk about how millennial dads who wish to take parental leave or even work reasonable hours must wrestle with the expectations put on them by others who may still hold traditional ideas of men as breadwinners, not caregivers. Read more…
---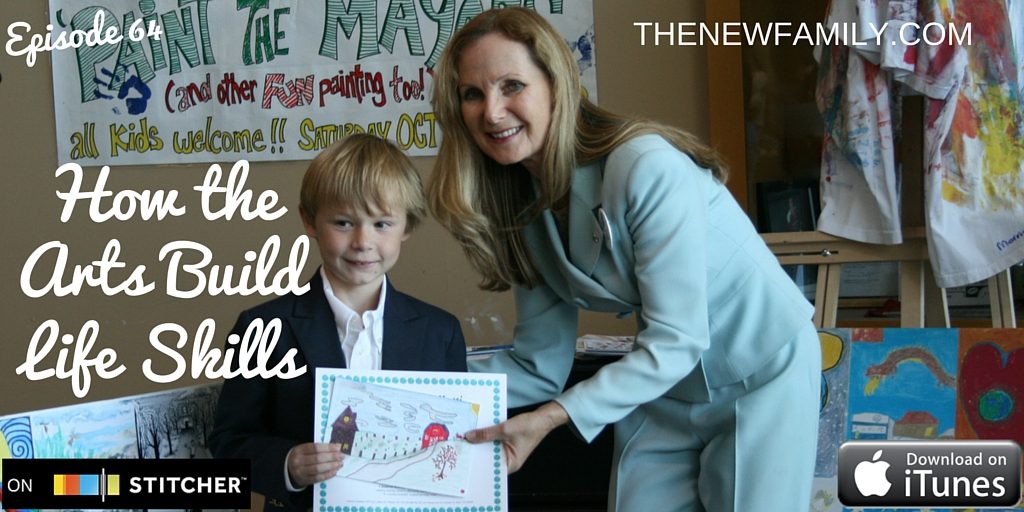 My guest on this episode of the show has made a massive contribution to the lives of 1,000s of children. Marilyn Field is the founder of non-profit called DAREarts. It provides Canadian at-risk children and youth ages 9 through 19 with an intensive out-of-school arts immersion programs aimed building their confidence, courage and leadership through music, drama, dance, visual arts, architecture, fashion and literature. Through her background as a teacher, Marilyn saw that the arts gave kids the tools to build life skills and to realize their potential as leaders. Today her organization has helped more than 170,000 children. She joins me to talk about what parents should know about the link between the arts and life skills, and a little bit about her life as the other mother to 1,000 of children. Read more…
---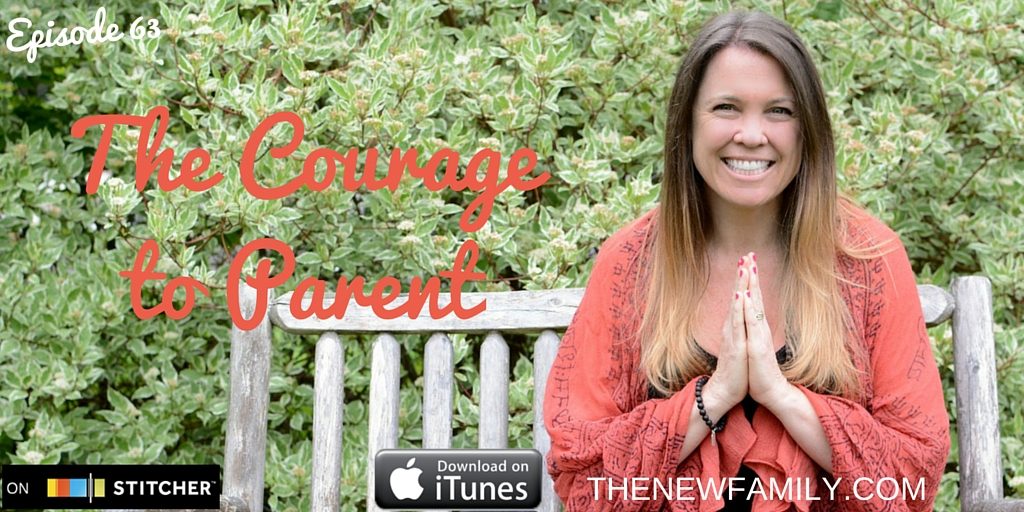 There's nothing quite like parenting for confronting us with our own vulnerabilities, weaknesses and patterns from the past. We love our children like crazy, yet they can try our patience like no one and nothing else. Yet there's this pressure to act like everything is magical and wonderful. My guest on the podcast today is Casey O'Roary, a mom, educator and parenting coach who talks frankly about the fact that parenting just isn't easy every day of the week. Casey was an elementary school teacher in the three-room school house in the Cascade Mountains in Washington State. She has an MA in education and today she teaches parenting workshops and hosts her own fantastic parenting podcast, The Joyful Courage Podcast. Casey talks to us about the personal transformations that can come about as a result of our relationships with our kids and how to navigate some of the tough stuff we encounter along the way. Read more…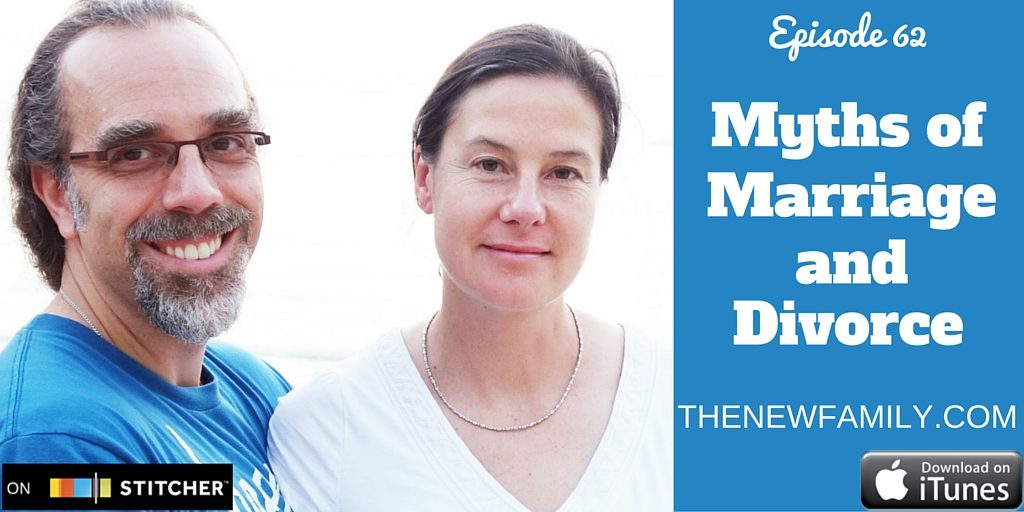 On this episode I'm joined by Drs. Danielle and Astro Teller. Danielle and Astro are co-authors of the book Sacred Cows: The Truth About Marriage and Divorce and they also have a popular Tedx Talk by the same name. Through their own divorces they learned how widely held cultural assumptions and misinformation that nobody thinks to question create unnecessary heartache for people who are already suffering through a terrible time. They call these assumptions "Sacred Cows" and today they're going to explain some of these. They also point out that there's little definitive evidence that divorce is damaging to children long-term. Read more…
---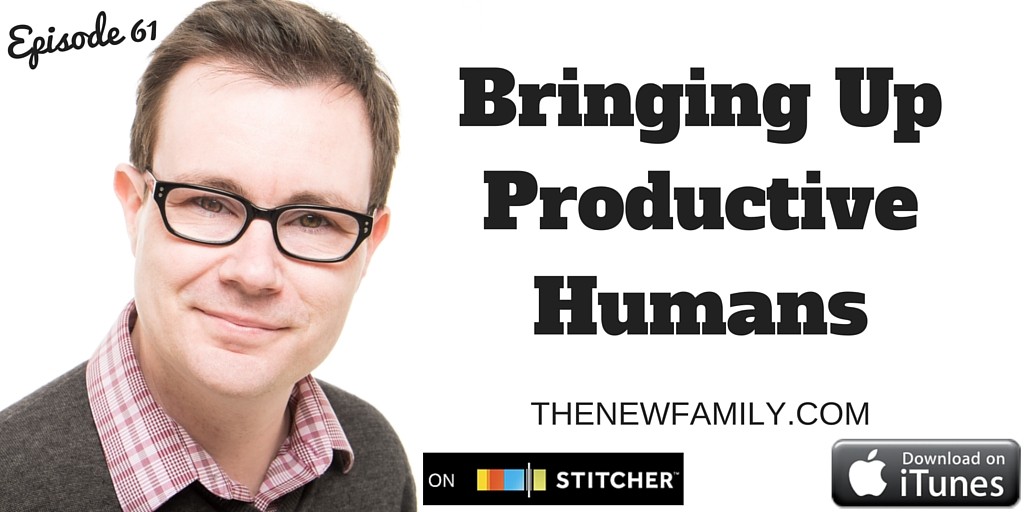 In this episode I speak with productivity and time management expert Mike Vardy. Mike is a writer, speaker, podcaster and founder of Productivityist, a resource that helps people get the right things done. Mike is the author of The Front Nine: How To Start The Year You Want Anytime You Want andThe Productivityist Workbook. He has served as the Managing Editor at Lifehack, and contributed articles on productivity to 99u, Lifehacker, The Next Web, SUCCESS Magazine, and The Huffington Post. Mike is also a father of two and today we're going to talk about whether it's possible to raise productive kids and how to encourage goal setting early in life. Read more…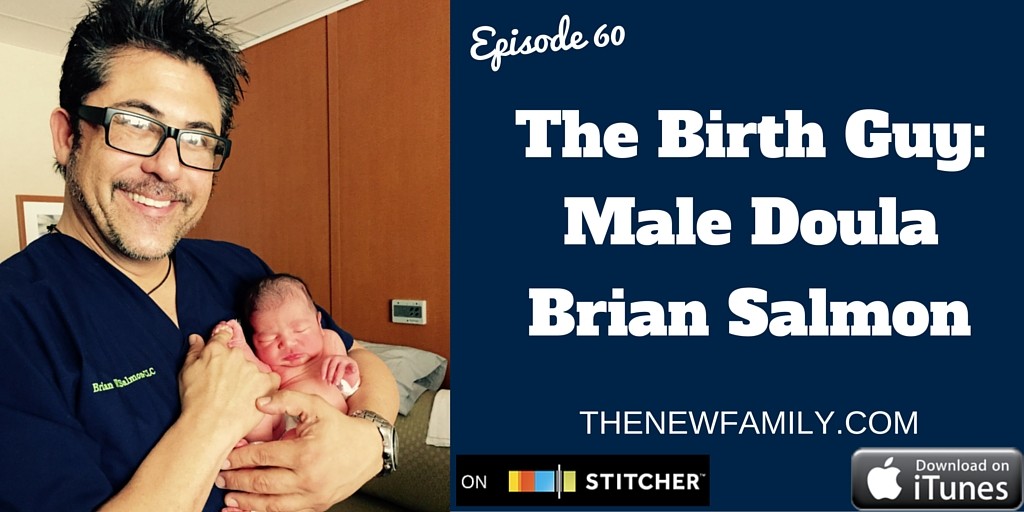 My guest on the podcast today is a male birth doula. Brian Salmon also goes by the name The Birth Guy, though as a surfer from California he is kind of hoping the term "dude-la" will take off. Brian also owns his own 3D and 4D ultrasound clinics, and he's a certified lactation consultant, too. He teaches childbirth classes for dads called "Rocking Dads," couples birth classes called "Facilitating Fearless Birth" and is soon launching his the Rocking Dads video series and online course soon. Brian bring a really unique perspective to child birth that is wonderfully inclusive of dads and places a lot of emphasis on maintaining the couple connection after baby arrives. He also tells us what it's like to be in such a female-dominated field. The answer may surprise you! Read more…
---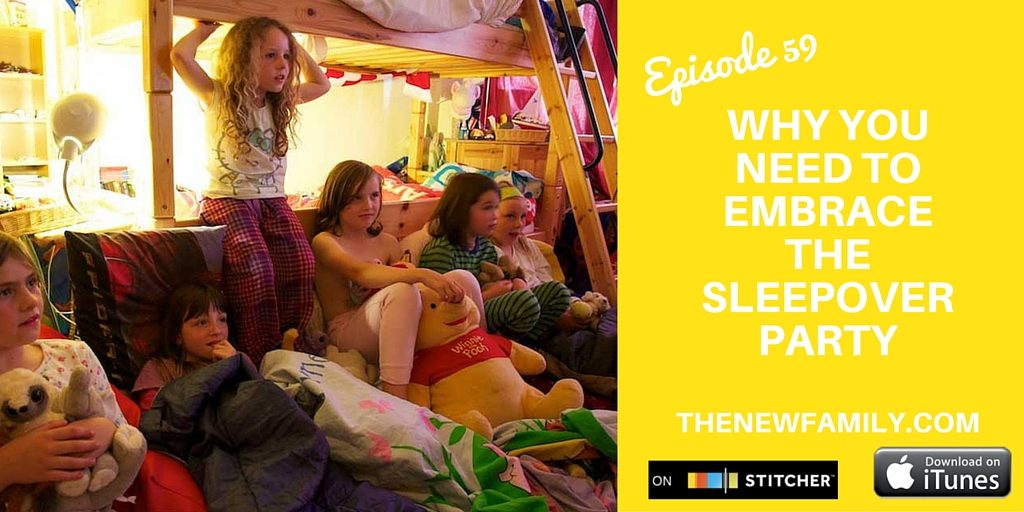 It seems the sleepover is far more rare than it was when we were kids and that's a shame. Perhaps that's no surprise given that we're quite a hovering and cautious generation of parents who is less willing to relinquish control of our kids' supervision by letting them sleep elsewhere. And as my guest today explains, most parents are probably over-estimated the amount of work involved on the hosting side. The last time author Chris Shulgan was on the show to discuss why parents fear the wrong things, we had a bit of side conversation about the sleepover as an important rite of passage for kids. Chris and his wife, Chantel, are avid sleepover party throwers, and today he and I discuss why we need to ensure the tradition continues. Chris also shares his secrets for hosting a successful sleepover, including how he manages to get the kids to clean up after themselves! Read more…
---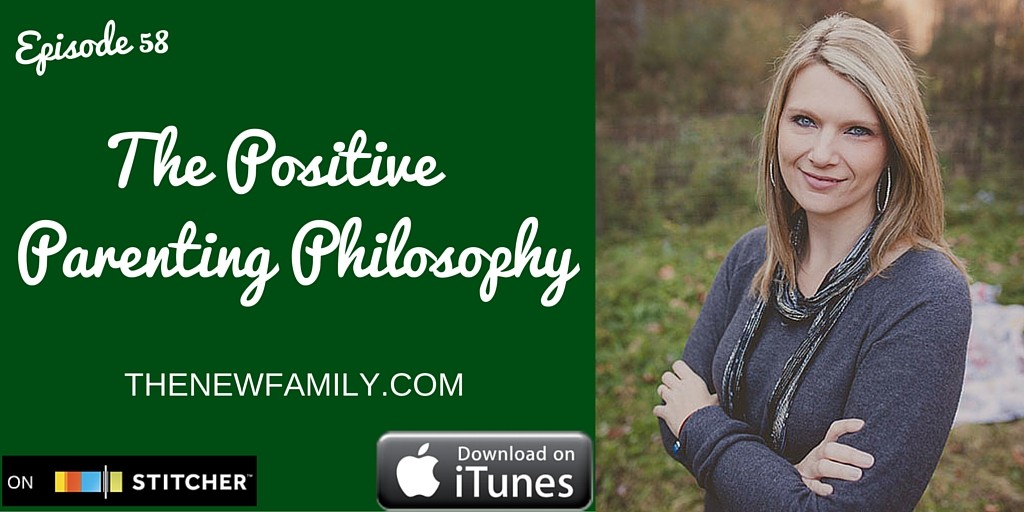 My guest on this episode is best-selling author Rebecca Eanes, the founder of positive-parents.org, creator of the very popular Facebook community Positive Parenting: Toddlers and Beyond. Her book The Newbie's Guide to Positive Parenting has been a #1 best seller in its category on Amazon and her latest book, coming out June 7th, is called Positive Parenting: An Essential Guide. But Rebecca is quick to say that she's a messenger not an expert. She writes from a parent-to-parent perspective and shares her own shift from more conventional parenting to positive parenting, which as she explains, honours our basic human needs for love and for belonging, and respects the mind, the body and the spirit of children. It seeks to build healthy positive relationships between parent and child, which becomes the model for healthy relationships life long, and gives parents influence that's strengthened through a strong connection with our kids. Rebecca's here to explain how we can work these principles into our own family lives. Read more…
---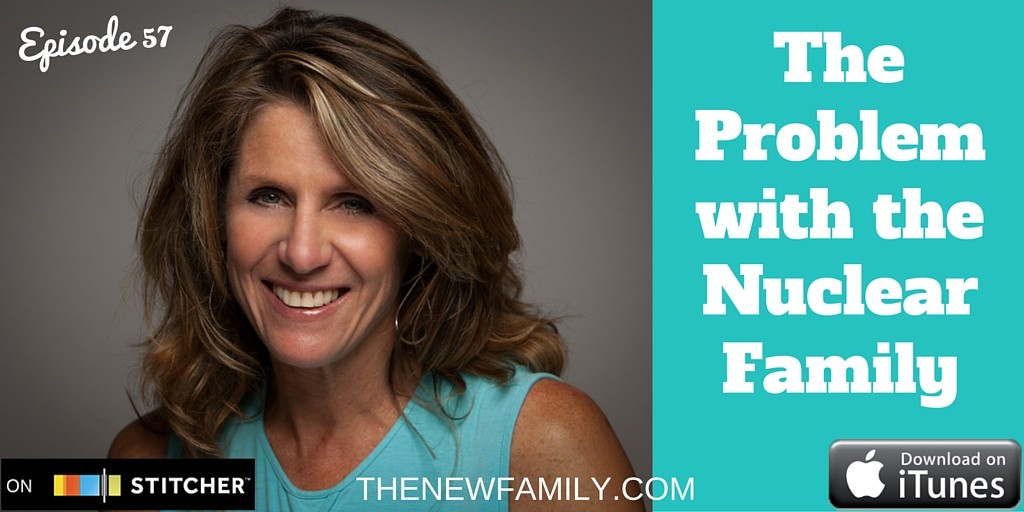 What if there was a better way to raise our children than the nuclear family? My guest on the podcast for this episode is long-time journalist and author Vicki Larson. She and her co-author Susan Gadoua were on the show way back on episode 12 "Are We Doing Marriage Wrong?" to discuss the findings of their book, "The New 'I Do': Reshaping Marriage for Skeptics, Realists and Rebels," which is one of our most popular episodes so far. Vicki and I discuss something that's a pet topic for me—the limitations of and problems with the nuclear family, and the fiction we've built up around it. Vicki has a book on the subject in development, and she explains how a form of shared parenting—sometimes called "alloparenting"—is deeply ingrained in how we evolved and learned to thrive as a species. In fact, though we still put it on a pedestal, the nuclear family is already no longer the norm. Fewer than half of children under the age of 18 are living in households with married heterosexual parents in their first marriages. She shares some thought provoking ideas about how we could really learn to live accordingly to the "it takes a village" philosophy. Read more…
---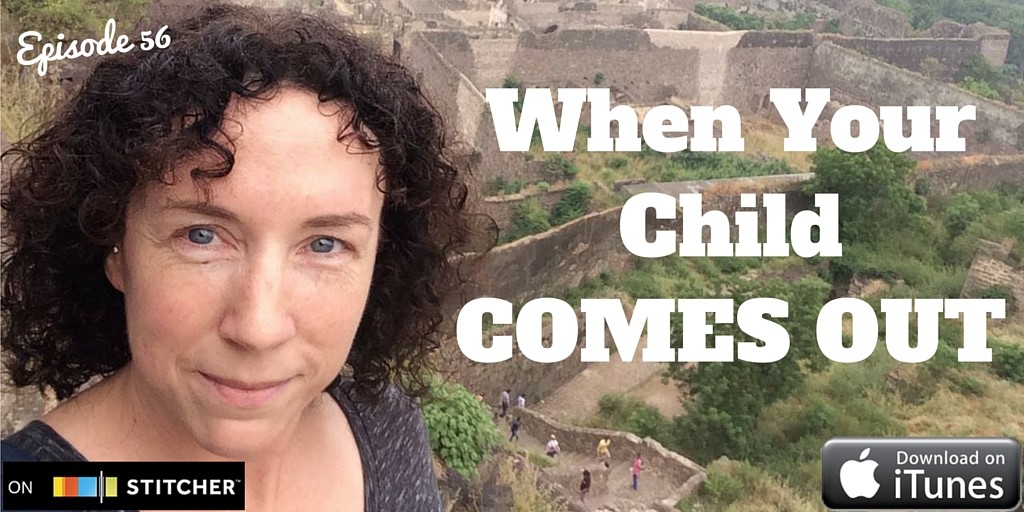 Today's show covers a really important topic—how to respond in a supportive manner when your child comes out to you. My guest, Dr. Jen O'Ryan, completed her doctorate in human behaviour with a focus on the experience of childhood and adolescence for sexual minorities. Jen provides coaching and guidance for parents to help them navigate their child's coming out process, as well as questions about sexuality and gender. But our chat today doesn't just apply to the parents whose kids have revealed they're gay. Aunts, uncles, coaches, teachers, community leaders, even supportive family friends—as caring adults we can all benefit from knowing more about being inclusive and sensitive toward LGBTQ youth. She explains how even one caring, tolerant adult can be tremendously protective for kids through the coming-out process. And she provides great, tangible advice on how to provide a safe, helpful environment for LGBTQ kids. Read more…
---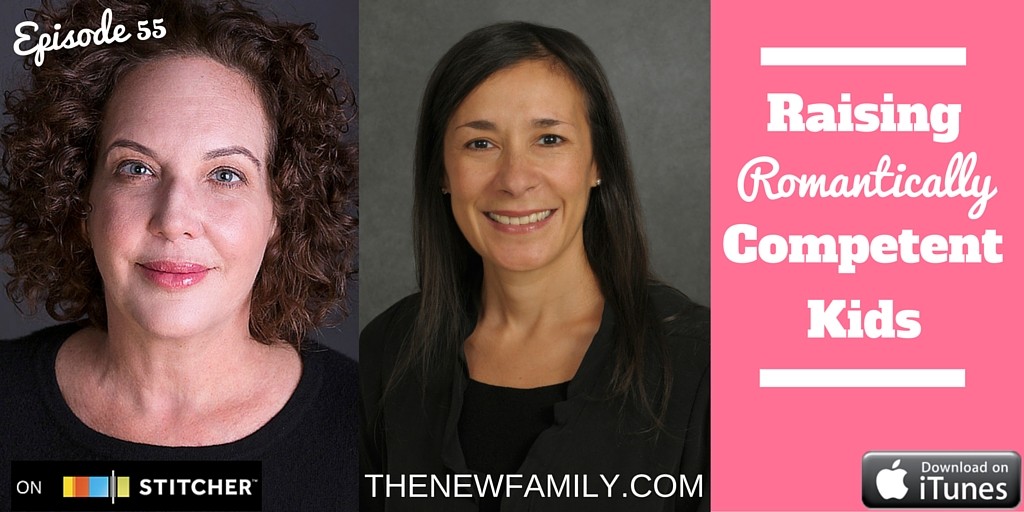 This episode tackles quite an interesting question. Should we be raising kids to be romantically competent? And what does that mean? My guests on the show today are Kaycee Lashman and Dr. Joanne Davila, authors of The Thinking Girl's Guide to the Right Guy: How Knowing Yourself Can Help You Navigate Dating, Hookups and Love. Their advice on knowing what makes a healthy relationship, on knowing what you need from a relationship really applies to anyone. And for parents bringing kids up in world where the dating landscape—or at least the vocabulary around dating—may have changed significantly from when we were young, it can be a little hard to know how to encourage our children to form healthy attachments. Joanne and Kaycee identify the skills that make up romantic competence and explain how to encourage our children to develop them. Read more…
---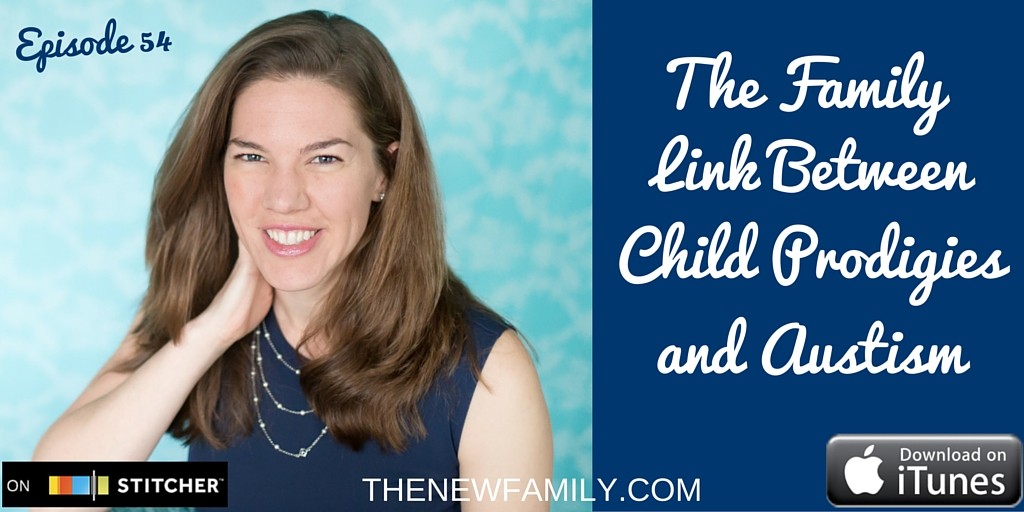 One aspect of contemporary family life that has touched all of us is the prevalence of autism, and today we're going to explore a fascinating new area of study that could potentially improve our understanding of autism. My guest today is journalist and author Kimberly Stephens, coauthor of a new book called The Prodigy's Cousin: The Family Link Between Autism and Extraordinary Talent. Her coauthor, psychologist and researcher Joane Ruthsatz, who just happens to be Kimberly's mother, has spent 18 years studying child prodigies. This research represents the largest research sample of these exceptional kids in the world. Incredibly, Dr. Ruthsatz's research has found that many of these child prodigies have autistic family members. In fact, around half of child prodigies have a close relative that is autistic. Interestingly, they also have a lot of behavioural and cognitive things in common as well. Read more…
---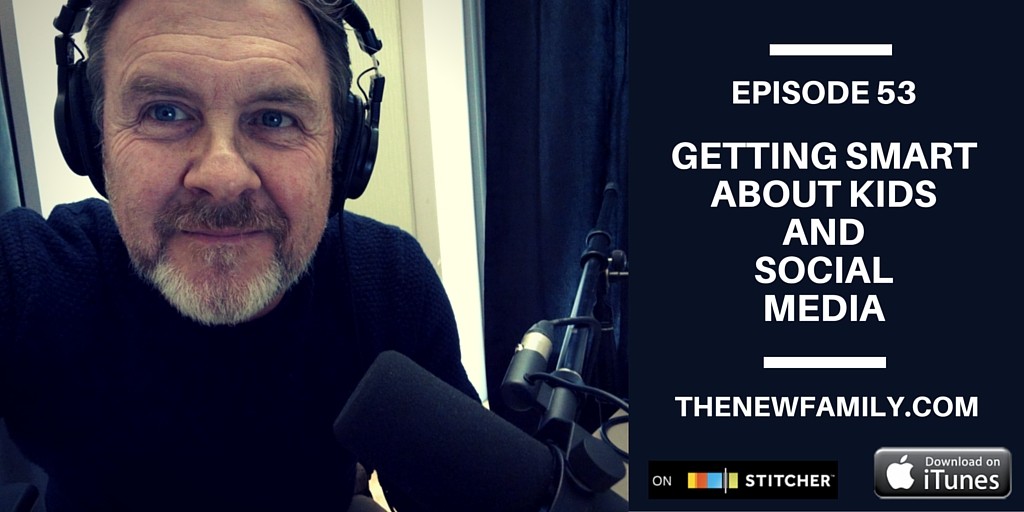 It seems that nearly every day there's another news story about what kids are doing online and a lot of it is quite alarmist. If you believe these reports, all of our kids are either cyber bullying or sexting each other, possibly both, and that it will soon be the end of days. My guest Andrew Campbell is here to assure us that this isn't the fact the case and to chat about how we can ensure we're up to speed with how—and why—are kids are using social media. Andrew is an educator, speaker and writer who blogs about education and technology. His thoughts on education have been published in The Toronto Star, The Globe and Mail andThe Hamilton Spectator among others, and he speaks on education at conferences throughout Canada and the United States. Andrew teaches Grade 5 in Brantford, Ontario, and he's expert on the relationship between kids and technology, including social media. Read more…
---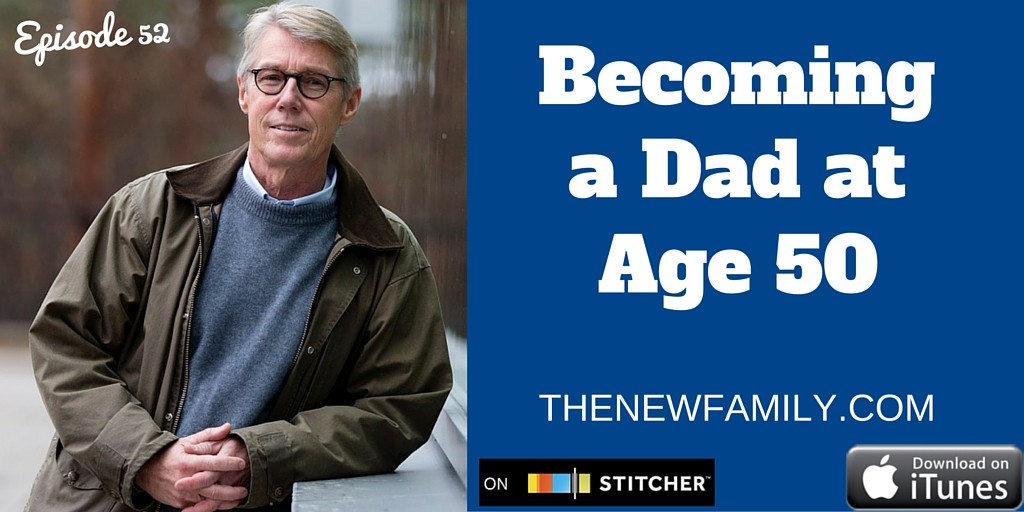 I'm excited to welcome Dr. Timothy Pychyl back to the show. Tim is a professor in the department of psychology at Carleton University. An expert on goal setting, he was on Episode 32 for a chat about New Year's resolutions for families and on how to teach our kids to overcome procrastination. But while we were chatting it came up that he became a dad for the first time at age 50. Now a father of two, Tim jokingly refers to himself as a "dinosaur dad." I just had to have him back on to chat about becoming a dad later in life and what that's been like. Read more…
---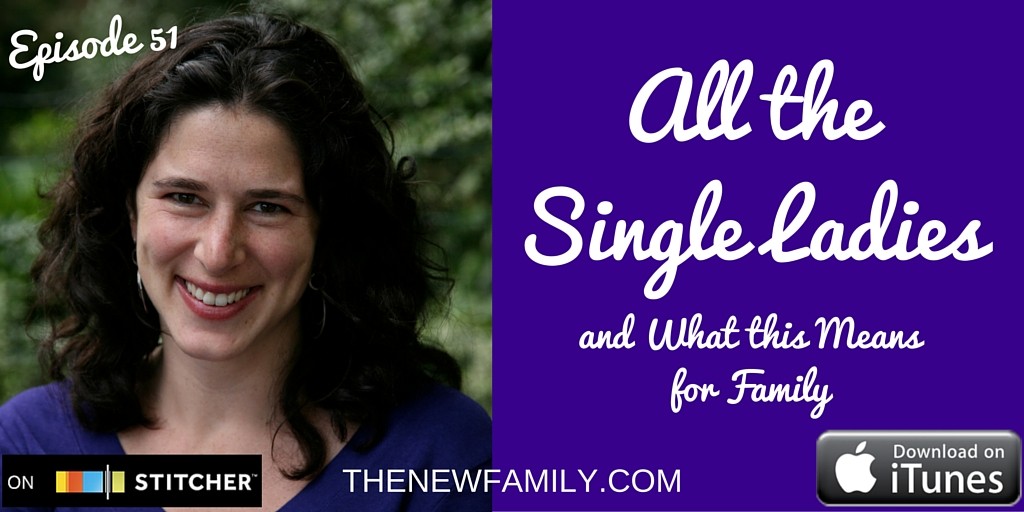 My guest for this episode, Rebecca Traister, has been called "the most brilliant voice on feminism in this country." A writer at large for New York Magazine and a contributing editor at Elle, Rebecca has written about women in politics, media and entertainment for a host of top-notch publications including Salon, The New Republic, The New York Times, The Washington Post among others. Her latest book, All the Single Ladies: Unmarried Women and the Rise of an Independent Nation, chronicles not only the recent dramatic decline in marriage rates and rising average age of marriage, but the important points in history that have helped women establish independent adulthood that is not defined by marriage. She shares her observations about the changing face of marriage in our culture, and what this means for how we're forming families today. Read more…
---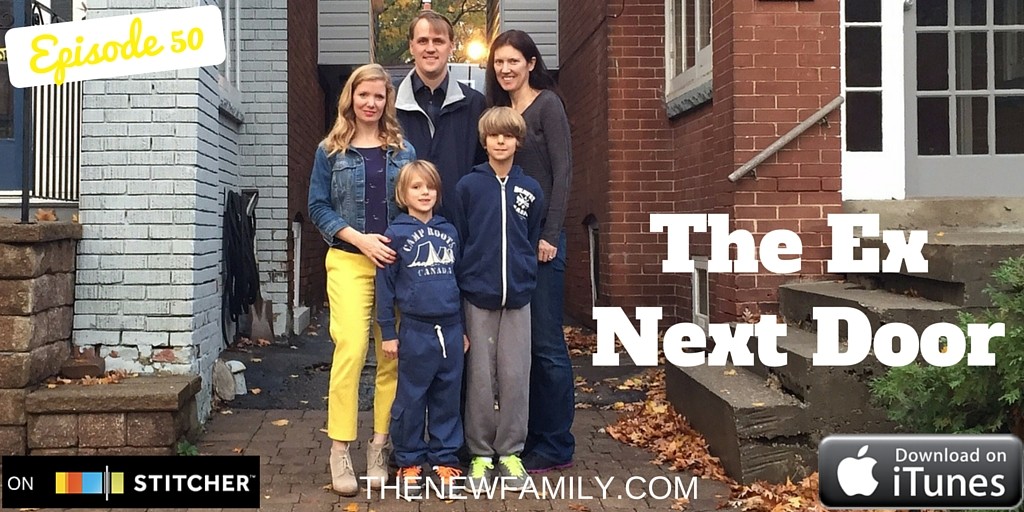 For this milestone episode—number 50!—I'm telling the story of my own unique family structure. My guest is the father of my kids, Derek DeCloet, who lives across the driveway from me with his new wife. The kids alternate nights between our places in a very fluid ways, usually seeing us both of us at some point in any 24 hour period. It's our unconventional lifestyle that inspired me to start thenewfamily.com and this podcast. Please join us in the first conversation we've had publicly about our next-door-neighbours co-parenting relationship. Read more…
---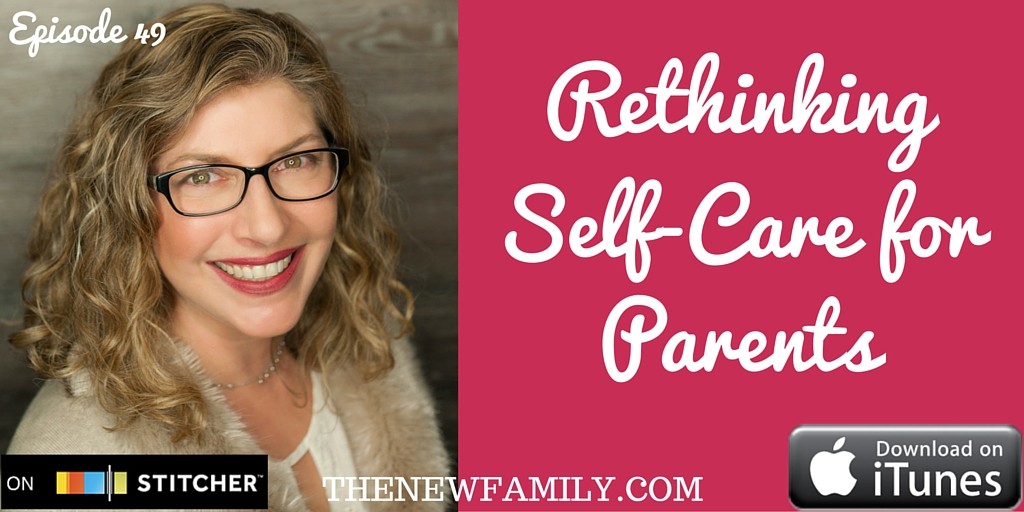 There are few parents out there who haven't, at least at some point, struggled to take adequate care of themselves while meeting the many demands of caring for their children. My guest on the show today is here to talk about the importance of self-care for parents and a new way of looking at what that means. Hint: It's not enough just to make occasional trip to the spa or driving range. Sarah McLaughlin is director of parent education at the Center for Parenting and Play in Biddeford, Maine, the author of the award-winning book, What Not to Say: Tools for Talking with Young Children and the creator of a new self-care program called Reset. She makes that point that, far more than those rare "me time" moments, what matters is how we treat ourselves every day. We need to apply the same compassionate, loving, empathetic attitude we display to our children to ourselves as well, she says. That means telling yourself you're doing a good job as opposed to coming down hard on yourself for not being a perfect parent. By changing the small internal interactions we have with ourselves, as well as taking care of our own food, water, rest and exercise, we'll model for our kids that we are worthy of love, care and attention, and that it matters how we treat ourselves. Read more…
---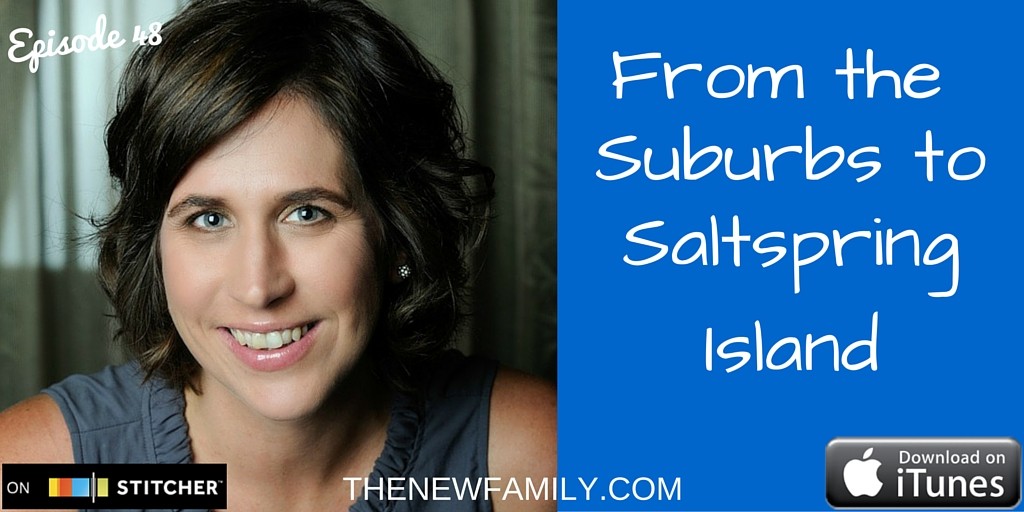 With the hectic pace of life, there's probably few among us who haven't entertained escape fantasies geared to achieving a simpler life. My guest Julie Nowell writes a hilarious blog called 3 Chickens and a Boat where she chronicles the incredible reinvention of her family that came with a move from the suburbs to a small Gulf Island in B.C. with a back yard full of chickens and goats. It's a remarkable story that starts with her husband coming home from a tough day at work one Friday, a talk with a psychic on the weekend and putting their house up for sale that Tuesday. But while their move to Saltspring Island may sound impulsive, the changes are actually very intentional. Julie and her husband wanted to live somewhere that had everything they needed but not much more than that, and most importantly, to show their kids that they too can take risks to get the life they want. Read more…
---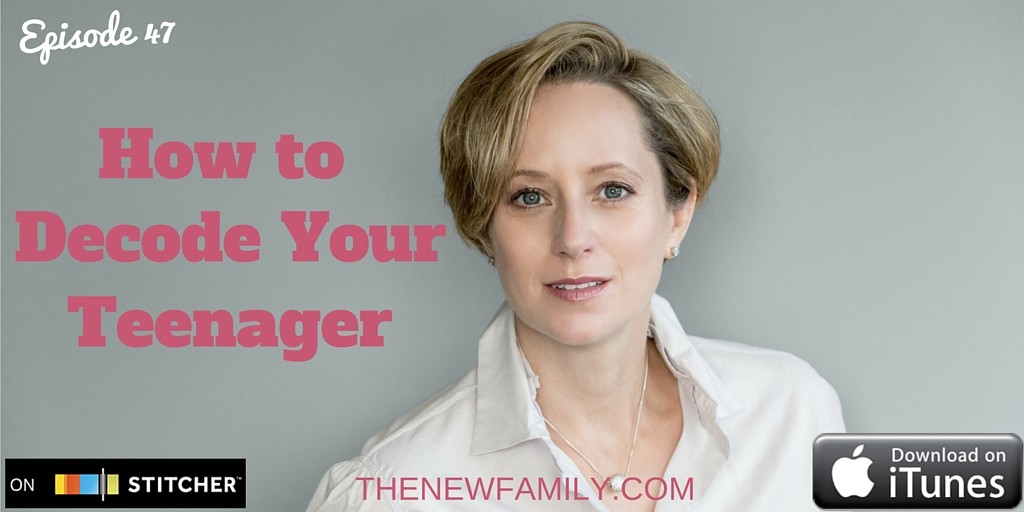 When conversation turns to parenting teens, it's usually cloaked in a whole lot of trepidation. Sure, these can be emotionally charged years, but as my guest on the podcast today explains, they need not be shrouded in mystery and defined by conflict. Dr. Lisa Damour is a psychologist, educator and director of the internationally renowned Center for Research on Girls at the Laurel School in Shaker Heights, Ohio. Her new book Untangled: Guiding Teenage Girls Through the Seven Transitions into Adulthood aims to demystify the process of parenting girls through the adolescent years, but the principles apply to both boys and girls. By getting to know the seven absolutely normal developmental stages on the path to becoming a grown-up, we can better understand our kids and parent them more effectively. Read more…
---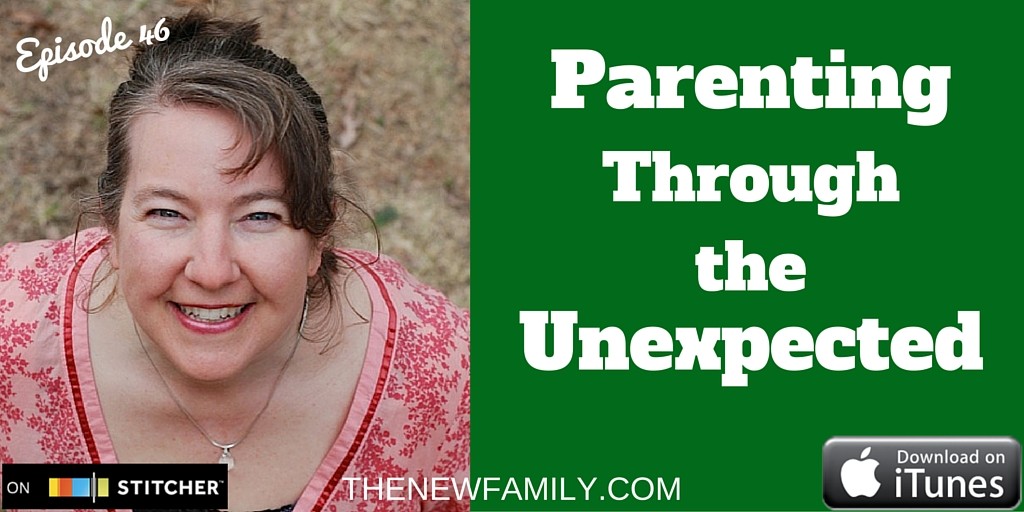 As every veteran parent knows, as much as we may try, there's no controlling how things will unfold on the parenting journey. Each of us is thrown into crisis at some point. My guest Karen Kolp is here to share her remarkable story about adapting to circumstances she could never have predicted. Karen is the host of a great podcast called "We Turned Out Okay," and she's also the author of the forthcoming book Positive Discipline Ninja Tactics: Key Tools to Handle Every Temper Tantrum, Keep Your Cool, and Enjoy Life With Your Young Child. Karen wrote a lovely post for thenewfamily.com's 1,000 Families Project about how she and her family have handled some of the curve balls that life has thrown them. These include the circumstances that led them to become accidental home schoolers, as well as an unexpected journey into illness and disability that at certain points have robbed Karen of the ability to walk and the use of her hands. Karen shares how her family has pulled together through these challenges, an experience that's helped her to slow down and appreciate the time with her kids, and taught her the value of gratitude for getting through life's bad patches. Read more…
---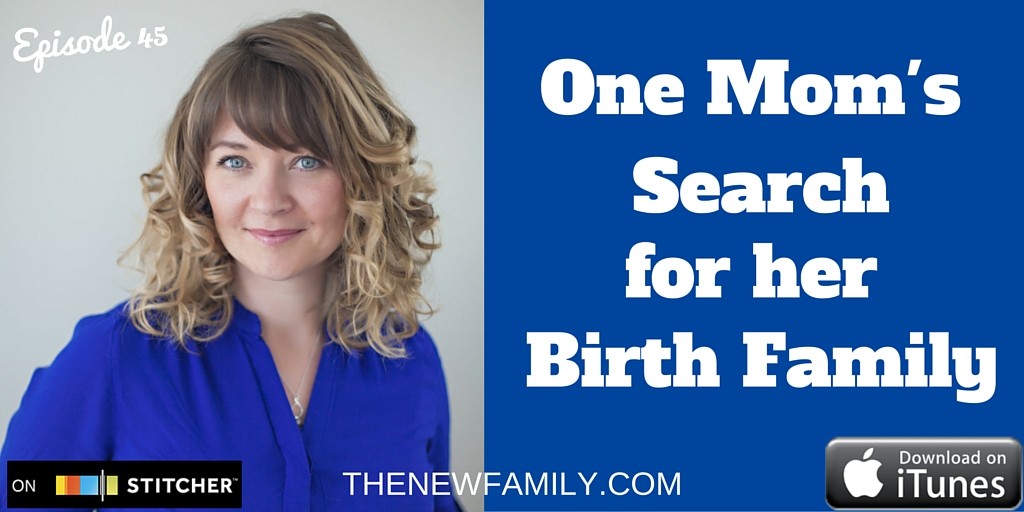 What is it like to come face-to-face for the first time with the woman who gave birth to you 40 years earlier? Today's guest, writer Alexandria Durrell of IDon'tBlog.ca, is here to share about what it was like to grow-up knowing she was adopted, and later, to search for her birth mother. Alex penned a beautiful post for thenewfamily.com's 1,000 Families Project about how tracing her birth family has shaped her view on family and her experience today as a mom of two. Read more…
---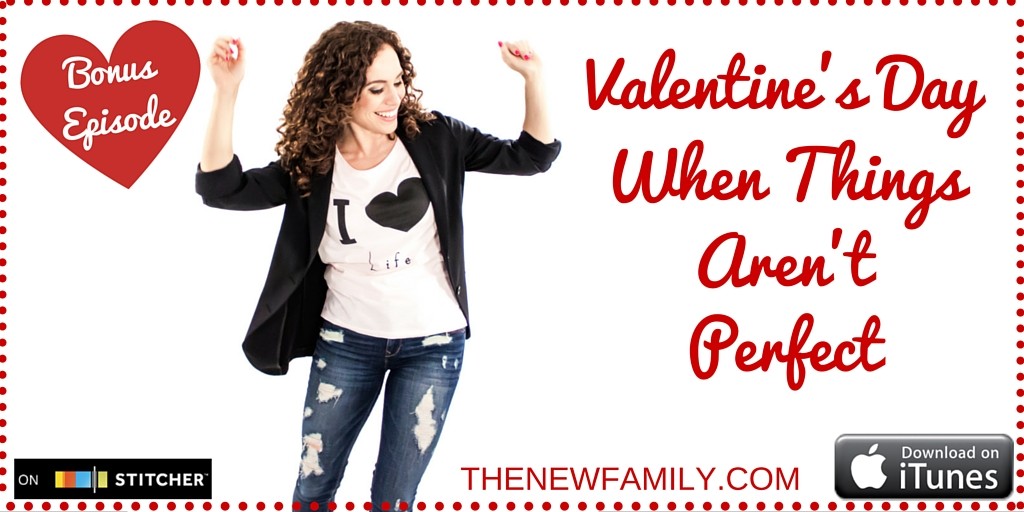 I decided to fire up the mic for this extra episode—with my friend, life coach Sharon Stokes—because Valentine's Day is coming up. Sometimes our relationship to this holiday is a little complicated, particularly if things aren't exactly ideal in your personal life. Maybe you're going through a divorce or separation. Maybe you're a single parent by choice who embarked on this journey alone but nevertheless, sometimes feel the absence of a romantic relationship. Perhaps you're with someone but you're so snowed under with childcare that there hasn't been much time for romantic connection and you're not exactly feeling spectacular about your relationship. Maybe you're proudly single and enjoying dating casually but find yourself changing the radio station when those ads urging people to pop the question this Valentine's Day come on. Sharon's here to chat with me about some strategies on how to deal. We talk about how to reframe Valentine's Day by celebrating it in in ways that aren't restricted to a romantic partnership, and maybe even by using it as a launching pad for a period of good self-care and new adventure.Read more…
---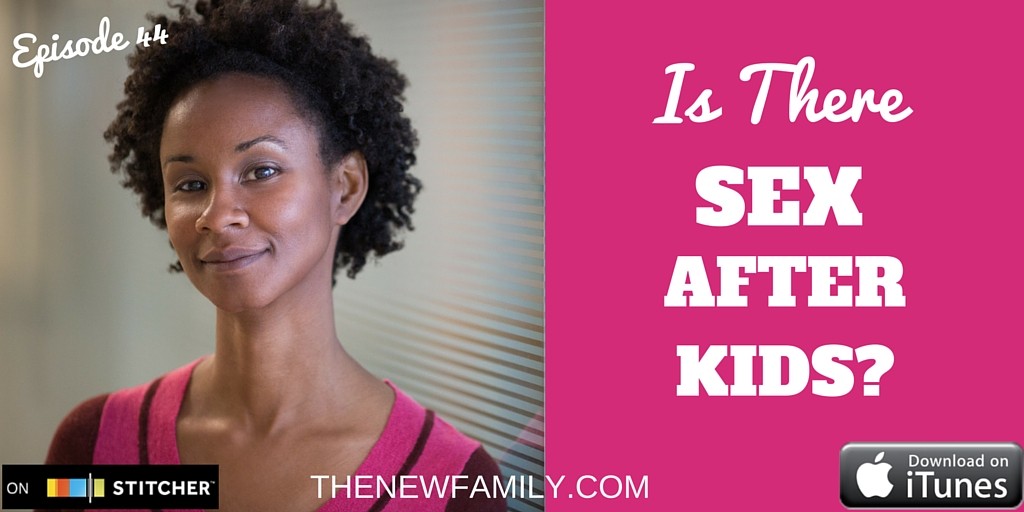 This episode we tackle a juicy question: Is there Sex after Kids? Spoiler alert: Of course there is. But yes, it's harder to find the time, energy and privacy for sex once kids are in the picture. Dr. Nadine Thornhill is here to help. Dr. Thornill is a sexuality educator and family coach. For the past decade she has been helping families, teachers and community organizers communicate openly and knowledgeably about sexuality, health and relationships. Nadine's areas of focus include: child and adolescent sexuality, family sex education, sex education in schools and sex and parenting. I've invited her onto the show in advance of Valentine's Day to address the barriers to intimacy we may face at different stages of parenting and how to get over them. Read more…
---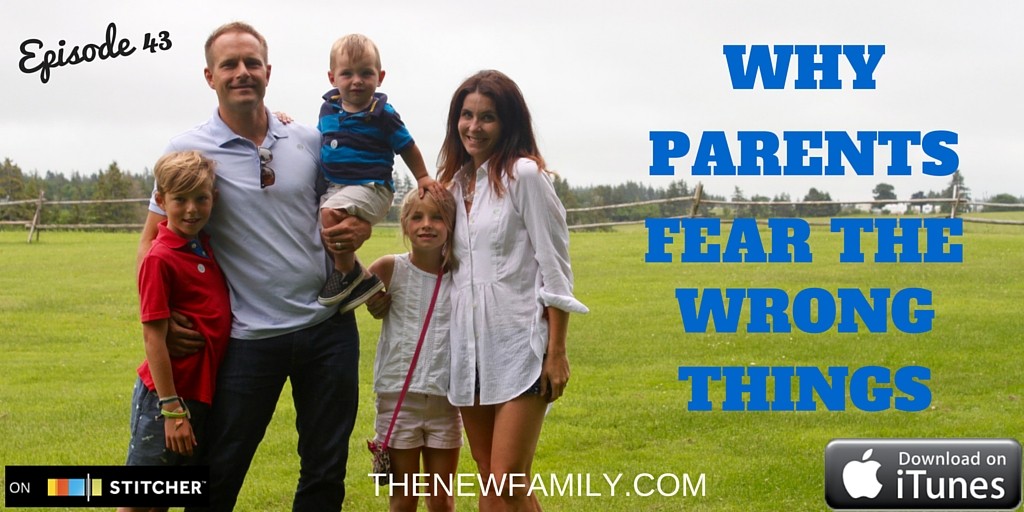 It's well established that ours is the most hovering, protective, micro-managing generation of parents there has even been. We're less likely to let our kids play in the park on their own, even though we may mourn the loss of a "simpler time" when kids had that sort of freedom to roam. My guest on this episode is Christopher Shulgan, author of Superdad: A Memoir of Rebellion, Drugs and Fatherhood . Chris and I delve into the relationship between fear and freedom in parenting. Chris shares some statistics that show the world is not a more dangerous place than it was when we were kids. We explore how to do the challenging work of decoupling protectiveness and good parenting in our minds by gradually allowing our kids the freedom they need to grow into capable adults. Read more…
---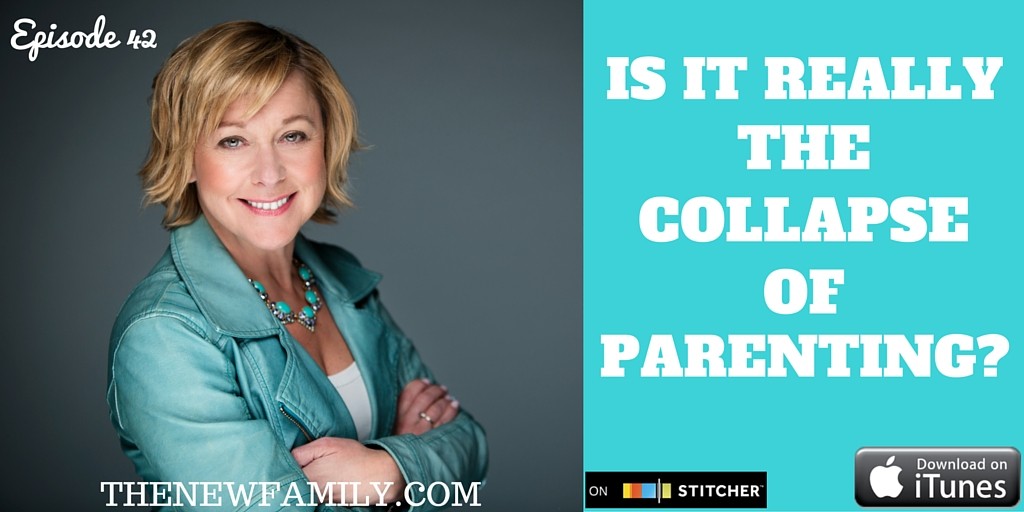 There's been a lot of talk lately about the state of modern parenting, some of it reaching a bit of a crescendo last month with an article in Maclean's magazine here in Canada that ran under the title, "The Collapse of Parenting." That was a reference to a book by the same name by Dr. Leonard Sax of Pennsylvania. My guest Alyson Schafer, one of Canada's most notable parenting experts, is on the show today to talk about the state of modern parenting and whether we really have lost our way. Alyson is a family therapist, TV personality and best-selling author of Breaking The Good Mom Myth, Honey, I Wrecked The Kids and her latest, Ain't Misbehavin'. She's in high demand as a speaker and a parenting educator through the great courses she offers. Alyson makes a case that while it's wonderful that we're as concerned as we are about our children's well being, the pendulum has swung too far, creating an imbalance of power where the child is the tyrant and the parent the slave. She encourages us to question the notions we hold about the fragility of the child and accept that we cannot make a life for our kids that is struggle-free. Read more…
---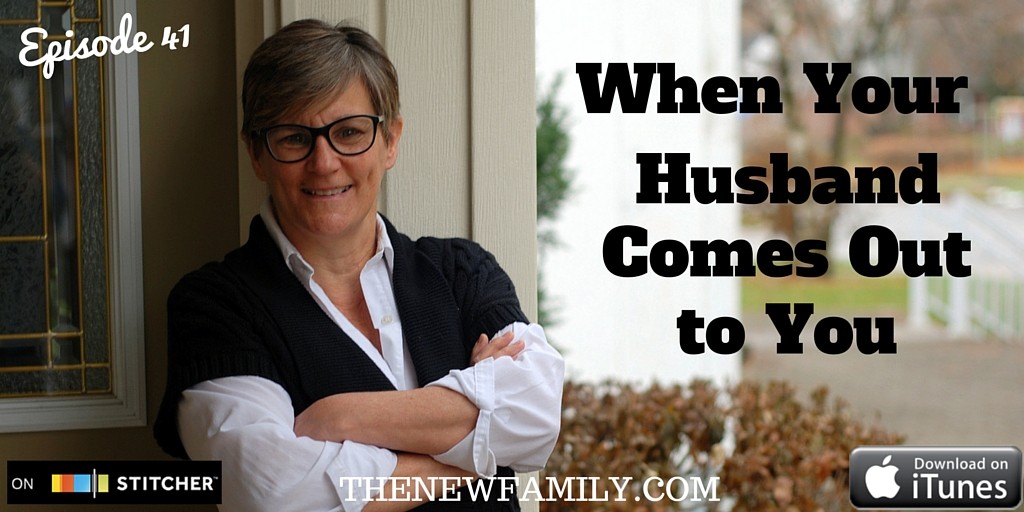 Finding out that your partner is gay is a pretty big deal, especially because it usually means your relationship is coming to an end. Debbie Dawe-Mattausch's first husband came out to her, but rather than letting this news tear her family apart, she has embraced her ex—whom she affectionately refers to as her "wasband"—as well as his new partner in an extended family of sorts. Debbie shares how she managed to set aside her hurt over the end of the relationship and chose to have compassion for her ex-husband given that he'd had to hide an important part of himself for so long. Today her large blended family consists of her husband and his son, daughter and son-in-law, Deborah, her son and his girlfriend, her two daughters and their husbands, her ex and his husband, three granddaughters and a grandson. She and her "wasband" have gone on numerous vacations together and spend important holidays as a group. As a result Debbie says, "I didn't lose him as a friend and as a person I care about." Her family is a model for co-parenting positively after the end of a relationship, no matter what the circumstances. Read more…
---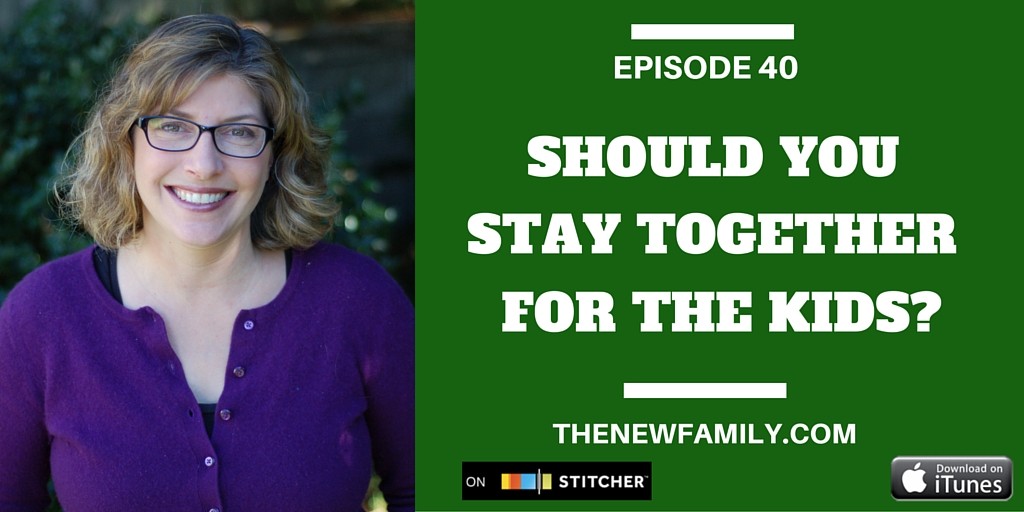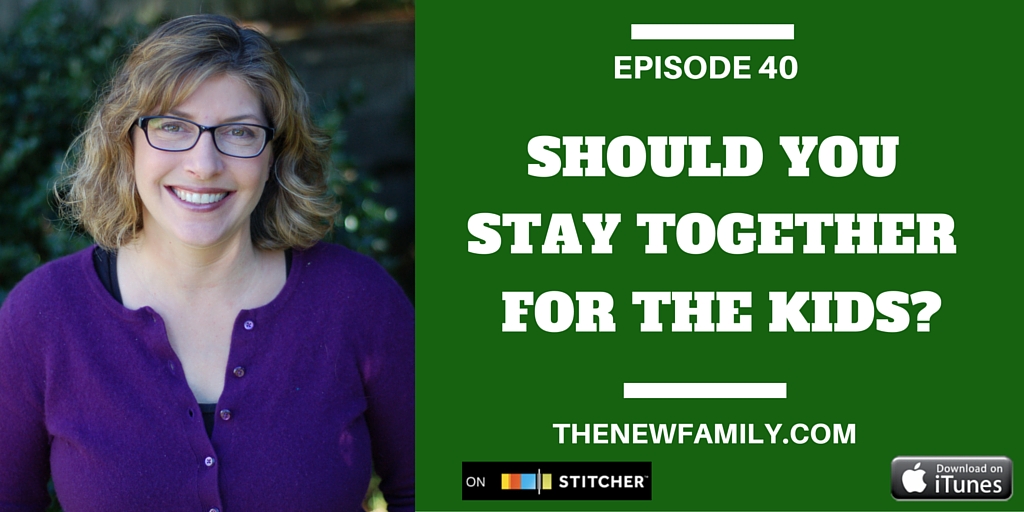 Today' we're examining whether couples should stay together for the sake of the kids. As anyone whose marriage has fallen apart can attest, there's a lot of heartbreak when considering the impact on the kids. But as my guest Sarah MacLaughlin will help explain today, it's not the end of the relationship itself that counts, so much as how it's handled. Sarah is a social worker who's researched parenting and child development extensively for over two decades, and on the separation and divorce front, is trained in family mediation and crisis de-escalation. She's director of parent education at the Center for Parenting and Play in Biddeford, Maine, which offers parenting classes, counselling and supported visitation. She's also the author of the award-winning book, What Not to Say: Tools for Talking with Young Children and has written the Parenting Toolbox column for Parent & Family since 2008. Sarah's here to share thoughts on how it's the way that a separation is handled, not the separation itself, that determines the emotional well-being of the kids. Read more…
---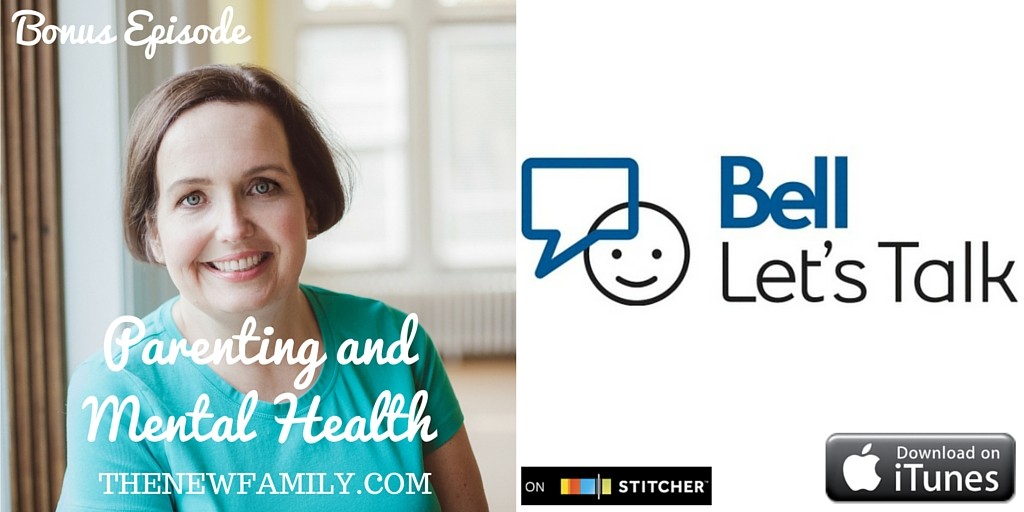 For this special bonus episode of the podcast for Bell Let's Talk Day, I'm joined by a very special guest, parenting author Ann Douglas. Ann and I hope you'll share this episode with the hashtag #BellLetsTalk to support Canadian mental health programs. Ann almost needs no introduction because her name really is synonymous with parenting advise. She's Canada's most trusted and prolific parenting writer, though her work is known in many other countries as well. She's the author of the bestselling Mother of All series of parenting books, and 30 books in total, the most recent of which is Parenting Through the Storm: How to Handle the Highs, the Lows and Everything in Between. Ann and I delve into the harder stuff to talk about that we really must talk about more often—your mental health as a parent and your kids' mental health. How to thrive yourself and how to help them thrive. Ann's an outspoken advocate for mental health issues and has been candid about both her own bipolar diagnosis as well as the mental health issues her children have faced. She shares advice on how to advocate for your children when they're having mental health struggles, how to cope with the long wait to see specialists, and about the importance of good self-care during difficult times. Whether it's you or your child facing a mental health challenge, it's critical to know that you're not alone in facing these issues—despite the impression you may have from viewing your friends social media feeds. Ann reminds us that every family goes through tough times and that we shouldn't be afraid to reach out for support in our darker hours. To help Canadians access the mental health resources they need, please text or tweet this episode with the hashtag #BellLetsTalk. Read more…
---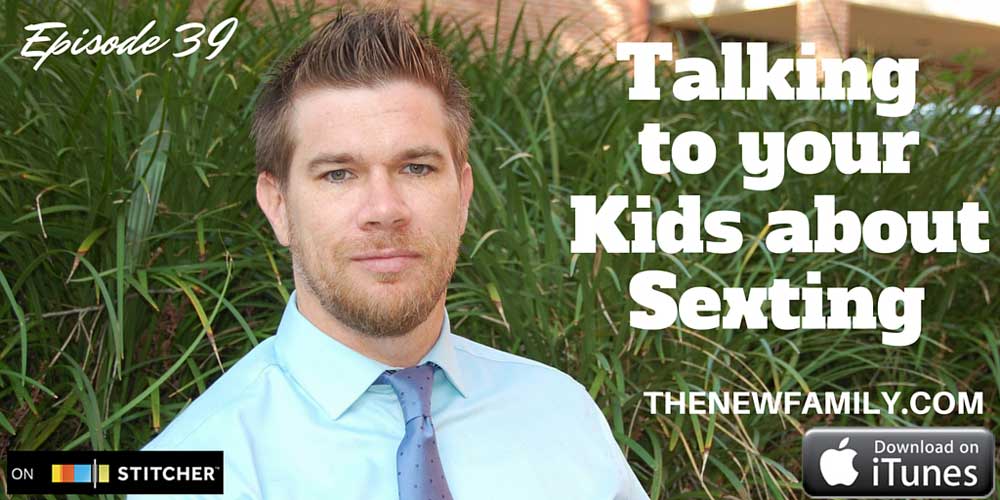 Is sexting a modern-day version of flirting? Does it lead to sexual behaviour in real life (IRL as the kids would say)? We're joined on the show today by Dr. Jeff Temple of the University of Texas Medical Branch. He's a psychologist with an appointment in Obstetrics and Gynecology, where he researches relationships and online behaviour with an aim to helping parents, teens and young adults understand, avoid and address risks. He published a widely-reported paper last year on how teen sexting is emerging as a normal part of adolescent sexual exploration. Dr. Temple is also a father of a 12-year-old girl and a 10-year-old boy, he joins us to talk about what parents should know about teen sexting and how we can talk to our kids about it. Read more…
---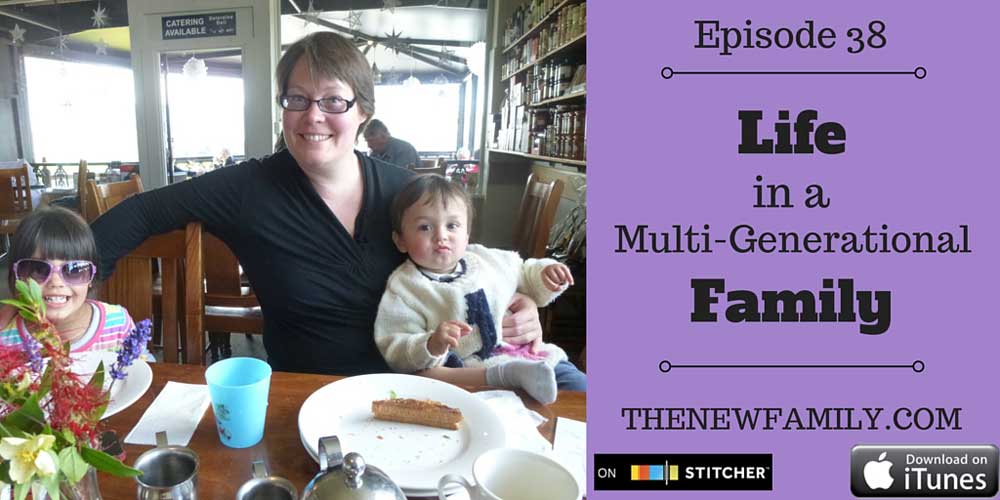 Ever thought about what it would be like if Grandma's visit never ended and you always had that extra set of hands? Emily Morgan—the first guest on the podcast the southern Hemisphere—is with us during this episode to talk about what prompted her to return to Tasmania, Australia to move in with her mother. Emily is a single mom by choice, and the host of a great podcast of her own called Parents in the Know. She has a three-year-old daughter, and a one-year-old son, and she made that move home after struggling both with her finances and with prenatal depression while living on the other side of the country from her family. Emily speaks candidly about the experience of struggling with her mental health, and the value in letting ourselves get cared for by loved ones when we're struggling. She and the kids now live in a busy, multi-generational household surrounded by her extended family. And to her surprise and delight—given she's always been very independent—Emily says she's never been happier. Emily also runs a website for parents, the Parent Resource Centre—at parentresourcecentre.com. The focus of the website is Informed Parenting, and Emily's passion is to help parents ask the right questions, look for the science behind the hype and make the best parenting decisions they can, based on sound knowledge. Read more…
---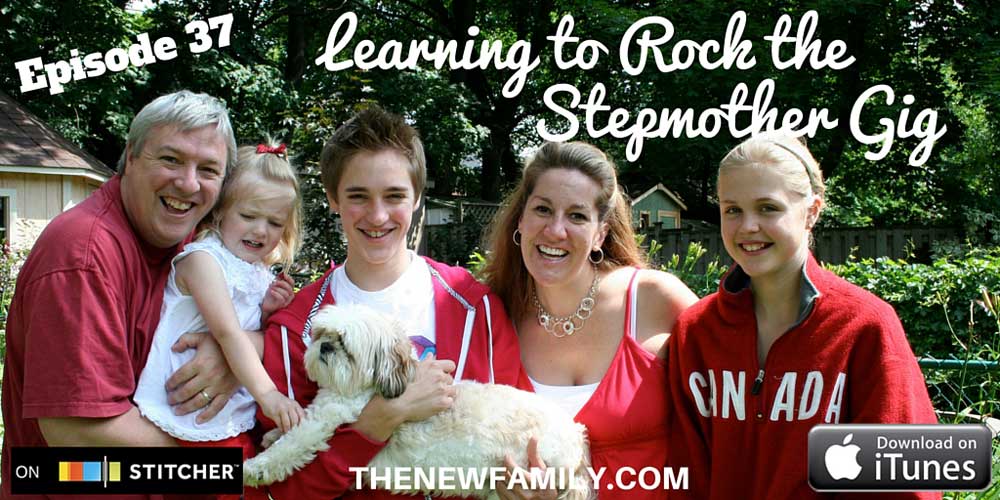 What does it mean to do a really great job of step-parenting? We're joined in this episode by Julia Oosterman, who wrote a piece for our 1,000 Families Project that readers absolutely adored. You see, Julia's first experience of parenthood came when she started dating a man who had two children. Her super-loving and mature approach to step-motherhood was really applauded by our readers. But as she explains here, she didn't always get it right, particularly in the early years. Julia's family now includes four children with the addition of two she and her husband have had since. She and I talk about rocking the step-mother gig and life in a blended family. Read more…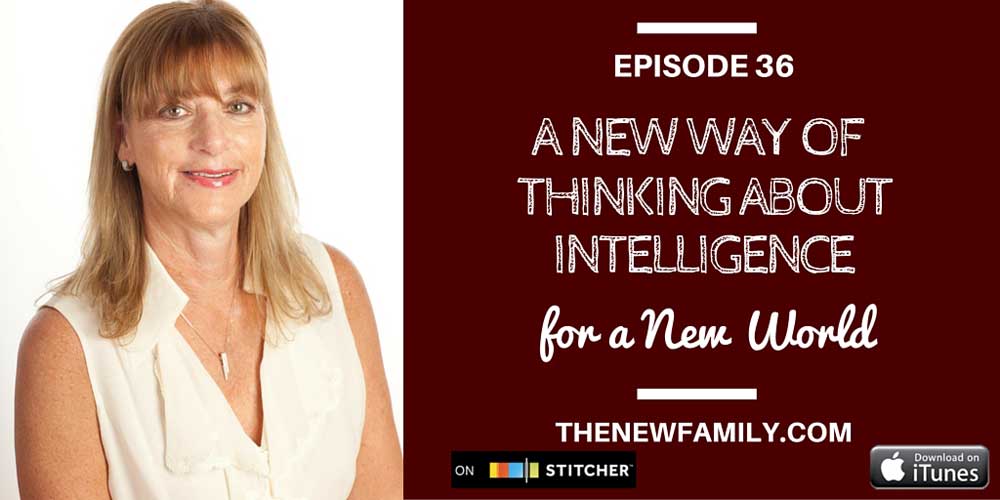 We're joined in this episode by Doctor of Education Joanne Foster, a teacher, consultant, university lecturer award-winning co-author with Donna Matthews of the books Being Smart About Gifted Education, and Beyond Intelligence: Secrets for Raising Happily Productive Kids. She's also the author of Not Now, Maybe Later: Helping Children Overcome Procrastination. Joanne has some really interesting insights to share about the many facets of our kids' intelligence that are important today, which include not only academic knowledge, but creativity, emotional and social development, decision-making and life balance. She shares tips for fortifying success in times of challenge and change, and strategies on how parents can provide the safe, nurturing environments where kids can build on their own intelligence in response to an ever-changing world. Read more…
---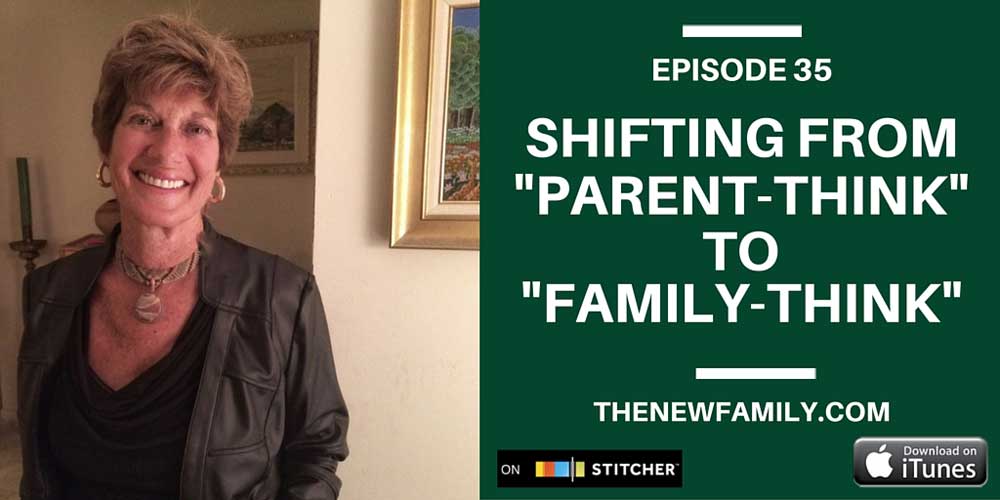 Should we be "familying" instead of parenting? We're joined on the podcast today by award-winning journalist and author Melinda Blau, the author of fifteen books, best known for her work as the voice of the Baby Whisperer books, a collaboration with the late Tracy Hogg. Those well-loved books have been translated into 22 languages. Melinda's latest book, Family Whispering, carries those ideas forward. Melinda outlines compelling reasons to shift our focus from the parent-child relationship to a more holistic approach that takes into consider the family as a whole, creating investment of all members in the well-being of the household. It means that kids are asked to help establish house rules, but also to contribute meaningfully to the work that needs to be done. This episode is full of actionable advice for making your family life run more smoothly while raising industrious, responsible kids. Read more…
---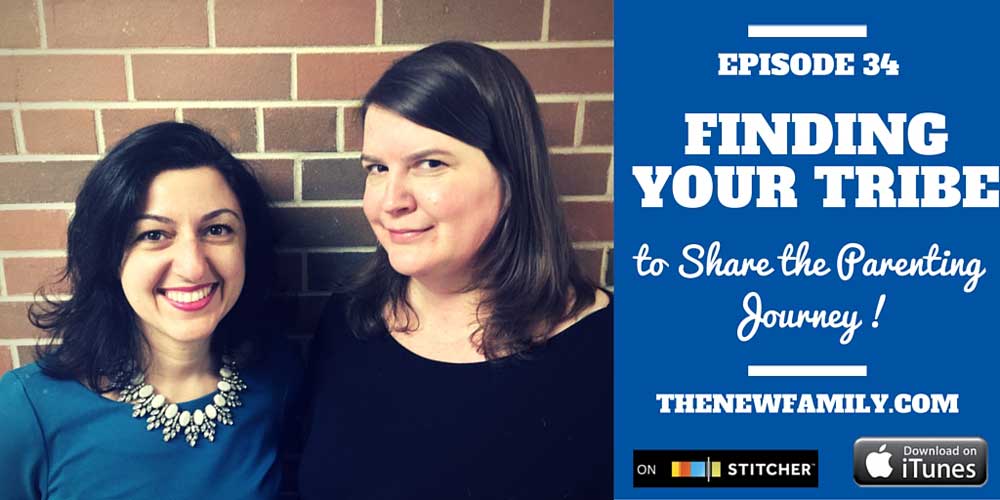 This episode is a fun one because I've got two amazing women on the show to talk to us about their unique friendship and the ways their families are communal parenting. Nadine Silverthorne and Kate Sanagan are both busy media moms who describe their relationship as "sister-wife-ish." Along with their husbands, who have also become great friends, they're helping each other out on the parenting journey. Their kids go to the same school and daycare, they're on each other's pick-up lists and they eat dinner together once a week. Even more importantly, Kate and Nadine do the critical work of talking each other down from the ledge in those really tough times. We talk about how it makes sense to share the load, as well as the emotional work, involved in raising children, and about how meeting each other was like finding their own small town within Toronto. Read more…
---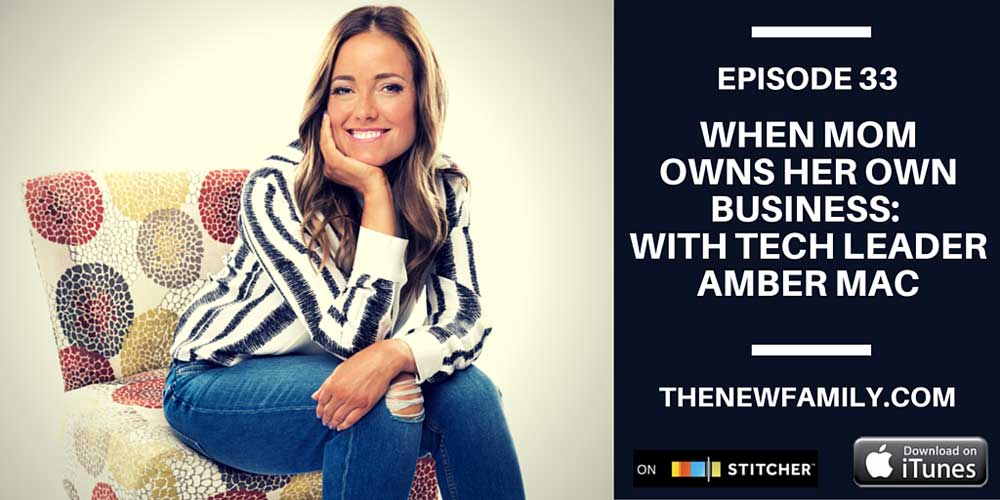 We're joined on the podcast today by Amber MacArthur—known to many as Amber Mac—an internet entrepreneur, bestselling author, keynote speaker and TV and Radio Host. Amber is the author of national bestselling business book Power Friending and an authority on internet marketing. We chat business, technology and parenting, and—in contrast to what people might assume—how running her own business actually gives her the flexibility to be really present for her six-year-old son. Read more…
---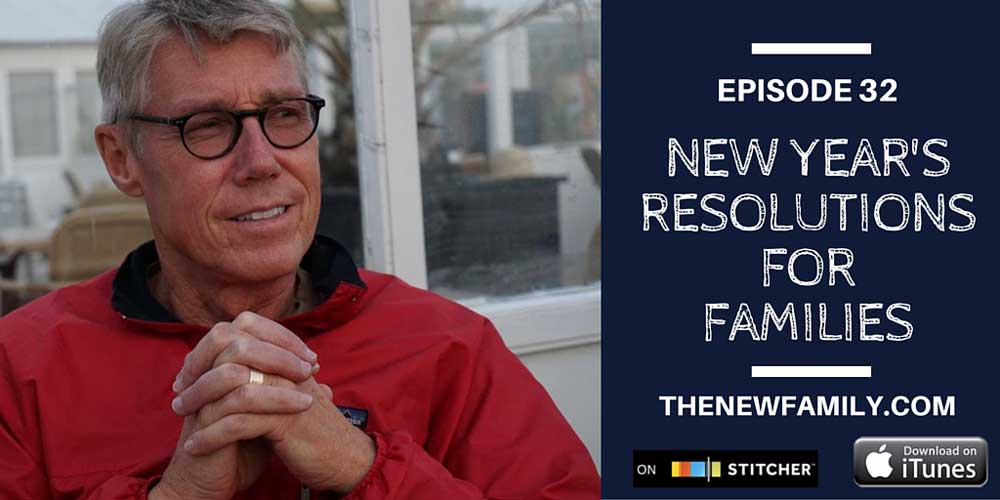 In this episode we're tackling a topic that most of us struggle with at one time or another—procrastination. Most of us do it, most of us know we complicate our lives when we put off tasks, but we put them off anyway for reasons explained to us today by our guest Dr. Timothy Pychyl. Tim is a professor in the department of psychology at Carleton University and author of Solving the Procrastination Puzzle and the host of The iProcrastinate Podcast. He's an expert in goal setting and on the connection between procrastination and well-being. He's also a father of two, and as Tim says, it's not always easy having Dr. Procrastination as your dad. He's going to talk to us about how we can teach our children to avoid procrastination, what we can all learn about procrastination and how we might keep these principles in mind as we make plans for the New Year. Read more…
---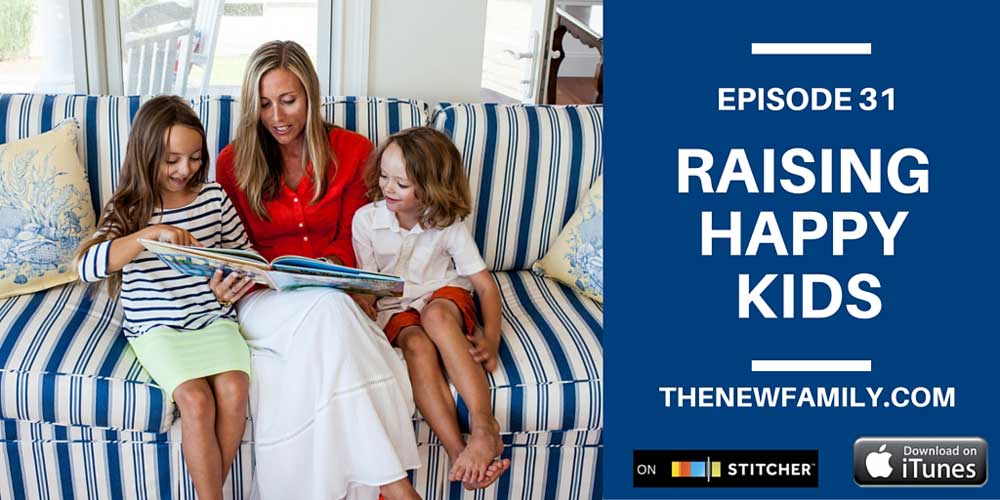 Child and adolescent psychotherapist Katie Hurley joins me for this episode. She's the author The Happy Kid Handbook: How to Raise Joyful Children in a Stressful World. Katie encourages us not to get caught up researching every hiccup, cough and tear. Instead we should get back to the basics of a taking the time to connect and get to know our kids so we can tailor our parenting to their individual personalities. She makes the incredibly good point that we all experience up and downs throughout our days, but that as adults we've simply had the chance to learn how to manage. Since children don't come into the world with a kit full of coping skills, our job as parents is to teach them the vital lesson that they are in control of their own happiness. Katie defines happiness as knowing that you can handle everything that comes your way, and that if you have a rotten day, you always get a chance to start over again the next day. Read more…
---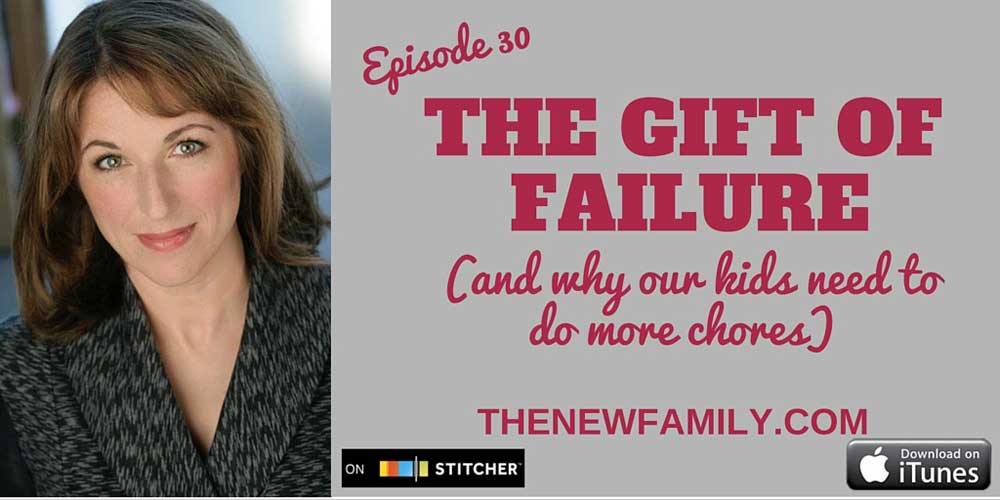 What if the best gifts we could give a child were a chance to fail, plus a big pile of housework on the side? In this episode we're joined by Jessica Lahey, author of The Gift of Failure: How the Best Parents Learn to Let Go So Their Children Can Succeed. Jessica is an educator, speak and writer. She's taught middle and high school for over a decade and she writes a column called "Parent-Teacher Conference" for The New York Times. When her article for the Atlantic—"Why Parents Need to Let Their Children Fail"—went viral, it had clearly struck a chord with parents who have begun to realize that we're doing too much to sweep challenges out of our children's way. Jessica's got some great advice on how we can step back from our kids' homework and make consequences more logical. And she explains why it's critical that we let kids build competence by getting them involved in domestic duties around the house. Read more…
---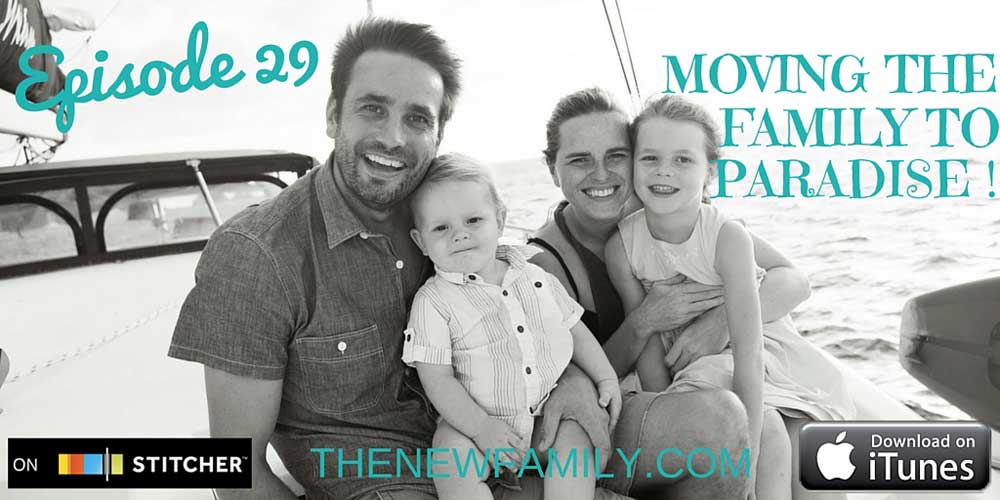 Kelly Bos and her husband are living what for many of us is our wildest dream. Ever gone on a tropical vacation and thought, "We should move here?" Well, as Kelly shared in her 1,000 Families Post on thenewfamily.com, she and her husband had those thoughts and actually made it happen—even with a baby in tow. She now lives in the British Virgin Island with her husband and two kids. Kelly shares the ups and downs—yes there are actual downs—of living in the tropics. Plus, since Kelly is a psychotherapist, she shares a little wisdom about dealing with some of those complicated emotions we have around the holidays. Read more…
---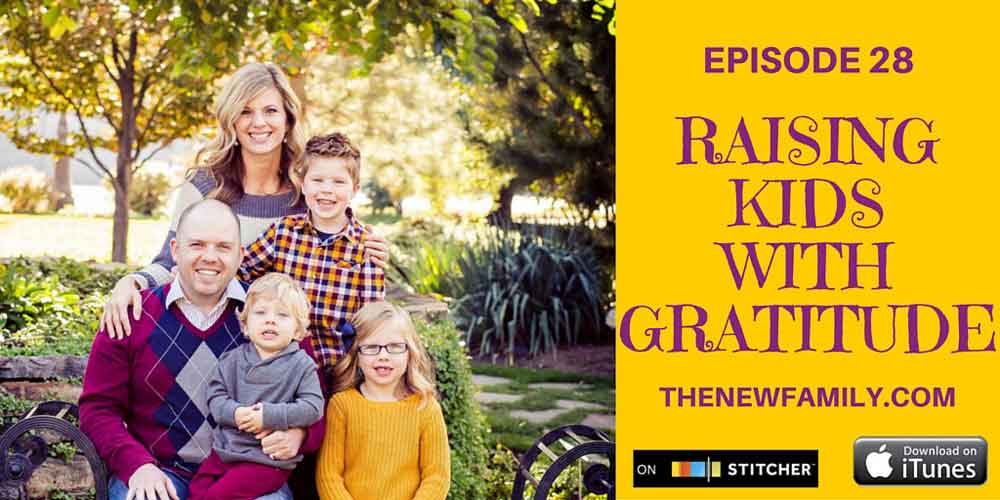 The evidence is overwhelming. Grateful people—especially those who make practising gratitude an everyday habit—lead happier and more contented lives. Taking the time to express gratitude regularly boosts happiness and optimism. That said, it's not always easy to keep gratitude front of mind. My guest for this episode is Kevin Clayson, who likes to go by the moniker, chief officer of awesome. Kevin is an international professional speaker, who has shared his simple formula for unlimited joy and fulfillment with everyone from elementary school students to business leaders. Kevin is also one of the founders of a very successful investment and personal development company called Strongbrook, and the father of three adorable kids. But I asked him to be here today because he's also the author of a book called Flipping the Gratitude Switch: Four easy steps to increase your happiness, accelerate your success and change the trajectory of your life. Kevin and I chat about what it takes to raise grateful kids in an environment where they don't want for much. Read more…
---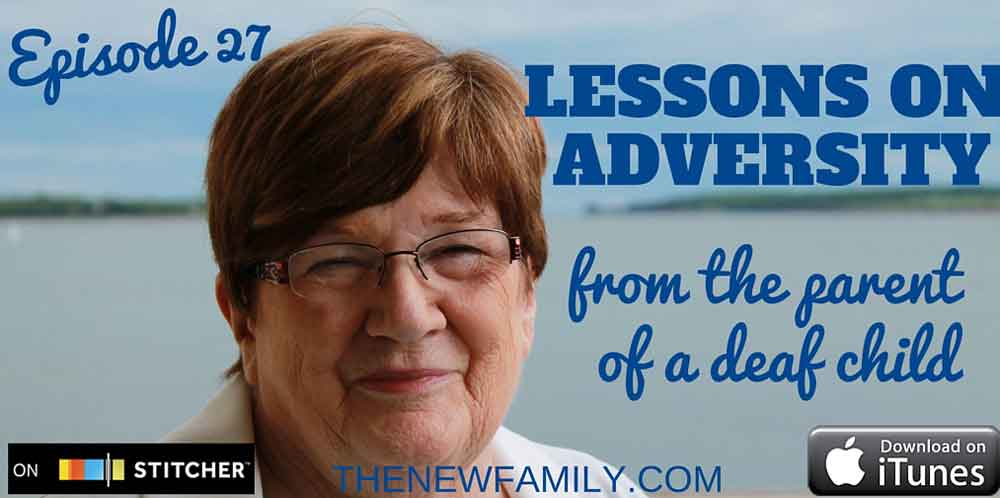 Dr. Kay MacPhee, a former principal and teacher, spent 25 years developing techniques that enable the hearing impaired to form language skills and learn how to read. You'll recognize the name of her company, Ooka Island, as the inaugural sponsor and huge supporter of this podcast. But I asked Dr. Kay to come on the show today because her own personal journey as a parent is quite remarkable, starting with the discovery that her son was born profoundly deaf. It truly is an inspiring story of stopping at nothing to advocate for a child and in so doing, for the children of thousands of others (a journey that's even taken her to the White House). But there's also a really valuable message about raising our children to be able to face adversity and carry on stronger because of it. Read more…
---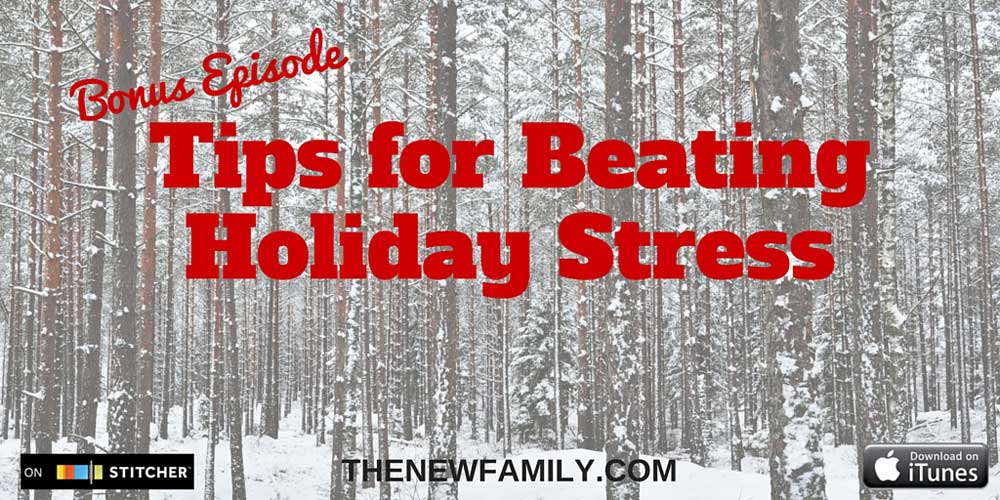 In this special bonus holiday episode, I share some of my best advice for managing stress this hectic time of year. Learn how to embrace doing less so you can enjoy your holidays more. Read more…
---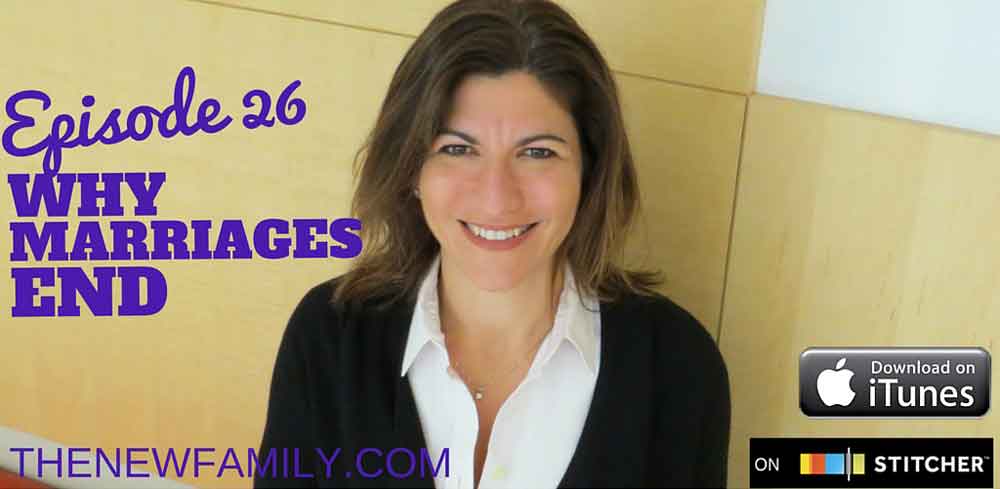 Lawyer-turned-family mediator Rosanna Breitman has gained unique insight into the reasons marriages fail through her work with people navigating separation and divorce. Rosanna helps people who are dealing with the intense sadness, anger and pain of marriage breakdown by using positive, conflict resolutions skills so they can co-parent well moving forward. But being in this line of work has taught her so much about the common problems that lead to divorce. In fact, she writes a great blog called "A Fly On The Wall" offering the inside scoop on relationship problems and practical advice on how to avoid those marriage-ending patterns. Rosanna and I chat about the recurring themes of discontent and broken communication that cause marriages to end. And she shares the little things people can do better to benefit their marriages and avoid a trip to an office like hers, or worse, family court. Read more…
---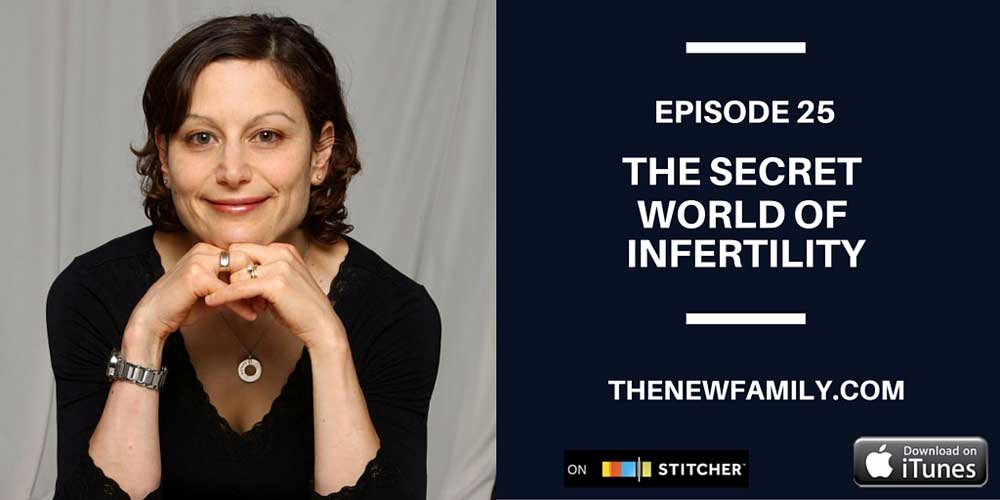 This episode's guest shines some light into a world that we don't hear that much about—the world of infertility and the industry that has sprung up around it. Therapist Erica Berman does fertility counselling for people who are seeking to become parents, as well as for the gestational carriers (often referred to as surrogates) who help their families come to be. In talking to Erica I've come to understand that Canada has become a medical tourism destination for would-be parents who come here from countries where all all forms of surrogacy are illegal. Erica also shares about how her own difficult infertility journey led her to choose this area of therapy. Today she helps families of all kinds, including couples struggling with infertility, same-sex couples and single women embarking on parenthood with the help of a sperm donor. She explains some of the ignorant attitudes and crazy assumptions intended parents encounter on their journeys to start a family, and provides insight into what motivates women to give complete strangers such a tremendous gift by acting as gestational carriers. Read more…
---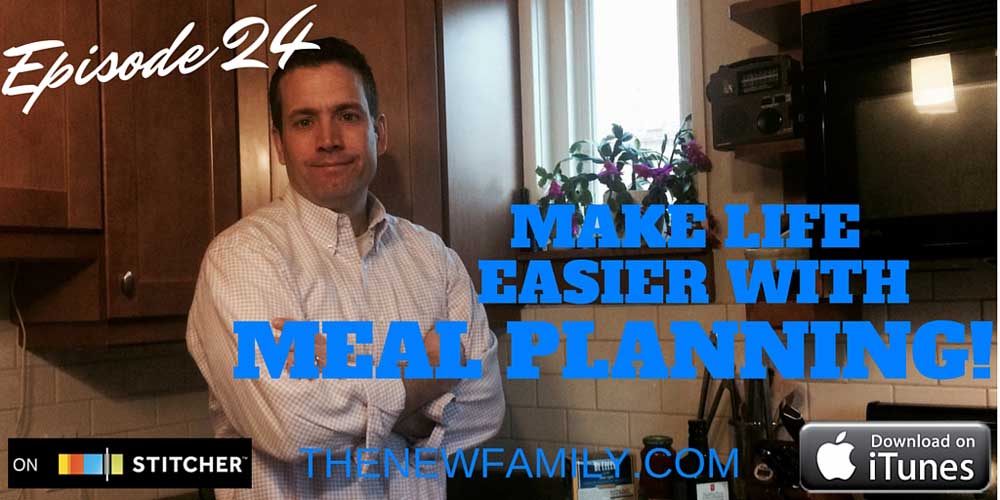 For this fun episode, The New Family's food editor, Michael Forbes, is on to share his fantastic meal-planning secrets! Mike's a father of two and an avid cook who has always managed to make the family dinner a priority. Hear all about his unique—and very manly, I'll add—weekend menu-planning routine, plus the shortcuts he uses to make the family dinner happen despite having two kids with busy extra-curricular schedules. Mike and I get into some of our favourite dinner rituals, the value of routine (even if it means you're repeating some favourite meals) and how to expand your definition of what qualifies as dinner (Croque-Monsieur, anyone?). We talk about the way family meals allow us to connect, and Mike points out why we might need to adjust our thinking about our kids' table manners a little so we can enjoy our time together. Read more…
---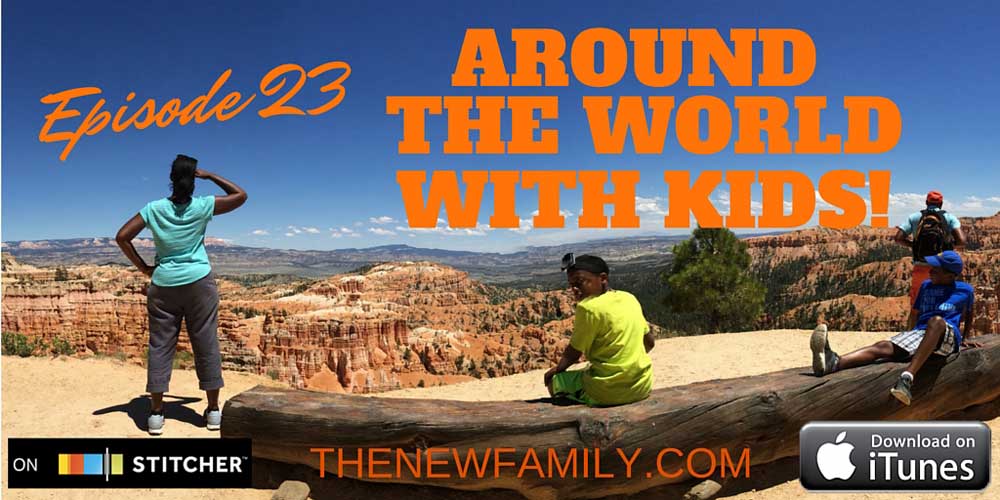 For this episode, I talk with Heather Greenwood-Davis about taking her kids out of school for the year and travelling the world as a family, hitting 29 countries on six continents. Heather is a travel writer whose work has appeared all over the place, including Oprah magazine and National Geographic Traveller, and many other top-notch publications as well. She also writes a great blog called Globetrotting Mama. Heather and I talk about how she and her husband pulled off an around-the-world trip with two boys in tow, but more importantly, about realizing your dreams and living a no-regrets life. Read more…
---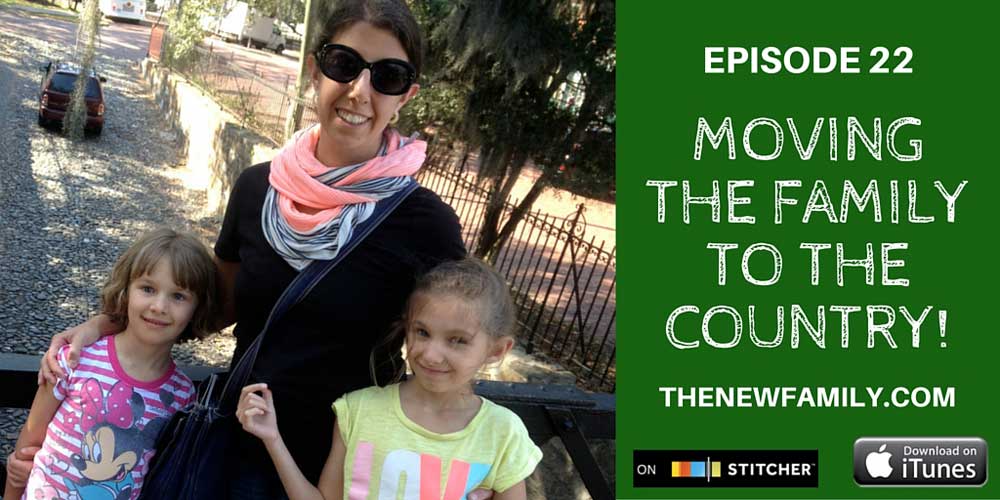 For this episode, I talk with my friend Karen Green. Karen and her husband Chris have made the kind of bold change in their lives that a lot of people fantasize about but aren't quite prepared to actual make happen. Karen was born and raised in Canada's larges city, Toronto, but a few years ago she and Chris packed up and moved to the country, not just to a little commuter village outside of the city but fully 300 kilometres away to a place Karen lovingly refers to as "the cornfield." Karen is a writer with a really great blog called The Kids Are Alright and she joins me to talk about moving to the country for a quieter life surrounded by family. Read more…
---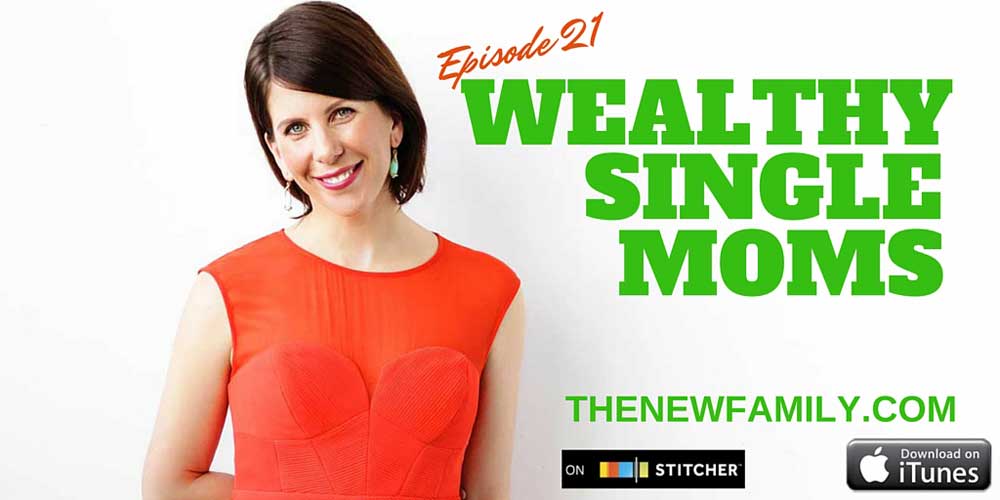 For this episode, I chat with business journalist and mom of two Emma Johnson. Emma is the host of a podcast called Like a Mother with Emma Johnson, and she's also the woman behind the popular website Wealthy Single Mommy. Is Wealthy Single Mommy a contradiction in terms? Hell no! Emma explains how she overcame the initial hangups she had when her marriage ended that becoming a single mother meant being a welfare mom who would always struggle financially and in life in general. When she launched her blog geared to other professional single moms, the response was incredible. The number one challenge her readers share with her is fear about running into financial problems, so Emma has recently launched an online course called How Not to be a Broke Single Mom, as well as a dynamic Facebook group called Single Mom Society. Emma's message is empowering and inspiring to all moms, regardless of their circumstances. Read more…
---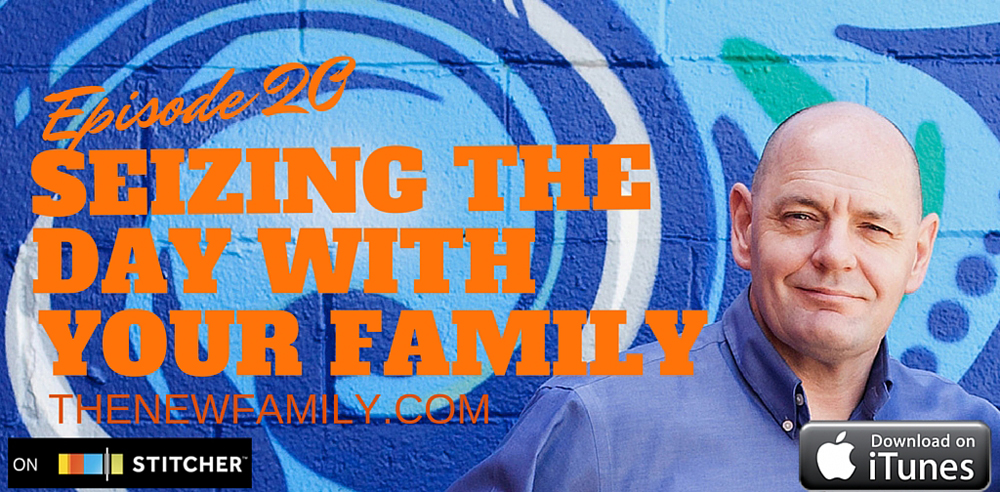 For this episode, I've got a guest with an incredible story to tell. David Knapp-Fisher is a traveller, writer, speaker and dad from Victoria, B.C. He shares how his son Tristan's diagnosis with Duchenne Muscular Dystrophy crystallized and accelerated his goal to see the world with his son. He and his wife, Paula, made incredible sacrifices to take their son on an epic trip to Europe while Tristan was still well enough to go. The trip—and what happened when they got home—were life changing events that David has shared in his popular TEDx talk. Hear how his family has made experiences a priority over material things in this inspiring conversation. Read more…
---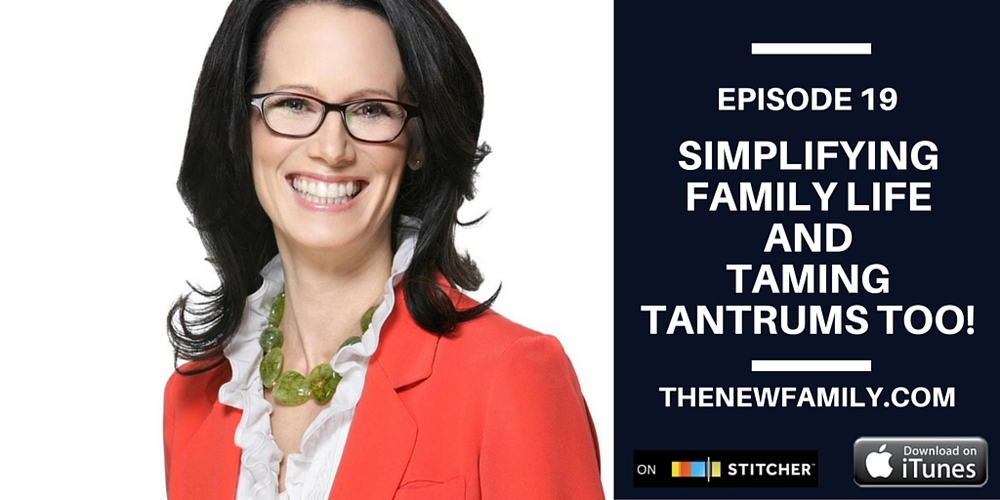 In this episode I talk with psychotherapist and parenting educator Andrea Nair. Originally a high school teacher, Andrea decided to change careers and become a family therapist because she was fascinated by the dynamic between her students and their parents. But when she became a mom herself she realized she had lots to learn about getting through some of those long days with little kids, and some massive lifestyle changes to make to get the family life they wanted. Today Andrea is a respected voice among parenting educators, an author, a blogger and woman behind a new app called Taming Tantrums: Parenting solutions to reduce toddler freak outs. Andrea drops some incredible value bombs on helping our kids manage those big emotions at any age from toddler to teen. Read more…
---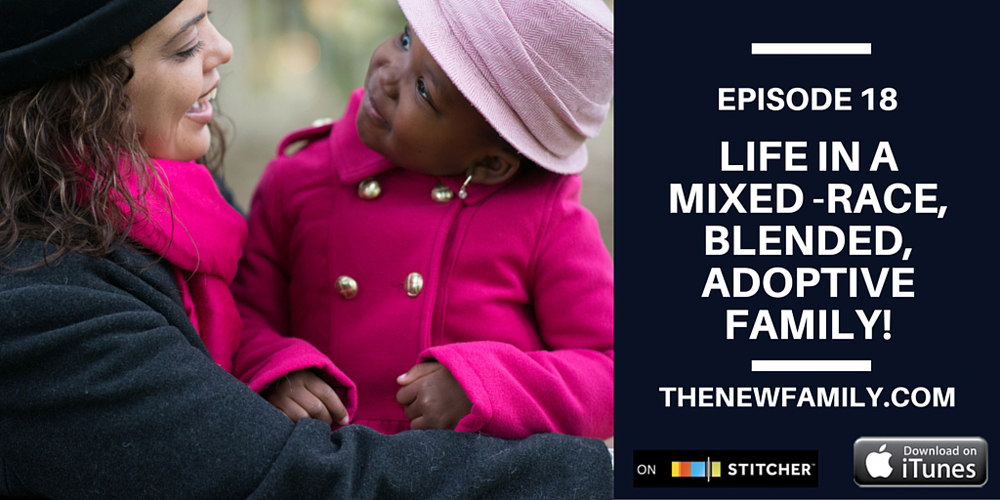 For this episode, I speak with mom and step-mom Jackie Gillard. Jackie is a writer with a great blog called "My Papaya Jambalaya: Random thoughts on life in a second marriage with a blended, transracial, adoptive family." She and I chat about her unique journey to motherhood, first with becoming a step-mom and then, following unsuccessful fertility treatments, through international adoption. Jackie wrote a beautiful contribution to the 1,000 Families Project on our website, thenewfamily.com. And it's actually one of the posts that helped us get nominated for best blog in the Canadian Online Publishing Awards. Jackie opens up about the triumphs and challenges of life in a trans-racial blended family, including how she handles some of the crazy comments from strangers. And you won't want to miss the story of the first moment she met her daughter. Read more…
---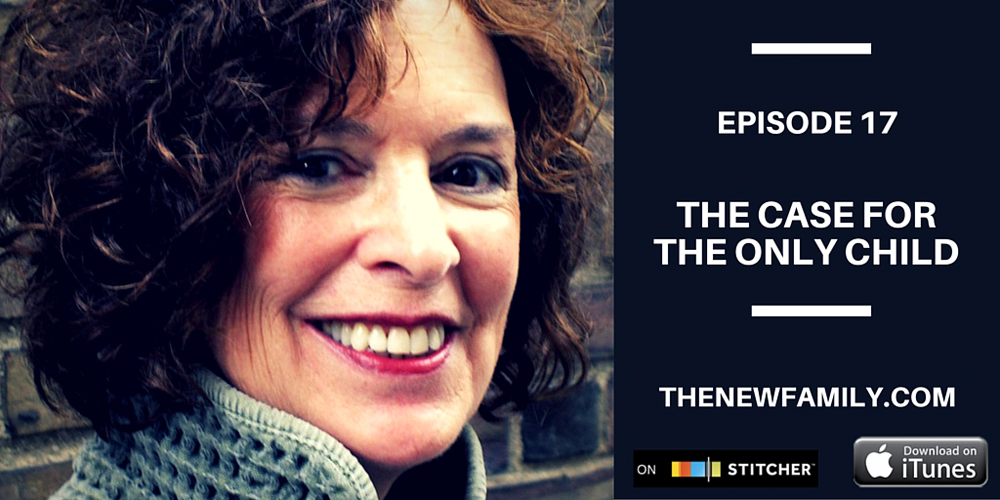 In this episode I'm joined by psychologist and parenting expert Susan Newman. Susan is the author of 15 books including The Case for the Only Child as well as Parenting an Only Child: the Joys and Challenges of Raising Your One and Only. She and I chat about the pressure on families to have more than one child, as well as the negative assumptions that singletons grow-up spoiled and selfish. Susan makes the argument that despite the fact that single-child families are on the rise, attitudes about only children remain stuck in the past. She points out some significant benefits to having just one, including increased financial resources, career advantages for moms, and close bonds between parent and child. In fact, she calls the single-child family, "The New Traditional Family." Read more…
---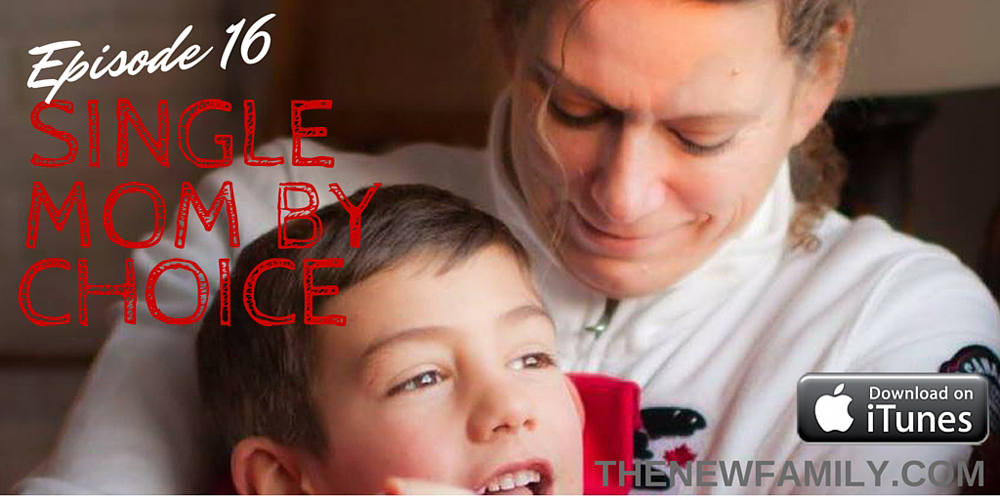 Sara Lanthier joins me in this episode to talk about her journey to become a mom without a partner. Sara is a mother to seven-year-old Will who blogs about single motherhood at urbanmoms.ca. We talk about how she came to decide to become a "choice mom"—and on how picking a sperm donor is a little like online dating only without all the awkward coffee dates. Sara speaks candidly about the good and bad parts of going it alone as a parent, the importance of having a great support network around you as a single parent, and on just how critical it is to remember that the sun will always come up in the morning. Read more…
---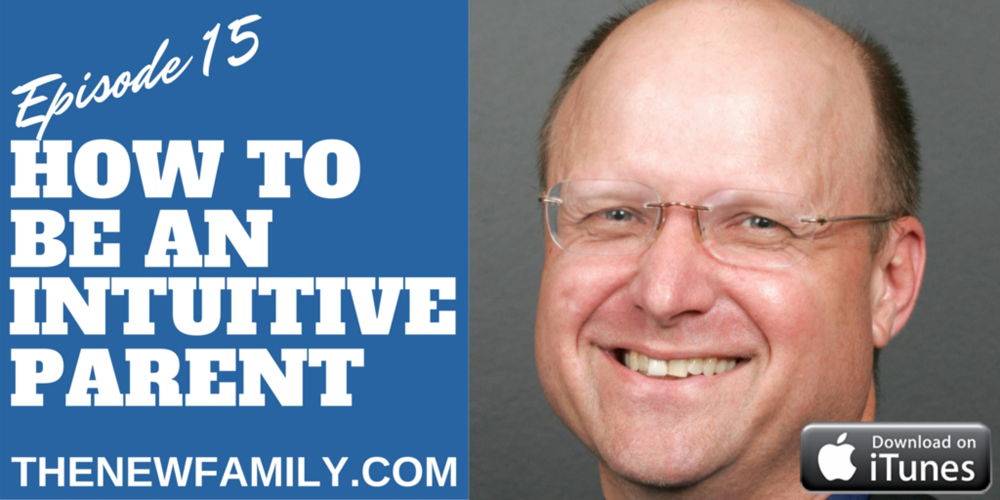 In this episode I'm joined by psychiatrist and father of seven Dr. Stephen Camarata. He's the author of The Intuitive Parent: Why the Best Thing for Your Child is You. The professor of psychiatry from Vanderbilt University encourages parents to take a collective deep breath and learn to trust our instincts again. He busts the myths that have sent parents into a panic over wiring our children's brains in the early years, and created a massive industry of products, videos and apps that promise to help us turn our children into little geniuses. In reality, it's the simple kind of every day interactions with our children that they need most, he says. Learn why Dr. Camarata is encouraging us to forget about one-size-fits-all parenting models and tune into our intuition and common sense instead. Read more
---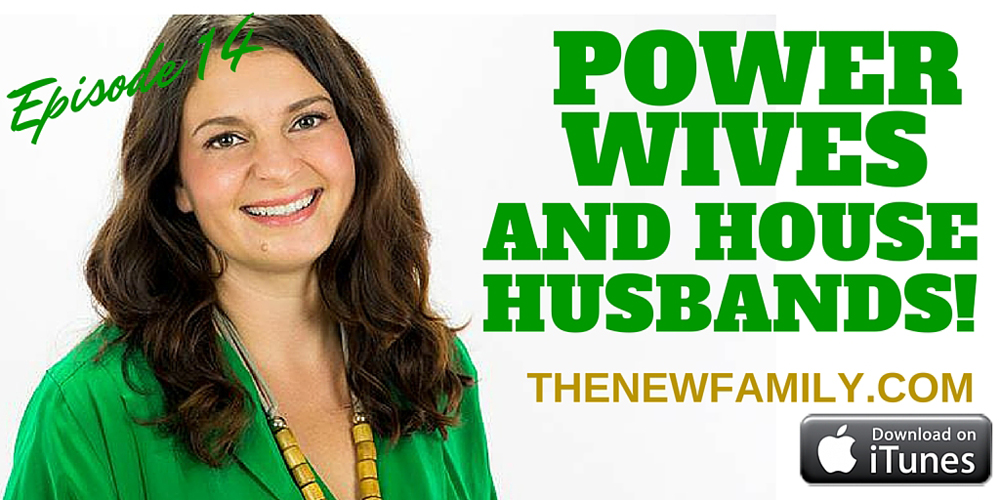 In this episode I'm joined by mom of three Daniela Kelloway, who was featured on the cover of Toronto Life magazine under the headline "Power Wives and their House Husbands." Daniela is the founder and CEO of an arts and entertainment public relations firm called Clutch PR, and her husband, Tim, is a stay-at-home dad. She and I chat about the experiences and circumstances that led to Tim stepping in as primary caregiver, and the fact that society still doesn't seem to be entirely comfortable with men looking after babies. Daniela speaks candidly about the way family and friends called their arrangement into question, and on how women in high-powered careers face far more scrutiny for their long hours and work travel then men. We also chat about how this isn't the only way her family has broken the mold, given they used to spend half the year living in the West Indies. Daniela encourages other families to forget what anyone else says and design the family life they want. Read more…
---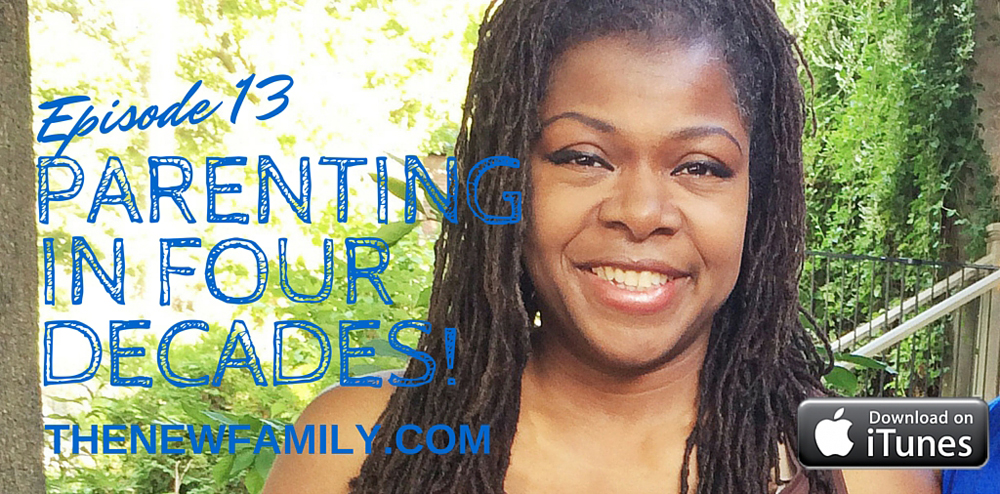 In this episode I'm joined by mom of four Samantha Kemp-Jackson. Samantha works in corporate communications in Toronto, and she writes a great blog called Multiple Mayhem Mamma. The incredible thing about Samantha's story is that her children are a whopping 24 years apart. Yes, her kids range in age from six to 30, and in this episode she tells us what that's like, from having a baby at just 19 to having surprise identical twins at 43. Sam shares her unique viewpoint on how parenting has changed since she first became a mom in the 1980s. We talk about the way technology has not only shaped a culture of immediacy and constant monitoring in families, but become a default source of entertainment—both a blessing and a curse. Read More…
---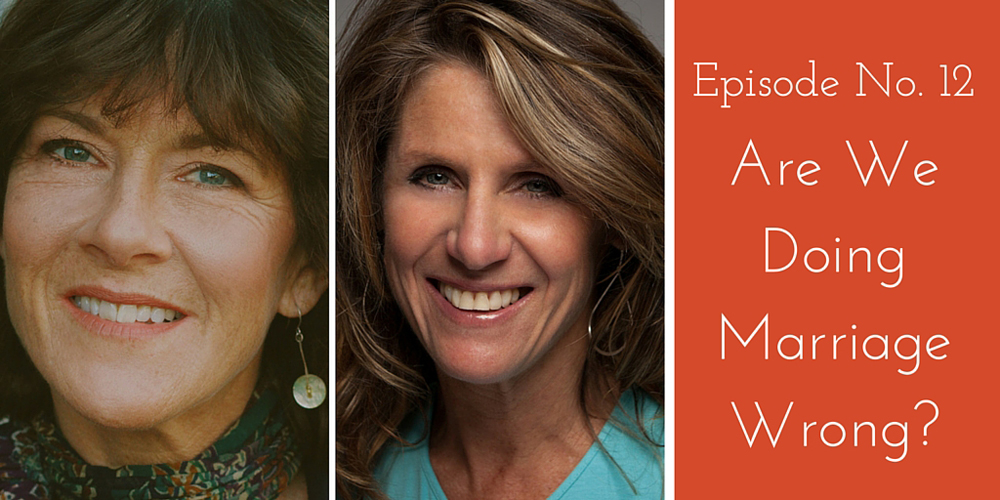 In this episode I chat with the authors of The New 'I Do'—Reshaping Marriage for Skeptics, Realists and Rebels. Susan Pease Gadoua is a licensed therapist with an expertise in marriage and divorce, and she's also the author of the best-selling book Contemplating Divorce. Vicki Larson is a longtime journalist, columnist and blogger whose work has appeared everywhere from The New York Times to The Huffington Post. We have a very interesting conversation about the groundbreaking territory explored in their book, including the much-needed alternatives to the one-size-fits-all "till death do us part" marriage that people are quietly refining for the 21st century. From the parenting marriage to the safety marriage and more, you won't want to miss this thought-provoking interview. Read More…
---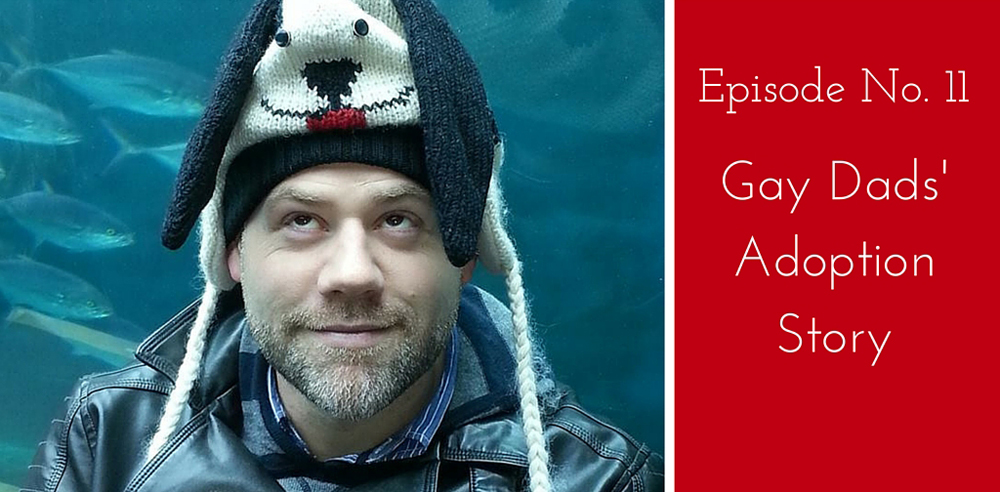 In this episode I chat with Sean O'Donnell, a father of two from Pittsburg, Pennsylvania, behind the hilarious website Sean's Big Gay Blog—Observations of a Gay Dad. Sean's the author of a new book called Which One of You Is the Mother? The Absolutely Positively True Adoption Story of Two Gay Dads. Sean and I chat about the process he and his husband, Todd, went through to adopt two boys at ages seven and five, including the incredible moment they met their first child. We talk about what's involved in domestic adoption, helping the kids acclimate and some of the unusual things people say to gay adoptive fathers! Read more…
---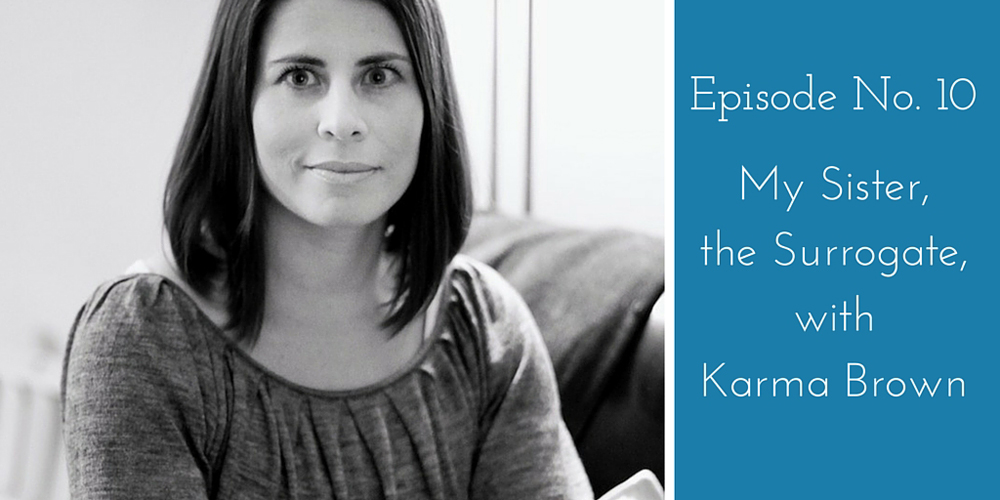 In this episode I to talk to author Karma Brown about her remarkable journey to motherhood. Diagnosed with cancer when she was still in journalism school, Karma and her brand-new boyfriend were confronted with the decision to freeze embryos before her chemotherapy and radiation began. We discuss the incredible role her sister played in helping Karma and Adam, now her husband, to become parents. We chat about what it was like to be expecting but not pregnancy, and the nosy things people say to you when you're a mother of one. Read more…
---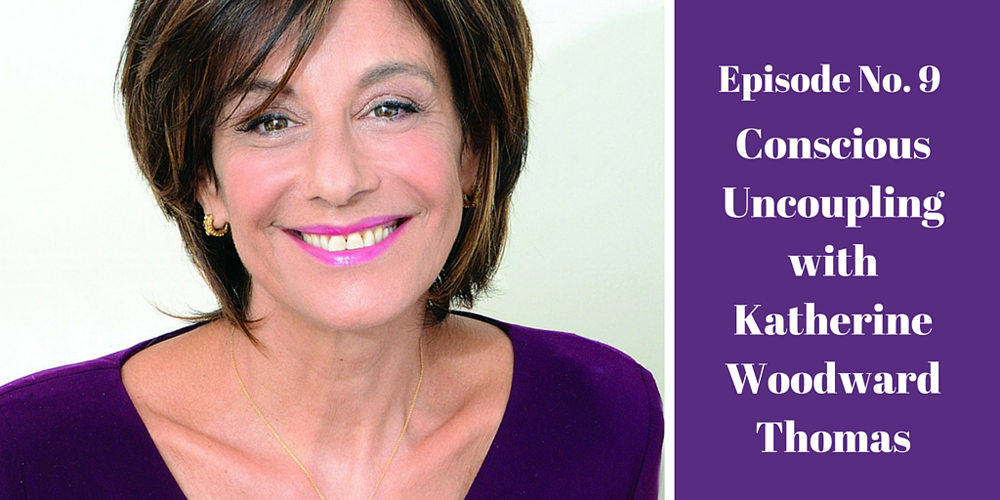 Here I chat with Katherine Woodward Thomas, the marriage and family therapist who coined the phrase "Conscious Uncoupling." (No, in fact, it wasn't Gwyneth Paltrow!) She's been helping people find a peaceful way forward through divorce in a popular online course by the same name since 2011. Katherine's highly anticipated book Conscious Uncoupling: 5 Steps to Living Happily Even After just hit bookstores recently, and it's already a New York Times bestseller. Katherine offers a road map for getting through the tough transitions of separation and divorce, which allows us to move forward in a healthy way both for our own emotional health and the well-being of our kids. This is a must listen for anyone who has ever been affected by divorce or had a friend or family member going through the same. Read more…
---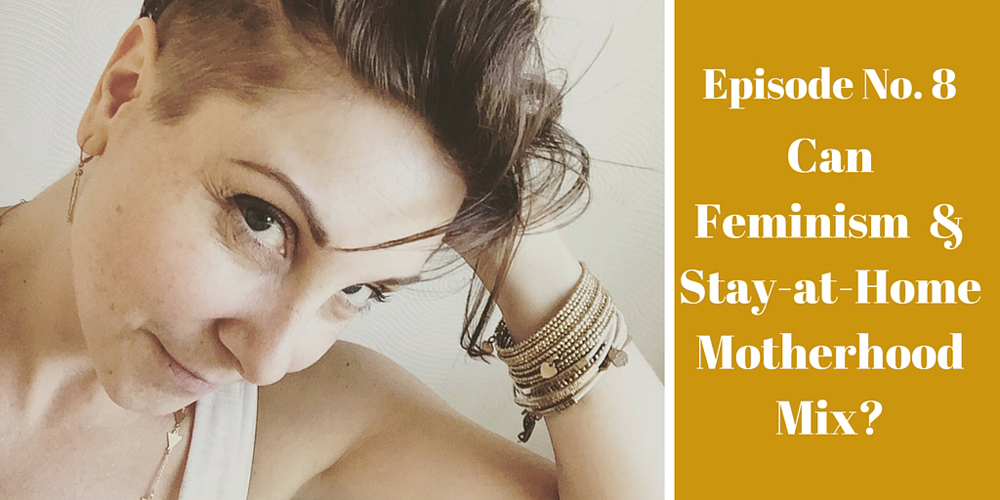 In this episode I to talk to Natasha Chiam, a writer, speaker and activist from Edmonton, Alberta. She's a mom of two and author of the blog The Stay At Home Feminist. Are "feminist" and "stay-at-home mother" contradictory terms? No way! Natasha and I have a candid chat about the complicated feelings parents wrestle with when making decisions about whether or not to work outside the home, and we talk about what it takes to bring up politically-aware kids who hold feminist ideals. Read more…
---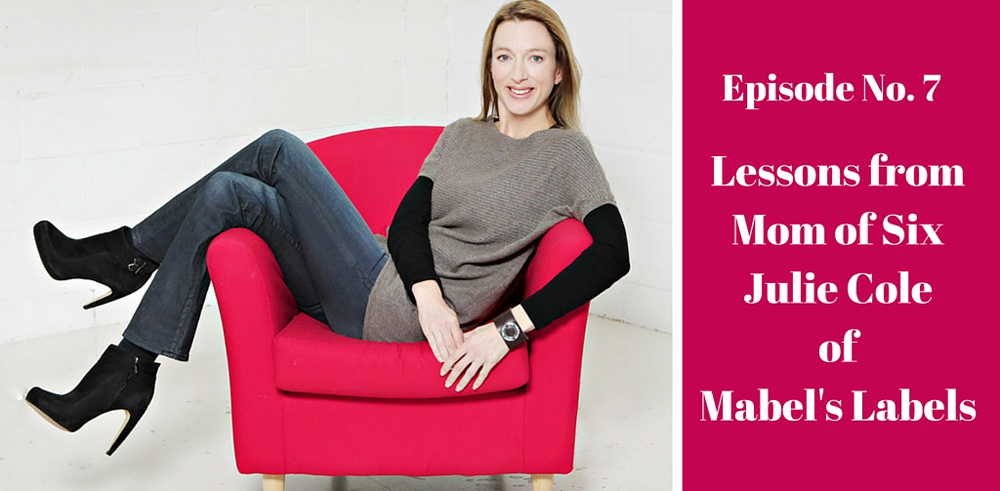 In this episode I chat with Julie Cole, who's not only a mom of SIX children, but vice-president and co-founder of Mabel's Labels, the market leader in durable personalized labels for all the stuff kids lose. Julie and I chat about how a busy household like hers works, the weird things people say when they find out you have six kids, and the stuff we can ALL learn from the way big families operate. Julie's got great advice on cultivating self-sufficiency in our children, about tailoring parenting to kids' individual needs, and about nurturing a community you can count on. Read more…
---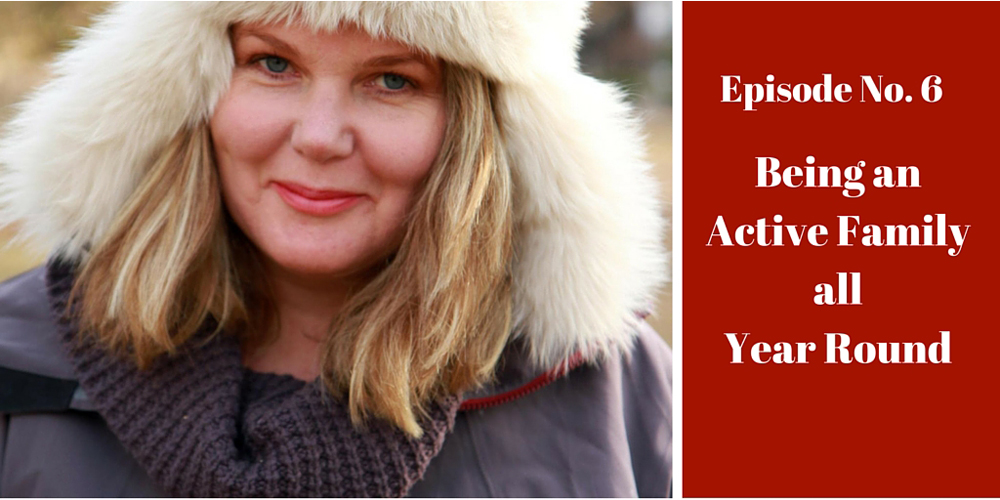 In this episode I talk to Kari Svenneby, a mom born and raised in Norway, who's passionate about encouraging families to spend time together outdoors. She's the founder and CEO of ActiveKidsClub.com, a grass roots community and website that helps connect children and adults to the outdoors. She's also a classically-trained chef and library scientist! Kari brings a Nordic sensibility—and hardiness—to family life. On the weekends her family can be found hiking, biking or swimming in Lake Ontario. In the winter, they're avid cross-country skiers. We talk about the different ways Scandinavian and North American cultures approach physical risk for children. And Kari shares her advice for keeping a family active all year round, even if you're not a huge fan of winter. Read more…
---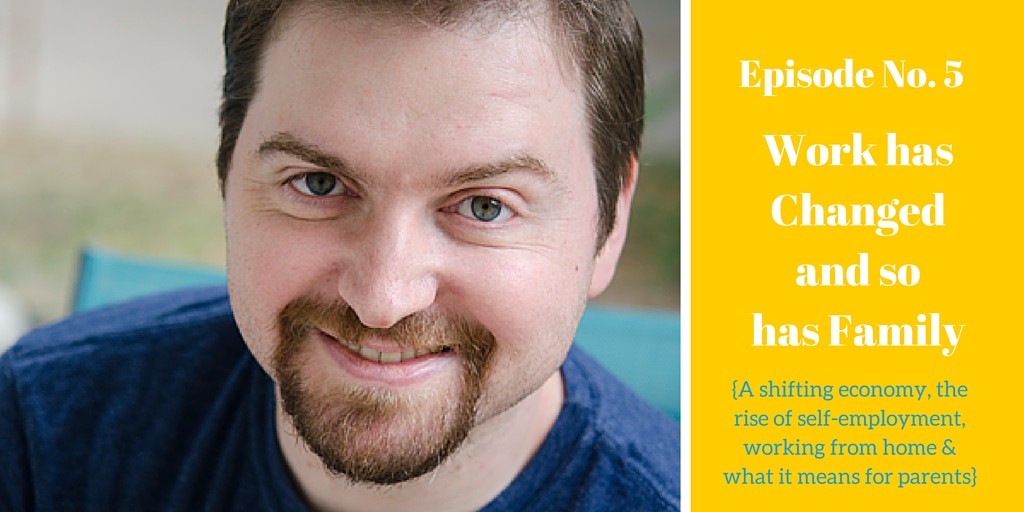 In this episode I talk to Joel Bower, host of the Self Employed Parent Podcast, about how changes in the way we work have impacted family life. Joel's a serial entrepreneur who doesn't buy into the old-school model of devoting endless hours to an employer all in pursuit of free time in retirement. We talk about the upsides of being able to design your own work hours, but we also confront the romantic notions people may hold about being able to work from home. In a world where so many of us now employ ourselves—and where our kids are more likely to become entrepreneurs, solo-preneurs and makers—we're creating new career models for generations to come. Whether you're employing yourself or just contemplating the future for you and your kids, this episode gets us thinking about having the best of both worlds. Read more…
---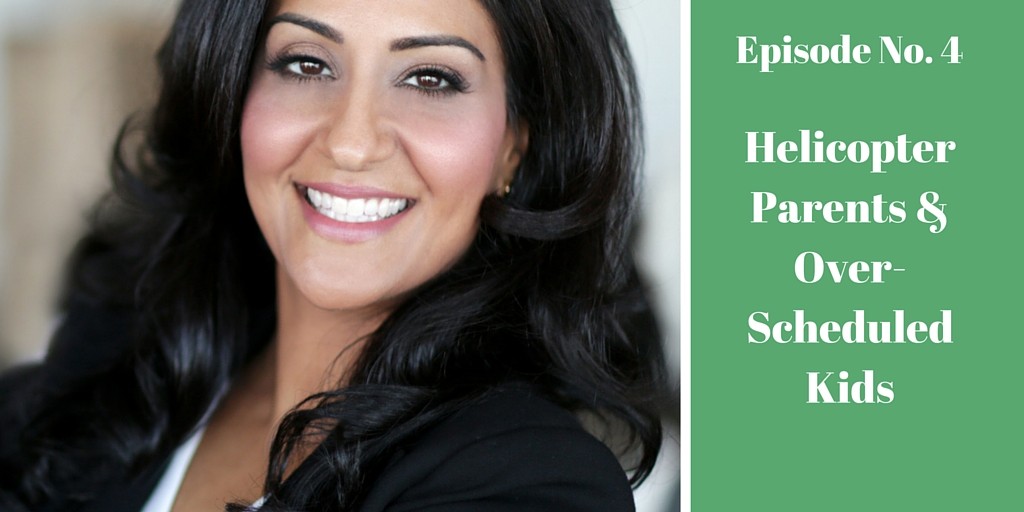 This episode I chat with Dr. Shimi Kang, a Harvard-trained psychiatrist and best-selling author of "The Dolphin Parent: A Parent's Guide to Raising Healthy, Happy and Motivated Kids." She suggests ways to resist our generation's helicopter-parenting ways by considering the life skills and attributes that will REALLY make a difference to how our kids fare in life. (Hint: It's not about getting the top mark in science class or a place on a rep hockey team.) Dr. Kang also shares the "ah ha" moment that led her to make changes to her own parenting style. Read More…
---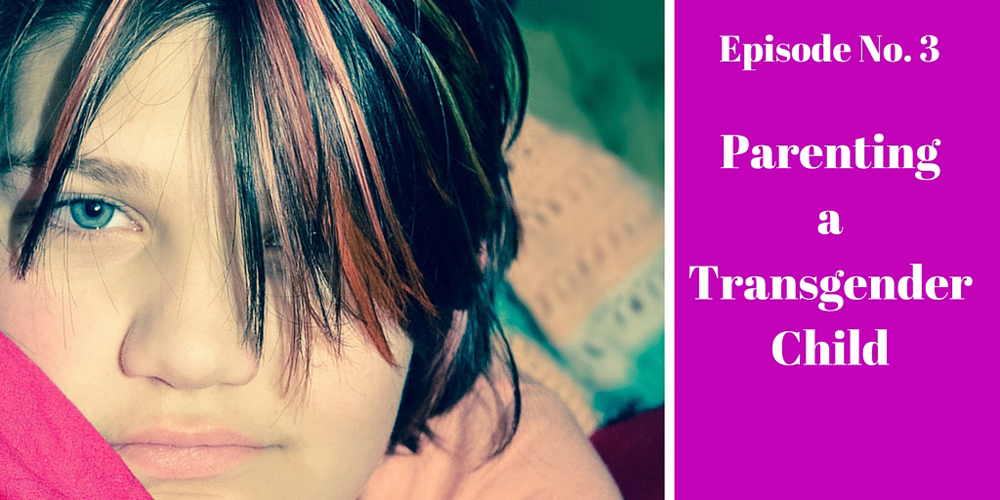 In this intimate discussion with Amanda Jette Knox, we learn what it was like to find out that the child she knew as a son was actually a daughter. We chat about a very important revelation that Amanda and her husband just couldn't have been prepared for. Many 1,000 Families readers were moved by the loving way these parents are embracing their child Alexis through transition, and we're sure you will be, too. Plus, we hear about how Alexis' siblings have reacted, how things have gone at school and more. Read More…
---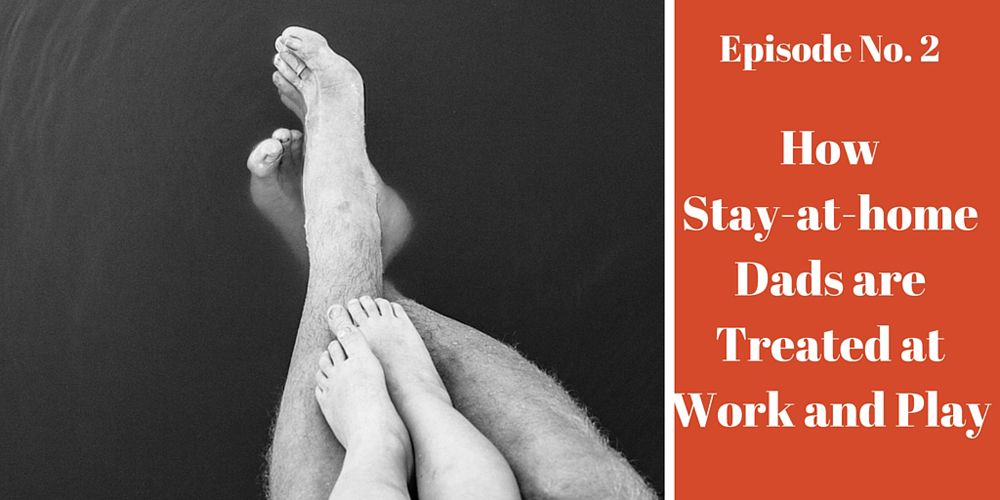 In this episode I talk with journalist and dad Mike Wallberg about his experience taking a year off work to look after his daughter, and his research on the barriers dads face as primary caregivers. Mike delves into the weird reactions dads get when they try to join playgroups, the pioneering they've got to do in the workplace, and what it would take to level the playing field so more men can be the dads they want to be. Read More…
---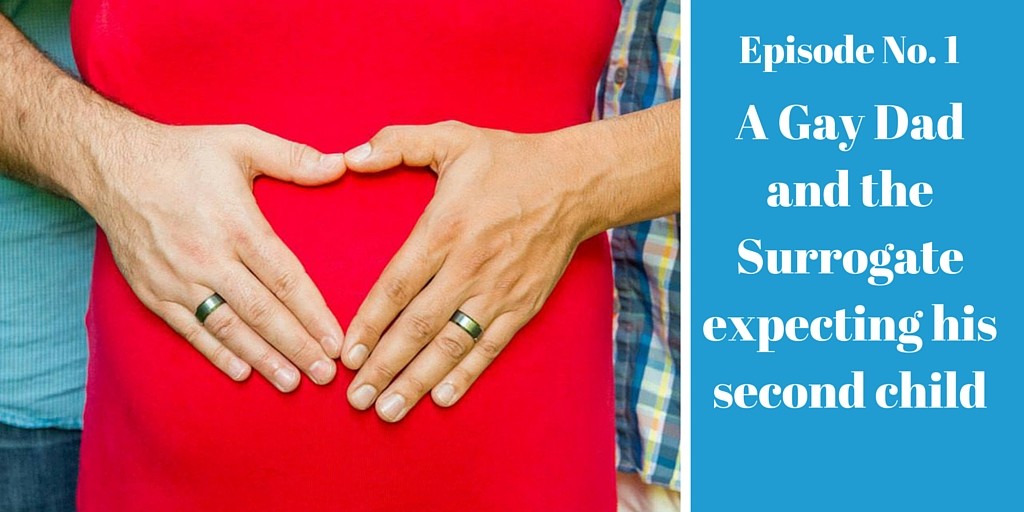 In our first full episode I talk to gay dad Frank Emanuele and dear friend Angela Pickering-Peeters, who not only acted as the gestational carrier for Luca, Frank's two-year-old son with husband Norm, but who's now expecting Frank and Norm's second baby. We talk about their unique relationship, how Angela's four kids have reacted to all this "baby growing" business, and the nosy questions people ask when you're carrying someone else's child. Read More…
---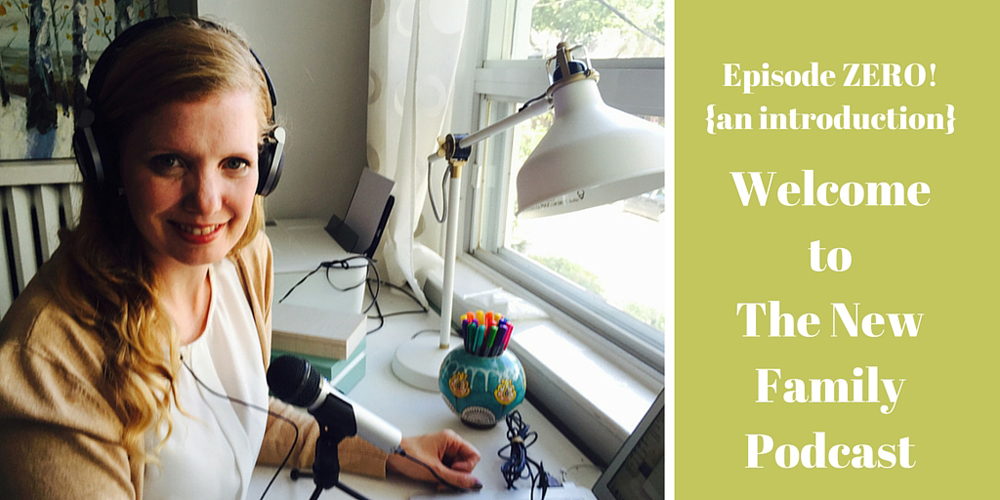 In this short introductory episode, I explain what you can expect from The New Family Podcast, the show that explores what families like yours and mine really look like and the issues that matter to us most. I also share a little about how my own unique family situation inspired me to launch thenewfamily.com and now a year later, The New Family Podcast. Oh, and as promised, here my blog post Conscious Uncoupling Before it Was Cool. Read More…